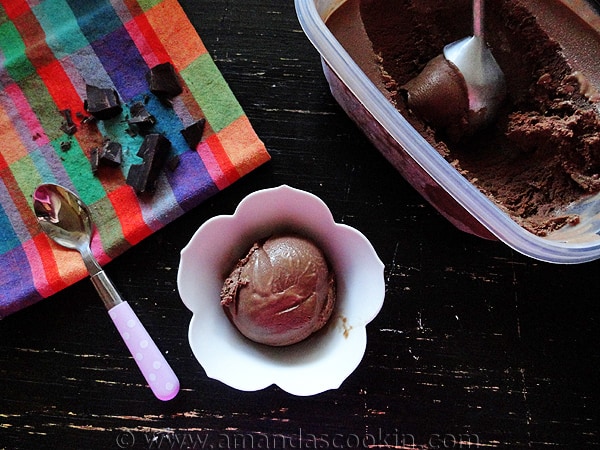 Last fall I posted a recipe for Root Beer Ice Cream which I originally titled Black Cow. After a few conversations it was determined that while it may have different meanings in different areas, Black Cow is most commonly known as a root beer float that uses chocolate ice cream instead of vanilla. So today I give you my version of root beer flavored chocolate ice cream. The Black Cow.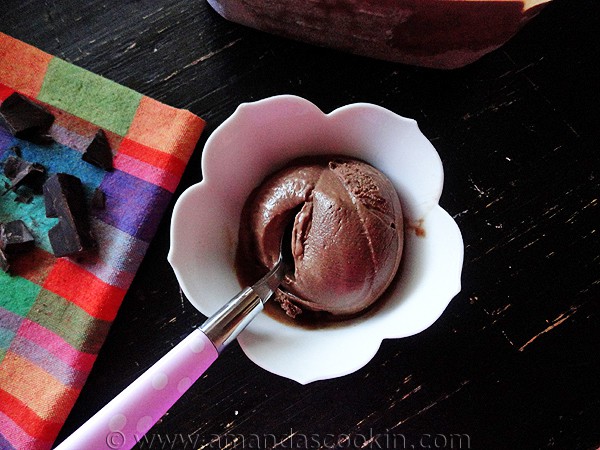 Does anyone remember the Black Cow shake from Arby's? Well that was actually a vanilla shake with root beer syrup. In some regions a root beer float and a black cow are one in the same, while in other areas you have to use chocolate ice cream in the float, not vanilla. Some areas use cola instead of root beer and dubbed that the black cow.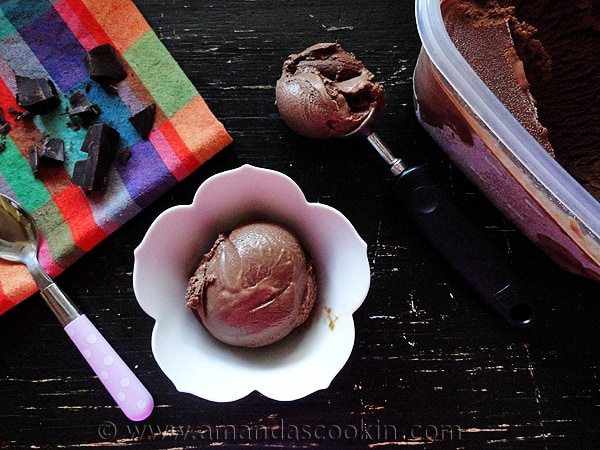 A little more fun trivia for you. Back in 1893, the term "black cow" started in Cripple Creek, Colorado. This quote from Wikipedia:
Wisner, owner of the Cripple Creek Cow Mountain Gold Mining Company, had been producing a line of soda waters for the citizens of the then-booming Cripple Creek gold mining district. He had been trying to create a special drink for the children of Cripple Creek and came up with an idea while staring out at his properties on Cow Mountain on a moonlit night.

The full moon's glow on the snow capped Cow Mountain reminded him of a dollop of vanilla ice cream floating on top of his blackened Cow Mountain. As he told the story later, he was inspired by this view to hurry back to his bar and add a big scoop of vanilla ice cream to the one soda water he produced that the children of Cripple Creek seemed to like best – Myers Avenue Red root beer – and served it the very next day. The drink was an instant hit. Originally named "Black Cow Mountain", the local children shortened this to "black cow".[11] Wisner was known to say many times in his later years that if he had a nickel for every time someone ordered a black cow, he'd have been a rich man.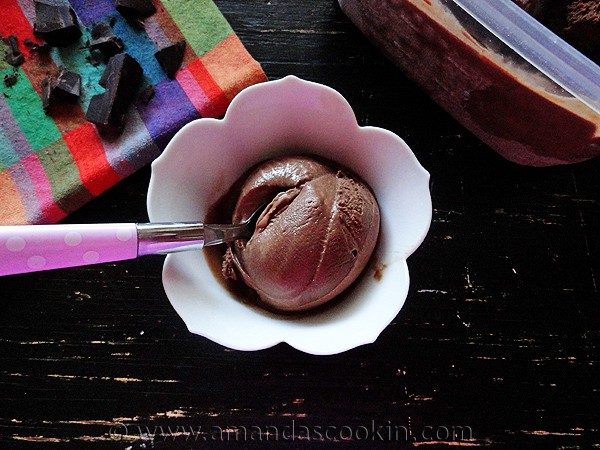 So whatever it is, now you have a recipe for both Black Cow Ice Cream and Root Beer Ice Cream.
You're welcome. :)
More Ice Cream Recipes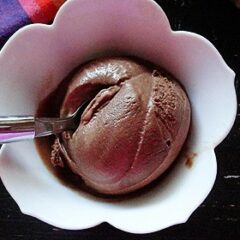 Black Cow Ice Cream
IMPORTANT - There are often Frequently Asked Questions within the blog post that you may find helpful. Simply scroll back up to read them!
Print It
Rate It
Ingredients
1 14-

oz

can sweetened condensed milk

1/3

cup

unsweetened cocoa powder

2

cups

heavy cream

2

ounces

bittersweet chocolate

1

cup

1% milk

4

teaspoons

root beer extract

1 1/2

teaspoons

vanilla
Instructions
Place the condensed milk into a medium saucepan. Measure then sift the cocoa into the condensed milk. Whisk the two ingredients together and cook over low heat, stirring constantly, until smooth and slightly thickened, about ten minutes. Remove from heat. Immediately break the 2 ounces of bittersweet chocolate into pieces and whisk into the hot milk mixture until melted and smooth. Set aside to cool slightly.

In a large measuring cup, gently mix together the creams and the extracts. Take the chill off by putting mixture into the microwave for up to one minute.

Using a slow and steady motion, drizzle the cream mixture into the chocolate mixture. Whisk the mixtures together as you are drizzling. Be sure to loosen any mixture from the edges and corners of the pan using a rubber spatula or wooden spoon. Whisk until smooth. Pour through a sieve into a clean bowl, discard any bits left in the sieve.

Cover the mixture with plastic wrap and refrigerate until cold. Process the cold mixture in your ice cream maker according to manufacturer's directions.
Amanda Davis is the entrepreneurial mom of four grown children and four step children. She and her husband, Chef Antoine, love to cook together creating recipes for this blog. Amanda also make kid's crafts and creates decorative items for her home. She is a crafting expert and guru in the kitchen and has appeared online and in print publications many times over the years. She is also a craft book author five times over and product developer as well as the owner of
FunFamilyCrafts.com
. You can find her on social media by using the buttons to the left!
Latest posts by Amanda Davis (see all)