This is a Sponsored post written by me on behalf of Diageo for SocialSpark. All opinions are 100% mine.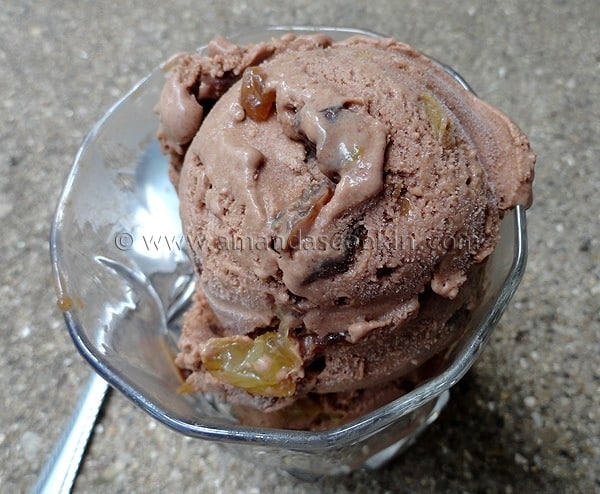 I have to admit, I've never actually tried Rum Raisin ice cream before. However, every time I hear the word "rum" I immediately think of Rum Raisin. Isn't that weird? Never had it, but it's always at the edge of my mind. I took that as a sign that it was finally time for me to jump in head first and make a batch to see what all the fuss was about. But of course, I couldn't resist the urge to change things a little.
I have a friend that runs a bar. He has a collection of his favorite spirits displayed proudly behind the bar, Zacapa premium dark rum is one of those bottles. He raves about the flavor, saying that they must be doing something different than all the other rum makers as that has become his favorite. I hadn't really thought about the process that rum goes through to get from the growing fields to the bottle until I delved a little further into Zacapa's story.
There's a town in eastern Guatemala called Zacapa. A bit further west of Zacapa the terrain is perfectly suited to the cultivation of quality sugar cane. It's in these green rolling hills with rich, acidic soils and hours of healthy sunlight that the sugar cane used in Zacapa premium rum is grown. Most rums use molasses as their base, but Zacapa uses only the concentrated first press of sugar cane, known as virgin sugar cane honey.
I was intrigued to read about the aging process, which occurs high up in the  beautiful Quetzaltenango highlands. The cool mountain air actually slows the aging process, which creates a unique complexity of flavor. They call it "The House Above the Clouds" and it is actually one of the world's highest aging facilities. Based on a process originally devised by the Spaniards 500 years ago to age sherry, it involves each drop of Zacapa rum passing through several casks that previously housed American whiskey, Oloroso sherry and Pedro Ximenez wines. So each of these large vessels passes on its own character which helps give Zacapa its distinctive taste.
Doesn't that just take you to a glorious place full of green hills and glorious sunshine? If this story intrigues you too, or perhaps you are a rum lover, you can join the Zacapa Society to learn exclusive details about this exceptional brand. You will also have the opportunity to enjoy remarkable gifts and prizes along the way! Simply register your interest at the Zacapa Rum website.
Now back to the ice cream. I don't know why, but my immediate thought was to turn Rum Raisin into Chocolate Rum Raisin. It just sounds good doesn't it? So that's what I did. I adapted David Lebovitz's recipe from The Perfect Scoop as my starting point. I added 4 ounces of bittersweet chocolate to the hot milk mixture and substituted orange extract for the orange zest, simply out of necessity. Now you're probably wondering what I thought of the ice cream? Amazing! The flavor is fabulous and the ice cream itself is not overly boozey, there's just the right amount of rum to accentuate the chocolate. Creamy and delicious, this is a must try!
Chocolate Rum Raisin Ice Cream
adapted from Rum Raisin Ice Cream – The Perfect Scoop
More Ice Cream Recipes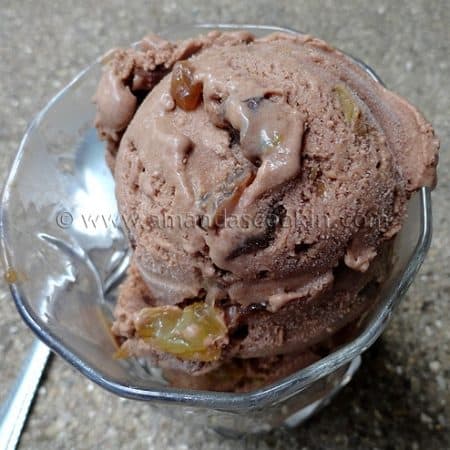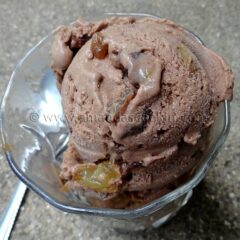 Chocolate Rum Raisin Ice Cream
For the rum raisin lover and chocolate fanatic, we've combined the two in one delicious ice cream!
IMPORTANT - There are often Frequently Asked Questions within the blog post that you may find helpful. Simply scroll back up to read them!
Print It
Rate It
Servings:
8
1/2 cup servings
Ingredients
1/3

cup

raisins

1/3

cup

golden raisins

1/2

cup

Zacapa dark rum

1/4

teaspoon

orange extract

1 1/2

cups

heavy cream

divided

3/4

cup

whole milk

2/3

cup

sugar

pinch

of salt

4

oz

Ghirardelli bittersweet chocolate

coarsely chopped

4

large

egg yolks
Instructions
Place the raisins, rum, and orange extract in a small saucepan. Heat to a simmer for 2 minutes and remove from heat. Allow raisins to macerate in rum for a minimum of 2 hours and up to 24.

Place one cup of cream in a large bowl and place a fine mesh strainer on top.

In a medium saucepan warm the milk, sugar, the remaining half cup of the cream, and the salt. When warm and steamy, but not bubbling, turn off heat and add the chopped chocolate. Stir with a sturdy rubber spatula until melted, mixture may appear flecked.

In a medium bowl whisk the egg yolks. Begin dribbling the warmed milk into the yolks while continuously whisking. Don't pour the hot mixture in quickly as you may cause the eggs to curdle. Continue dribbling and whisking until you've added about 1/3 of the hot mixture, then you can increase speed to a pour, continuously whisking.

Pour the contents back into the pan and stir constantly over medium heat, scraping the bottom of the pan as you go. A sturdy rubber spatula is best for this task. When the custard is thick enough it will coat the spatula.

Remove from heat and pour the custard through the strainer into the bowl with the cream. Stir the custard to combine. Place over an ice bath until cooled. Chill completely in the refrigerator.

Before you freeze the ice cream, drain the raisins and reserve the rum. Set raisins aside. Measure the reserved rum, add more rum if necessary to get to 3 tablespoons. Stir rum into the cooled custard, then add custard to your ice cream maker.

Freeze the custard in your ice cream maker according to the manufacturer's instructions. A few minutes before the ice cream is done, add the raisins and mix to combine. Place in a freezer safe container and freeze until hardened.
Nutrition
Serving:
1
half cup
|
Calories:
412
cal
|
Carbohydrates:
36
g
|
Protein:
4
g
|
Fat:
25
g
|
Saturated Fat:
14
g
|
Cholesterol:
156
mg
|
Sodium:
35
mg
|
Potassium:
248
mg
|
Fiber:
1
g
|
Sugar:
26
g
|
Vitamin A:
825
IU
|
Vitamin C:
0.8
mg
|
Calcium:
79
mg
|
Iron:
1.4
mg