Need a dessert everyone will rave over? Whip up this easy homemade banana pudding featuring a meringue topping and pudding from scratch. With vanilla wafers and sliced bananas, this homemade banana pudding recipe is sure to be a hit!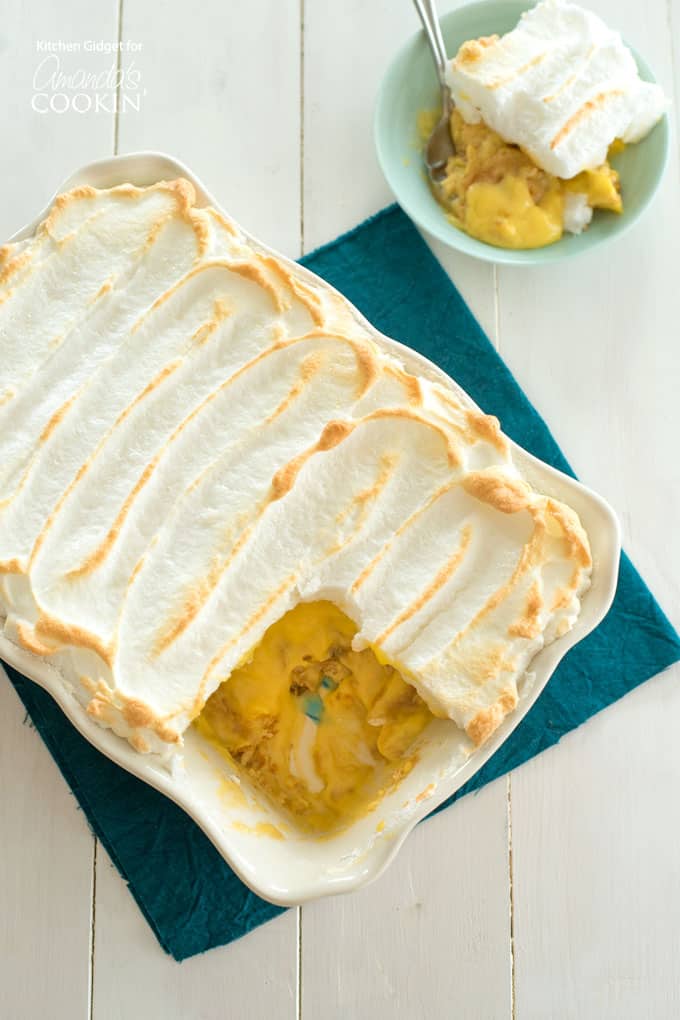 Homemade Banana Pudding
A few years ago I was vacationing in North Carolina. We ate at a roadside buffet featuring Carolina BBQ and for dessert, there were huge trays of homemade banana pudding. It was the best banana pudding I've ever had! There were layers of vanilla wafer cookies, sliced bananas, and real vanilla pudding. It was topped off with a cloud of heavenly meringue. As I was licking my fingers, I knew I had to recreate this masterpiece at home.
This classic dessert is amazing all year long, but it's especially fitting for summer since it is (nearly) no-bake. I heard some parts of the country are still getting snow, but it's been hot here. I realized as I was baking Taco Pizza Appetizer that I wouldn't be turning on the oven much longer. But that's ok because I adore summer potluck desserts like No-bake Pineapple Cheesecake Bars.
The secret to southern banana pudding is the pudding from scratch which uses egg yolks to make it rich and creamy. The whites don't go to waste since they get turned into a fluffy marshmallow-like meringue. If you don't want to turn on the oven or your broiler, it also tastes divine topped with whipped cream. Save the egg whites for another purpose.
RELATED: Want another classic dessert recipe? This Ambrosia Salad is a famous one! You see it at most potlucks, BBQ's.. you name it. This vintage recipe combines fruit cocktail, pineapple tidbits, mandarin oranges, maraschino cherries and marshmallows to create a satisfying dessert!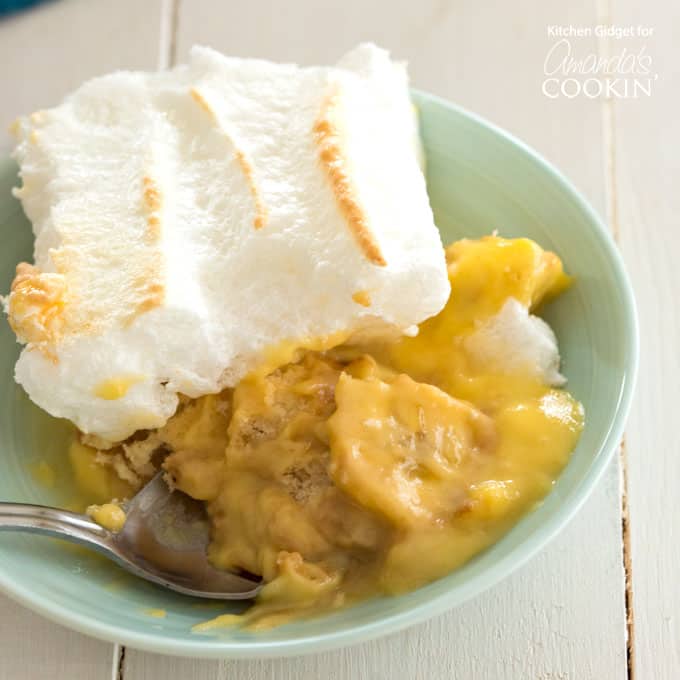 Ingredients You Will Need:
3/4 cup sugar, divided
1/3 cup all-purpose flour
1/2 teaspoon salt
4 eggs, separated
2 cups milk
2 teaspoons vanilla
2 large or 3 medium fully ripe bananas
40-50 vanilla wafers
1/8 teaspoon cream of tartar (optional)
1 tablespoon lemon juice (optional)
Helpful Kitchen Tools: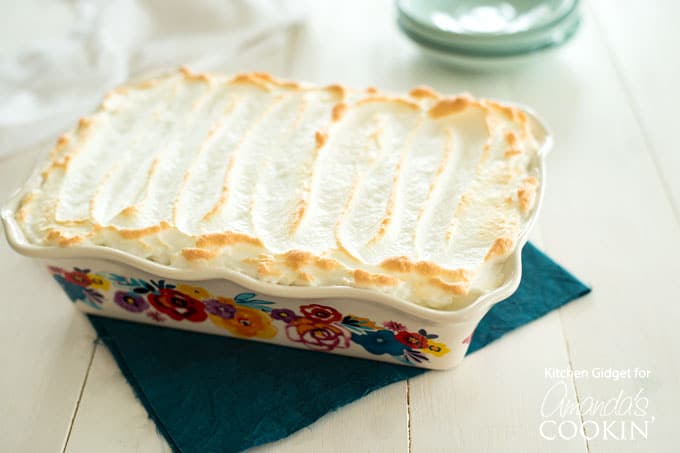 You might think making the custard would be complicated, but it's not! Opening pudding box mix is so easy, but it's got nothing on the taste of homemade! So, here are all my tips for making homemade banana pudding:
Use vanilla wafers. I've seen it done with other butter/shortbread cookies, but it's just not the same as the real deal!
Use ripe but not overly-ripe bananas. They should be yellow with little brown speckles on the skin. Once sliced, toss them with a splash of lemon juice to prevent them from turning brown, especially if you plan on serving this the following day.
Don't burn the custard. Use a double boiler (or a heatproof bowl set over a pot of simmering water) if you have a tendency to scorch things. It takes about 10 minutes of frequent stirring until it is thickened, but I promise it's worth every minute.
For the meringue, make sure your electric mixer is thoroughly clean and dry. Sometimes I wipe my bowl and beaters down with white vinegar to ensure there's no greasy residue left. Grease will hinder the whites from fluffing up and forming stiff peaks when you beat them.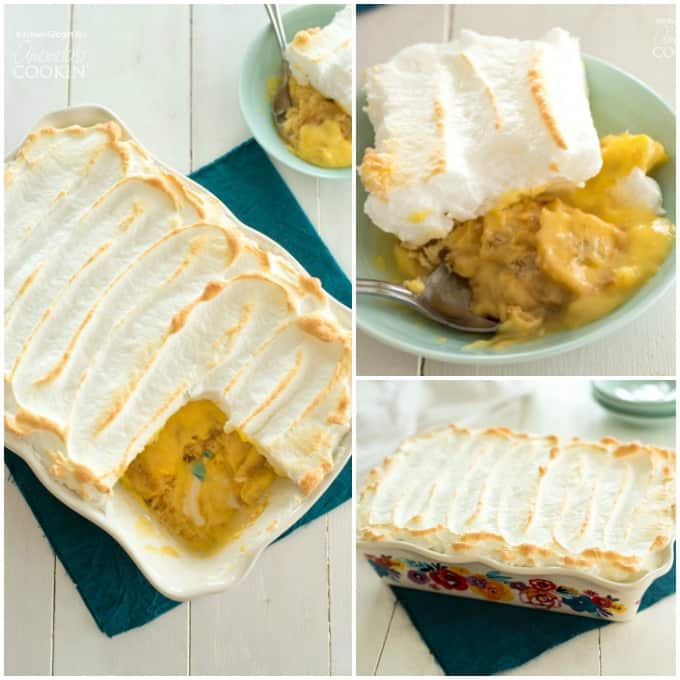 Everything is layered in a dish and the meringue gets toasted in the oven or under the broiler for a few minutes. Lastly, chill this dessert after toasting the meringue. If you try to serve it right away, the pudding will be too runny. Chilling it also give the cookies a chance to soften. And there you have it – homemade banana pudding from scratch!
Have a lot of bananas to use up? This Banana Cake with Vanilla Cream Cheese Frosting is calling your name! Or try some more of our favorite banana recipes on the blog like this Banana Cream Lush recipe, Banana Split Dessert, or the famous Banana Pudding Poke Cake.
More Banana Recipes
---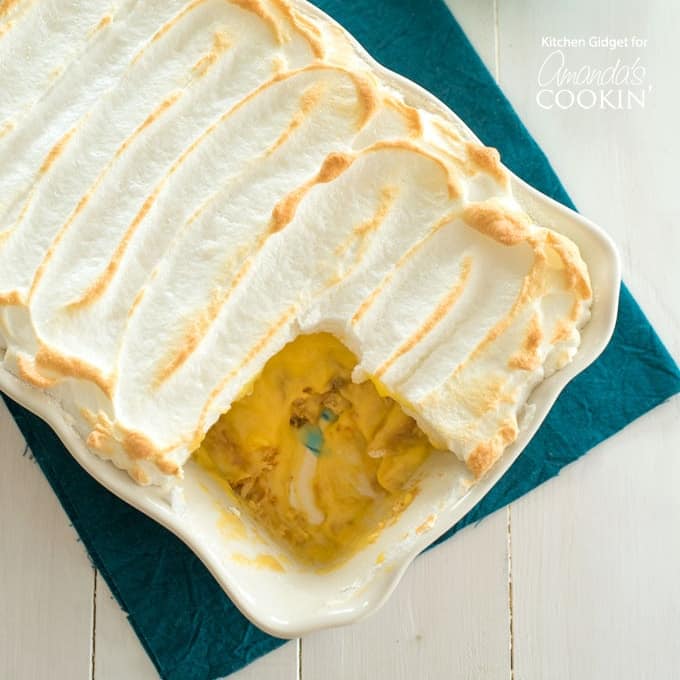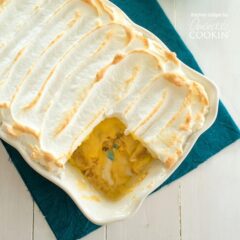 Homemade Banana Pudding
Whip up this easy homemade banana pudding featuring a meringue topping and pudding from scratch. With vanilla wafers and sliced bananas, this homemade banana pudding recipe is sure to be a hit!
IMPORTANT - There are often Frequently Asked Questions within the blog post that you may find helpful. Simply scroll back up to read them!
Print It
Rate It
Ingredients
1/2

cup

sugar

1/3

cup

all-purpose flour

1/2

teaspoon

salt

4

large

egg yolks

2

cups

milk

2

teaspoons

vanilla

40-50

vanilla wafers

2

large

fully ripe bananas

or 3 medium

1

tablespoon

lemon juice

optional
For the meringue:
4

large

egg whites

1/4

cup

sugar

1/8

teaspoon

cream of tartar

optional
Instructions
Preheat oven to 425°F or turn broiler on high.

In a large saucepan, whisk together 1/2 cup sugar, flour and salt. Whisk in egg yolks and milk until no lumps remain. Cook over medium-low heat, stirring constantly until thickened, about 10 minutes. Remove from heat and stir in vanilla.

Slice bananas 1/4-inch thick and toss with lemon juice (if using).

In a 2-quart baking dish, add a layer of vanilla wafer. Top with half the bananas and half of the pudding. Repeat layers.
For the meringue:
With an electric mixer, beat egg whites and cream of tartar on medium speed until soft peaks form (about 30 seconds). Gradually add 1/4 cup of sugar, 1 tablespoon at a time and increase speed to high until stiff peaks form.

Spread meringue over pudding, making sure meringue touches edges of dish. Bake for 5-7 minutes, or place under broiler until meringue is lightly toasted. Cool and refrigerate before serving.
Nutrition
Serving:
1
slice
|
Calories:
324
cal
|
Carbohydrates:
56
g
|
Protein:
7
g
|
Fat:
8
g
|
Saturated Fat:
2
g
|
Cholesterol:
95
mg
|
Sodium:
324
mg
|
Potassium:
284
mg
|
Fiber:
1
g
|
Sugar:
35
g
|
Vitamin A:
260
IU
|
Vitamin C:
3.7
mg
|
Calcium:
86
mg
|
Iron:
0.6
mg
Rebekah Garcia is the food blogger behind Kitchen Gidget. She creates recipes influenced by her Midwestern roots, Hispanic heritage and insatiable sweet tooth. When she's not cooking, you can find her at the beach with a good book. She is married to the man of her dreams and home is where the military sends them. She believes food is better when shared…unless it's the last bite!
Latest posts by Rebekah Garcia (see all)