Go big or go home with this decadent, New Orleans-style dessert. Single Serve Bananas Foster is one of the very few recipes where I actually don't try to health-it-up, and I'm all-in on butter, sugar, and ice cream. Oh, but wait…it has banana and pecans in it…that makes it healthy, right?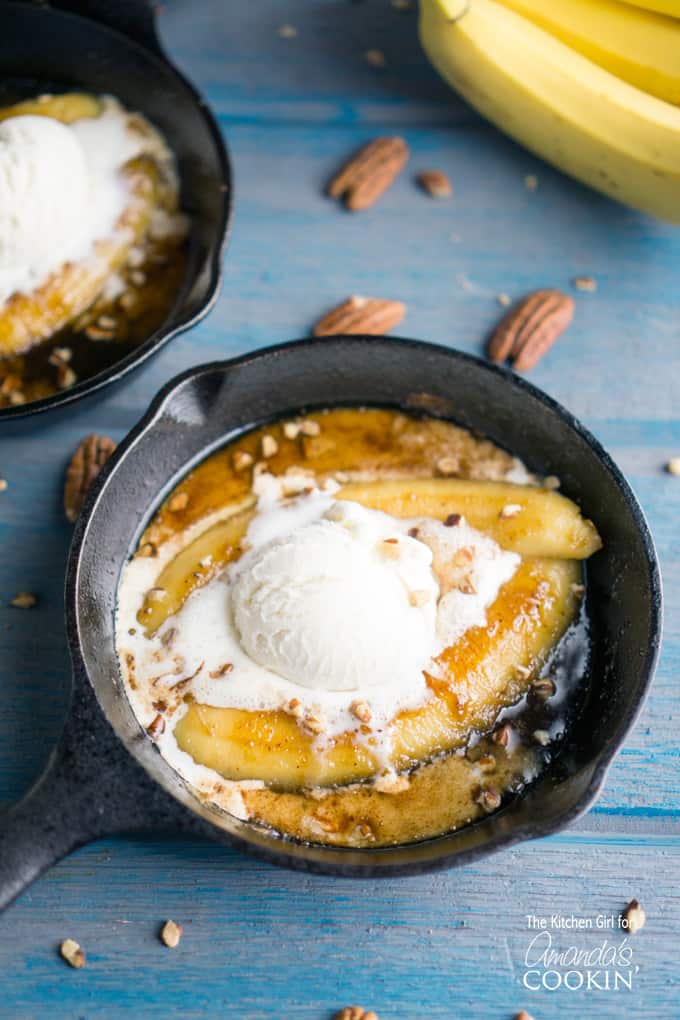 Single Serve Bananas Foster
One of my favorite things about this recipe, besides caramelized bananas smothered in ice cream, is that it's a single serve recipe in a cute little cast iron skillet. So, you can make as few or as many as you like…and they all look adorable.
Do you know just how ridiculously easy Bananas Foster is? So easy, you'd be crazy to not make this one! You'd be passing up the opportunity to impress someone, with little effort!
A word of caution. There is an optional part of this recipe involving an open flame in a skillet. If you decide to go that route, ALL precautions MUST be taken to avoid injury and prevent fire. You know, things like adult supervision and having a fire extinguisher on hand…things like that.
Mind you, these efforts are so worth it when you taste the magic that occurs from burning off alcohol and being left with the richness that is rum-flavored, buttery caramel sauce. It's pure heaven!
There are affiliate links in this post. That means if you buy something from that link, I will earn a small commission, but it won't cost you anything additional.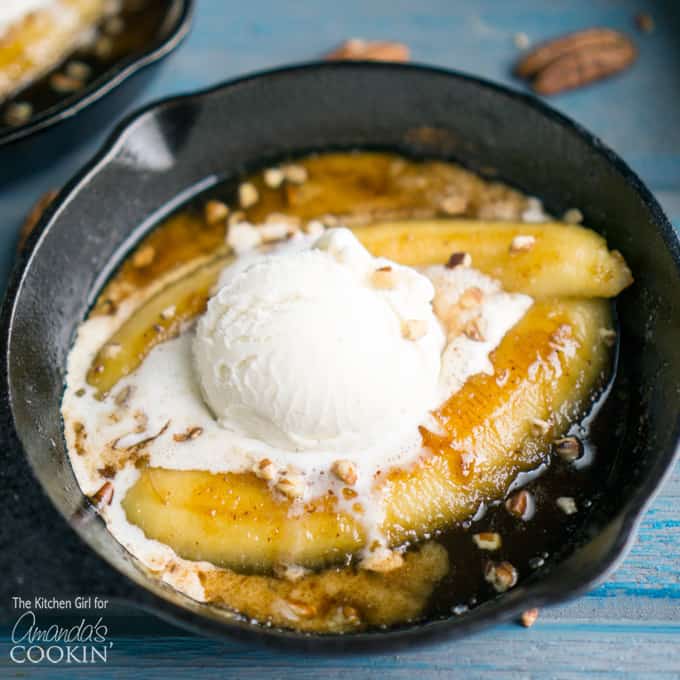 FIND THE PRINTABLE VERSION OF THIS RECIPE BELOW
Ingredients you will need for
Single Serve Bananas Foster:
butter
brown sugar
vanilla
chopped pecans
cinnamon
bananas
(optional) dark or light rum
vanilla bean ice cream
Kitchen tools I use for this recipe: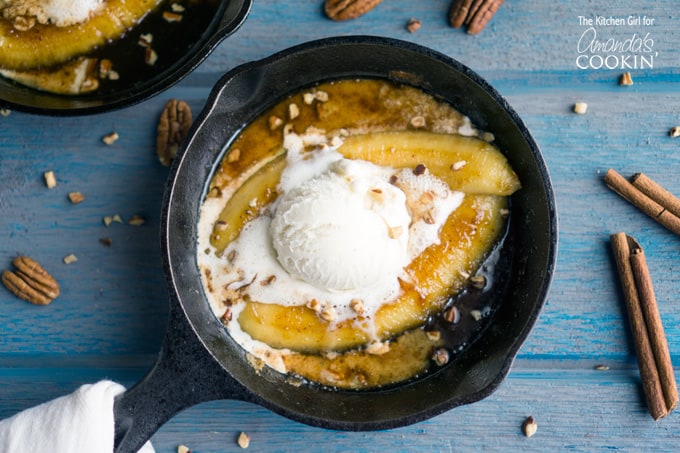 Looking for more dessert decadence that goes with any holiday? Check out my Orange Olive Oil Cake with Dark Chocolate Ganache. It's a simple cake with very distinct orange and chocolate flavors. If you like chocolate, you'll love these Black Truffle Salted Dark Chocolate Drizzled Nuts. Like the Bananas Foster, they're super easy and decadent…only without the peril of igniting an open flame.
Here are some more amazing dessert ideas to satisfy that sweet tooth!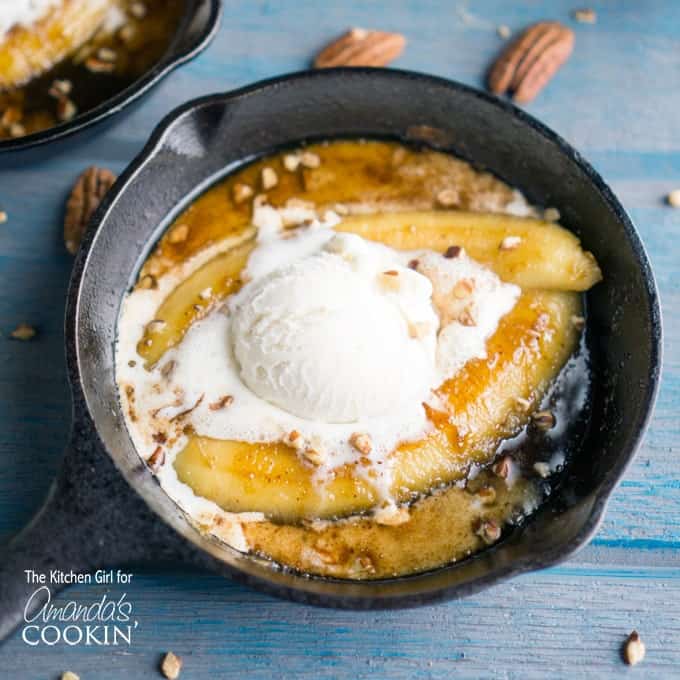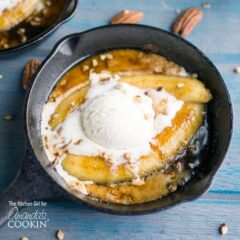 Single Serve Bananas Foster
Grab your 5" skillet and deck out those bananas with caramel sauce and rum, topped with vanilla ice cream for Fat Tuesday heaven.
IMPORTANT - There are often Frequently Asked Questions within the blog post that you may find helpful. Simply scroll back up to read them!
Print It
Rate It
Ingredients
1

tablespoon

butter

2

tablespoons

brown sugar

dark or light

1/8

tsp

vanilla

1

tablespoon

chopped pecans

a few pinches cinnamon

1

banana

sliced lengthwise

1

tbsp

rum (dark or light)

optional

1

scoop

vanilla bean ice cream
Instructions
Melt butter in skillet over medium heat; add brown sugar; heat until sugar dissolves, stir as needed (about 2 min).

Stir in vanilla, pecans, and cinnamon (be careful: liquid/oil splattering may occur).

Place bananas, sliced side up, in skillet; heat for about two minutes.

Gently turn bananas over, sliced side down; continue heating for two more minutes.

Remove skillet from heat; (optional) add and "ignite" the rum.
To "ignite" rum (CAUTION: Igniting rum means to create an "open flame" in the skillet to burn off the alcohol. Please take ALL precautions necessary to prevent injury and fire, such as adult supervision and fire extinguisher on hand).
Remove skillet from heat; pour rum over sauce; using a long match or long lighter, carefully ignite contents of the skillet; be sure to stand back as the flame may shoot out from the pan; once ignited, allow flame to burn and completely die before serving.

Top caramelized bananas and sauce with 1 scoop ice cream; garnish with chopped pecans; serve warm.
Nutrition
Serving:
1
cup
|
Calories:
538
cal
|
Carbohydrates:
67
g
|
Protein:
4
g
|
Fat:
26
g
|
Saturated Fat:
12
g
|
Cholesterol:
59
mg
|
Sodium:
160
mg
|
Potassium:
594
mg
|
Fiber:
4
g
|
Sugar:
52
g
|
Vitamin A:
705
IU
|
Vitamin C:
10.2
mg
|
Calcium:
104
mg
|
Iron:
0.6
mg
Traci authors The Kitchen Girl® food blog, where busy people on a budget grow smart food habits. She advocates eating for wellness as a lifestyle, offering healthy kitchen tips and everyday, whole food recipes that won't break your wallet...or your palate. She loves her job...even the 'dishes' part.
Latest posts by Traci Antonovich (see all)