Go big or go home with this decadent, New Orleans-style dessert. Single Serve Bananas Foster is one of the very few recipes where I actually don't try to health-it-up, and I'm all-in on butter, sugar, and ice cream. Oh, but wait…it has banana and pecans in it…that makes it healthy, right?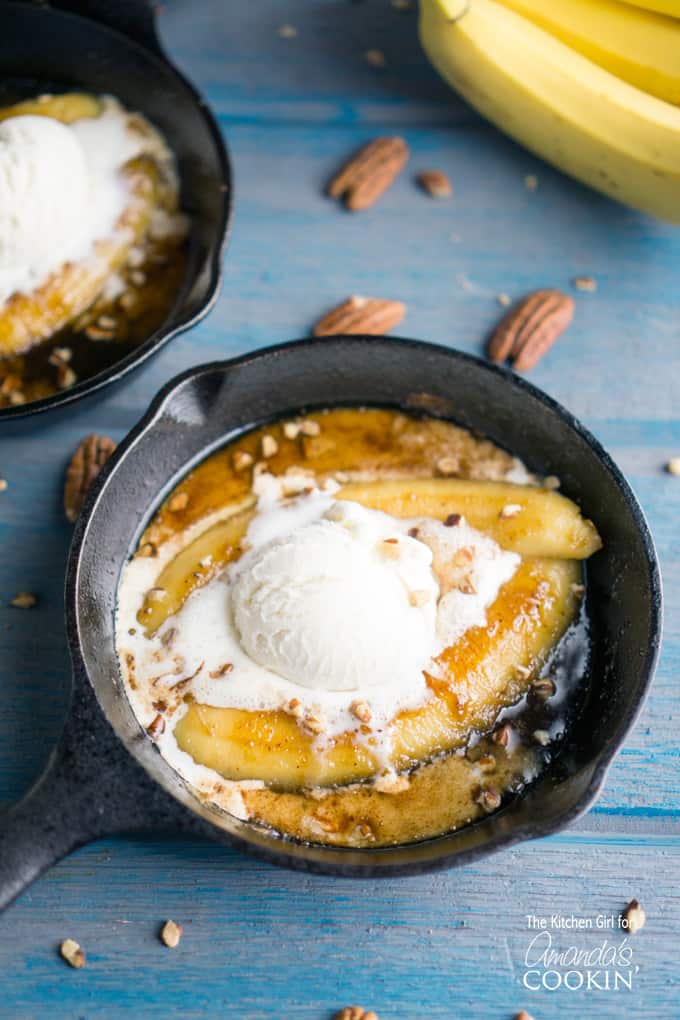 Single Serve Bananas Foster
One of my favorite things about this recipe, besides caramelized bananas smothered in ice cream, is that it's a single serve recipe in a cute little cast iron skillet. So, you can make as few or as many as you like…and they all look adorable.
Do you know just how ridiculously easy Bananas Foster is? So easy, you'd be crazy to not make this one! You'd be passing up the opportunity to impress someone, with little effort!
A word of caution. There is an optional part of this recipe involving an open flame in a skillet. If you decide to go that route, ALL precautions MUST be taken to avoid injury and prevent fire. You know, things like adult supervision and having a fire extinguisher on hand…things like that.
Mind you, these efforts are so worth it when you taste the magic that occurs from burning off alcohol and being left with the richness that is rum-flavored, buttery caramel sauce. It's pure heaven!
There are affiliate links in this post. That means if you buy something from that link, I will earn a small commission, but it won't cost you anything additional.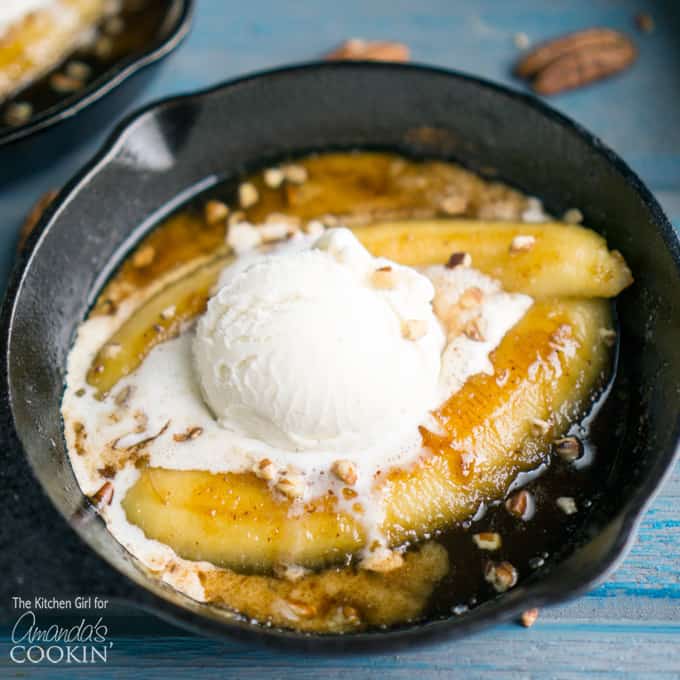 FIND THE PRINTABLE VERSION OF THIS RECIPE BELOW
Ingredients you will need for
Single Serve Bananas Foster:
butter
brown sugar
vanilla
chopped pecans
cinnamon
bananas
(optional) dark or light rum
vanilla bean ice cream
Kitchen tools I use for this recipe: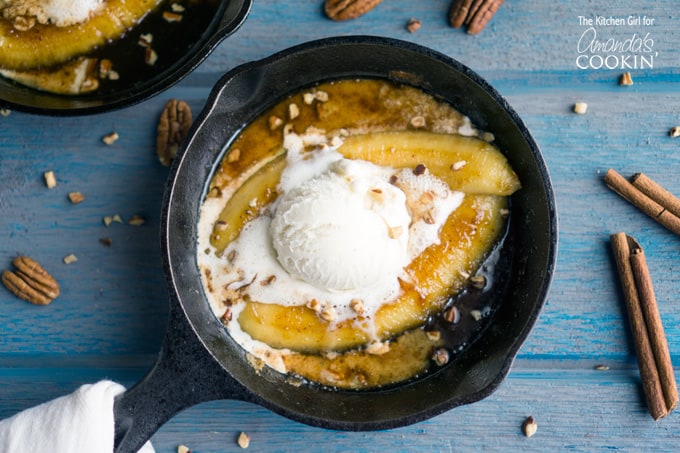 Looking for more dessert decadence that goes with any holiday? Check out my Orange Olive Oil Cake with Dark Chocolate Ganache. It's a simple cake with very distinct orange and chocolate flavors. If you like chocolate, you'll love these Black Truffle Salted Dark Chocolate Drizzled Nuts. Like the Bananas Foster, they're super easy and decadent…only without the peril of igniting an open flame.
Here are some more amazing dessert ideas to satisfy that sweet tooth!