This healthy whole roasted cauliflower makes a beautiful main or side dish that will wow your guests. With whipped feta cheese and a zingy herb sauce, this is one of those cauliflower dishes you'll come back to again and again, just like our General Tso's Baked Cauliflower.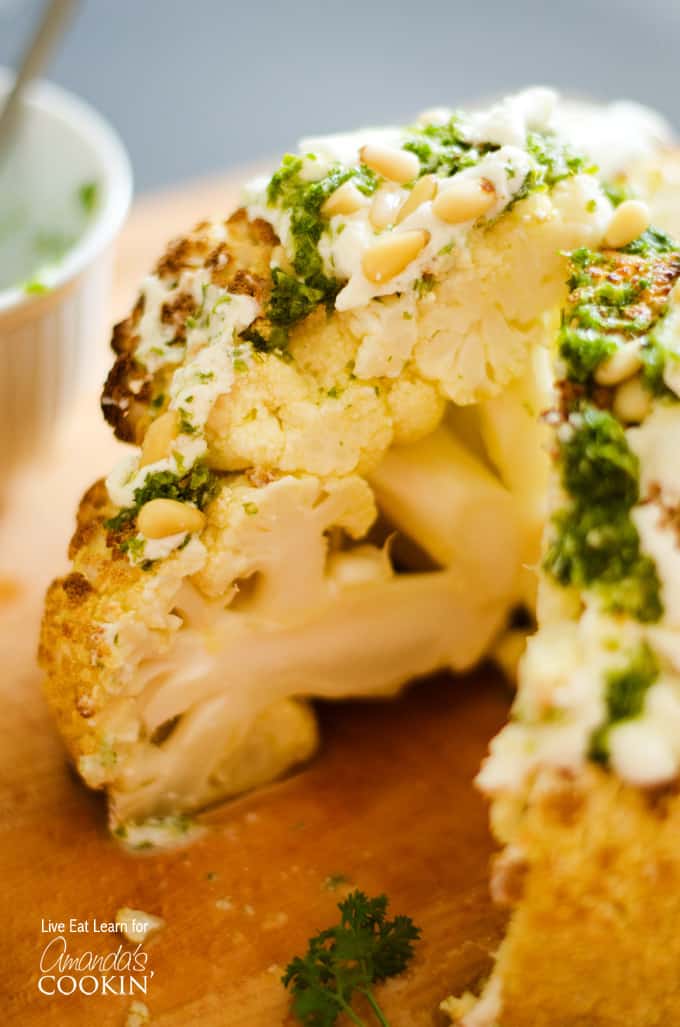 Whole Roasted Cauliflower
I have a vegetarian food blog, which means as autumn starts to sneak up on us each year, I have to consider possible turkey/ham/large-meat-centerpiece alternatives when it comes to our big fall-time meals. And until recently, I thought the dreaded tofurkey was the only real substitute. But then I discovered whole roasted cauliflower. Now I'm not saying this whole roasted cauliflower tastes at all like turkey or ham, but it's seriously such a gorgeous centerpiece that it could easily take their place!
There are affiliate links in this post. That means if you buy something from that link, I will earn a small commission, but it won't cost you anything additional.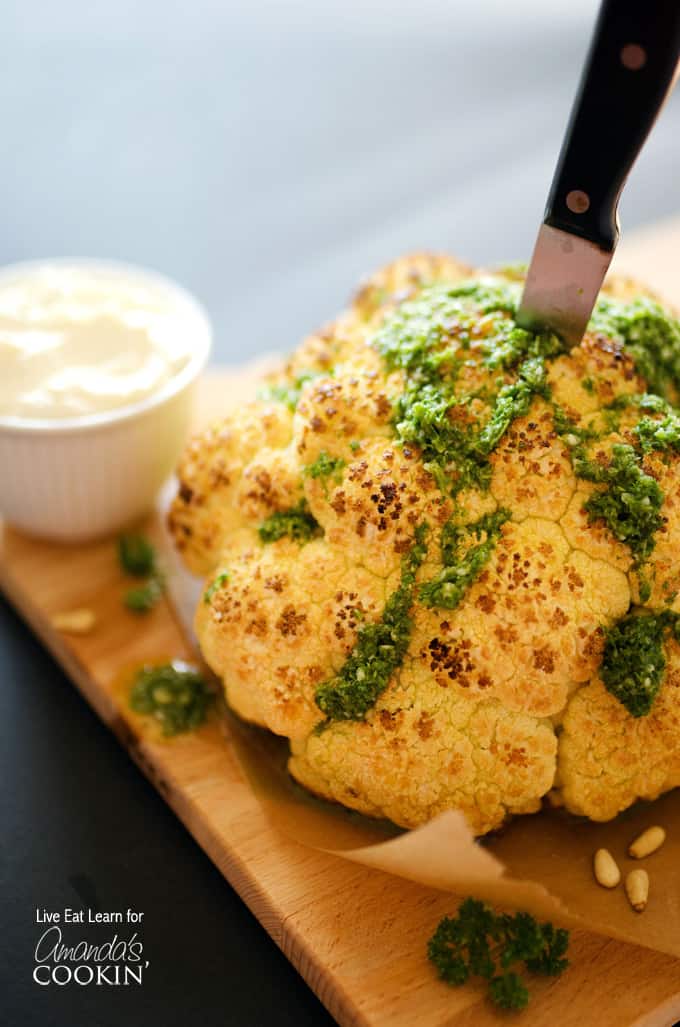 To make this Whole Roasted Cauliflower, you'll need:
1 head of cauliflower (2 to 3 lbs)
½ cup olive oil
1 teaspoon salt
8 oz room temperature feta cheese
3 oz room temperature cream cheese
½ cup packed fresh parsley (can replace half with cilantro)
½ cup olive oil
2 cloves garlic
1 Jalapeno pepper, seeds removed
1 tablespoon lemon juice
¼ teaspoon salt
Pine nuts
Kitchen tools you'll find useful: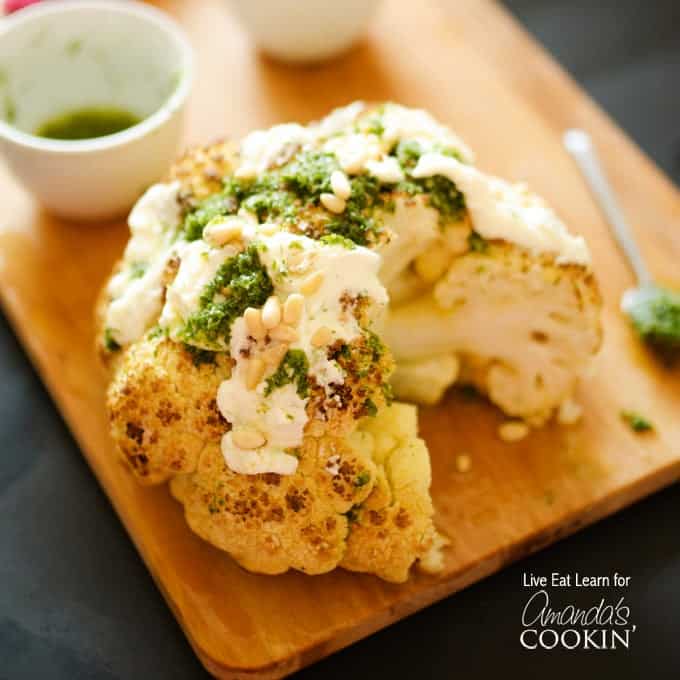 So what's so great about a whole roasted cauliflower? Well roasting gives the cauliflower a really gorgeous golden color on the outside, and makes it super tender on the inside. Slice it into big steaks to expose the pretty white interior, then douse it in two magical sauces for added yum.
The Sauces
Let's talk about those sauces for a second. Our first sauce is a simple whipped feta spread. If you've never tried whipping feta cheese, my goodness you're in for a treat! Imagine the tangy deliciousness of feta cheese without the crumby mess. Our second sauce is a slightly spicy, super herby parsley compote that whips up in seconds and brings so much freshness to our cauliflower.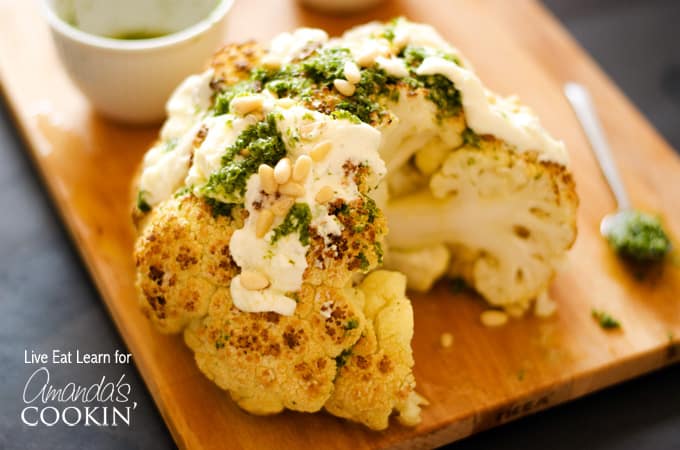 In total, this is a healthy, creamy, zingy dish that's bound to be a favorite at your next big dinner!
SCROLL DOWN FOR THE PRINTABLE VERSION OF THIS RECIPE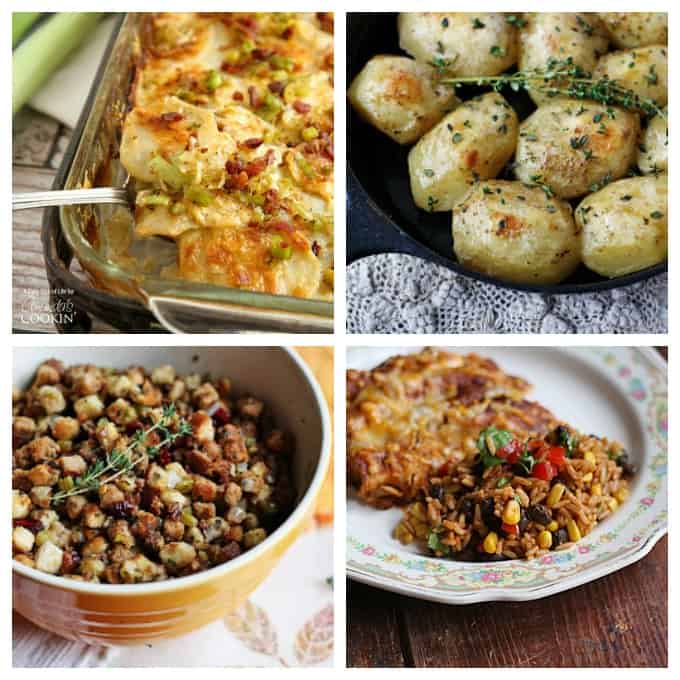 More side dishes you might like: