This homemade granola recipe contains the delicious flavors of the fall season. It's loaded with cinnamon and warm vanilla, crunchy pumpkin seeds and tart cranberries and is naturally sweetened with maple syrup & honey. You can leave out the oil or butter, and a flaxseed "egg" contributes to its health benefits. Check out my tips for customizing this fruit and nut granola to your tastes and preferences below!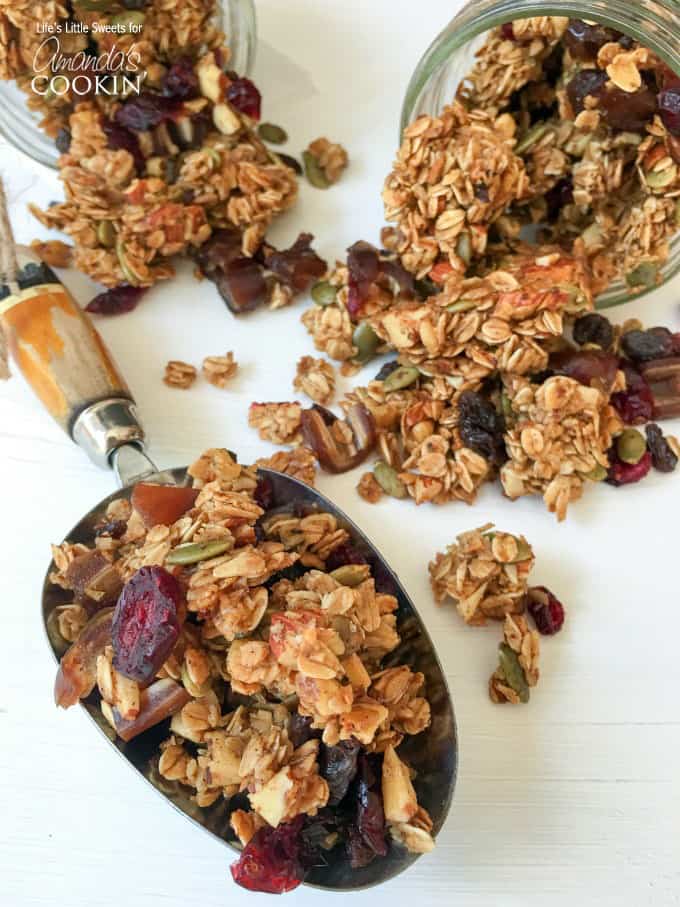 Homemade Granola Recipe with Fruit and Nuts
Breakfast and snacking can be tricky and packaged grab-and-go options are full of things we can't pronounce. That's why this homemade granola recipe is something you should definitely try. It's free of refined sugar and depending on your taste preferences, you can easily customize it to create chunky clusters or to make it more flaky in texture. It's the perfect, satisfying choice for breakfast or as a healthy snack. You will love the savory and sweet combination! This homemade granola recipe yields a good-size batch, so make some for yourself and put some into a mason jar for a friend or as a teacher gift.
There are affiliate links in this post. That means if you buy something from that link, I will earn a small commission, but it won't cost you anything additional.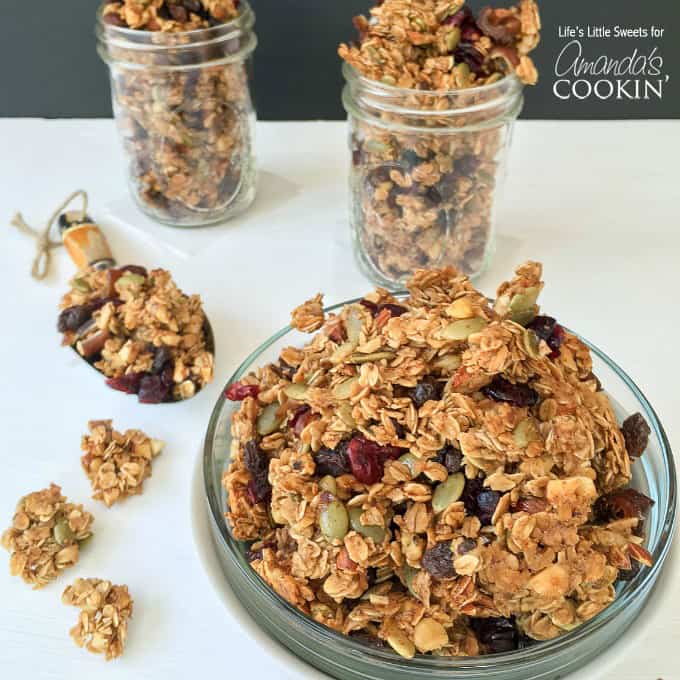 Ingredients Needed for Autumn Harvest Fruit and Nut Granola
3 cups old fashioned rolled oats
1/2 cup roughly chopped almonds
1/2 cup chopped walnuts
1/2 cup pumpkin seeds
1/2 teaspoon cinnamon
1/2 teaspoon kosher salt
1 teaspoon vanilla extract
1/2 cup raisins
1/2 chopped dates, preferably medjool dates
1/2 cup dried cranberries
1/2 cup maple syrup
1/2 cup honey
2 tablespoons melted and cooled coconut oil (or butter) *optional
1 flaxseed "egg" (1 tablespoon ground flaxseed + 3 tablespoons water)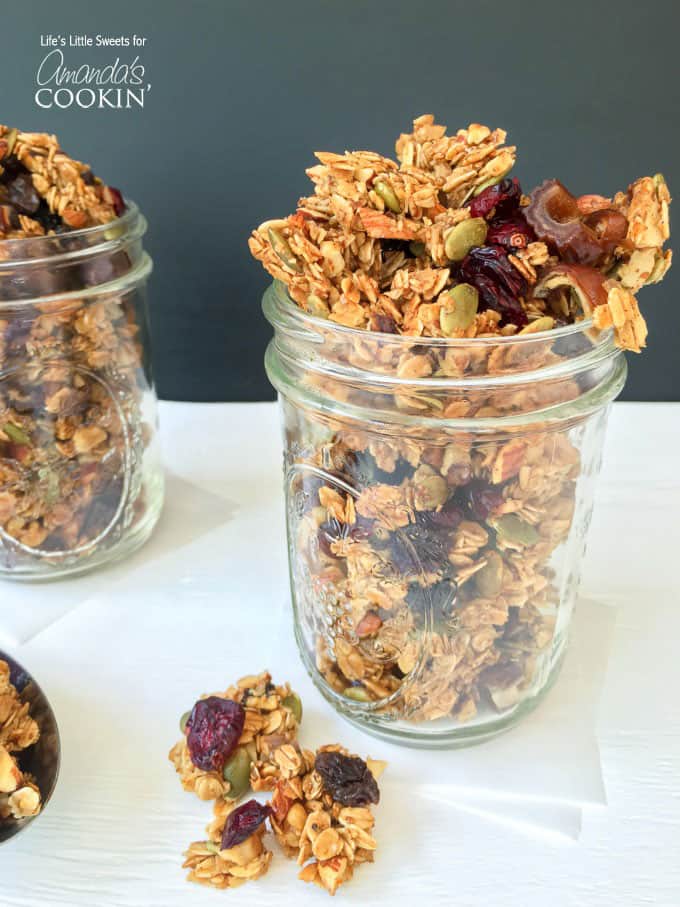 Kitchen tools you will find useful: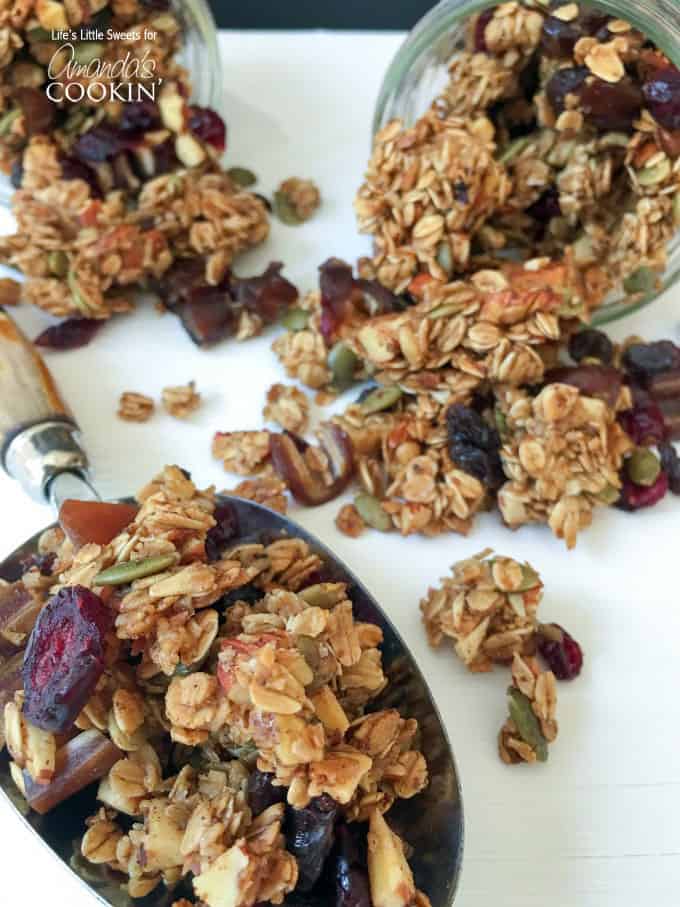 Tips for Customizing this Homemade Granola Recipe
Dial back on the natural sweeteners if you want it less sweet, as long as you are between 1/2-1 cup total amount of honey and maple syrup.
Experiment with different kinds of honey or maple syrup flavors.
Customize the fruit and nuts with what you have on hand as long as the total amount of fruit and nuts are the same.
To make it more cinnamon-y, you can add up to 1 teaspoon of ground cinnamon.
Consider adding a pinch of nutmeg to play up the aromatic flavors.
To save time, pick up almonds and walnuts that are already chopped or sliced (I preferred chopping them myself for this recipe to get a nice texture).
If you prefer a flaky texture, break the granola apart while it's still warm. If large clusters are your thing, wait until the granola has cooled before breaking it up.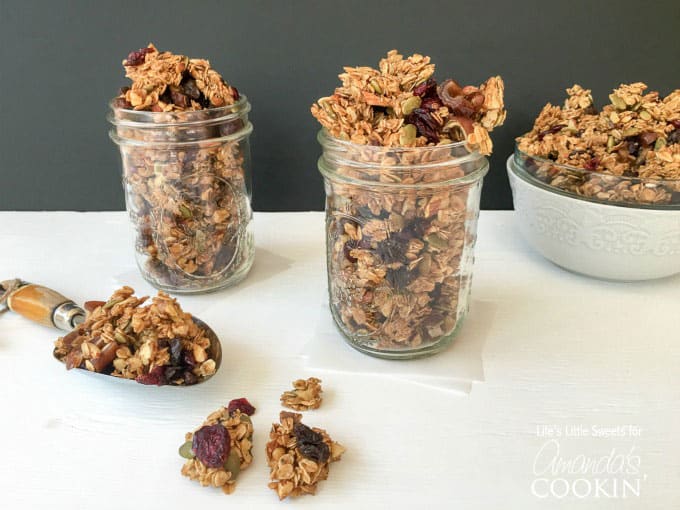 This homemade granola recipe offers endless possibilities. You can even cut it into bars if you prefer to snack on it that way! I hope you enjoy it as much as my family does!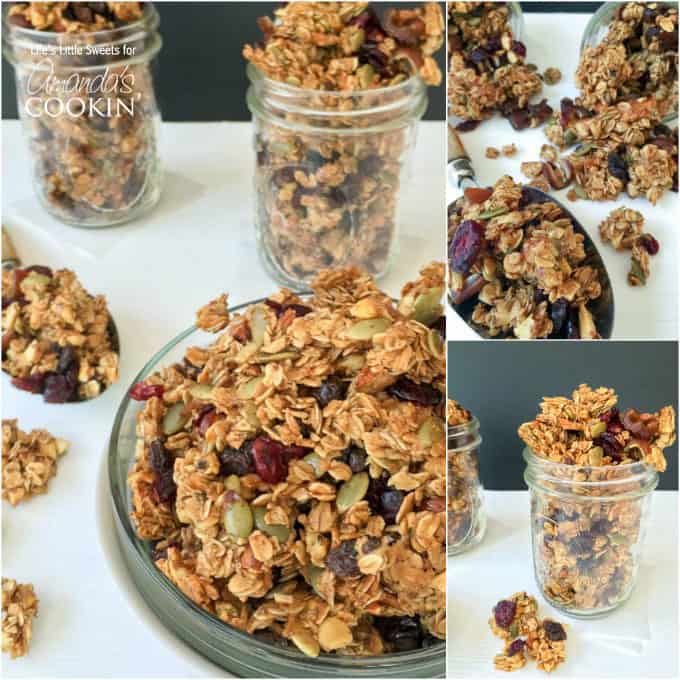 SCROLL DOWN FOR THE PRINTABLE VERSION OF THIS RECIPE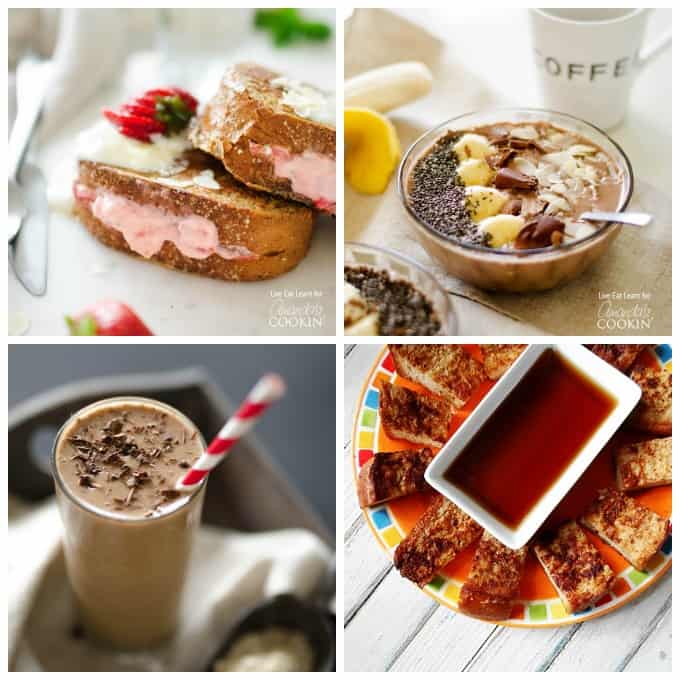 MORE BREAKFAST IDEAS YOU MIGHT LIKE:
Want even more free recipes? Be sure to join my newsletter for FREE recipes and craft ideas sent to your email inbox every week.

Recipe Attribution
This Autumn Harvest Fruit and Nut Granola recipe was inspired by Smitten Kitchen's Big Cluster Maple Granola on Seriouseats.com and How to Make a Flaxseed Egg on Life's Little Sweets