These Sweet Potato Oat Cookies are chocolatey, moist, and oaty, making them perfect for your holiday cookie exchange. You would never guess they're packed with sweet potato!

Sweet Potato Oat Cookies
If pumpkin is the star ingredient of October, then sweet potato should be the star for the rest of the holiday season. It's ultra flexible, fitting with both sweet and savory dishes, and is killer in baked goods. Why? Its natural sweetness means you need less sugar while its texture makes your recipe ultra-moist. So today we're mashing up some sweet potatoes and throwing them in these Sweet Potato Oat Cookies!
RELATED: These Berrylicious Cookie Bars are kid-approved and mom-approved, perfect for an after-school snack or a little boost of energy throughout the day!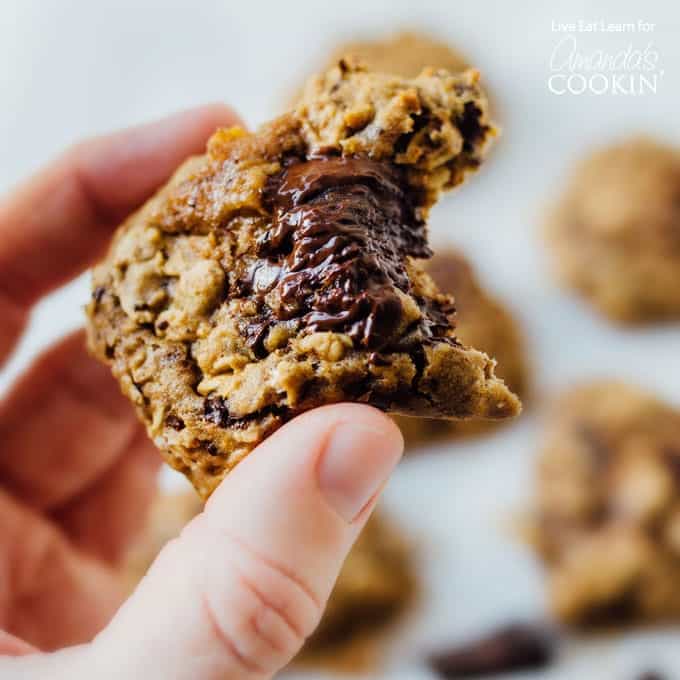 To make these Sweet Potato Oat cookies you'll need:
2 medium sweet potatoes
2 cups all-purpose flour
1 ½ cups rolled oats
1 tsp baking soda
2 tsp ground cinnamon
½ tsp salt
¼ tsp each ground nutmeg, ground cloves, and ground ginger
½ cup (1 stick) unsalted butter, room temperature
½ cup brown sugar
½ cup white sugar
1 large egg
1 tsp vanilla extract
1 ½ cups chocolate chips or chunks
Products you may find useful:
Making the Sweet Potato Oat Cookies
Peel and chop sweet potatoes into chunks. Bring a large pot of water to a boil and add sweet potatoes, cooking for about 15 minutes, until fork tender.
Drain water and mash potatoes, then set aside to cool some.
In a medium bowl combine flour, oats, baking soda, salt, and spices. Set aside.
Combine butter and sugars until smooth, then add egg and vanilla. Once sweet potato has cooled off a bit (should be warm, not hot) add it to the sugar mixture.
Stir flour mixture into sweet potato mix, then fold in chocolate chips.
Preheat oven to 350 degrees F (175 C). Scoop dough onto a greased or parchment paper-lined baking sheet. Bake for 10 to 12 minutes, or until slightly crisp on the outside (do not overbake! They make look soft in the center, that's perfect!). Let cool on the pan for 20 minutes before transferring to a container.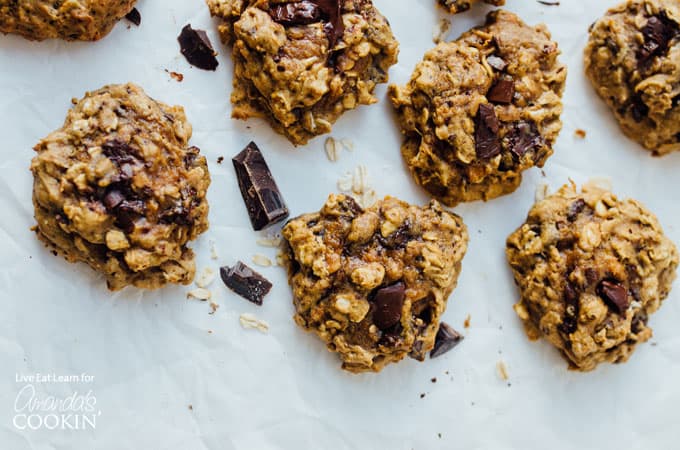 You'll make these cookies like you would any other. Mix together the wet ingredients, mix together the dry ingredients, then combine the two! Mix in chocolate chips or chunks, scoop onto a cookie sheet and bake. BUT, whatever you do it is absolutely essential that you do NOT overbake these guys. They'll transform from perfect and moist into the too-crispy, cakey cookies that everyone skips over at the holiday cookie exchange, and that ain't something anyone wants.
Speaking of holiday cookie exchange, check out more cookies recipes below!