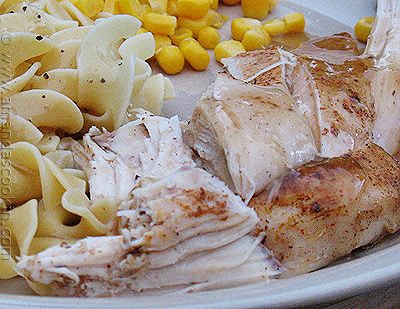 I usually buy my chicken from the grocery store instead of the local farm. Mostly because I more often than not, cook only breasts and find cutting up a whole chicken to be a horrible chore. However, when calling the farmer to reserve my fresh turkey for Thanksgiving, he told me he had some rather large chickens if I was interested. Apparently, the chickens went an extra several weeks before butchering and they grew considerably during that time. So what the heck. I bought two huge chickens.
First off when I put this huge chicken in my slow cooker I didn't think it was going to fit! I worried that the lid wasn't going to stay closed, but it ended up fitting perfectly. We ended up with tons of meat, plenty to feed all 6 of us and enough leftover for a big meal of chicken enchiladas, which you can bet will be on my menu plan for next week! ;) I found this recipe on the web somewhere in 2004, however it's still posted here on FC.
I should note that this recipe is probably awesome if roasted. The recipe I followed called for roasting it in the oven at 250 for 4 hours. After the first hour baste it with the juices, and then baste every 30 minutes afterward. Let it rest for ten minutes before carving. However, I hate carving chicken. As seen in a post on my craft blog (before I started this one), I hack the heck out of the poor thing and it looks like a massacre. The recipe then said you could cook it in the slow cooker. So there you have it.
Rub the spice mixture into the chicken, both inside and out, making sure it is evenly distributed and down deep into the skin. (I cut the breast skin open and rubbed the breast meat as well)

Ingredients
1 whole chicken
4 teaspoon salt
2 teaspoons paprika
1 teaspoon cayenne pepper
1 teaspoon onion powder
1 teaspoon thyme
1 teaspoon white pepper
1/2 teaspoon garlic powder
1/2 teaspoon black pepper
1 cup chopped onion
Instructions
In a small bowl, thoroughly combine all the spices.
Remove giblets from chicken; clean the cavity well and pat dry with paper towels.
Rub the spice mixture into the chicken, both inside and out, making sure it is evenly distributed and down deep into the skin.
Place in a re-sealable plastic bag, seal and refrigerate overnight.
Stuff cavity with onions and place in slow cooker. No water is needed, but I added about 1/4 cup to make me feel better.
Cover and cook on low for 8 hours.
Use a turkey baster to remove about a cup of the liquid and place it in a saucepan. Add enough cornstarch (1 tbsp maybe) to thicken it up on low heat, makes a fab gravy!
7.6.4
231
https://amandascookin.com/slow-cooker-crockpot-sticky-chicken/
Amanda Formaro, AmandasCookin.com
Amanda Formaro is the crafty, entrepreneurial mother of four children. She loves to bake, cook, make kid's crafts and create decorative items for her home. She is a crafting expert and guru in the kitchen and has appeared online and in print publications many times over the years. She is also a craft book author five times over and product developer as well as the owner of
FunFamilyCrafts.com
. You can find her on social media by using the buttons to the left!
Latest posts by Amanda Formaro (see all)