Macaroni and cheese is definitely comfort food. For some, a piping hot casserole dish pulled out of the oven sprinkled with bread crumbs is their idea mac and cheese dish. For others, like me, who were raised on boxed macaroni and cheese, prefer the stovetop method. I've made a couple of homemade macaroni and cheese recipes where they are baked, and while they taste good, they're just not for me.
I tried a recipe recently for stovetop macaroni and cheese that used evaporated milk. I did not care for the flavor at all, nor did anyone in my family. Consequently it all went down the garbage disposal. I don't know why I didn't think of it before, but this time I put together a batch of my homemade cheese sauce that I have been making for broccoli and cauliflower for years, and poured it over some macaroni elbows. Perfect!
This is delicious, and you can substitute skim milk if you like. The secret is to use your favorite type of cheese. In the recipe, I specify cheddar, but you can use American as well, low fat cheese, white cheddar, or even a Swiss.
NOTE: This recipe makes a one pound box of elbow macaroni. You can cut all of the ingredients in half and make 1/2 box, or easily substitute the type of pasta noodles you use. Shells are a great substitution.
Easy, Creamy Stovetop Macaroni & Cheese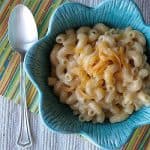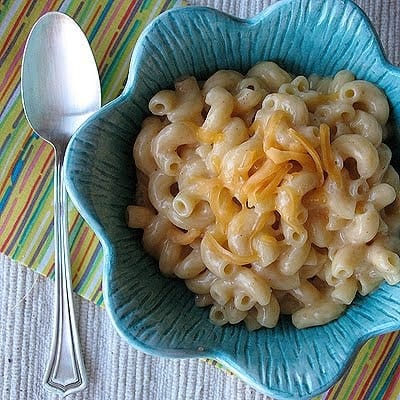 Easy Stovetop Macaroni & Cheese
Print
Ingredients
1

pound

box dried elbow macaroni

4

tbsp

unsalted butter

4

tbsp

flour

1

tsp

salt

1/4

tsp

pepper

1/4

tsp

paprika

1/4

tsp

dry mustard

2

cup

milk

2

cup

shredded cheddar cheese
Instructions
Put a covered stock pot of water on to boil over high heat. 

Meanwhile, over low heat melt the butter in a heavy bottomed saucepan. While butter is melting, measure out and combine the flour, salt, pepper, paprika, and dry mustard in a small dish or bowl. When butter has melted, add the flour mixture to the butter and use a whisk to combine to make your roux. Continue whisking and slowly add the milk, whisking to combine all the ingredients. Turn up the heat slightly (don't go higher than medium-low) and whisking often, thicken the mixture. You may see occasional bubbles, and that's ok, but you do not want it to boil, just to thicken. When thickened, remove from heat and add the shredded cheese, using the whisk to combine until melted and homogenous. 

Drain the macaroni (do not rinse, the starch helps the cheese stick to the noodles) and place in a large bowl. Pour cheese sauce over the macaroni and stir to coat well. Serve while hot.
Amanda Formaro is the crafty, entrepreneurial mother of four children. She loves to bake, cook, make kid's crafts and create decorative items for her home. She is a crafting expert and guru in the kitchen and has appeared online and in print publications many times over the years. She is also a craft book author five times over and product developer as well as the owner of
FunFamilyCrafts.com
. You can find her on social media by using the buttons to the left!
Latest posts by Amanda Formaro (see all)