These homemade baked beans are baked in a delicious tangy sweet and savory sauce of brown sugar, maple syrup, ketchup, and apple cider vinegar… SO much better than baked beans from a can!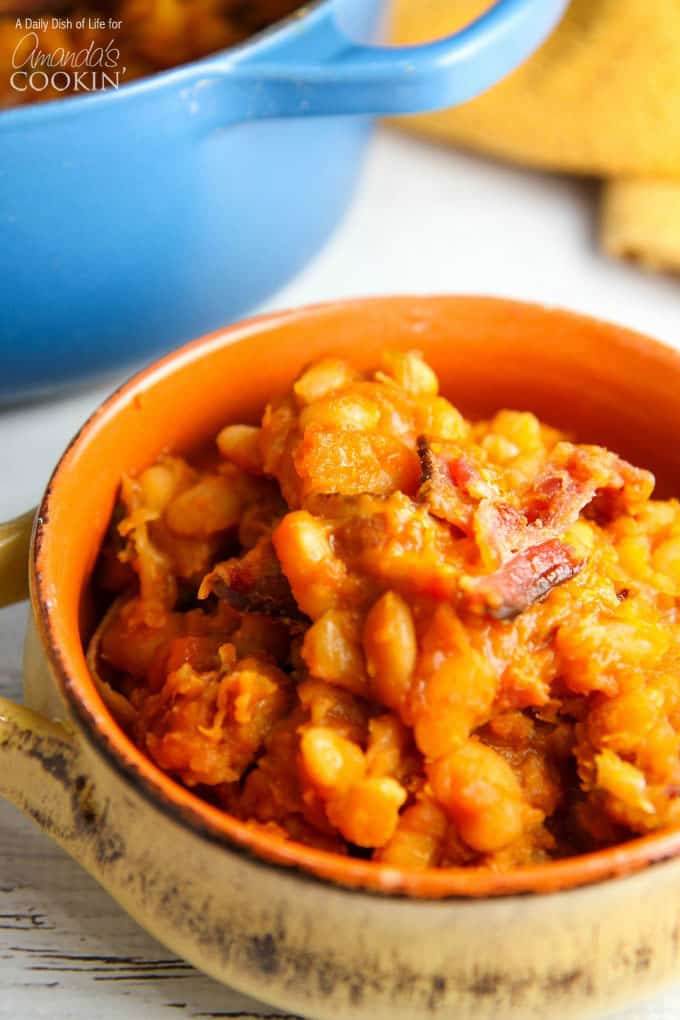 Homemade Baked Beans
What's a summer barbecue without baked beans? You have to have baked beans…it just wouldn't be the same without them!
Baked beans out of a can just aren't the same to me.  I have doctored them up before, and they taste pretty good, but nothing beats homemade baked beans!  You do need to plan ahead though, because it does take a bit of time to cook them. However, most of the cooking is done in the oven, so it's a pretty easy recipe to put together.
Prepping and cooking your beans
I generally use Great Northern beans, but you can use navy beans as well. I've even heard of people using kidney beans, although I've never done it. You'll want to rinse and pick through the dry beans to make sure you don't have any small pebbles mixed in with the beans. Then you're ready to give them a good long soak. Soaking your beans overnight keeps them tender. If you forget, you can try quick-soaking your beans.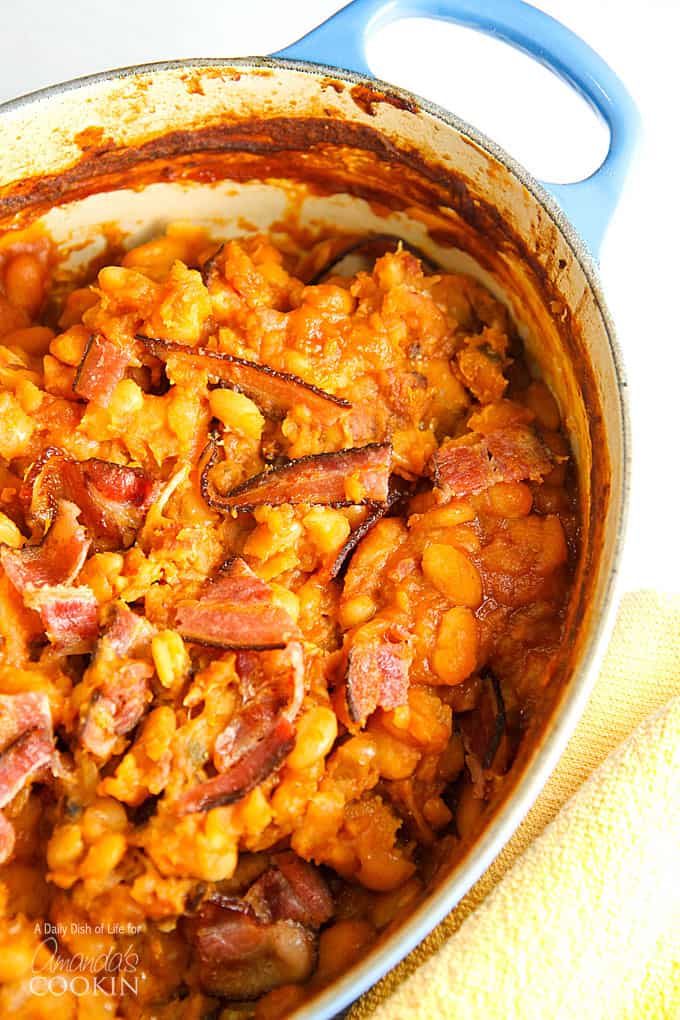 The next day, when you're ready to start cooking, drain the beans and cover them with water again. If you have a Dutch oven, I'd recommend using it for the next step. I bring the beans and water to a boil, then I cover them and simmer for an hour on low. If you use a Dutch oven, it can go right into the oven for the baking part. But you can use a pot and then transfer the beans to a casserole dish as well. I just like using a single pot whenever possible for less clean up!
While the beans are cooking
While your beans are cooking, fry up a few slices of bacon partway and then drain them on paper towels. Leave behind a few tablespoons of bacon grease and sauté some chopped onion and jalapeño in it.  If you're making a vegetarian version, skip the bacon and use a little vegetable oil instead.  The bacon grease does give it a nice flavor if you don't have a dietary reason for avoiding it. I drain the onion and jalapeño mixture on paper towels as well.
After your beans have cooked for an hour, drain them. But do not pour that starchy bean liquid down the drain! Reserve it because you are going to need it for your next step. You'll combine the drained beans, onion and jalapeño mixture, brown sugar, maple syrup, liquid smoke, dry mustard, and one cup of the bean liquid. Stir your beans to combine (but do not over mix!), cover them and let them cook for two hours or so.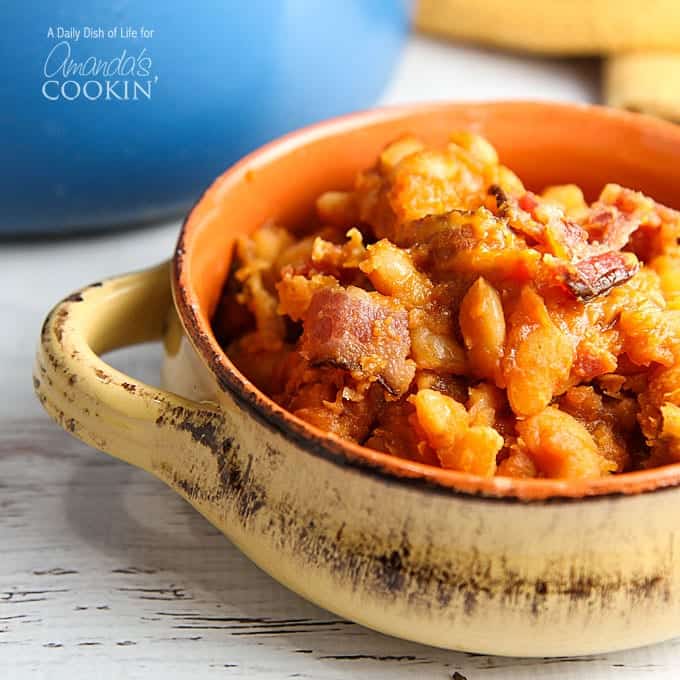 The final steps
The last part of the process is adding in the ketchup, cider vinegar and chopped bacon to the beans.  The reason you are adding the ketchup and vinegar towards the end of the cooking process is because both tomatoes and vinegar are more acidic, and adding them earlier does affect how the beans cook. This way, it allows those complex tangy, sweet and savory undertones to develop properly. If you find you need more liquid, you can add more of the bean liquid as well.
Once again, you are going to mix the beans to incorporate the ketchup and vinegar, but try keep as light of a touch as possible. The skins of the beans are ever-so-tender and can break up easily with over mixing. My bean pictures here today may show a tad bit of over mixing. What can I say? I have done it before, and I am sure I will do it again. Either way, they will taste great, but they won't be quite as "pretty."
There are affiliate links in this post. That means if you buy something from that link, I will earn a small commission, but it won't cost you anything additional.
Ingredients needed for homemade baked beans:
(full printable recipe below)
1 lb dry great northern beans
4 slices thick cut bacon, cooked partway, then coarsely chopped
1 medium yellow onion, chopped
1 jalapeno pepper, seeded and chopped
1/2 cup brown sugar
2 teaspoon dry mustard
1/2 cup maple syrup
1 teaspoon liquid smoke
3/4 cup ketchup
1/4 cup cider vinegar
Kitchen tools you may find helpful: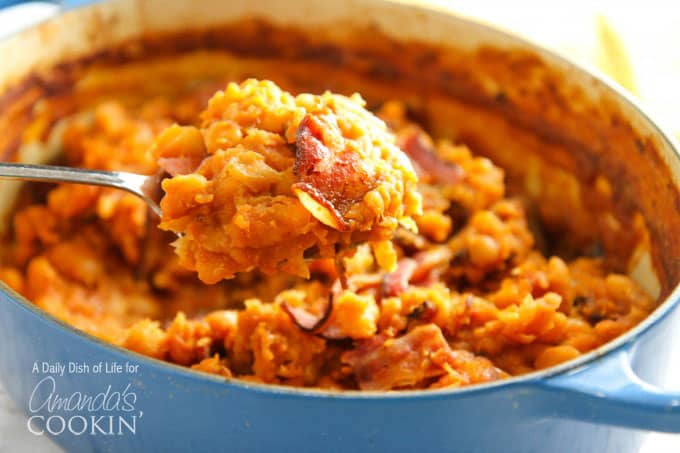 SCROLL DOWN FOR THE PRINTABLE VERSION OF THIS RECIPE
MORE SUMMER RECIPES YOU WILL LOVE:

Turn Mexican street corn into a salad. This delicious Chili Lime Mexican Corn Salad takes 15 minutes to make and is sure to be a hit at your next cookout!
This delicious Creamy Deviled Egg Layered Pasta Salad combines deviled eggs and pasta salad in a dish that is perfect for any potluck get together.
These marinated grilled chicken kabobs step outside the box using red wine in the marinade instead of white wine.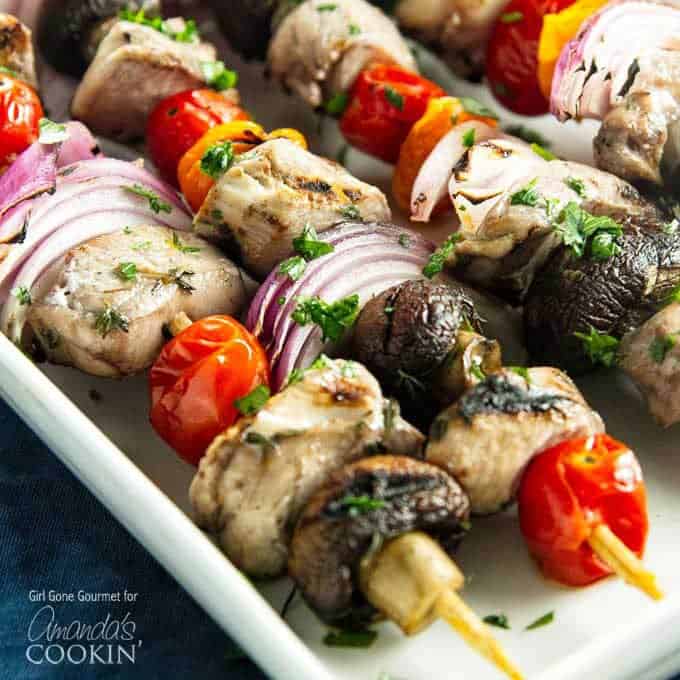 Need a dessert for your barbecue? This vintage watergate salad is perfect for a party or get together, great as a take-along.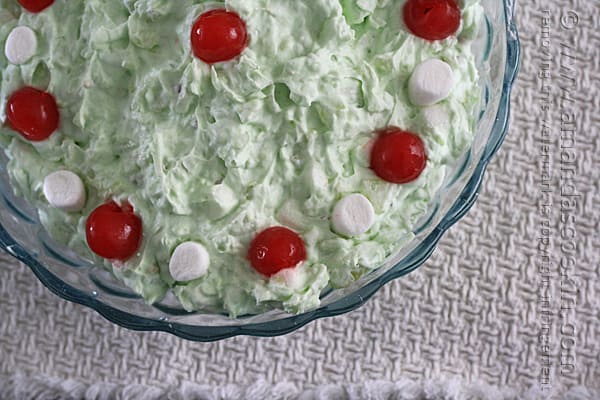 Want even more free recipes? Be sure to subscribe to my newsletter for FREE recipes and craft ideas sent to your inbox every week.