After Thanksgiving there's always a bunch of turkey leftovers and finding delicious ways to use them up can be challenging. Believe me when I say you must make this homemade pot pie. You can use turkey or chicken, it's divine either way. The flavor of this pot pie is the best I've had!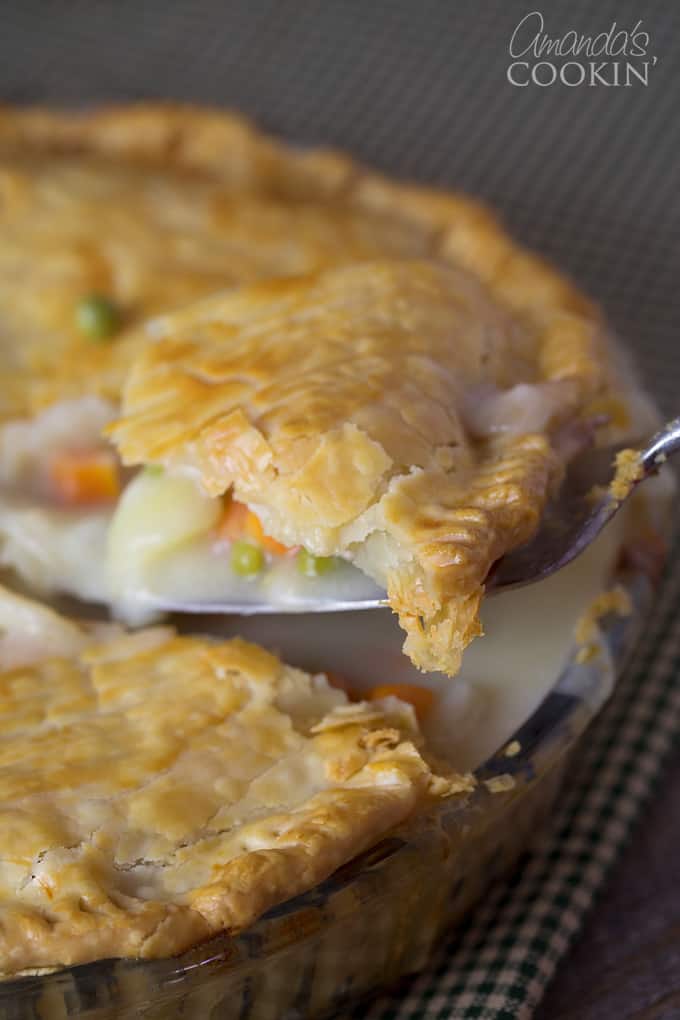 Homemade pot pie
There are affiliate links in this post. That means if you buy something from that link, I will earn a small commission, but it won't cost you anything additional.
This recipe comes from The Best Chicken Recipes which is a fabulous hard bound book FULL of wonderful recipes. I originally checked it out from the library, but have since ordered my own copy.
This pot pie recipe has earned a permanent place in my recipe library. The fact that it makes 2 pies is great, you can freeze one to bake another night.
I've made several recipes from this book, it's definitely keeper, and it's full of helpful diagram and tips. Plenty of advice on different kitchen tools and gadgets as well.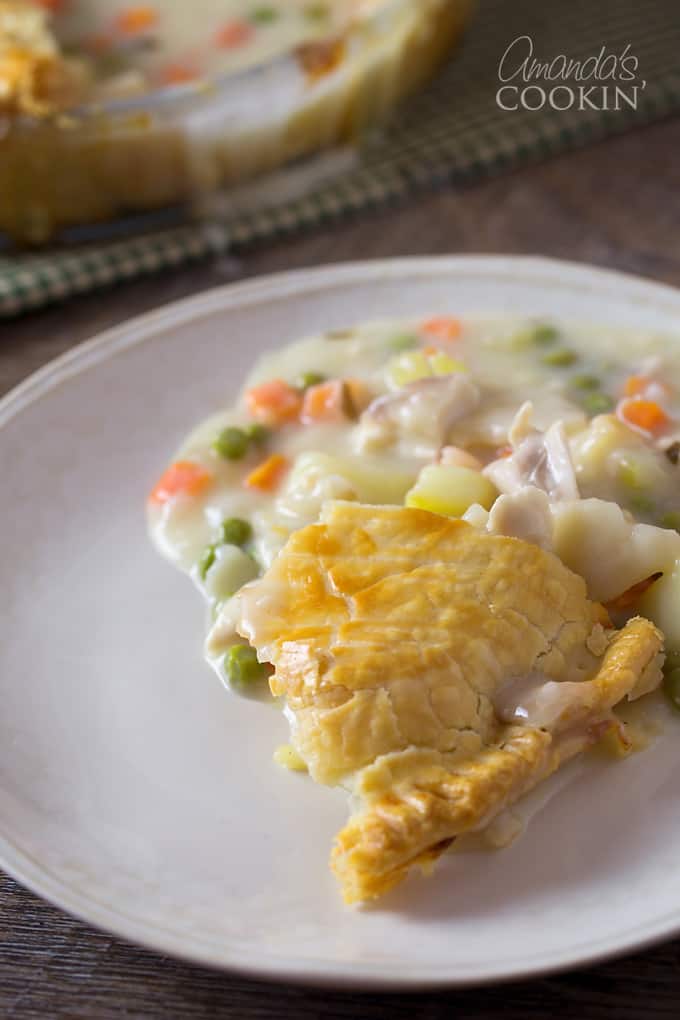 One of the things mentioned in the book is that you can certainly make your own pie crust, and they do offer a savory pie dough recipe for you to use, but they also offer advice on store bought doughs. Since you will need crust to go on top of each pie, you don't want to buy those preformed pie crusts, you want the rolled out doughs, like Pillsbury. This isn't a product endorsement, I just happen to really like their dough and it's easy to work with.
The only issue with using the store bought dough is that you cannot place round precut dough into a 13×9 pan, you must make two 9″ pies. One 9″ pie was plenty for our family, hence why I froze the other. If you prefer to make one 13×9, you will probably want to make your own crust.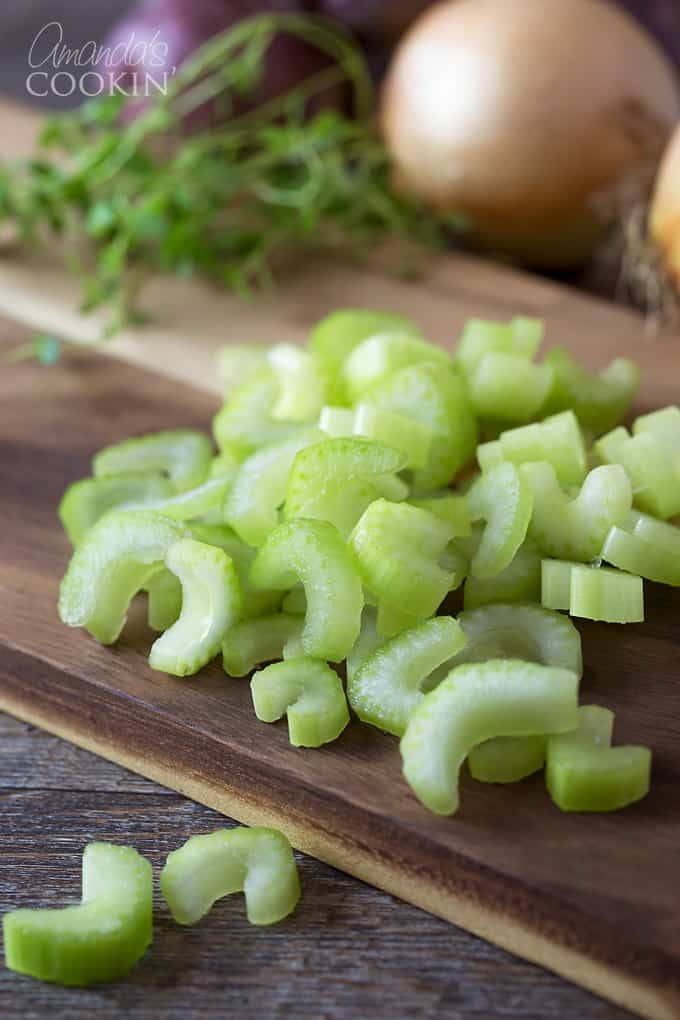 Ingredients you will need:
6 tablespoons unsalted butter
3 celery ribs, sliced 1/4″ thick
2 medium onions, minced
salt
3/4 cup unbleached all purpose flour
3/4 cup dry vermouth (can substitute with chicken broth)
4 cups chicken broth
1 cup heavy cream
2 tsp minced fresh thyme leaves or 1/2 tsp dried
3 pounds boneless, skinless chicken breasts, trimmed OR 8 cups cooked, cubed chicken or turkey
1 16-oz bag frozen peas and carrots
4 or 5 small red potatoes, peeled, cubed and boiled
ground black pepper
1 double savory pie dough
Kitchen tools you'll find helpful: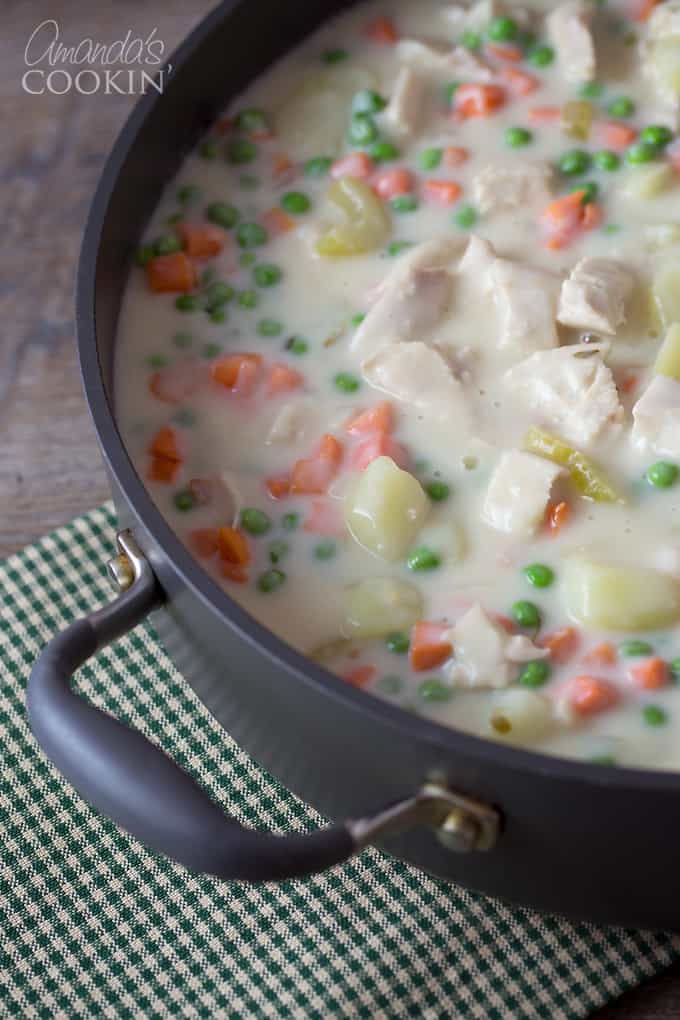 One more note: This recipe uses vermouth. I buy a bottle of dry Vermouth for $5.00 at the local wine shop here in town. It lasts me a long time and works great for cooking, you can use it as a substitute in any recipe calling for dry white wine. In fact, I bought it originally because Julia Child suggested it in her book, Mastering the Art of French Cooking
.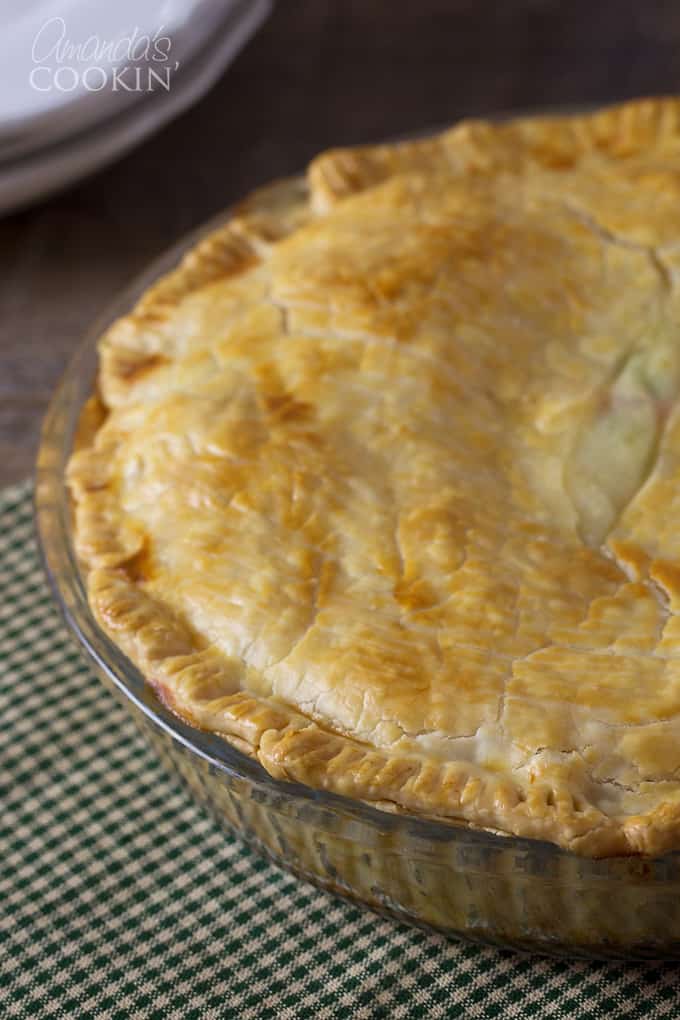 Hint: If you prefer your pot pie to be a bit more soupy, serve it right after you take it out of the oven. if you like it a little thicker, let it set up for 15-20 minutes before cutting into it.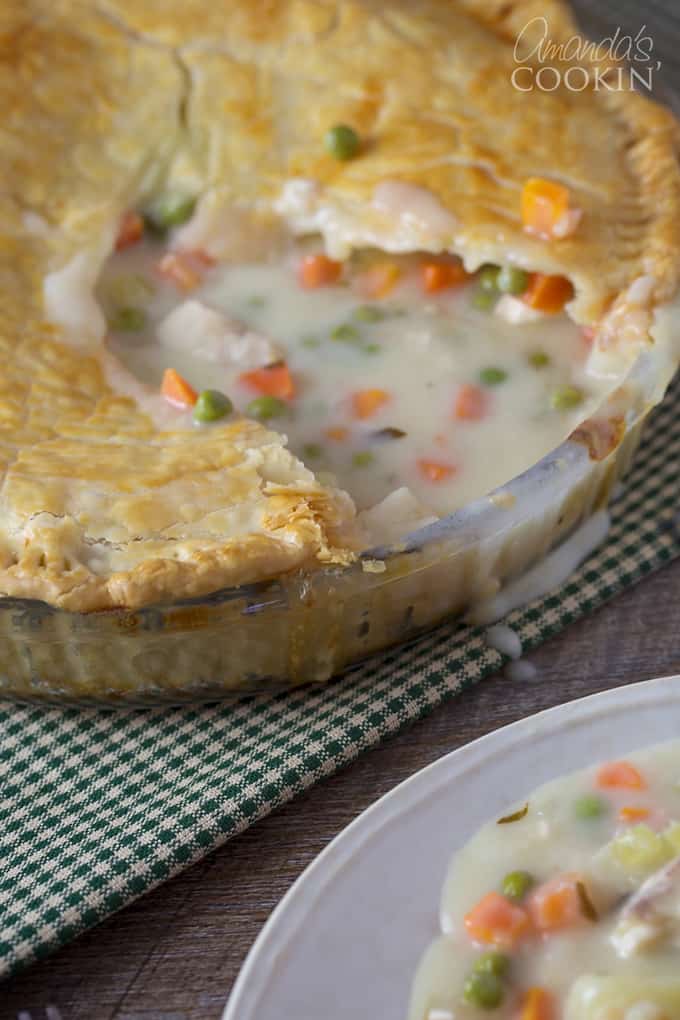 Either way it's absolutely mouth watering. I promise you'll add it to your regular rotation!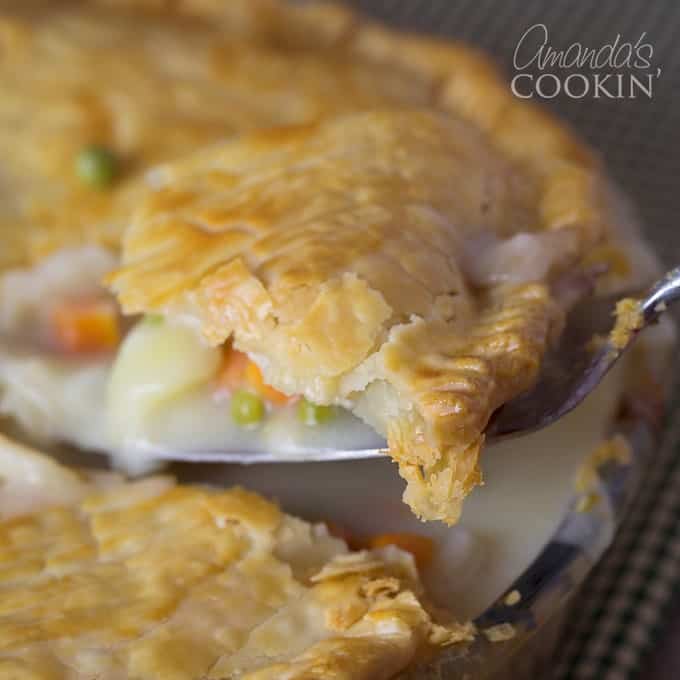 Maybe you have leftover ground beef or lamb to use? Check out my Shepherd's Pie recipe, which is great for tossing leftovers together to make one delicious dinner.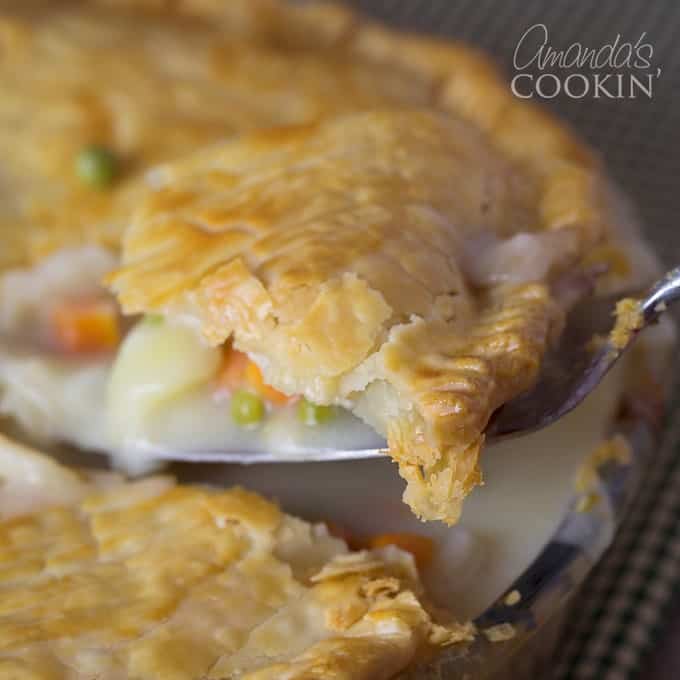 Chicken or Turkey Pot Pie
IMPORTANT - There are often Frequently Asked Questions within the blog post that you may find helpful. Simply scroll back up to read them!
Print It
Rate It
Ingredients
6

tablespoons

unsalted butter

3

celery ribs

sliced 1/4" thick

2

medium onions

minced

salt

3/4

cup

unbleached all purpose flour

3/4

cup

dry vermouth

4

cups

chicken broth

1

cup

heavy cream

2

tsp

minced fresh thyme leaves or 1/2 tsp dried

3

pounds

boneless

skinless chicken breasts, trimmed OR 8 cups cooked, cubed chicken or turkey

1 16-

oz

bag frozen peas and carrots

4

or 5 small red potatoes

peeled, cubed and boiled

ground black pepper

1

double savory pie dough
Instructions
Preheat oven to 375 F.

Melt butter in Dutch oven over medium-high heat. Add celery, onions and a teaspoon of salt, cook until softened and lightly browned, 5-7 minutes.

Stir in the flour and cook, stirring constantly, until lightly browned, about one minute.

Gradually whisk in the vermouth and cook until evaporated, about 30 seconds. Slowly whisk in the broth, cream and thyme.

Add the chicken, partially cover, and bring to a simmer. Reduce the heat to low, cover completely, and cook until the thickest part of the breast registers 160-165, about 10-15 minutes. If using leftover cooked meat, simmer 15 minutes and skip next step, jumping to adding peas and carrots.

Transfer chicken to cutting board and set Dutch oven aside, covered. When chicken is cool enough to handle, cut into bite sized pieces.

Return chicken to sauce with the peas and carrots. Add potatoes. Season with salt and pepper to taste.

Pour mixture into 13×9 baking dish, or evenly split between two 9" deep dish pie plates.

Roll out your pie dough and place it over the dish and crimp the edges tightly. Do not cut any slits in the crust. However, it may split on its own while cooking.

At this point, the pie can be wrapped tightly in plastic wrap and then foil and refrigerated for up to two days or frozen for up to one month. If freezing, don't thaw before baking. Increase baking time to 1 1/4 hours for refrigerated, and 1 3/4 hours for frozen.

Place the pot pie(s) on a foil lined rimmed baking sheet. Bake until the filling is hot and the crust is golden, about 1 hour.

Let cool ten minutes before serving.
This post was originally published on December 26. 2009
Amanda Davis is the entrepreneurial mom of four grown children and four step children. She and her husband, Chef Antoine, love to cook together creating recipes for this blog. Amanda also make kid's crafts and creates decorative items for her home. She is a crafting expert and guru in the kitchen and has appeared online and in print publications many times over the years. She is also a craft book author five times over and product developer as well as the owner of
FunFamilyCrafts.com
. You can find her on social media by using the buttons to the left!
Latest posts by Amanda Davis (see all)