This delicious Spicy Oven Fried Chicken was a recipe I came across many years ago. I saved it forever in my recipe printouts and finally pulled it out to make it. A very important step is to marinate for the time suggested; I put mine in the marinade in the morning. You could really taste the spice in the meat and the crispy coating was delicious.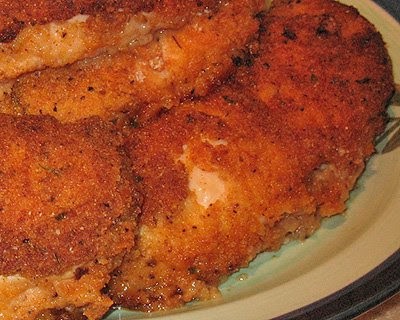 We finished everything off, nothing went to waste. I served this will Black Beans & Rice and corn.
Spicy Oven Fried Chicken
Makes 4 servings
Ingredients
1 cup buttermilk
1/4 cup hot pepper sauce
4 boneless, skinless chicken breast halves
1 cup dry bread crumbs
1/2 cup all-purpose flour
2 teaspoons onion powder
1 teaspoon cornstarch
1 teaspoon white sugar
1 teaspoon garlic salt
1 teaspoon salt
1 teaspoon pepper
1 teaspoon paprika
1/2 teaspoon cayenne pepper
2 tablespoons olive oil
Directions
In a medium bowl, mix the buttermilk and hot pepper sauce. Place chicken in the mixture to coat. Cover, and marinate in the refrigerator 8 hours or overnight.
Preheat oven to 350 degrees F (175 degrees C).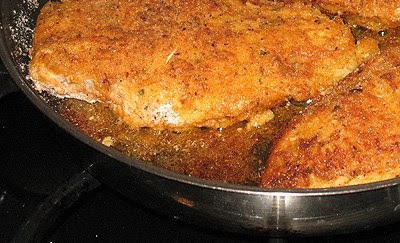 In a separate medium bowl, mix dry bread crumbs, flour, onion powder, cornstarch, white sugar, garlic salt, salt, pepper, paprika, and cayenne pepper. Thoroughly coat the chicken in the bread crumb mixture.
Heat the olive oil in a medium skillet over medium heat, and cook chicken 5 to 7 minutes on each side, until lightly browned.
Transfer chicken to a medium baking dish, and bake in the preheated oven 30 minutes, until no longer pink and juices run clear.
The time on the baking was right on. I actually baked mine a little longer because i wasn't quite done with the rice etc, I should have turned it off and removed it from the oven. It would have been jucier. But again, that was my fault, I left it in about 15 minutes longer than the recipe suggested. It was still very tasty and had a great spicy flavor. Thumbs up!
Scroll down for the printable version
If you like this you might want to try these Oven Fried Chicken Breasts and these Oven Fried Chicken Legs.