Almost two weeks ago I posted my favorite brisket recipe. In that post I stated my fear of trying new brisket recipes. I mean really, if ain't broke, why fix it, right? That day, my food blogging friend and TWD baking bud, Megan of My Baking Adventures, posted a comment that struck my interest. She said "I have a go-to brisket recipe that I've made so many times I have it memorized. I know I should branch out and try something new…. but…. I can't! I stick with the same one because it always works and everyone loves it."


Me too! So it seemed that Megan and I had the same problem. We were chicken. So I wrote to her and asked if she'd be up for a challenge that would take both her and I out of our comfort zone. We decided to each try a different recipe for brisket and report our results on our blogs. So when you're done here, be sure to hop over to Megan's and see what she cooked up and how it worked for her!
I chose one of the recipes I've had in my binder for a long time. I had pulled the page out of a Better Homes & Garden magazine and stored it away for future use. I did alter a couple of minor things, but nothing that would affect the flavor really. I'm giving you my adaption of the recipe below, the original one can be found here. I also had to chop everything in half as I used a 3 pound piece of meat, that's plenty for us.
THE VERDICT: It was pretty good. Here's my thoughts. If I'm going to cook something all day, it needs to knock my socks off. Don't get me wrong, it was good, but it wasn't great. The meat was nice and tender, the vegetables were perfect, but the flavor was kind of bland. Maybe I just had my expectations set too high, who knows. Everyone ate, everyone enjoyed it, including me, but it needed something. I'm glad I took this challenge with Megan, it's made me a bit braver to try something different. I do plan on trying the recipe Megan did, it sounds delicious!
I will probably take this particular recipe and make it my own, but I will have to try some other recipes first. ;) This makes a nice starter recipe that you can make your own with herbs and other flavors you enjoy. Perhaps not refrigerating this overnight had something to do with the bland taste, but I'm not into 2 day recipes.
The first step is to brown some onion and garlic in oil in your baking pan.
Do this, stirring occasionally for ten minutes. Mine got nice and brown.
Put the brisket in the pan, over the onion mixture, and poor the broth mixture over the top. Now it bakes for 2 hours, covered.
Remove it from the oven and add the potatoes and carrots, then bake uncovered for another hour.
Remove it from the oven and cover it with foil, let it rest for 30 minutes. Then you separate the meat and vegies from the juices and refrigerate for a bit. After that, reduce the pan juices by boiling gently on the stove top, return everything to the pan, add thyme sprigs and cover with reduced juices. Bake again. Then make a roux and a gravy from the juices.
Be sure to try out my Beef Stroganoff too, perfect comfort food!
Savory Beef Brisket
adapted from Better Homes & Gardens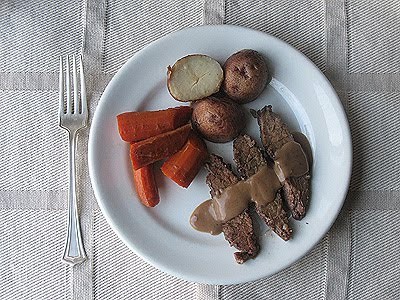 Ingredients
1 3

lb.

beef brisket

1

Tbsp.

olive oil

2

medium onions

chopped (about 2 cups)

2

cloves

garlic

minced

1/2

Tbsp.

ground ginger

Salt and ground black pepper

1

cups

red wine

such a shiraz

7-

oz.

of beef broth

1/2 can or almost one cup

1

lb.

carrots

peeled

6

medium red potatoes

2 to 3

sprigs fresh thyme or 2 tsp. dried thyme

crushed

3

Tbsp.

unsalted butter

2

Tbsp.

all-purpose flour
Instructions
Preheat oven to 350 degrees F. Trim excess fat from brisket; set brisket aside. In a roasting pan with cover over medium heat on the stovetop, cook chopped onions and garlic in hot oil until onions are tender, about 10 minutes, stirring occasionally. Add ginger; cook and stir 1 minute more. Remove from heat. Season brisket with salt and pepper; place brisket on onion mixture. Add wine and broth. Cover with foil or pan cover; roast for 2 hours.

Remove cover; add carrots and red potatoes. Roast, uncovered, 45 to 60 minutes more or until carrots are just tender.

Remove brisket from oven. Cover; let stand for 30 minutes. Transfer meat and vegetables to storage container. Cover and refrigerate meat and vegetables for 30-45 minutes. Place pan juices in a small saucepan. Place in refrigerator.

Before serving, preheat oven to 300 degrees F. Remove fat from pan juices; discard fat. Place saucepan of pan juices over medium heat and boil gently, uncovered, about 20 minutes until reduced by about 1/4 cup. While brisket is cold, slice off any excess fat. Slice meat against the grain; slice carrots diagonally in 2-inch pieces and cut potatoes in half. Return brisket and vegetables to roasting pan. Add herbs and reduced pan juices. Cover and reheat in oven for 45 minutes. Transfer brisket, potatoes, and carrots to platter. Discard herb sprigs.

For gravy, in a small saucepan over medium-low heat, melt the butter. Add flour and stir until smooth; stir in pan juices. Cook and stir until thickened and bubbly. Cook and stir 1 minute more. Serve with brisket.
NEW! Be sure to subscribe to my newsletter, Foodie in the Craftroom, to receive updates and tips from both Amanda's Cookin' and Crafts by Amanda! Visit https://amandascookin.com/p/subscribe-to-newsletter.html
Amanda Formaro is the crafty, entrepreneurial mother of four grown children. She loves to bake, cook, make kid's crafts and create decorative items for her home. She is a crafting expert and guru in the kitchen and has appeared online and in print publications many times over the years. She is also a craft book author five times over and product developer as well as the owner of
FunFamilyCrafts.com
. You can find her on social media by using the buttons to the left!
Latest posts by Amanda Formaro (see all)