Have you ever tried mashed cauliflower as a low carb alternative to mashed potatoes? First we shared this delicious dish of whole roasted cauliflower with you last week, but we wanted to give you an alternative to a classic favorite. These Cauliflower Mashed Potatoes are fluffy and light, with the texture and taste of real mashed potatoes! And with cream cheese, brown butter, and sage, the flavors are perfect for your next holiday feast.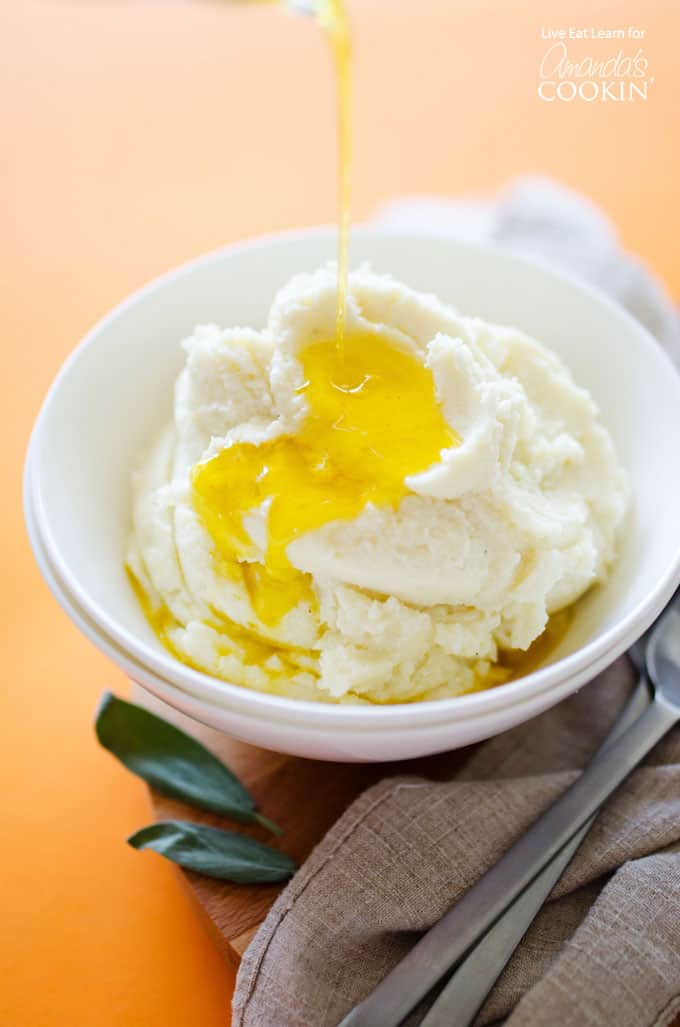 Mashed Cauliflower
Cauliflower mashed potatoes were always one of those things that I just didn't get. I would boil it, puree it, taste it, annnnd it would just taste like soggy cauliflower. It got to the point where every time I would see someone praising the faux-potato perfection of their cauliflower mash, I would just assume they must be stretching the truth. But then I discovered the secret to perfect mashed cauliflower and my world flipped. So in the name of eliminating all less-than-amazing mashed cauliflower in the world, I'm sharing that secret with you today!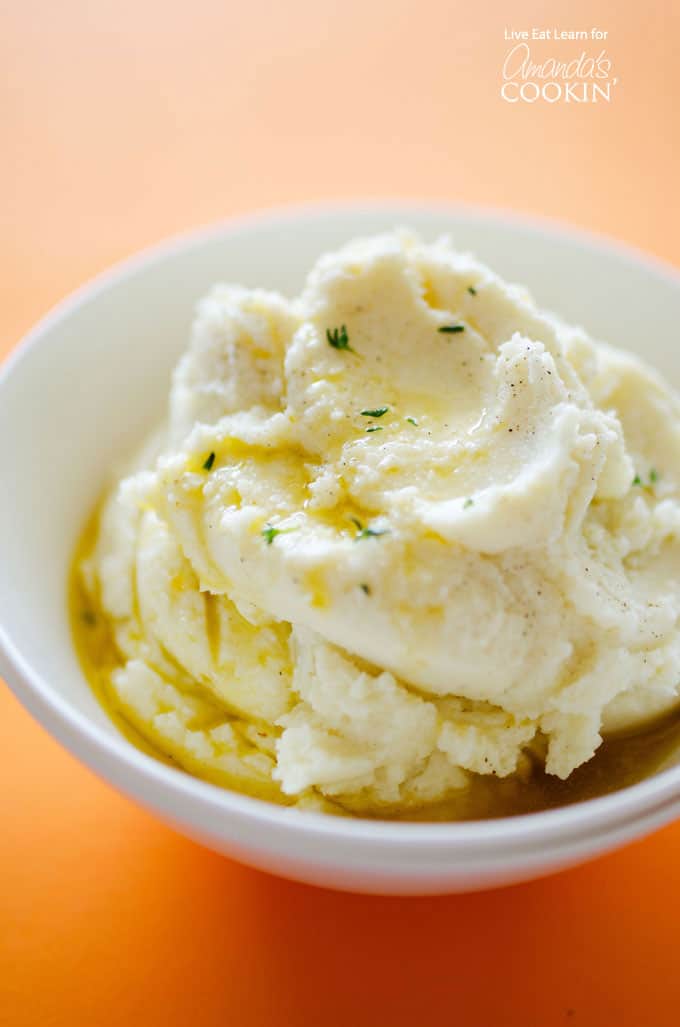 Both vegetables are good for you and both have vitamins and minerals you need in your daily diet. However, if you are watching your carbs or are limited to a certain amount of carbs per day, cauliflower has significantly less carbohydrates than potatoes do. Cauliflower has a lower calorie count than potatoes, is slightly higher in sodium and a bit lower in potassium. If specific nutritional information is important to your diet, check out these nutritional labels.
There are affiliate links in this post. That means if you buy something from that link, I will earn a small commission, but it won't cost you anything additional.
To make Mashed Cauliflower you will need:
1 large head of cauliflower
4 Tbsp cream cheese
Pinch of salt and pepper
4 Tbsp butter
1 tsp chopped sage
Kitchen tools you will find useful: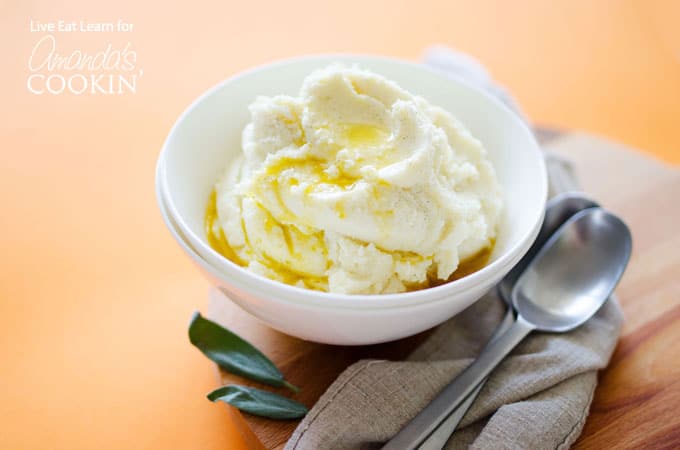 So here's the secret….get all the moisture out. We're going to boil the cauliflower to get it nice and tender, but then you need to get all of that water back out, lest you end up with soupy, mushy cauliflower. You can do this a number of ways, either by pressing the moisture out through a sieve, or by placing the cauliflower in cloth and squeezing it all out that way. Either way, you want that moisture out before you puree it.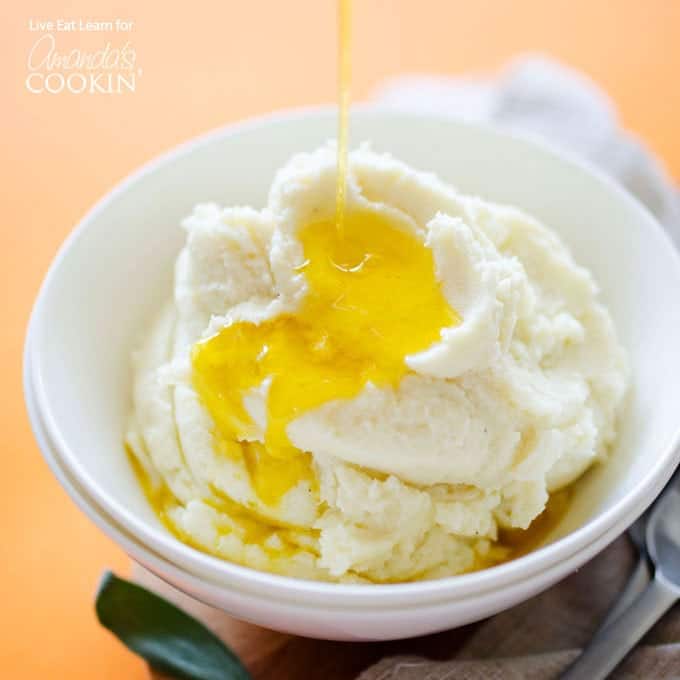 Speaking of pureeing, cream cheese is the cherry on top to this fluffy mashed cauliflower secret. We'll add a touch of cream cheese to enhance the creamy, fluffiness of our mashed cauliflower. Top it with browned butter and sage and serve!
Note: Prep time for mashed cauliflower is significantly lower than with mashed potatoes. There's no peeling required so imagine the time you'll save while making your holiday dinner!
SCROLL DOWN FOR THE PRINTABLE VERSION OF THIS RECIPE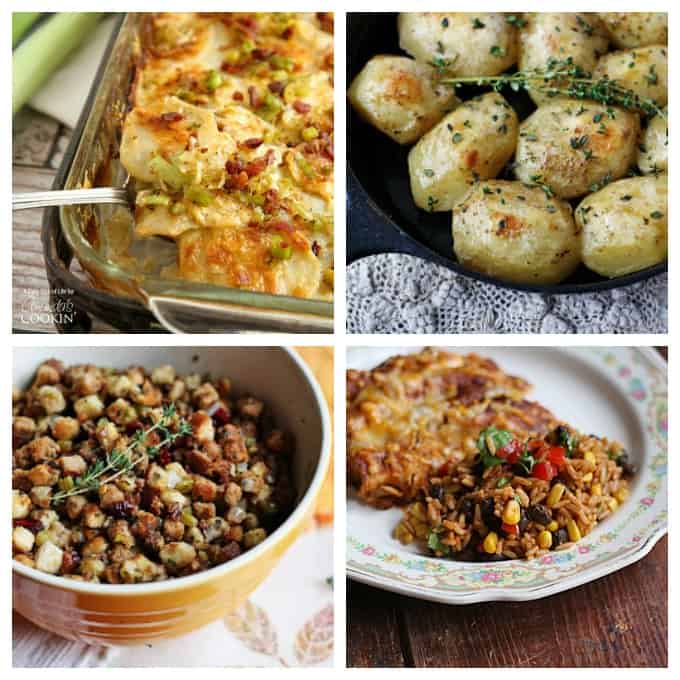 MORE SIDE DISHES YOU MIGHT LIKE: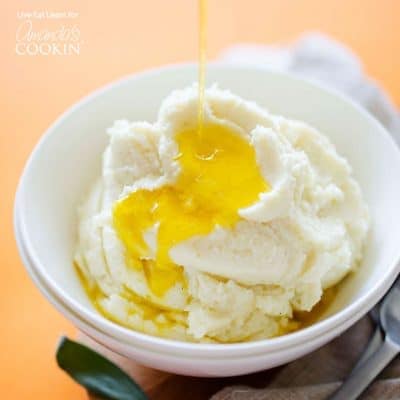 Cauliflower Mashed Potatoes
This Mashed Cauliflower is fluffy and light, with the texture and taste of real mashed potatoes! And with cream cheese, brown butter, and sage, the flavors are perfect for your next holiday feast.
IMPORTANT - There are often Frequently Asked Questions within the blog post that you may find helpful. Simply scroll back up to read them!
Print It
Rate It
Ingredients
1

large head of cauliflower

4

Tbsp

cream cheese

Pinch

of salt and pepper

4

Tbsp

butter

1

tsp

chopped sage
Instructions
Start up a large pot of boiling water. Chop the cauliflower into golfball sized chunks, removing the tough inner stem. Add a pinch of salt and the cauliflower to the boiling water, and cook for 6 to 10 minutes, or until cauliflower is fork tender.

Working in batches, place cauliflower in a clean dishcloth or cheesecloth and wring out as much moisture as possible.

Place cauliflower and cream cheese in a food processor and puree until smooth and creamy. Cover to keep warm and set aside.

Add butter to a pan (use a light colored pan so you can see to change in color if possible) and place over low/medium heat. Melt butter, then add chopped sage leaves. Continue cooking. Butter will first bubble, then after 5 or so minutes will begin to darken. When little dark bits begin to form and the butter has darkened to the color of light caramel, remove from heat. Pour brown butter and sage over cauliflower and serve immediately.
Sarah is the publisher behind the vegetarian health food blog, Live Eat Learn. An Alaskan self-taught cook and nutritionist by trade, she loves all things food and health. When she's not exploring new ways to cook up healthy ingredients, she's romping around the Netherlands, her new stomping grounds!
Latest posts by Sarah Bond (see all)