Have you ever tried mashed cauliflower as a low carb alternative to mashed potatoes? First we shared this delicious dish of whole roasted cauliflower with you last week, but we wanted to give you an alternative to a classic favorite. These Cauliflower Mashed Potatoes are fluffy and light, with the texture and taste of real mashed potatoes! And with cream cheese, brown butter, and sage, the flavors are perfect for your next holiday feast.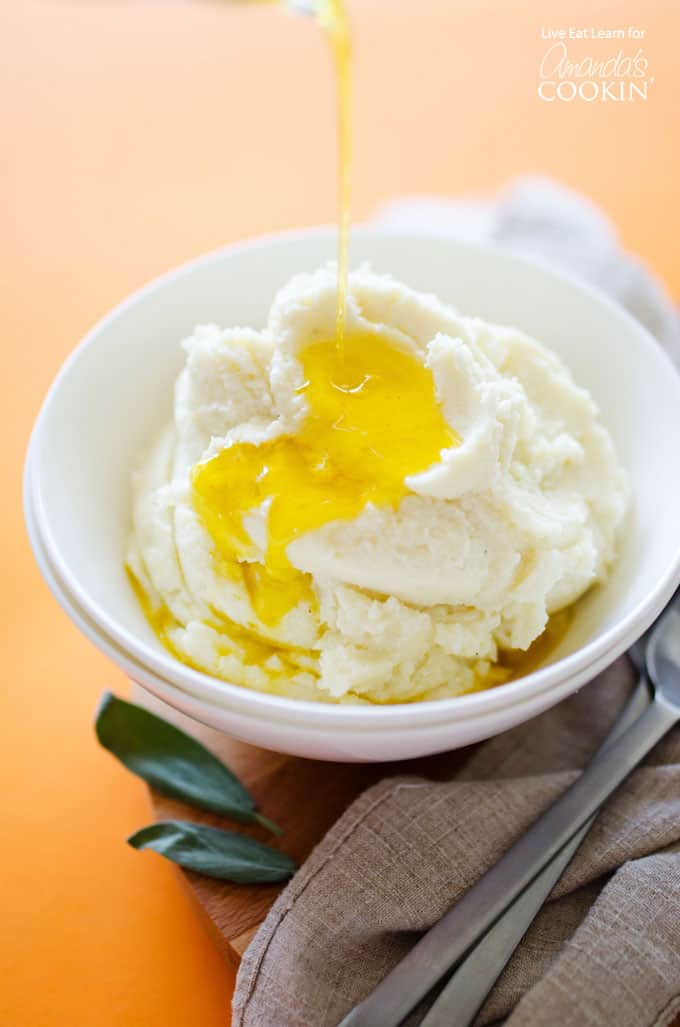 Mashed Cauliflower
Cauliflower mashed potatoes were always one of those things that I just didn't get. I would boil it, puree it, taste it, annnnd it would just taste like soggy cauliflower. It got to the point where every time I would see someone praising the faux-potato perfection of their cauliflower mash, I would just assume they must be stretching the truth. But then I discovered the secret to perfect mashed cauliflower and my world flipped. So in the name of eliminating all less-than-amazing mashed cauliflower in the world, I'm sharing that secret with you today!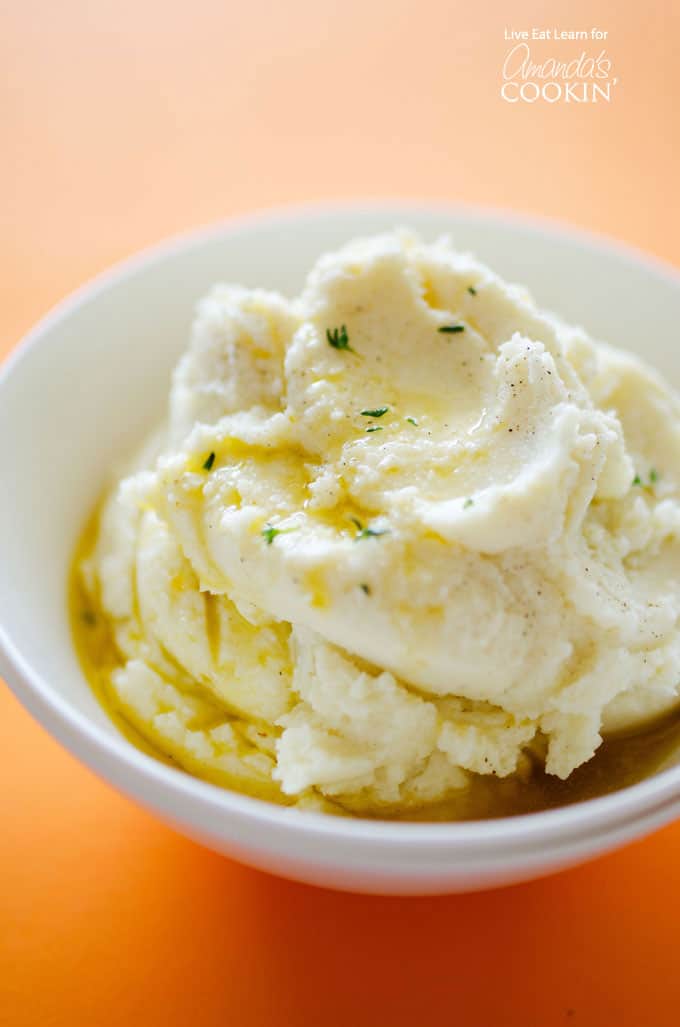 Both vegetables are good for you and both have vitamins and minerals you need in your daily diet. However, if you are watching your carbs or are limited to a certain amount of carbs per day, cauliflower has significantly less carbohydrates than potatoes do. Cauliflower has a lower calorie count than potatoes, is slightly higher in sodium and a bit lower in potassium. If specific nutritional information is important to your diet, check out these nutritional labels.
There are affiliate links in this post. That means if you buy something from that link, I will earn a small commission, but it won't cost you anything additional.
To make Mashed Cauliflower you will need:
1 large head of cauliflower
4 Tbsp cream cheese
Pinch of salt and pepper
4 Tbsp butter
1 tsp chopped sage
Kitchen tools you will find useful: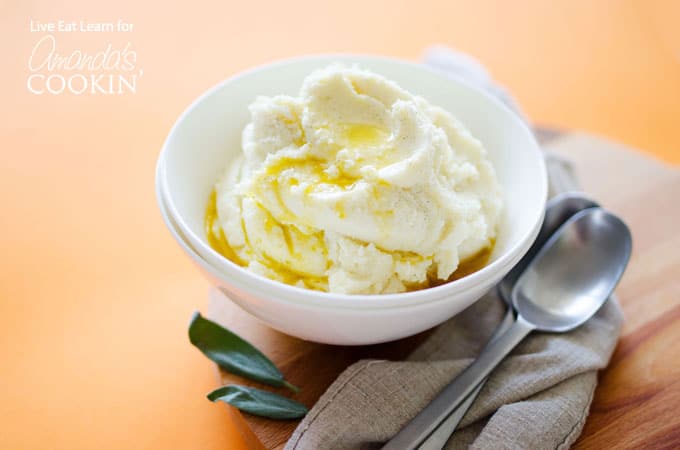 So here's the secret….get all the moisture out. We're going to boil the cauliflower to get it nice and tender, but then you need to get all of that water back out, lest you end up with soupy, mushy cauliflower. You can do this a number of ways, either by pressing the moisture out through a sieve, or by placing the cauliflower in cloth and squeezing it all out that way. Either way, you want that moisture out before you puree it.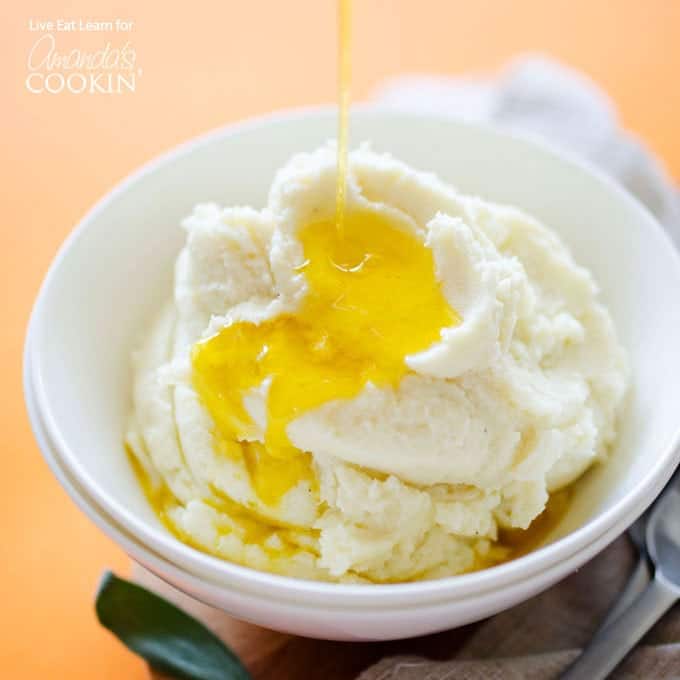 Speaking of pureeing, cream cheese is the cherry on top to this fluffy mashed cauliflower secret. We'll add a touch of cream cheese to enhance the creamy, fluffiness of our mashed cauliflower. Top it with browned butter and sage and serve!
Note: Prep time for mashed cauliflower is significantly lower than with mashed potatoes. There's no peeling required so imagine the time you'll save while making your holiday dinner!
SCROLL DOWN FOR THE PRINTABLE VERSION OF THIS RECIPE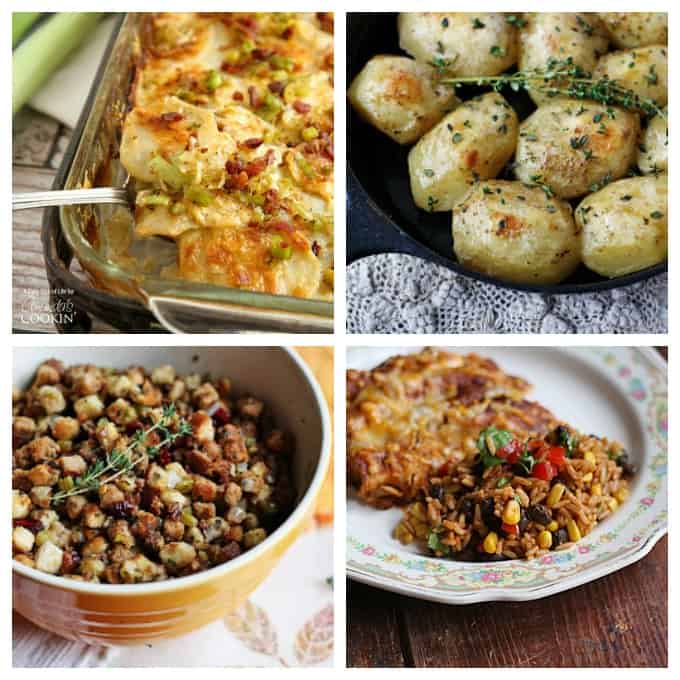 MORE SIDE DISHES YOU MIGHT LIKE: