These Salmon Tacos are topped with homemade fresh salsa and a cilantro avocado sauce which will thrill your taste buds. This delicious and satisfying recipe is perfect for game day or a family dinner!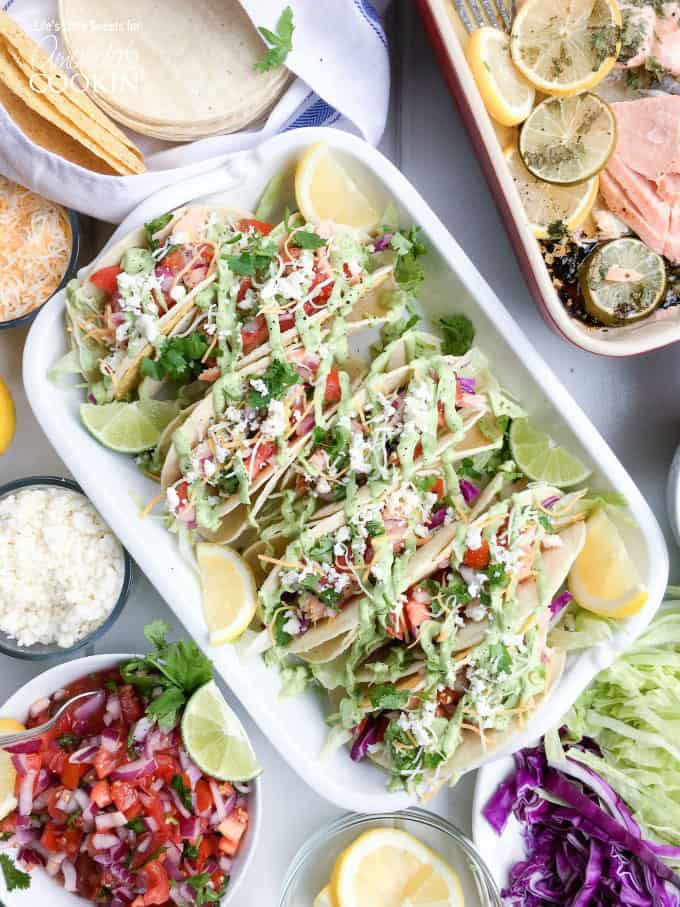 Salmon Tacos
I am so happy to be sharing this beloved Salmon Taco recipe which I have been making in many different iterations over the years. Invite the whole family over for this one because it makes about 24 small tacos, depending on how you portion it. This recipe actually is a treasure trove of multiple recipes. Let me explain..
The Salmon
There's the salmon itself which is marinated in fresh squeezed lemon & lime juice, olive oil, cilantro, salt and pepper. The salmon makes a fabulous meal on its own. Soaked in a simple marinade it's great served with rice or your favorite side dish. To prepare ahead and save time, you can marinate the salmon the night before.
I always choose sustainable caught Norwegian organic salmon whenever it's available. If you come across this particular variety at your local grocery store or fish market I suggest you try it. It's a little pricey but it is the most buttery, velvety, incredible salmon I have ever had, hands down. I have tried several varieties and this one really makes a difference. Alternatively, you can opt for wild caught which will be more lean and slightly (or not so slightly) gamier in flavor. While that's not necessarily a bad thing, it does have a stronger flavor that is probably a bit too strong for this particular recipe. I always recommend whatever is freshest, look for that sustainable label and don't be afraid to ask your local fishmonger lots of questions.
The Toppings
This fresh salsa uses red onion, ripe tomatoes, cilantro, a spritz of fresh lemon and lime juice, finished with salt and pepper. On these salmon tacos, it's served as an ingredient in the tacos but on its own makes an incredible appetizer served with crispy tortilla chips.
The avocado sauce uses fresh avocado, plain Greek yogurt (or sour cream), fresh lime juice, cilantro, salt and pepper. I often use plain Greek yogurt as a substitute for sour cream because it tastes the same, has the same consistency and is a healthier option. Specifically, I use whole milk plain Greek yogurt but you can use reduced fat or fat free as well. In this recipe the avocado sauce is the magic that brings everything together. It also stands on its own as a dip for chips or veggies, as a delicious salad dressing or even as a sandwich spread.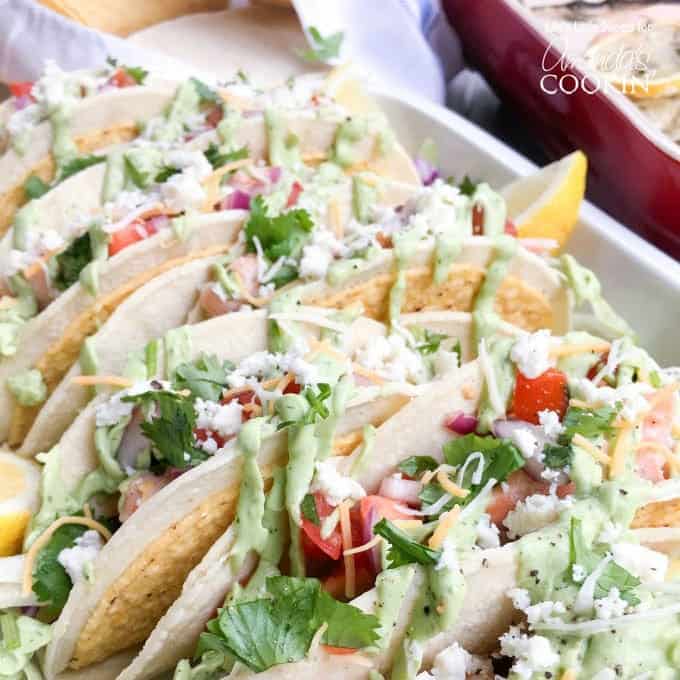 This recipe is heavy on cilantro. If you are not a fan of cilantro you can substitute the same amount of Italian parsley and everything will still taste great.
There are affiliate links in this post. That means if you buy something from that link, I will earn a small commission, but it won't cost you anything additional.
Ingredients for Salmon Tacos
Salmon & Marinade:
1-½ lbs Salmon fillets (2 large or 4 small fillets- it will be further divided for the tacos)

2 tablespoons olive oil

2 tablespoons fresh squeezed lemon juice (½ lemon)

½ lemon sliced *optional

1 tablespoon fresh squeezed lime juice (½ of a lime)

¼ lime sliced *optional

¼ cup fresh cilantro, chopped

2 tablespoons of butter

Kosher salt (I suggest ½ teaspoon) and fresh cracked pepper to taste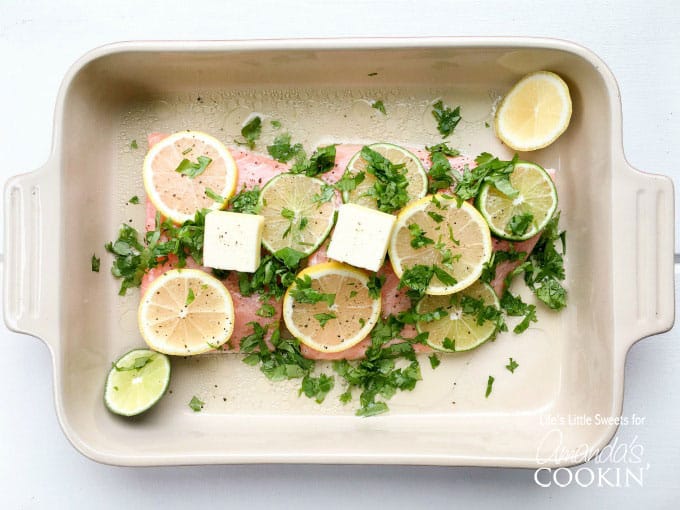 Avocado Sauce:
1 ripe Hass avocado, peeled, pitted

½ cup Greek yogurt or you can substitute the same amount sour cream

¼ cup Cilantro, chopped

1 tablespoon fresh lime juice (½ lime)

salt (start with ¼ teaspoon and add from there) and fresh cracked pepper to taste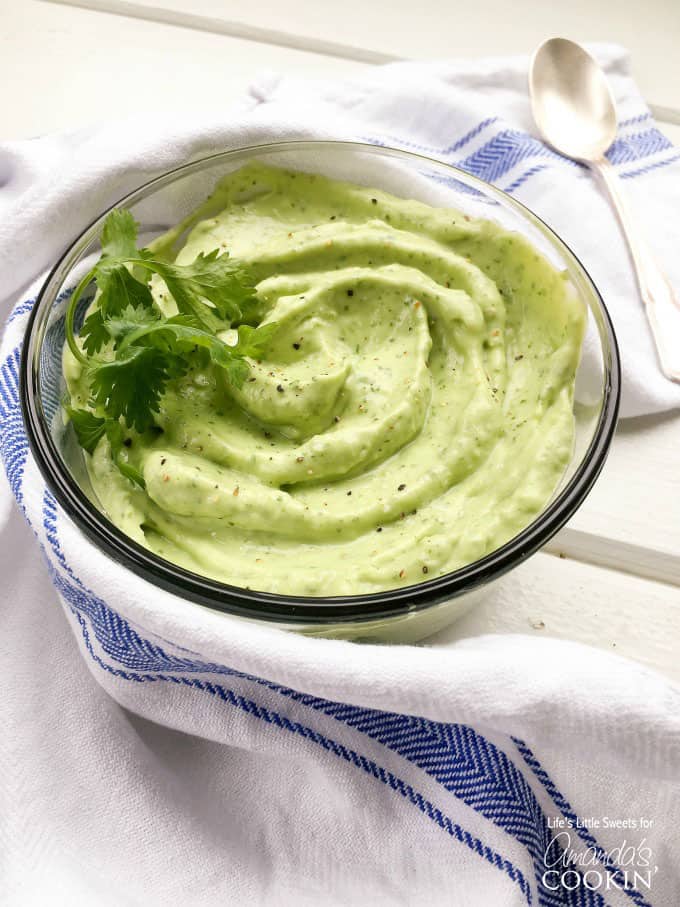 Fresh Salsa:
2 cups ripe tomatoes, diced

1½ cups red onion (1 medium onion), chopped

¼ cup cilantro, chopped

spritz of fresh lemon juice, 1 lemon wedge

spritz of fresh lime juice, 1 lime wedge

salt (start with ½ teaspoon) and fresh cracked pepper to taste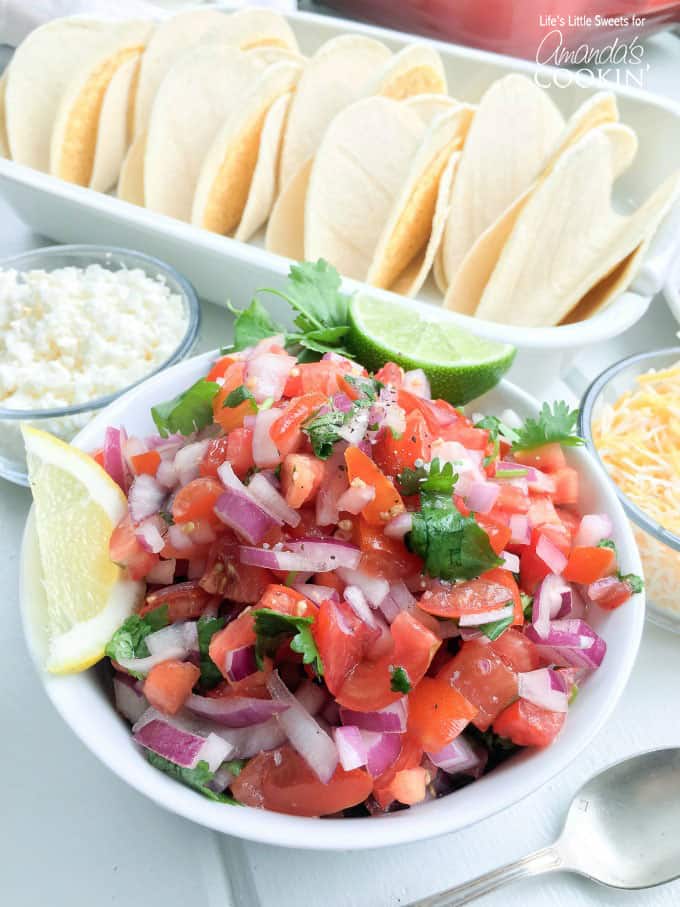 For assembling the tacos:
24 hard taco shells *have extra on hand, just in case

24 small size soft corn tortillas *have extra on hand, just in case

Cilantro, chopped
Mexican cheese blend, shredded
Queso Fresco, grated
Kosher salt & pepper to taste
SCROLL DOWN FOR THE PRINTABLE VERSION OF THIS RECIPE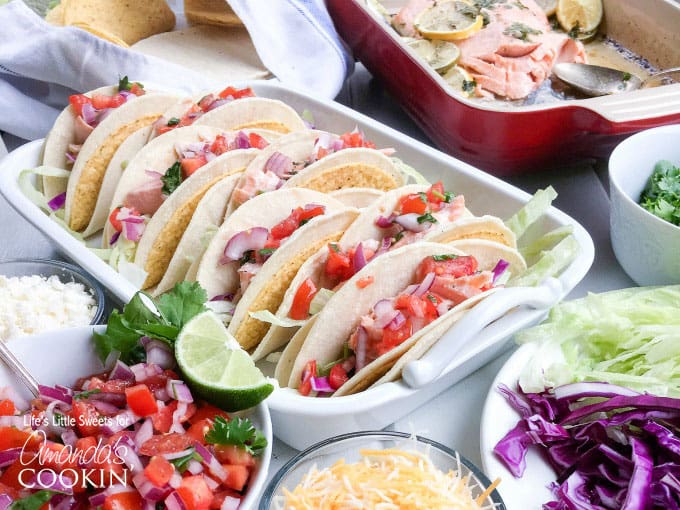 I used both hard taco shells along with small soft corn tortillas, but you can use whichever you prefer. I like using both because you have the crunch of the hard shell contained within a soft tortilla.
I opted for the corn tortillas over the flour ones because they always hold up better to all the ingredients inside the tacos. The tacos are much better when heated (as directed on the respective packages) in the oven or toaster oven before serving. You can keep them warm on the table by wrapping them in a tea towel on a plate or in a basket.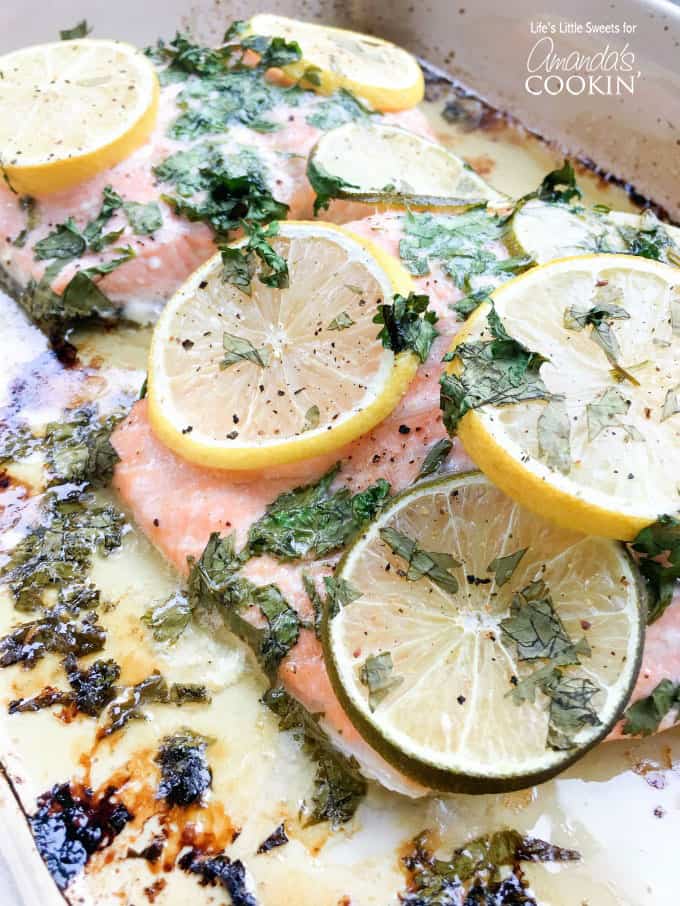 Kitchen Tools Needed for Salmon Tacos
handheld citrus juicer
sharp vegetable knife
food processor
large cutting board
cheese grater
baking pan
mixing bowl
small and medium serving bowls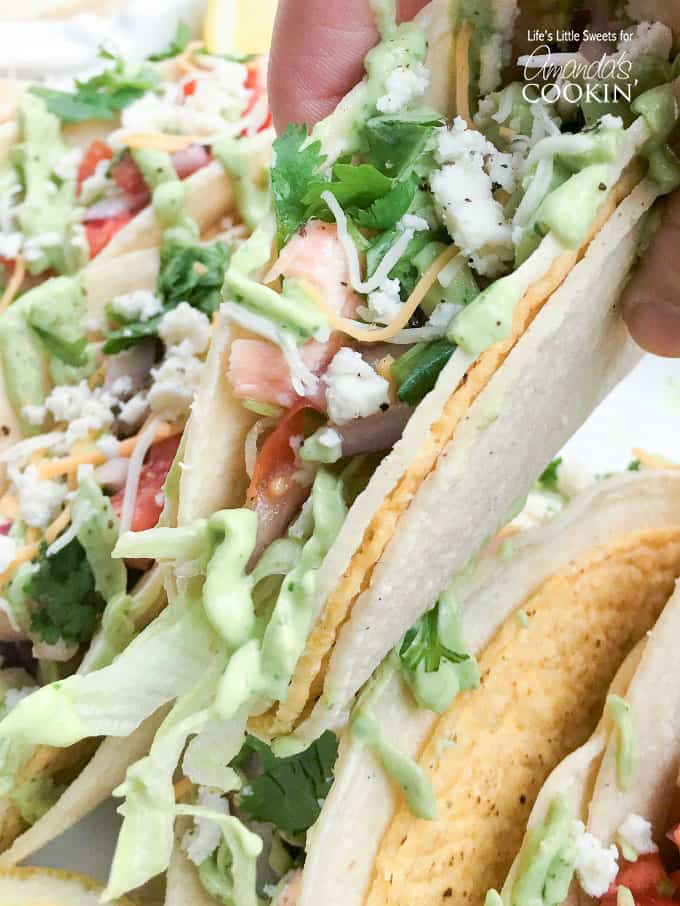 I hope you enjoy this Salmon Taco recipe as much as my family does! If you like this recipe you may also enjoy Couscous Fritters (which goes well with fish) and Avocado Hummus.