This Dijon Lemon Caper Salmon dinner is as flavorful as it is delicious.  Salmon lovers can rejoice with Dijon, lemon and caper flavor infused into melt-in-your-mouth fillets of salmon. Served with roasted dill red potatoes and green beans, this dinner is sure to be a new family favorite! If you are a salmon lover, you will also love my Salmon Tacos recipe.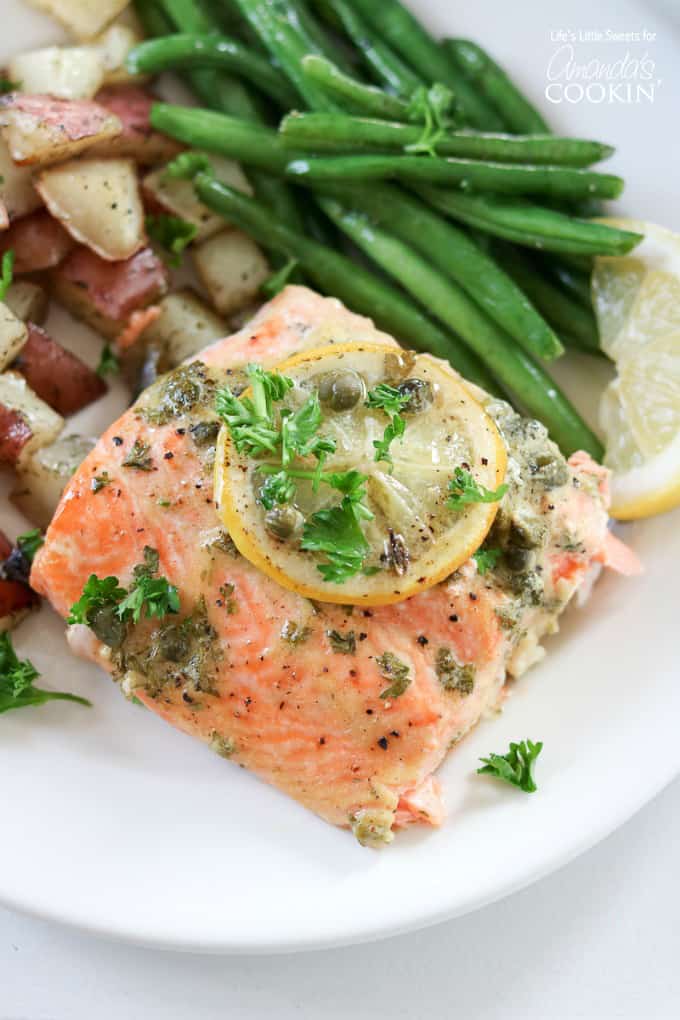 Dijon Lemon Caper Salmon
Hello, Everyone! Salmon lovers rejoice!  A new favorite salmon dinner is here and sure to please the family.  It's perfect for those that love a classic dinner that also has tons of flavor to boot.
I have been making this Dijon Lemon Caper Salmon for about 3 years now but this is the first time I've shared it online and it's my one of my husband's FAVORITE salmon recipes, perhaps even one of his all-time favorites. Why? Because it has that refined flavor of Dijon which pairs so nicely with salmon, plus the brine of the capers and not to mention fresh flavors of lemon and parsley.  There's olive oil and butter in the marinade that rounds out the overall rich flavor of the main part of this dish.
Salmon is also an excellent source of heart-healthy Omega-3, I always feel so nourished when I eat it and feel really good feeding it to my family. :)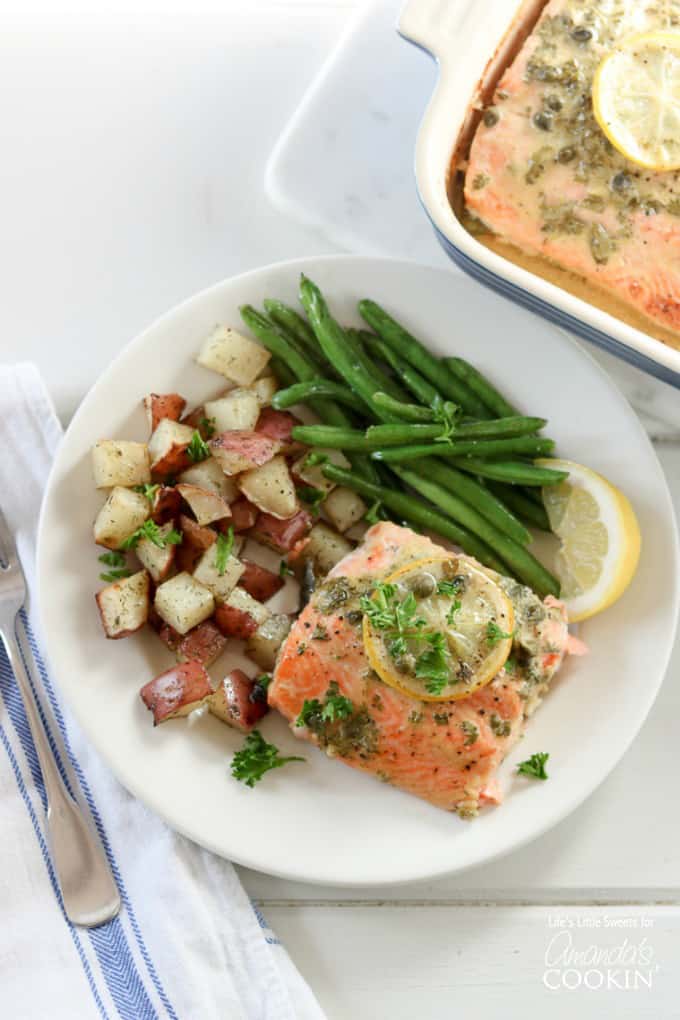 It gets better because there's actually 2 more recipes in this post!  We have roasted red potatoes with dill and roasted green beans.  Everything can be done in the oven with and overall cooking time of 1 hour. The overall cooking time might vary depending on the number of racks in your oven or if you can squeeze the potatoes on the same sheet as the green beans and just add the green beans 20-25 minutes before the potatoes finish in the oven.
If you are wondering about which rack to put each component on, I would suggest the salmon on the middle/upper portion of the oven and the potatoes middle/upper and the green beans on the middle/lower.
It helps if you have a toaster oven like I do that bakes just like a regular oven.  When doing this recipe, I have separated out either the potatoes or the green beans and just made them in the toaster oven.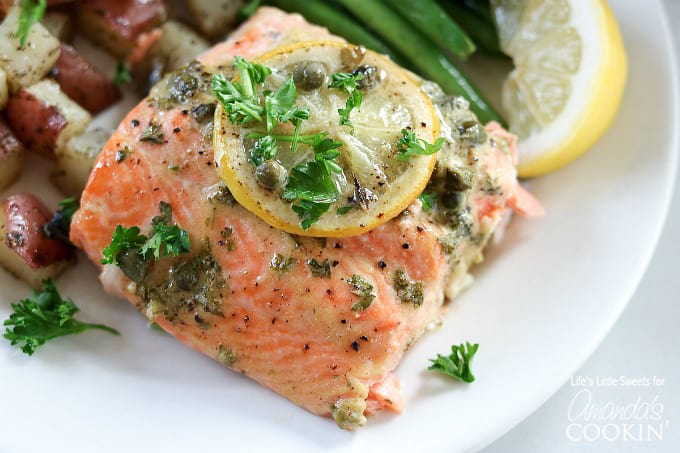 I suggest finding the best salmon you can find for your budget. For this post, I got New Zealand King Salmon and it was so buttery and melts in your mouth. It was my first time trying that particular variety and I was blown away. Our leftovers from this recipe simply disappeared because we couldn't stop eating it until everything was gone! I have other salmon & fish buying suggestions in my Salmon Tacos recipe too.
You can prepare everything in a baking dish and sheet pan(s) a day ahead if you want to cut down the prep the day you want to cook.  All that means is the salmon gets to marinate longer which is a bonus.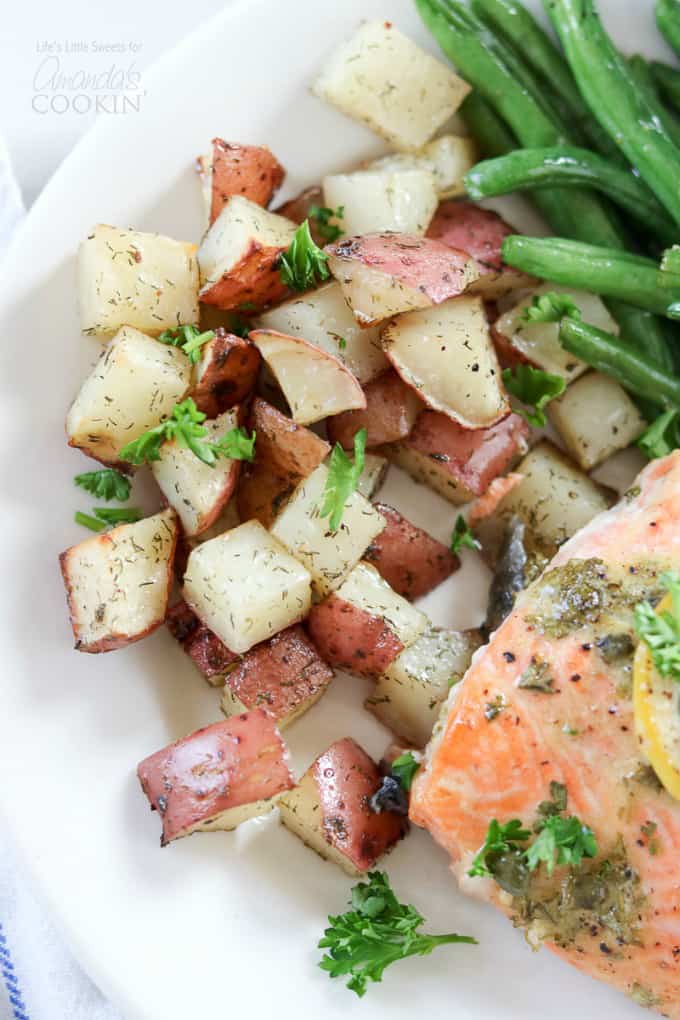 There are affiliate links in this post. That means if you buy something from that link, I will earn a small commission, but it won't cost you anything additional.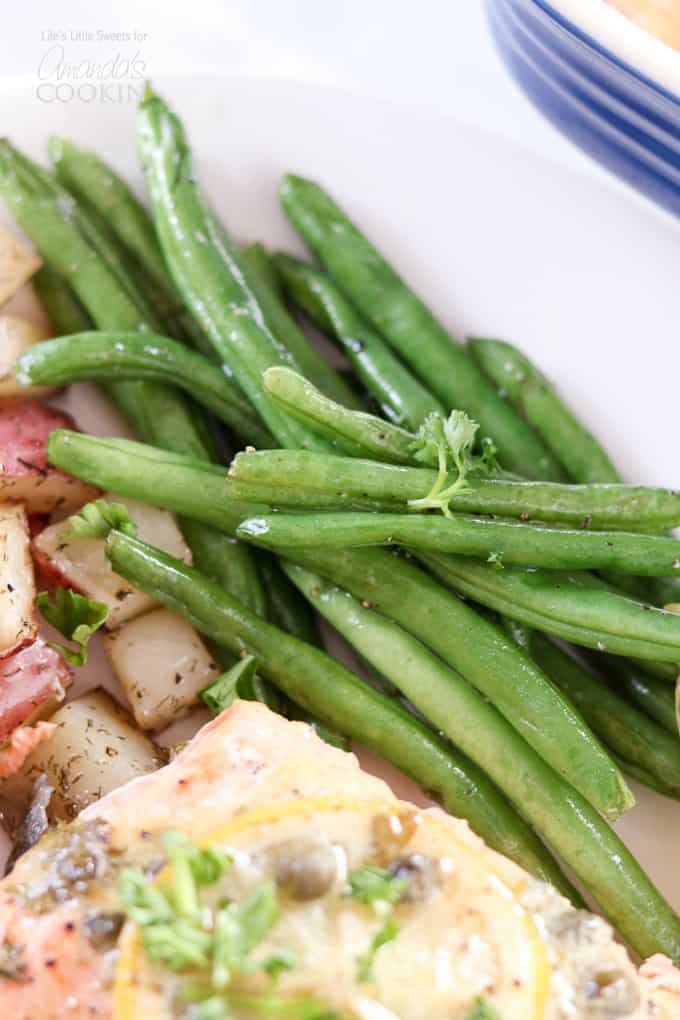 YOU CAN FIND THE FULL PRINTABLE RECIPE AT THE END OF THIS POST
Ingredients for Dijon Lemon Caper Salmon
Salmon & Marinade
2 medium-large salmon fillets (1 2/2-2 lbs.)
2 tablespoons olive oil
2 tablespoons fresh squeezed lemon juice (1/2 lemon, get a couple lemons for this recipe so you have wedges for serving)
2 tablespoons Dijon mustard
1/4 cup chopped fresh parsley, plus more for serving
1-2 tablespoons capers, drained
2 tablespoons butter (can substitute same amount coconut oil)
kosher salt and fresh ground pepper to taste (start with 1/4 tsp. of each)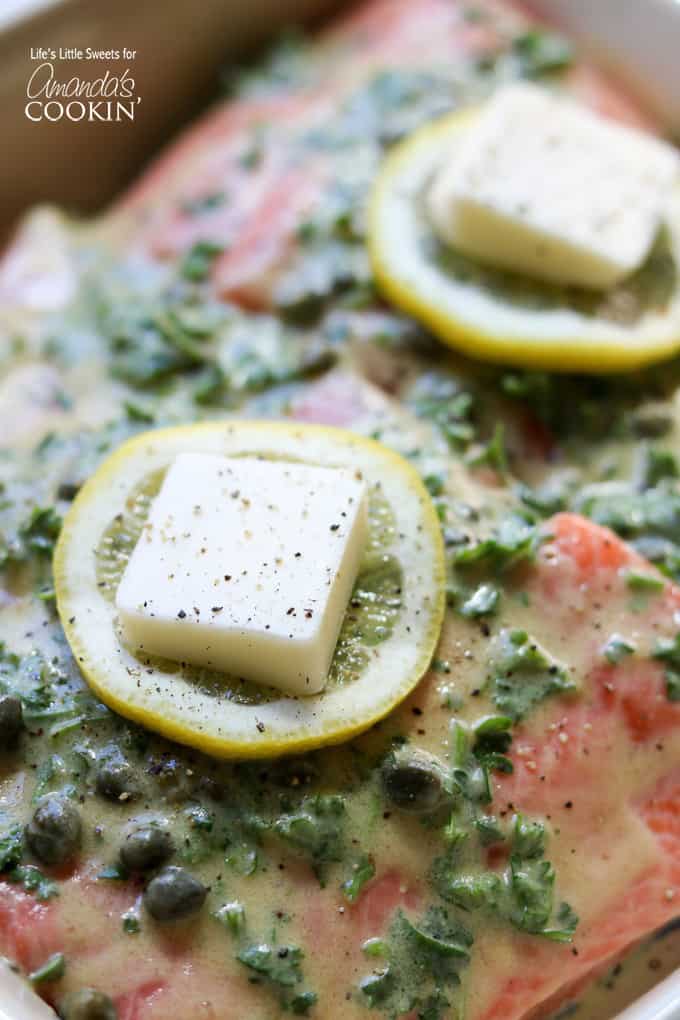 Dijon Lemon Caper Salmon as it's marinating.
Roasted Red Potatoes with Dill
2 1/2 lbs. red potatoes (5 lrg. red potatoes), cubed about 3/4 inch
2 tablespoons olive oil
1 teaspoon dried dill (or substitute 1 tablespoon fresh chopped dill)
kosher salt and fresh ground pepper to taste (start with 1/4 tsp. of each)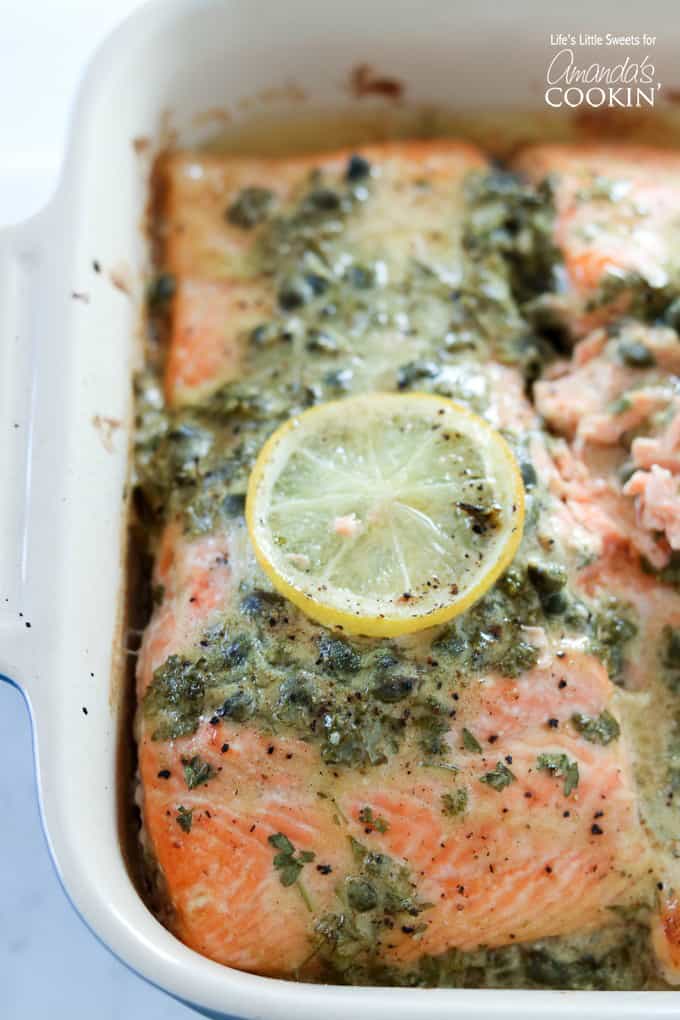 Roasted Green Beans
1 lb. green beans washed and ends trimmed
1-2 tablespoons olive oil
kosher salt and fresh ground pepper (start with 1/4 tsp. of each)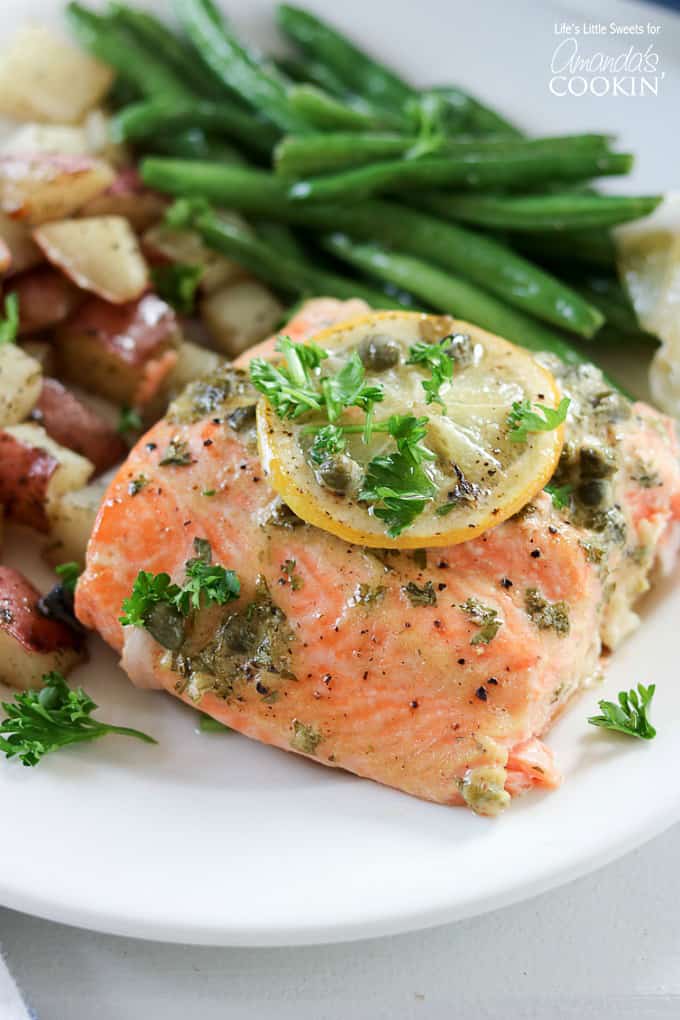 Kitchen Tools Needed for Dijon Lemon Caper Salmon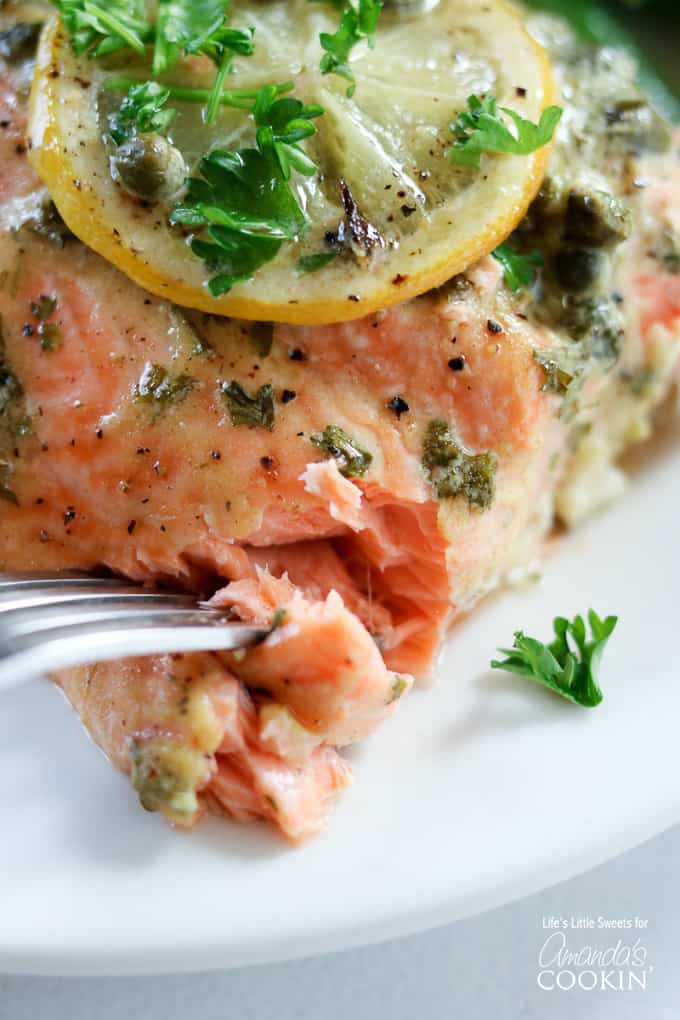 If you have any leftovers, the salmon, potatoes and green beans would give any garden salad some pep and flavor.  Work lunch the next day for you or hubby? Works for me!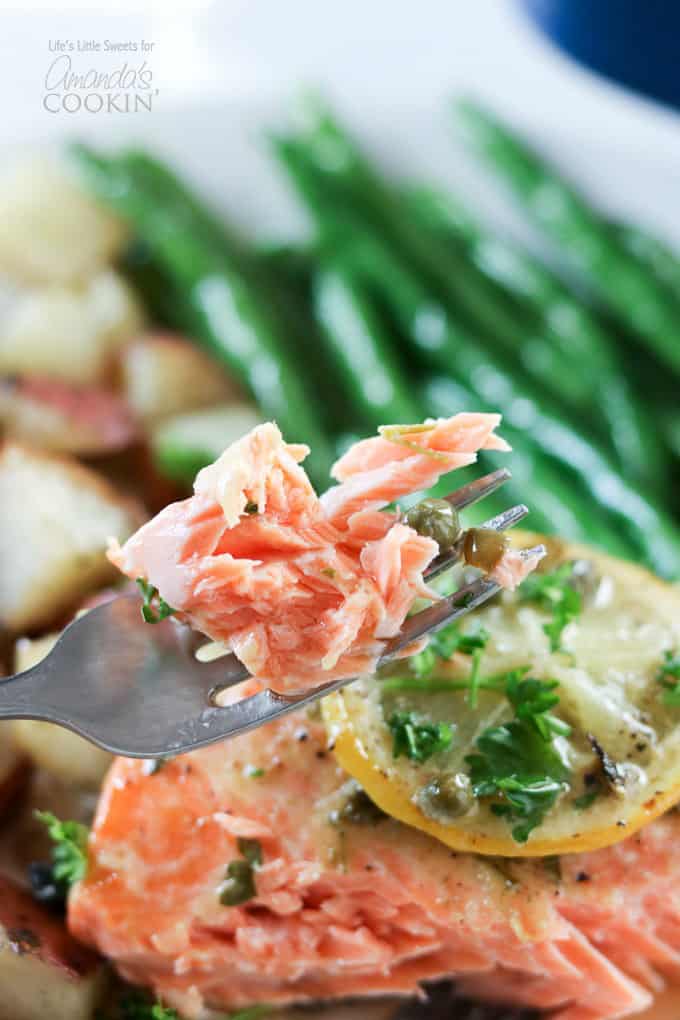 This Dijon Lemon Caper Salmon is one of those recipes you crave and remember when people beg you to make it or for the recipe, enjoy! If you're looking for a pretty side salad with this dinner, try this fresh Pomegranate Clementine Spinach Salad or this delicious Tomato Caesar Salad.