This Roasted Asparagus side dish is covered in delicious and healthy Smoky Romesco Sauce, cherry tomatoes, and crunchy chopped almonds. And the best part? This colorful showstopper takes just 20 minutes!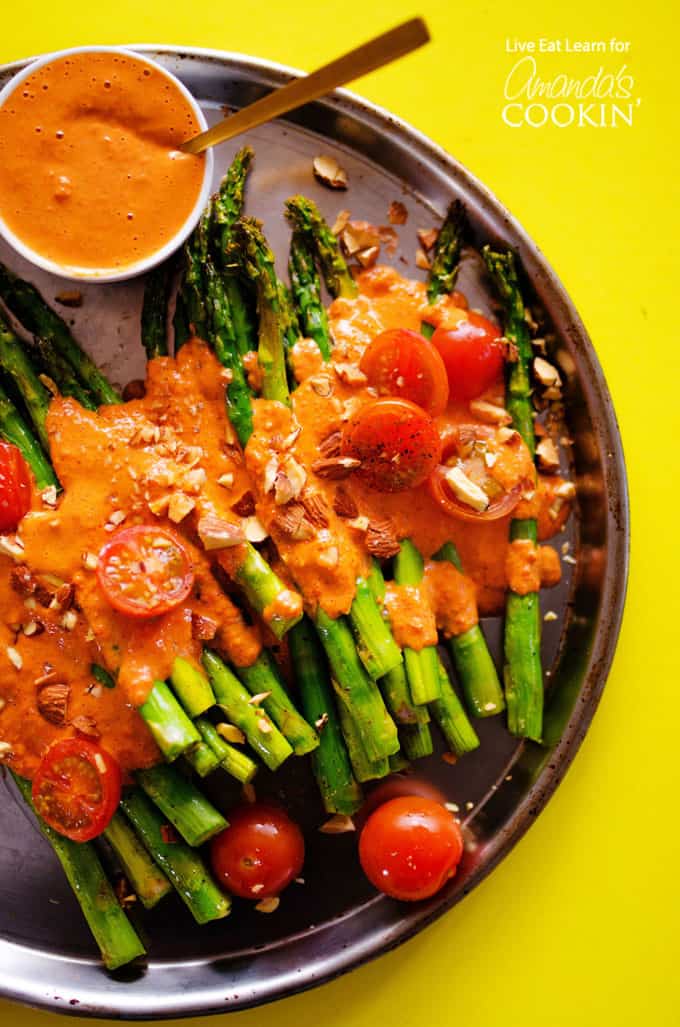 Roasted Asparagus with Smoky Romesco Sauce
When I was brainstorming up recipes to make this week, I realized something…I like, never share side dish recipes with you guys. I'm all about main courses and smoothies, but since when did side dishes become an afterthought? Today we're changing that. Today, the side dish is going to be the star of your meal, because this Roasted Asparagus with Smoky Romesco Sauce is so colorful and flavorful and seriously packed with nutrition. I love it so much and I think you will too!
Let's talk about this magic red sauce we call "romesco". I've become a bit of a sauce person since moving in with my boyfriend. Here in Holland, they put different sauces on everything. We have a whole rack in our fridge dedicated to about twenty bottles of different sauces, so no meal ever goes unaccompanied. So while scheming up ways to make the roasted asparagus really pack a flavor punch, my first thought jumped to sauces. The sauce we're making today, romesco, is a Spanish-style sauce that involves tomatoes, roasted red pepper, and nuts! It's super simple and I swear, you'll be putting it on everything once you try it.
There are affiliate links in this post. That means if you buy something from that link, I will earn a small commission, but it won't cost you anything additional.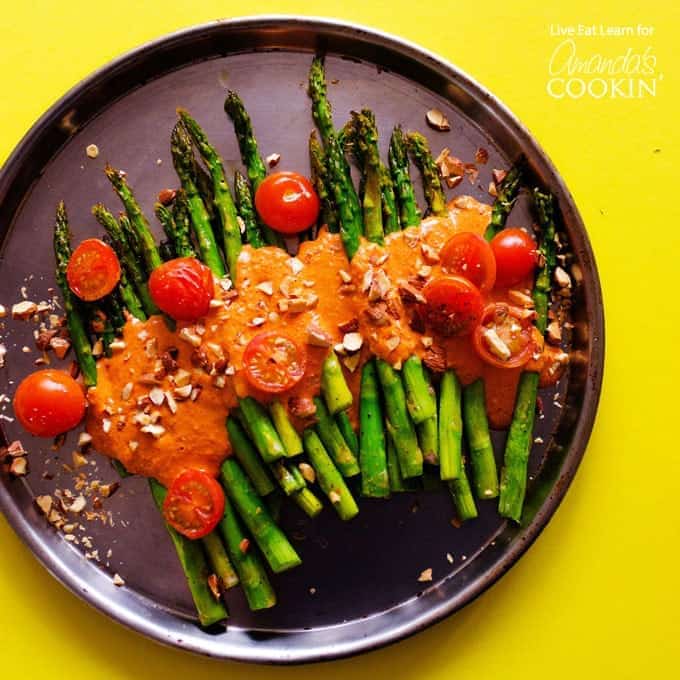 To make Roasted Asparagus you'll need:
1 lb (450 g) asparagus
1 ½ cups (375 g) cherry tomatoes
1 roasted red bell pepper
¼ cup olive oil + more for drizzling
3 Tbsp almond butter
1 clove garlic
2 tsp lemon juice
½ tsp smoked paprika
½ tsp salt + pinch for asparagus
Pinch of ground black pepper
Garnish with a handful of chopped almonds
Kitchen tools you may find useful: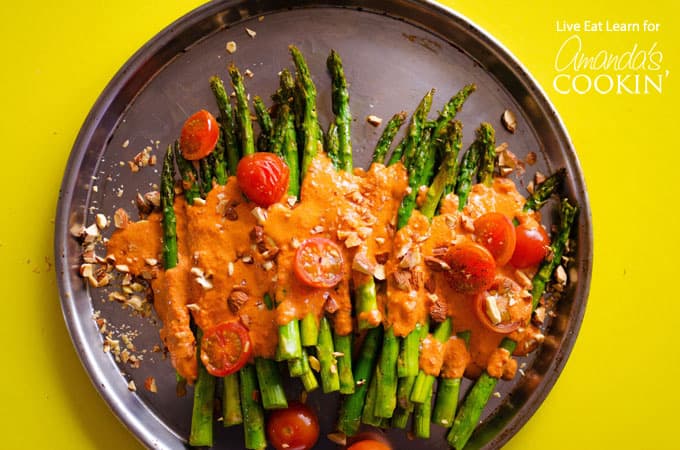 Not only is this roasted asparagus side dish good for you, but it looks amazing too! Are you an asparagus fan? If so, check out this delicious Cream of Asparagus Soup recipe. You may also be interested in this Pan-Seared Gnocchi with Shaved Asparagus and Snap Peas for a filling, and ultra tasty dinner!