If it were up to my oldest son, we would eat homemade chili every night of the week. I have been using my homemade chili seasoning for years to make a pretty basic chili, but every once in a while I'll add a couple different elements, just to change it up a bit. This 3 Bean Chili fit the bill perfectly without too much fuss.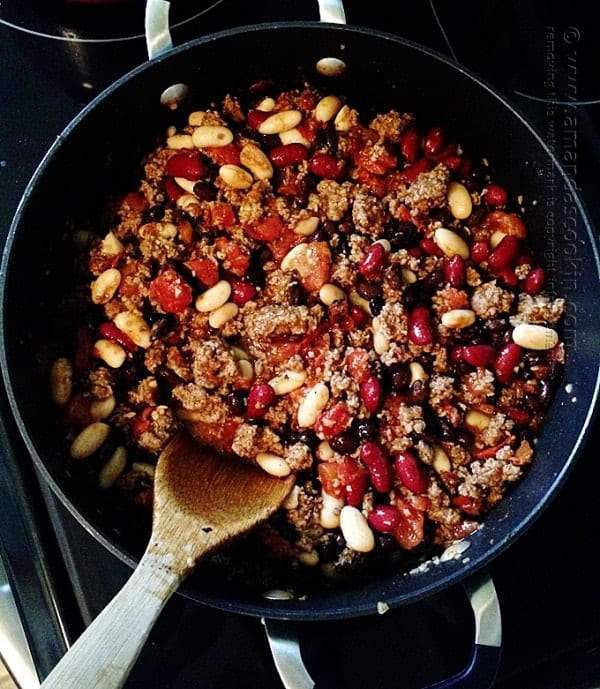 The other night I decided to try a few different beans, mostly for color variation, and spiced up my seasoning just a little to give it a bit more kick. There are lots of ways to change up the spices, the seasoning recipe is just a great starter! Some people like to add green or other bell peppers, some like it really hot and toss in jalapenos, and others stick with the mild version for a quick weeknight dinner. How would you change it up? I'm always looking for tasty ground beef dinner ideas so don't be shy about sharing those too!
I'm going to apologize ahead of time for the not-so-great pictures in this post. It was dark, I was tired, and I took these with my phone. Sometimes you just don't feel like making a big production out of things, but I really wanted to share the recipe. So there you have it. This picture below looks like it came from an old 1970's magazine doesn't it?!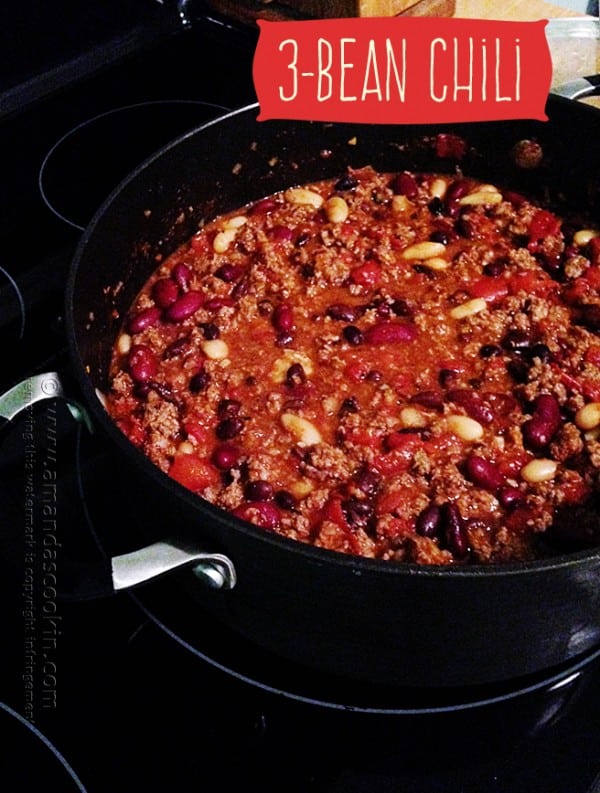 Note: some links below are affiliate links. That means if you happen to buy something, a small percentage of that sale goes back into this site, which enables me to continue to bring you free recipes such as this one. So, thanks!
As always, a full printable ingredient list and directions are at the end of this post.
For this recipe you will need the following supplies and ingredients:
Chili Seasoning:
2 tablespoons flour
4 tablespoons dried minced onion
2 teaspoons chili powder
1 teaspoon of ancho chili powder
2 teaspoons salt
1 teaspoon crushed red pepper
1 teaspoon dried minced garlic
1 teaspoon sugar
1 teaspoon ground cumin
To Make 3 Bean Chili:
2 pounds ground beef
2 cans fire roasted diced tomatoes (do not drain)
1 can dark red kidney beans, drained but not rinsed
1 can black beans, drained but not rinsed
1 can white kidney beans, drained but not rinsed
1/2 cup beef broth
1 cup water
I used my Calphalon 5 Qt. Chili Pot
to cook my chili in. It was the perfect size. I did place the lid on partially by tilting it to allow steam to escape, and to keep chili from splattering onto the stovetop from those little lava-like bubbles.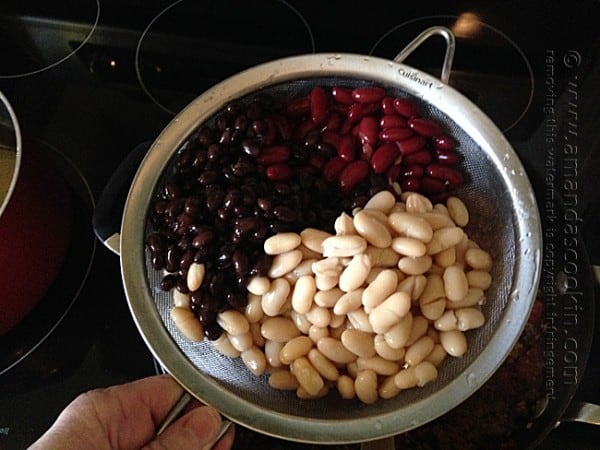 NOTE: I drain my beans but I don't rinse them. You CAN rinse them if you are concerned about the added sodium.
Prepare the seasoning by measuring all seasoning ingredients into the same bowl and mix together with a fork.
Brown ground beef in a skillet until no longer pink. Drain off fat from ground beef and return beef to pan.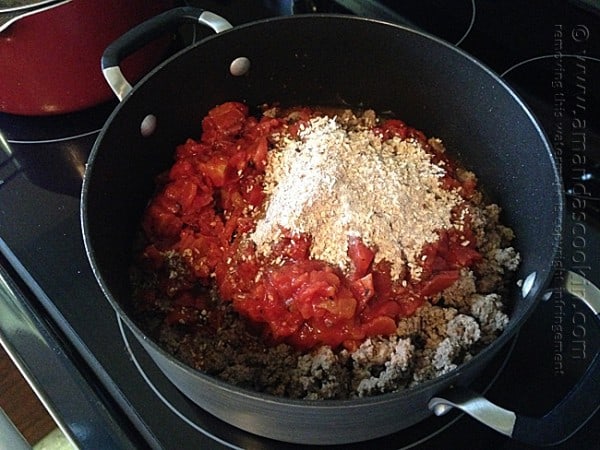 Add the tomatoes and seasoning mix and stir to combine. Stir in the beans and the broth. Add enough of the water to make it easy to stir.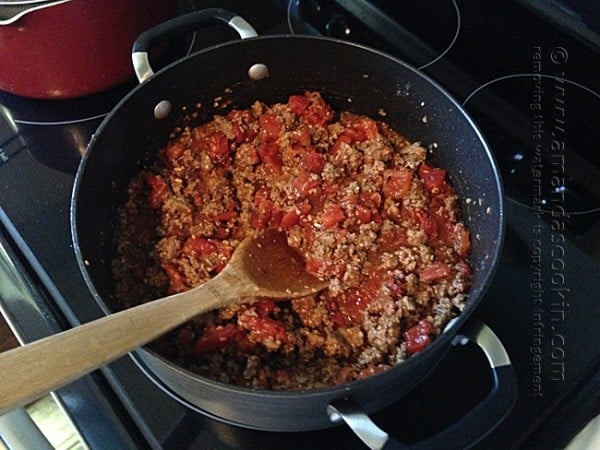 Bring to a boil, reduce heat and simmer for 20-30 minutes, stirring occasionally. If mixture becomes too thick, add more of the water and continue simmering until warmed through.
Hope you enjoy it!
More chili recipes