I'm pretty sure that the only place you can find a pork tenderloin sandwich is in Iowa, specifically at the Iowa State Fair. Now of course I could be way off base here and maybe you can get them somewhere else, but I don't know where! Anyone whose ever had one loves them. It's basically pounded pork tenderloins, breaded and fried, served on a bun with chopped pickles and onions with ketchup and/or mustard. mmmm!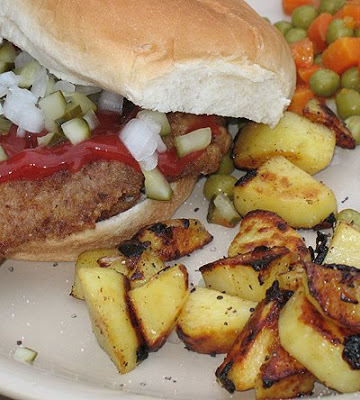 These are also known as Schnitzel, a German recipe that's really the same thing, only they usually use veal, much more expensive. I use boneless thin cut pork chops, it more economical and tastes just as good. Now I happen to be lucky and have a niece who is full blown German and made these for me cooked in butter rather than oil and they were marvelous. I paired mine with some fried potatoes and have included both of my recipes below.
Pork Tenderloin Sandwiches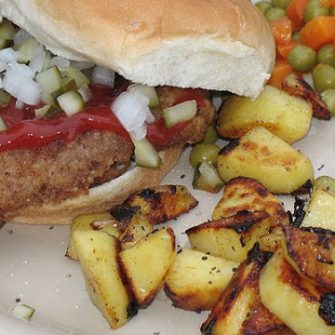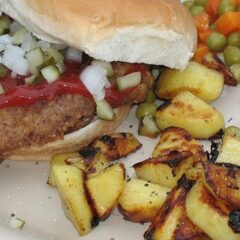 Pork tenderloin sandwiches
Reminiscent of my visit to the Iowa State Fair, these pork tenderloin sandwiches are enjoyed year round.
Print
Rate
Ingredients
boneless pork chops

thin cut

dry bread crumbs

flour

eggs

butter or margarine

sticks
Instructions
Place flour in one dish and bread crumbs in another. Crack 5-6 eggs into a third dish and whisk until scrambled.

Trim any extra fat off of chops then pound thin with a meat mallot. Dredge each chop in flour first, then dip in egg, finally coat in bread crumbs. Press crumbs into chop with your hands. Move each breaded chop to a plate until all chops are breaded.

Melt 1/2 stick butter in skillet over medium high heat. Add 3-4 breaded chops to pan, as many as you can fit. Cook in butter for about 3-4 minutes then turn over with tongs and cook the other side. Both sides should be golden brown. Cook in batches, adding more butter as needed, and move finished chops to paper towels to drain.

Serve in hamburger buns with chopped pickles, onions, mustard and ketchup.
Fried Potatoes
2 cloves garlic, minced
1/2 cup onion, minced
1-2 tbsp olive oil
lemon pepper
5 medium potatoes, peeled and cubed
Heat 1 tablespoon olive oil in skillet over medium heat. Add garlic and onion and cook until tender. Add potatoes and sprinkle with lemon pepper. Cook over medium heat, add a little more oil if too dry, turning occasionally with spatula. Cook until potatoes are crispy brown on the outside, then cover and simmer for 10 minutes, checking tenderness with fork.
LEFTOVER NOTE: If you have some breaded tenderloins left over, line wax paper between each one, wrap in plastic wrap, then foil and freeze. To reheat, separate patties and place in a 13×9 baking pan, cover with foil and bake 20-25 minutes at 375 F.
Try my grilled breaded pork chops too
NEW! Be sure to subscribe to my newsletter, Foodie in the Craftroom, to receive updates and tips from both Amanda's Cookin' and Crafts by Amanda! Visit https://amandascookin.com/p/subscribe-to-newsletter.html
Amanda Formaro is the crafty, entrepreneurial mother of four grown children. She loves to bake, cook, make kid's crafts and create decorative items for her home. She is a crafting expert and guru in the kitchen and has appeared online and in print publications many times over the years. She is also a craft book author five times over and product developer as well as the owner of
FunFamilyCrafts.com
. You can find her on social media by using the buttons to the left!
Latest posts by Amanda Formaro (see all)