What do you get when you combine crisp cucumbers, zesty cream cheese and soft pita bread? These mouthwatering cucumber sandwiches, perfect as an appetizer for a party! These little finger sandwiches are great for cooling off on a hot day or as a healthy snack for kids and adults alike. Cool as a cucumber has a whole new meaning!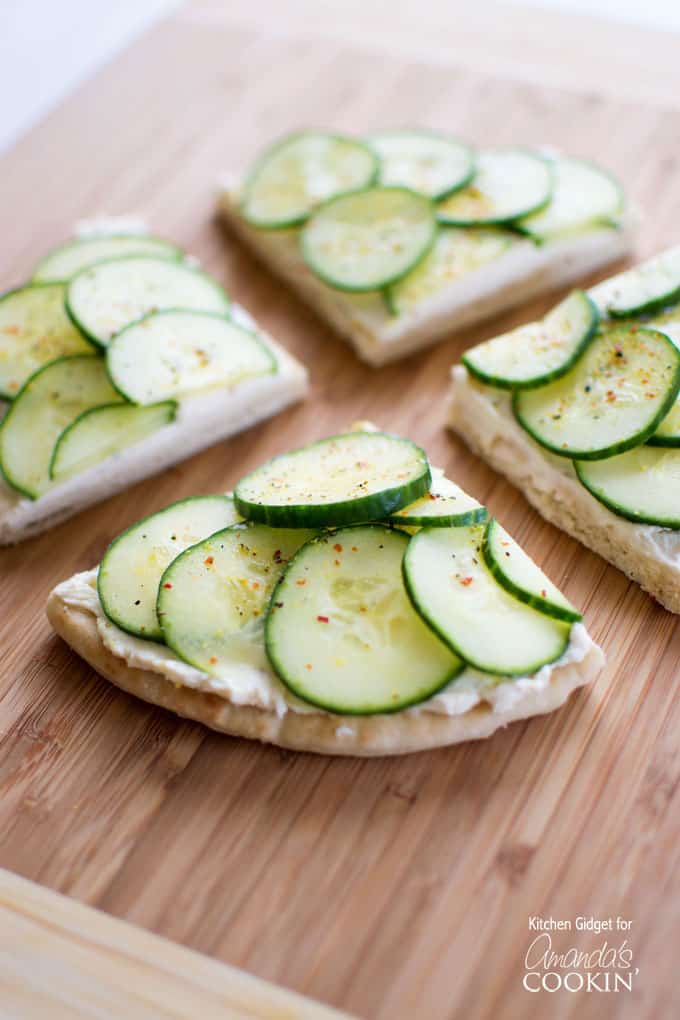 Cucumber Sandwiches
Is there anything more refreshing than a crisp, cool cucumber sandwich on a hot summer's day? During the dog days of summer, my appetite dips and hearty meals become unappetizing (as does slaving over the stove or turning on the oven). Instead, I love fresh produce, juicy tomato sandwiches, chilled spaghetti salad with Italian dressing and creamy no-bake desserts like Oreo cake.
These are not your average cucumber tea sandwiches. No, instead of thin bread and a smear of butter, crunchy cucumbers are piled on soft pita bread that's been topped with tangy cream cheese! A convenient packet of Italian dressing mix makes the perfect cream cheese spread, or you can use your favorite flavored cream cheese.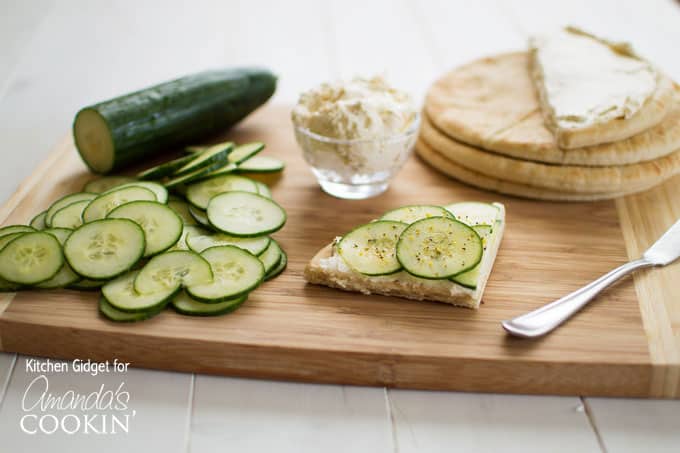 Not only do these tasty sandwiches make a satisfying lunch, but they're wonderful appetizers as well. These are the kind of cucumber sandwiches that even the manliest of men will eat and enjoy. Plus, they're cute enough for baby showers and ladies luncheons!
They are an absolute snap to put together, but if you're going to make them ahead, I recommend toasting the pita bread so it doesn't get soggy. For parties, I usually have my cream cheese pre-blended and the cucumbers sliced ahead of time. Assembly is a breeze after that.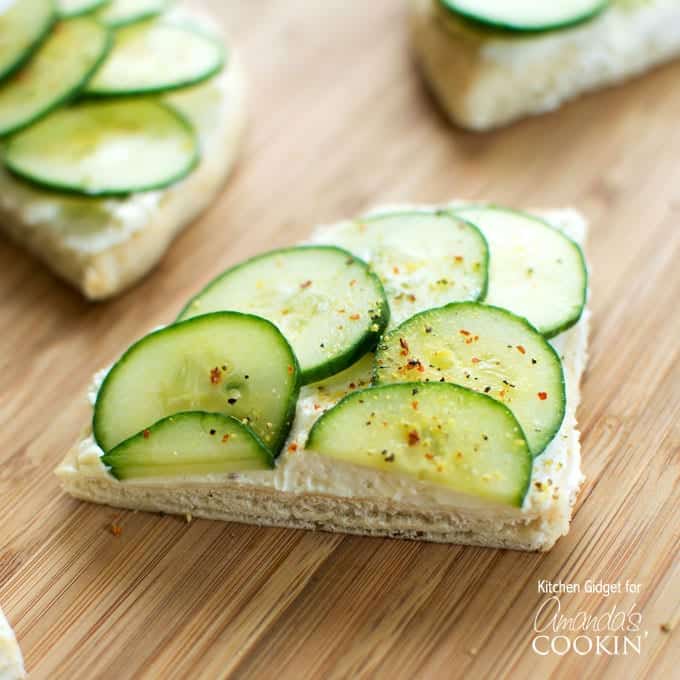 There are affiliate links in this post. That means if you buy something from that link, I will earn a small commission, but it won't cost you anything additional.
You will need:
1 block (8 oz) cream cheese, room temperature
1 tablespoon Italian dressing mix
4 rounds of pita bread
1 large cucumber, very thinly sliced
Lemon-pepper (optional)
Chile-lime seasoning (optional)
Kitchen tools you may find useful: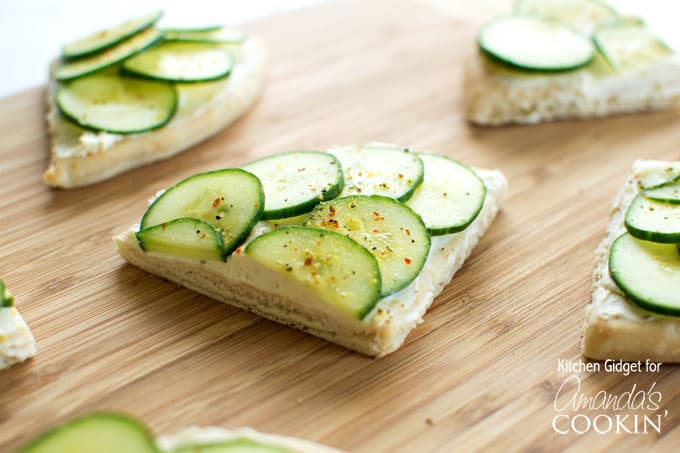 These cucumber sandwiches are slightly adapted from an old issue of Taste of Home. Hard to believe my family has been gobbling up these pita wedges for nearly 20 years now! Food fads come and go, but good food stands the test of time.
If you'd like increase the zesty nature of these sandwiches, I recommend sprinkling them with a little lemon-pepper. The brightness it adds takes them over the top! We also like it with a dash of Mexican spice mix made of chile peppers and lime. Mixing the two is fabulous!
One last note: packets of Italian dressing can be found near the bottled salad dressings. You'll only need 1 tablespoon of the seasoning, so save the rest in an airtight bag and use as a seasoning in marinades and pasta salad.
SCROLL DOWN FOR THE PRINTABLE VERSION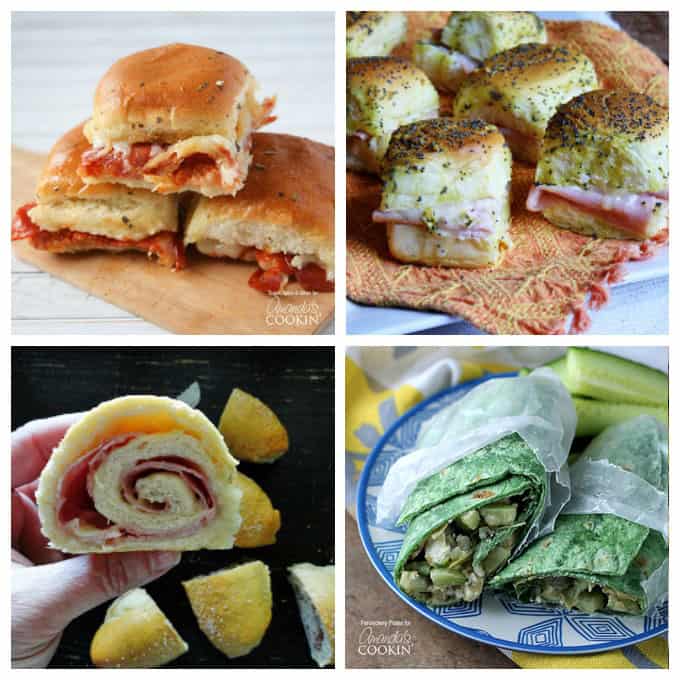 OTHER SANDWICH RECIPES YOU MAY ENJOY:
If you need sandwiches for a crowd, this pizza sandwich casserole and these ham and cheese sliders are awesome! Great for game night or taking along to watch your kid's soccer game.
If you love soft pretzels, this is the sandwich for you! Ham & cheese rolled up inside a soft pretzel bun and baked to perfection. Try these ham & cheese pretzel roll sandwiches today!
If you're looking for a healthy and vegetarian option, ou'll definitely want to try this delicious Mediterranean Veggie Wrap!
Want even more free recipes? Be sure to join my newsletter for FREE recipes and craft ideas sent to your email inbox every week.