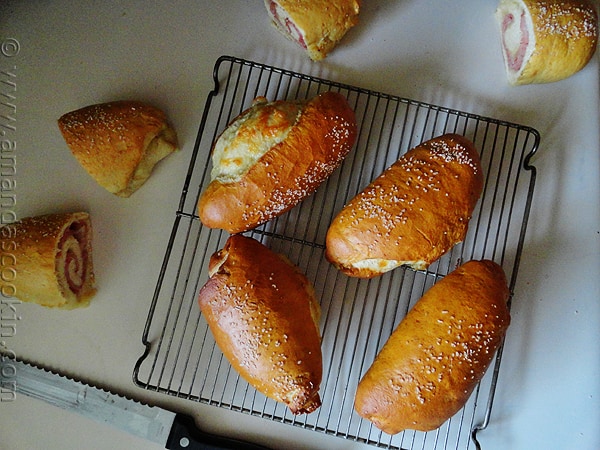 Every single person in this house loves soft pretzels. Soft, warm bread with a dark golden crust, lightly crusted with salt, who could resist? I'm a ham and cheese lover, as is my husband. To combine a soft pretzel and a ham and cheese sandwich just sounded too good to be true. It's a sandwich and a pretzel all rolled up into one neat package, ready for eating! These would be fabulous at Super Bowl time and great for when there's a bunch of teenagers at your house.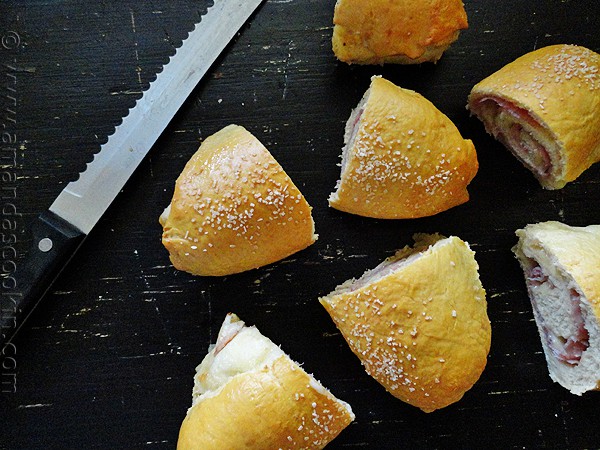 I found this recipe on Peggy's blog, My Fiance Likes It So It Must Be Good. I'll be honest, there were so many great sounding recipes, I wasn't sure what to pick! After browsing for well over an hour, I narrowed it down to SIXTEEN recipes. Umm. Yeah. There's this Chocolate Hazelnut Cake, these Korean Flank Steaks, and this Potato and Red Pepper Hash just to name a few!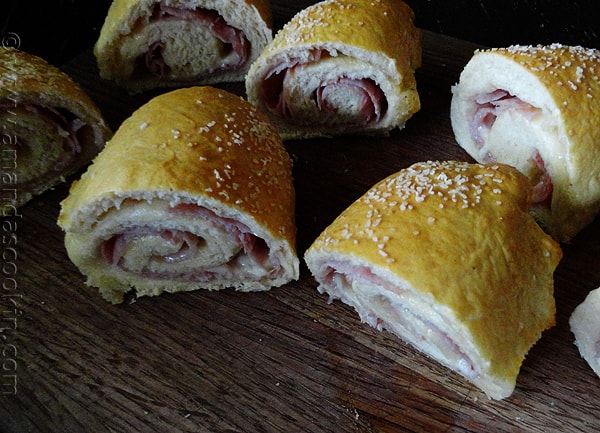 I've made soft pretzels before. A few years ago my daughter and I made Homemade German Pretzels for her German class assignment, and these Bretzel Rolls I made around the same time. They are actually called Bavarian Pretzel Sandwich Rolls, shortened to Bretzel Rolls. So when I saw Peggy's post on these Ham & Cheese Stuffed Pretzel Rolls I knew that's exactly what I needed to make.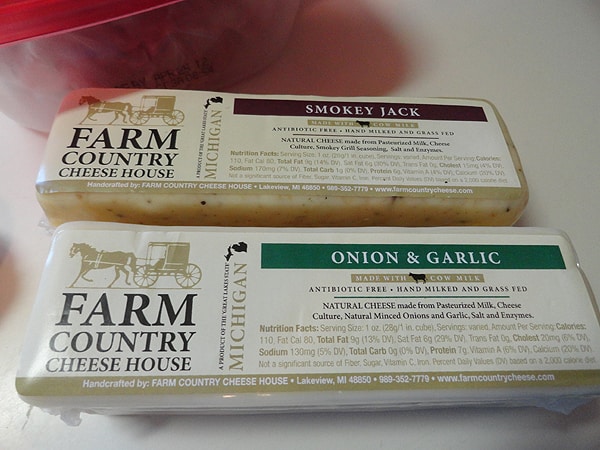 I did adapt Peggy's recipe a bit and added a full cup more flour to my dough. I also used different cheese and changed the method a little to match the other pretzel recipes I've made in the past. I found this amazing cheese that I shared on Twitter via Instagram at my favorite market. There were quite a few flavors, but I chose these two to come home with me.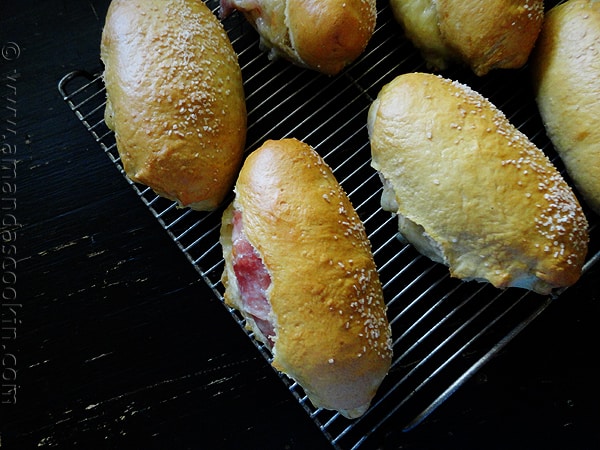 After these had cooled a bit I cut one in half and tried it. Mmmmmm! Another bite… another. Before I knew it I had eaten two sandwiches just standing there!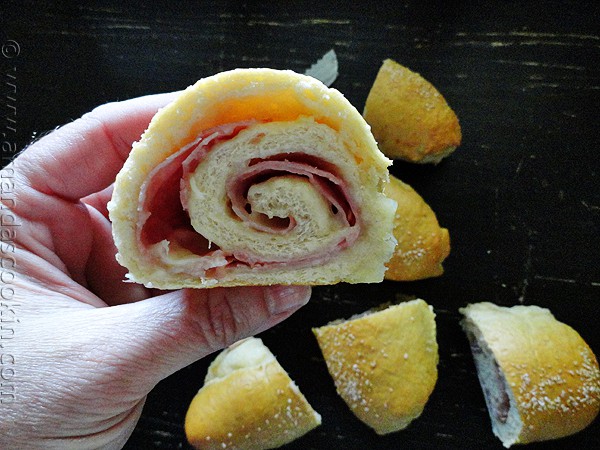 I made some with ham and cheese, and some with just cheese. The kids liked the ones with just cheese better as they aren't much for ham like hubby and I. My daughter even took one to school for lunch the next day. I will definitely be making these again, especially during football season!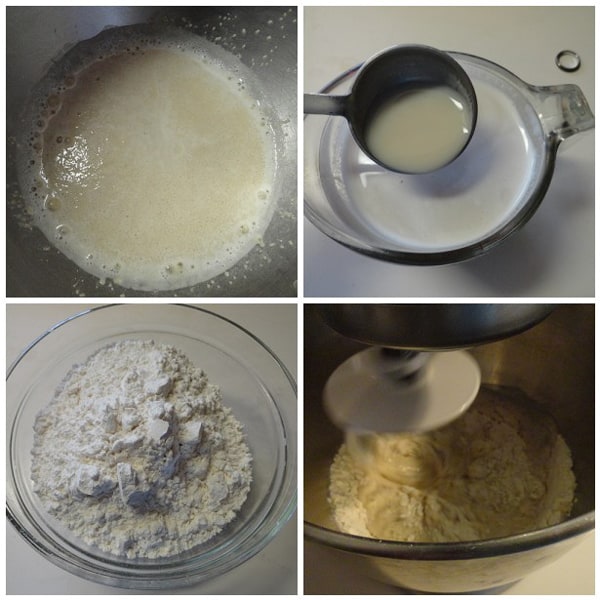 Here's some tips. Whenever you work with yeast, always proof it first. That mean mixing it will a little sugar for the yeast to "eat" and some warm liquid, usually water or milk. When things begin to bubble and foam, you know your yeast is active. In this recipe you'll mix some brown sugar with warm milk, and mix that and most of the flour to the yeast mixture and mix it up. You'll add more flour if needed to develop a nice kneadable dough.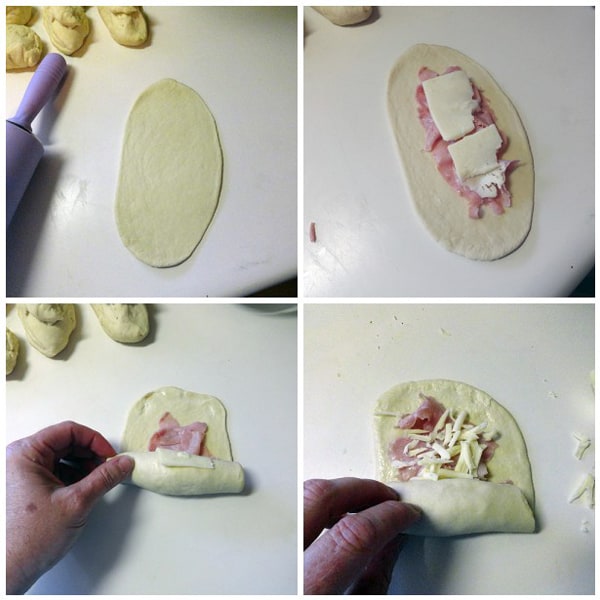 After splitting the dough into equal pieces, roll out each one and line with 1-2 slices of ham and some thin sliced or shredded cheese. Then roll it up. They'll rest a bit then be dropped into a pot of boiling water that's had baking soda added to it. The baking soda bath creates an alkaline environment on the outside of the pretzel dough, thus allowing the dough to brown faster during baking, without over baking the inside.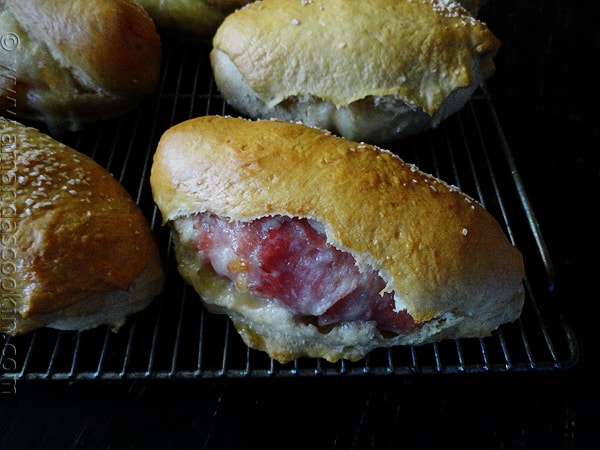 Note: A few of mine swelled a bit and burst, but nothing tragic. Just make sure your dough is rolled to an even thickness.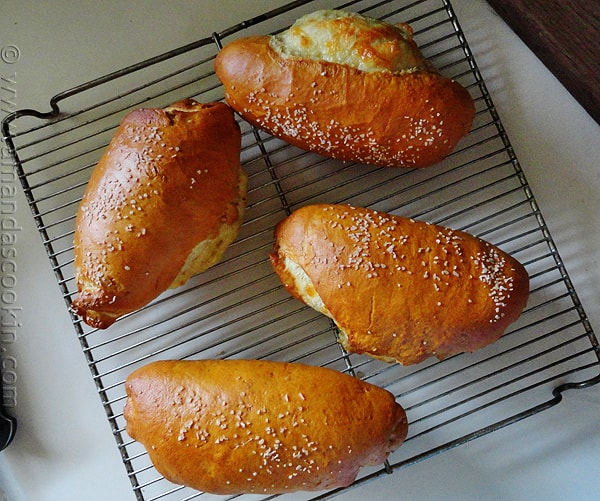 Thanks so much for the recipe Peggy, these were truly wonderful and I will be making them again. :)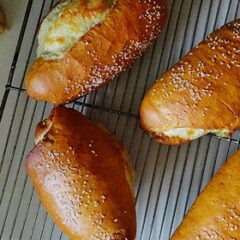 Ham & Cheese Pretzel Roll Sandwiches
IMPORTANT - There are often Frequently Asked Questions within the blog post that you may find helpful. Simply scroll back up to read them!
Print It
Rate It
Ingredients
2 1/4

teaspoons

SAF instant yeast

2

tablespoons

plus 1 teaspoon dark brown sugar

1/2

cup

warm water

1

cup

warm 1% milk

3 1/2

cups

flour

Deli or packaged ham

thin sliced

Shredded or thin sliced cheese

6

cups

water

4

teaspoons

baking soda

kosher salt to top
Instructions
In large mixing bowl combine yeast, 1 teaspoon brown sugar, and warm water. Stir together and let sit until foamy, about 5 minutes.

In a small bowl, stir together remaining brown sugar and milk, mixing until sugar is dissolved.

Reserve one cup of the flour and set aside. Add remaining 2 1/2 cups flour and milk mixture to yeast mixture. Mix on low with dough hook (or by hand with wooden spoon). Add reserved flour as needed to make a soft dough.

Gently knead dough into a smooth ball on a floured surface, Then place in clean bowl, cover with plastic wrap, and let rise at room temperature for about 2 hours.

Preheat oven to 400 degrees and line a baking sheet with parchment paper.

Cut the dough into 4 separate pieces, then divide those pieces in half. Roll out each piece to desired length and flatten with rolling pin. Place 1-2 slices of ham and either thin sliced or shredded cheese on each rolled out piece of dough. Roll up the dough and seal the edges using warm water. Let the dough rest for 30 minutes.

Meanwhile, bring water to a rolling boil in a large pot. Standing back a little so as not to be splashed, add baking soda. Adding the baking soda will cause the water to react momentarily and bubble up.

Slide 1-2 rolls into the boiling water and boil for no more then 30 seconds, turning once. Carefully remove with slotted spoon and hold above pot and let drain. Place on parchment lined cookie sheet and sprinkle lightly with salt. Repeat with the remaining rolls. Bake the rolls until golden brown, about 20 minutes.
');
Amanda Davis is the entrepreneurial mom of four grown children and four step children. She and her husband, Chef Antoine, love to cook together creating recipes for this blog. Amanda also make kid's crafts and creates decorative items for her home. She is a crafting expert and guru in the kitchen and has appeared online and in print publications many times over the years. She is also a craft book author five times over and product developer as well as the owner of
FunFamilyCrafts.com
. You can find her on social media by using the buttons to the left!
Latest posts by Amanda Davis (see all)