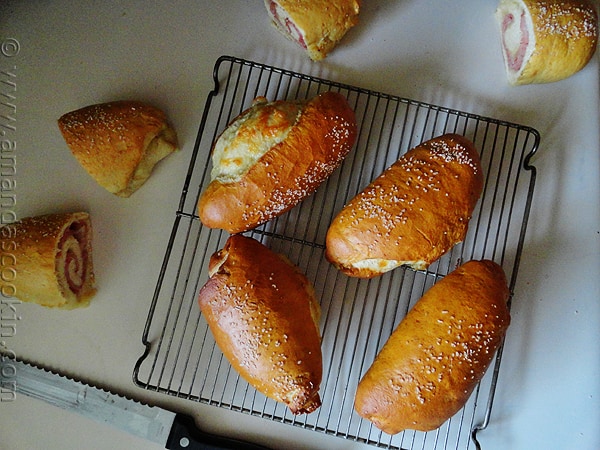 Every single person in this house loves soft pretzels. Soft, warm bread with a dark golden crust, lightly crusted with salt, who could resist? I'm a ham and cheese lover, as is my husband. To combine a soft pretzel and a ham and cheese sandwich just sounded too good to be true. It's a sandwich and a pretzel all rolled up into one neat package, ready for eating! These would be fabulous at Super Bowl time and great for when there's a bunch of teenagers at your house.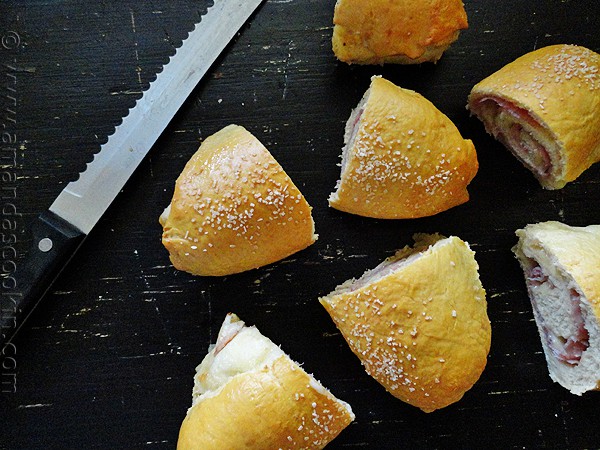 I found this recipe on Peggy's blog, My Fiance Likes It So It Must Be Good. I'll be honest, there were so many great sounding recipes, I wasn't sure what to pick! After browsing for well over an hour, I narrowed it down to SIXTEEN recipes. Umm. Yeah. There's this Chocolate Hazelnut Cake, these Korean Flank Steaks, and this Potato and Red Pepper Hash just to name a few!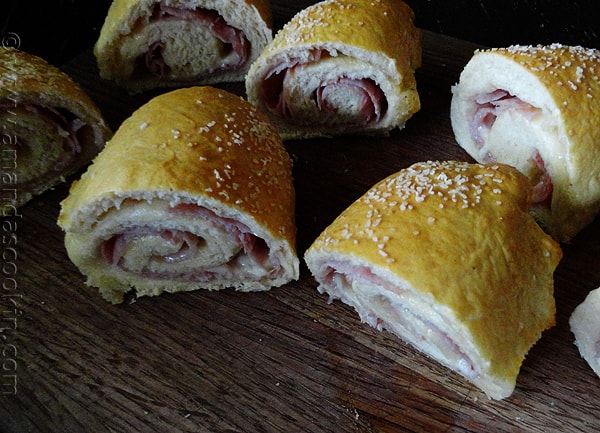 I've made soft pretzels before. A few years ago my daughter and I made Homemade German Pretzels for her German class assignment, and these Bretzel Rolls I made around the same time. They are actually called Bavarian Pretzel Sandwich Rolls, shortened to Bretzel Rolls. So when I saw Peggy's post on these Ham & Cheese Stuffed Pretzel Rolls I knew that's exactly what I needed to make.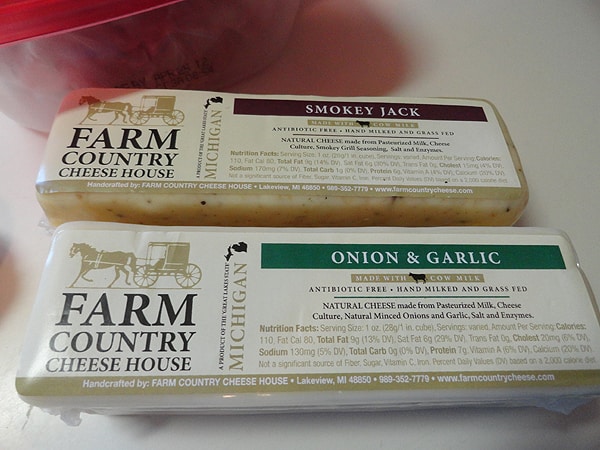 I did adapt Peggy's recipe a bit and added a full cup more flour to my dough. I also used different cheese and changed the method a little to match the other pretzel recipes I've made in the past. I found this amazing cheese that I shared on Twitter via Instagram at my favorite market. There were quite a few flavors, but I chose these two to come home with me.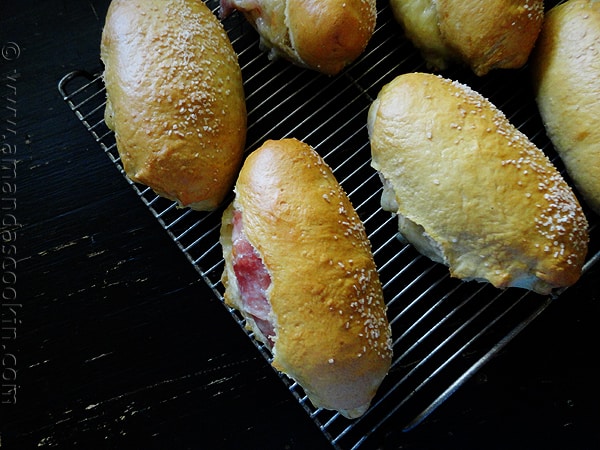 After these had cooled a bit I cut one in half and tried it. Mmmmmm! Another bite… another. Before I knew it I had eaten two sandwiches just standing there!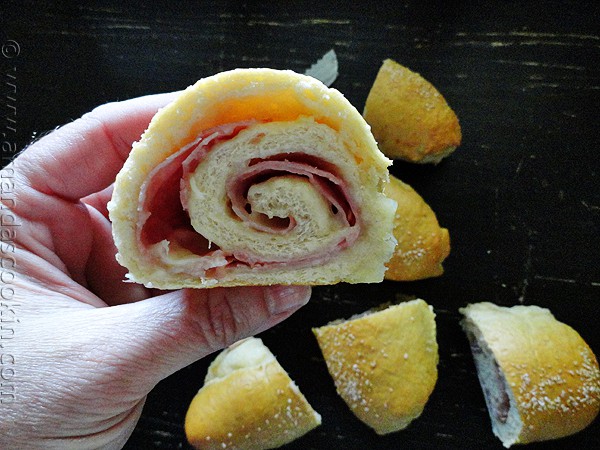 I made some with ham and cheese, and some with just cheese. The kids liked the ones with just cheese better as they aren't much for ham like hubby and I. My daughter even took one to school for lunch the next day. I will definitely be making these again, especially during football season!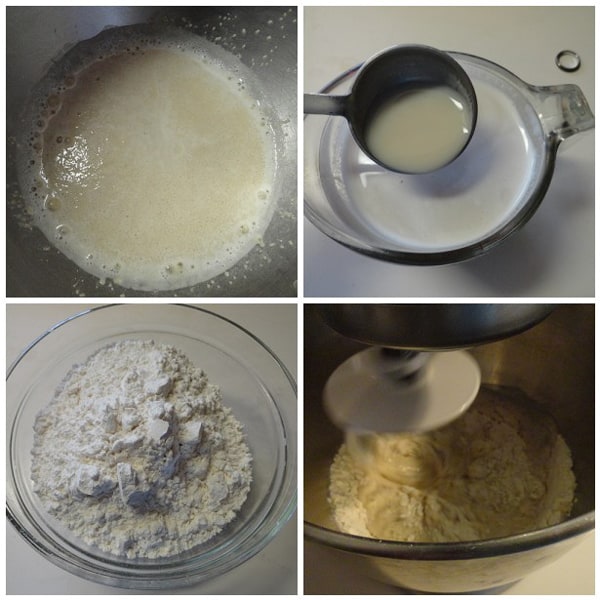 Here's some tips. Whenever you work with yeast, always proof it first. That mean mixing it will a little sugar for the yeast to "eat" and some warm liquid, usually water or milk. When things begin to bubble and foam, you know your yeast is active. In this recipe you'll mix some brown sugar with warm milk, and mix that and most of the flour to the yeast mixture and mix it up. You'll add more flour if needed to develop a nice kneadable dough.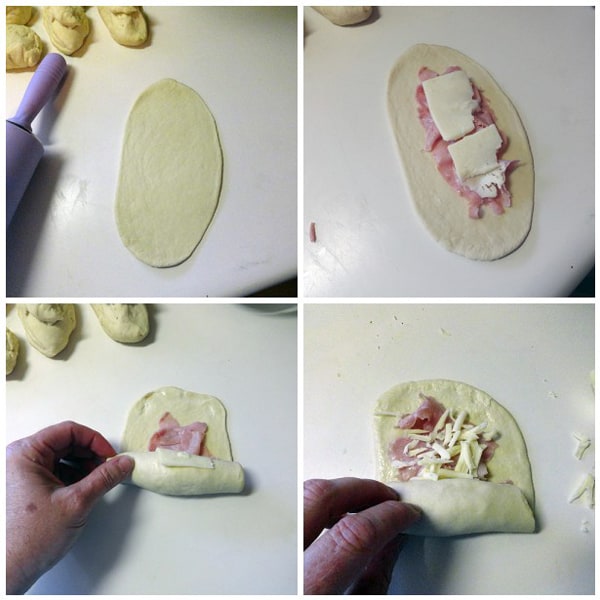 After splitting the dough into equal pieces, roll out each one and line with 1-2 slices of ham and some thin sliced or shredded cheese. Then roll it up. They'll rest a bit then be dropped into a pot of boiling water that's had baking soda added to it. The baking soda bath creates an alkaline environment on the outside of the pretzel dough, thus allowing the dough to brown faster during baking, without over baking the inside.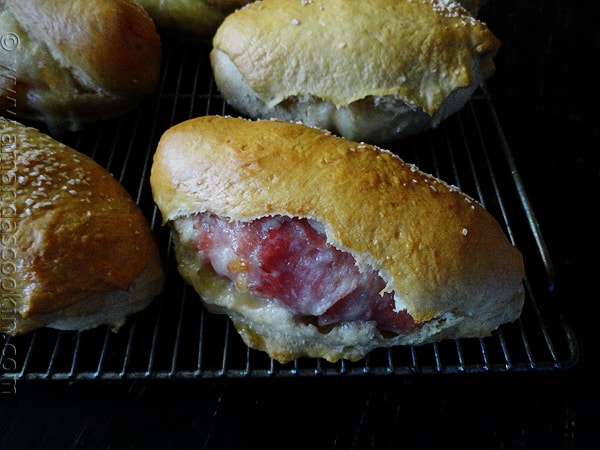 Note: A few of mine swelled a bit and burst, but nothing tragic. Just make sure your dough is rolled to an even thickness.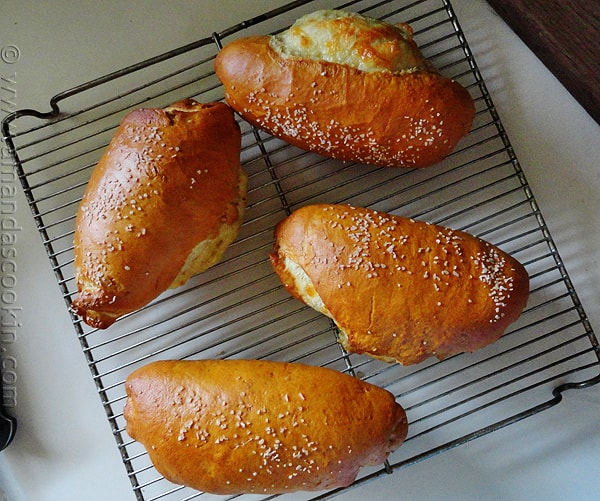 Thanks so much for the recipe Peggy, these were truly wonderful and I will be making them again. :)