Have you ever made stroganoff from scratch? If you haven't, it might seem like a difficult, time-consuming, task…meant only for seasoned home cooks. But this recipe for Mushroom Stroganoff Skillet-Style is just the opposite. In fact, once you make it, you're on your way to becoming a stroganoff expert!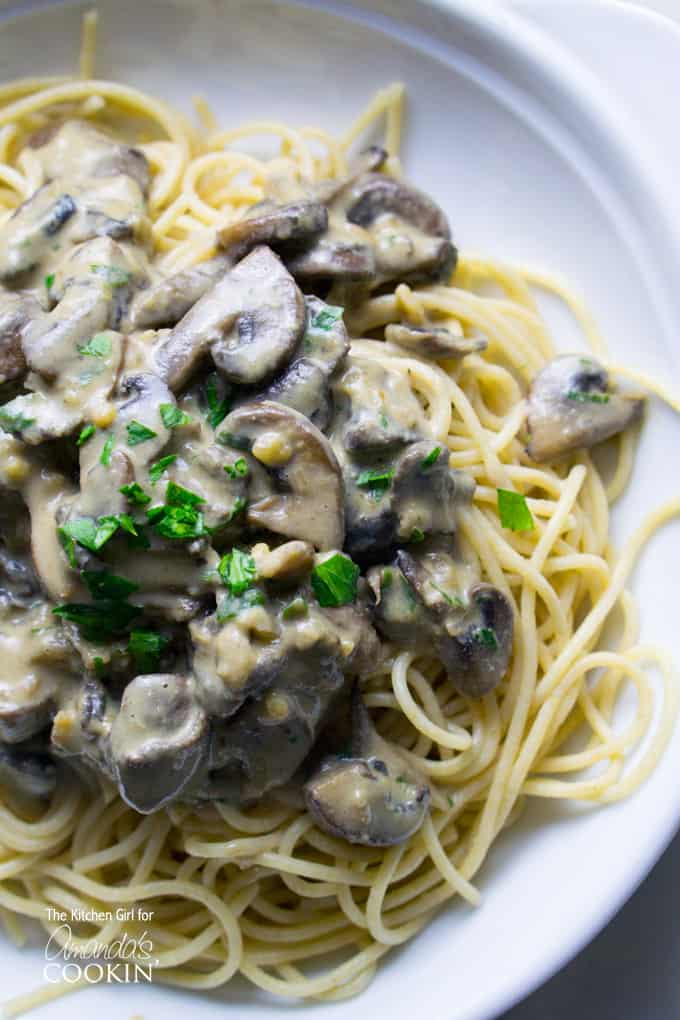 Mushroom Stroganoff Skillet-Style
Everybody loves stroganoff, right? To me, it's a favorite comfort food that satisfies cravings for creamy, but simple, decadence. In fact, it's so simple, it's perfect for busy, back-to-school, weeknights. This mushroom stroganoff skillet reminds me of the creamy goodness of this Mushroom Risotto. You just can't beat the creaminess mixed with mushrooms in these two recipes.
Now, if you have never made a béchamel (white sauce) from scratch, never fear. This recipe will have you up and running in no time and you'll barely even realize that you're making one of the most popular sauces in the culinary world. And it's so easy!
RELATED – if you are a mushroom lover like me, you must try these stuffed mushrooms, they are the best!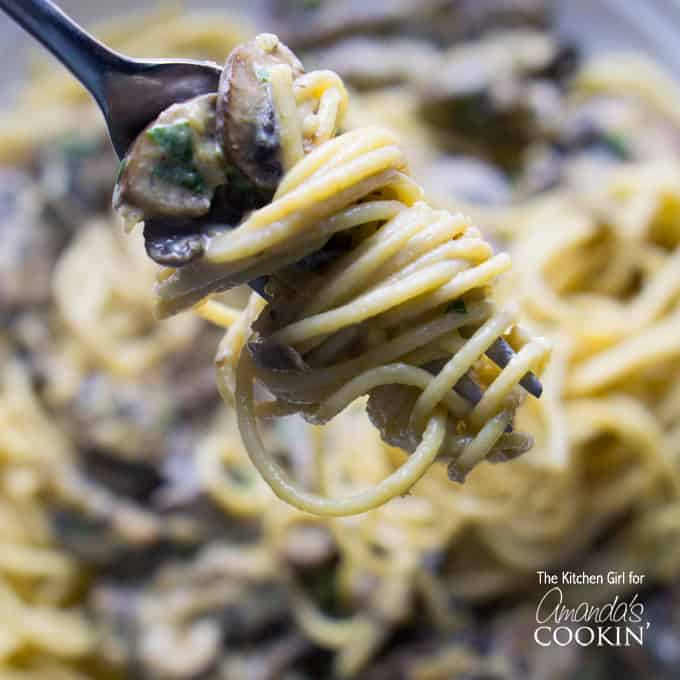 Here are the very basic steps to getting this one-skillet wonder from one-to-done:
sauté all vegetables in melted butter and oil

Add flour

Add liquids

Heat and stir until creamy

Serve over pasta
That's it! Of course, it's more detailed in the actual recipe below, but it's not complicated, even if you're not a kitchen ninja.
If you want more vegetarian skillet recipes for busy weeknights, head on over to my 30-Minute Vegetarian Skillet Enchiladas and my Mushroom Sesame Quinoa With Scallions. Both are quickly becoming popular, one-pan recipes that keep meatless Monday meals anything but boring.
There are affiliate links in this post. That means if you buy something from that link, I will earn a small commission, but it won't cost you anything additional.
Ingredients you will need for
Mushroom Stroganoff Skillet-Style
1 tablespoon butter

1 tablespoon olive oil

1 large shallot, diced

3 garlic gloves, finely grated

1 lb. mushrooms, loosely chopped

2 tablespoons all-purpose flour

1/4 cup white wine

1/2 cup half and half

1.5 cups vegetable broth

1/4 cup Italian flat-leaf parsley, finely chopped

1/2 teaspoon black pepper

1/4 teaspoon kosher salt
Kitchen tools you may find helpful: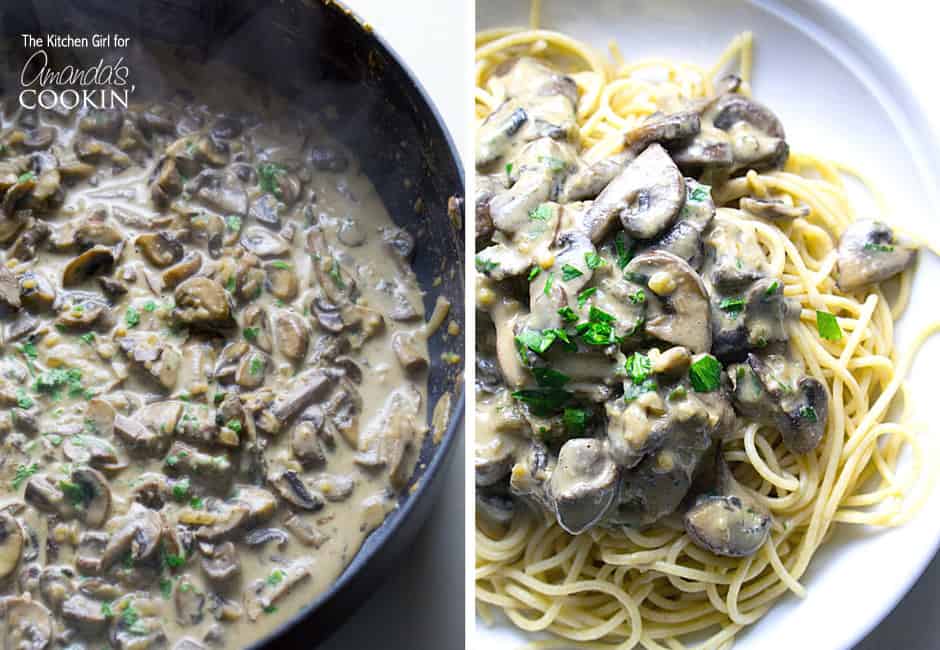 SCROLL DOWN FOR THE PRINTABLE VERSION OF THIS RECIPE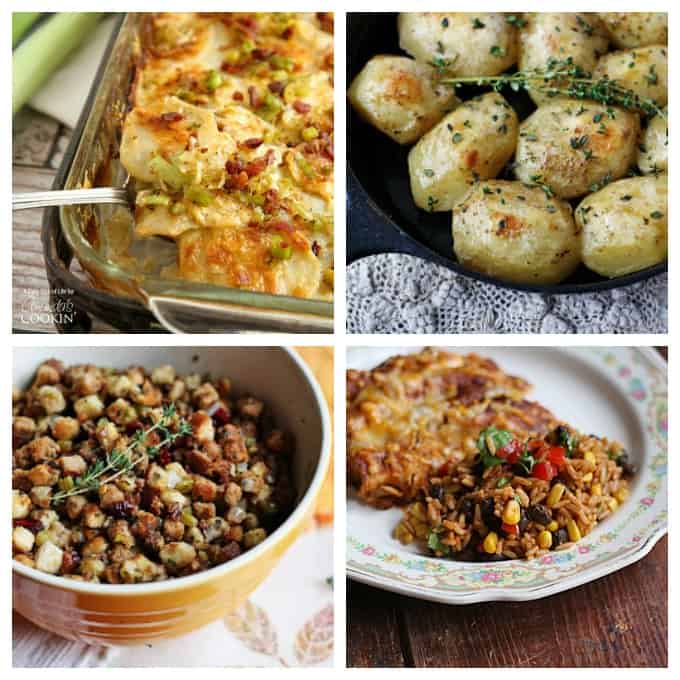 MORE CASSEROLE RECIPES YOU MIGHT LIKE:
If you like skillet dinners, try our tuna casserole in the skillet too!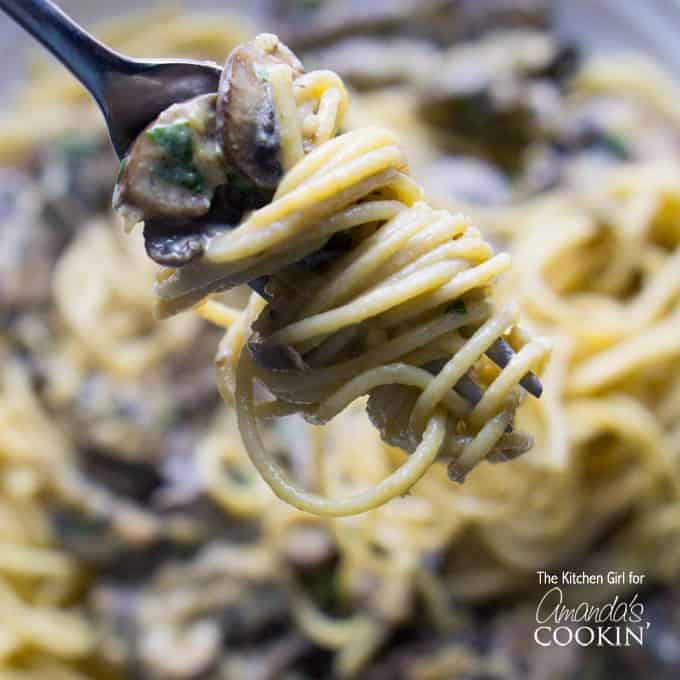 Mushroom Stroganoff Skillet-Style
Here's a creamy, rich, one-pan, stroganoff that comes together in under 30 minutes. So simple, versatile, delicious, and vegetarian…for the win!
Print
Rate
Ingredients
1

tablespoon

butter

1

tablespoon

olive oil

1

large shallot

diced

3

garlic gloves

finely grated

1

lb.

mushrooms

loosely chopped

2

tablespoons

all-purpose flour

1/4

cup

white wine

1/2

cup

half and half

1 1/2

cups

vegetable broth

1/4

cup

Italian flat-leaf parsley

finely chopped

1/2

teaspoon

black pepper

1/4

teaspoon

kosher salt
Instructions
In a large, nonstick skillet over medium-high heat, add butter and olive oil; heat until butter melts; add shallot and garlic; sauté until slightly tender (about 3 min).

To the skillet, add mushrooms; sauté until tender and lightly caramelized (about 10 min).

Add flour; stir and continue heating until veggies absorb it (1-2 min).

Stir white wine into mushrooms and heat until creamy and bubbling (1-2 min).

Add half and half; gently whisk until sauce begins to thicken (about 2 min)

Add vegetable broth, black pepper, and salt; whisk to incorporate; bring to gentle boil; reduce heat to simmer; continue whisking as needed until sauce reaches a creamy consistency.

Cover; remove from heat; serve immediately over cooked pasta noodles.
Expert Tips & FAQs
For a more traditional stroganoff, garnish with a dollop of sour cream.
Traci authors The Kitchen Girl® food blog, where busy people on a budget grow smart food habits. She advocates eating for wellness as a lifestyle, offering healthy kitchen tips and everyday, whole food recipes that won't break your wallet...or your palate. She loves her job...even the 'dishes' part.
Latest posts by Traci Antonovich (see all)