Flavored flour tortillas are becoming more and more popular in grocery stores. But what if I told you that you can make your own tortillas, and make them any flavor you want? Today I'm sharing my secret to the easiest, most tender, delicious tortillas ever, in three different mouth-watering flavors! These tortillas are perfect for pairing with some veggies for lunch (spread them with our homemade hummus!) or a cheesy quesadilla for dinner.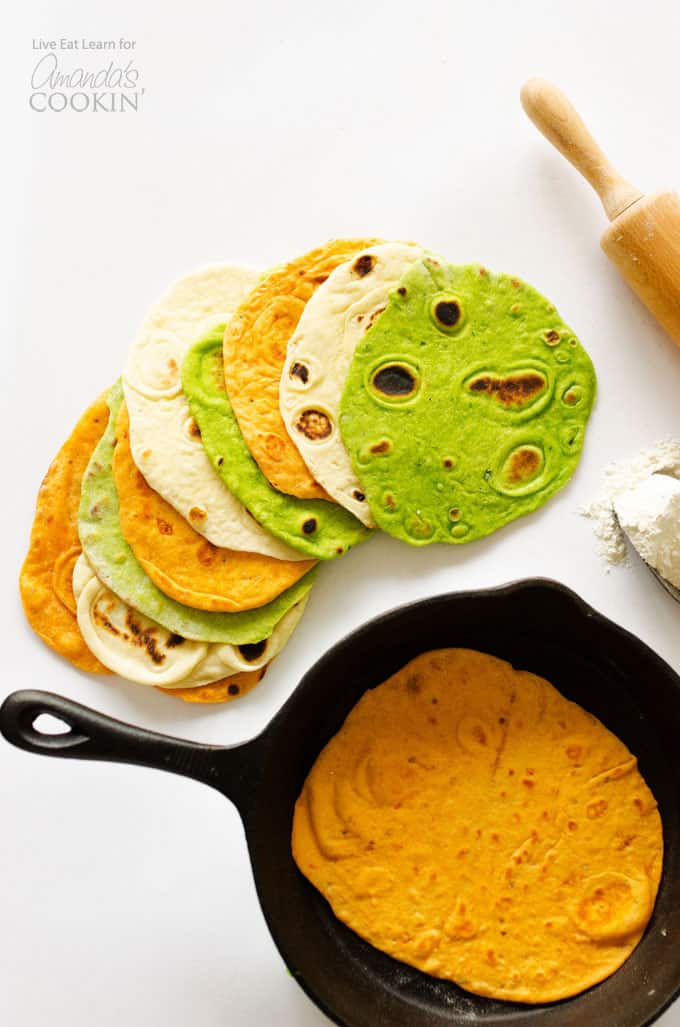 How to Make Your Own Flavored Flour Tortillas
Let's be honest, tortillas are great. You can make sandwich wraps, burritos, quesadillas, even chips! Tortillas are great for making appetizers also, like these Quesados!
Out of both necessity and interest, since moving to the Netherlands, I've figured out how to make quite a few things from scratch. Things that are easy to find in America, like big pita flatbreads, Chipotle burritos, and good quality salsa have all been needs/cravings so large that I just caved and learned to make them myself. Which brings me to tortillas. You'd be hard pressed to find a good tortilla here in the Netherlands, let alone different flavors of tortillas. So for the sake of my tortilla cravings, and for the sake of showing you just how easy it is to make your own, today we're making them!
The base recipe is simple, and with just a switch of base flavors, the possibilities are endless!
The base has just four ingredients: flour, baking powder, salt, and butter. But the flavor mix-ins are where it gets fun. Basically, you'll need 1 cup of liquid. If you were making traditional tortillas, this liquid would simply be water, but today we're making three variations: sun dried tomato, spinach, and roasted garlic. You'll blend your mix-ins into the water, mix it into the base, and boom, tortilla time!
There are affiliate links in this post. That means if you buy something from that link, I will earn a small commission, but it won't cost you anything additional.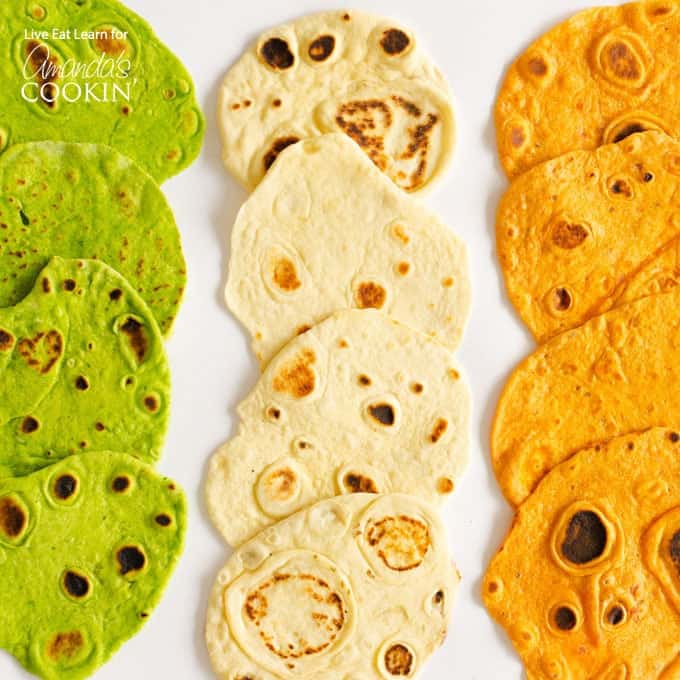 What you'll need to make flavored flour tortillas:
2 ½ cups all-purpose flour
2 ½ tsp baking powder
1 tsp salt
½ cup unsalted butter, room temperature
For sundried tomato flavor: ¾ cup warm water + ¼ cup sundried tomatoes
For spinach flavor: ½ cup warm water + ½ cup spinach
For roasted garlic flavor: 1 cup warm water + 1 bulb roasted garlic
Kitchen tools you'll need: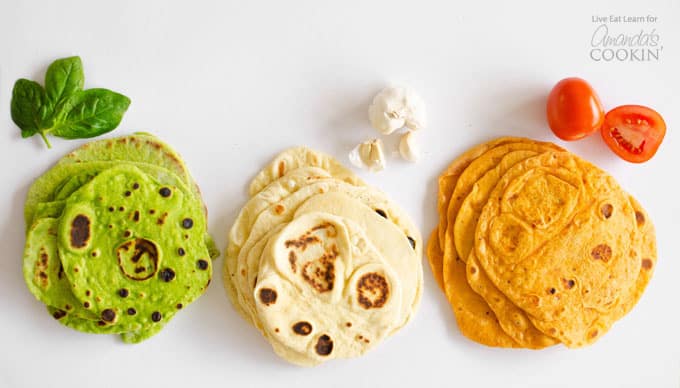 Don't they look delicious? You could use this flavored flour tortilla recipe to make this Mediterranean Veggie Wrap, or these Breakfast Burritos.
If you're looking for more ways to make delicious tortillas check out Low-Fat Homemade Flour Tortillas.