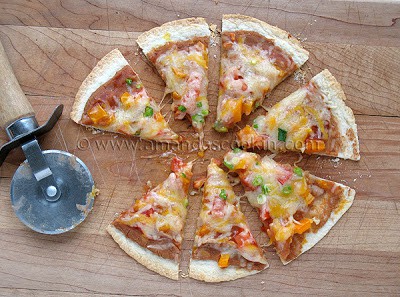 As you already know, I live in Wisconsin. I'm sure you've heard how much we love cheese here in the dairy state. :) I'm also a huge fan of anything resembling Mexican food, the flavors, ingredients, even the simplest of recipes. I found this recipe for tortilla appetizers and they turned out to actually be a perfect lunch! Lots of room for adaptation here too, but these are wonderful just as they are.
I did make a few changes. I substituted red bell pepper for the green pepper since hubby has reactions to the green ones. I didn't add the pepper flakes in order to keep it mild so the kids would try it. I also upped the number of green onions called for since I love them and they add such a nice splash of color. This recipe calls for taco sauce, which I had in the fridge, but would also be delicious with some homemade salsa.
Sargento asked me to take a look around their website, choose a recipe to try, and did compensate me for my time. I had no problem with that since I buy Sargento cheese on a regular basis anyway, and they are from Wisconsin! Woot! All opinions are genuinely mine. These really are wonderful and easy to make. In fact, these would be a great thing for older kids to make for themselves!
This makes quite a bit, perfect for a party, but you can cut the recipe in half if you like.
Spread the beans, taco sauce, bell pepper, and tomato on each tortilla. Top with cheese and finally with chopped green onions.
Bake and cut with a pizza cutter.