Breakfast is the most commonly skipped meal of the day. Whether it's a teenager running out the door to school or an adult on their way to work, mornings always seem rushed and breakfast is often pushed by the wayside. Wouldn't it be great to have a hot breakfast from the microwave in just two minutes that you can eat with one hand? Make these freezer breakfast burritos ahead of time and enjoy them for days to come!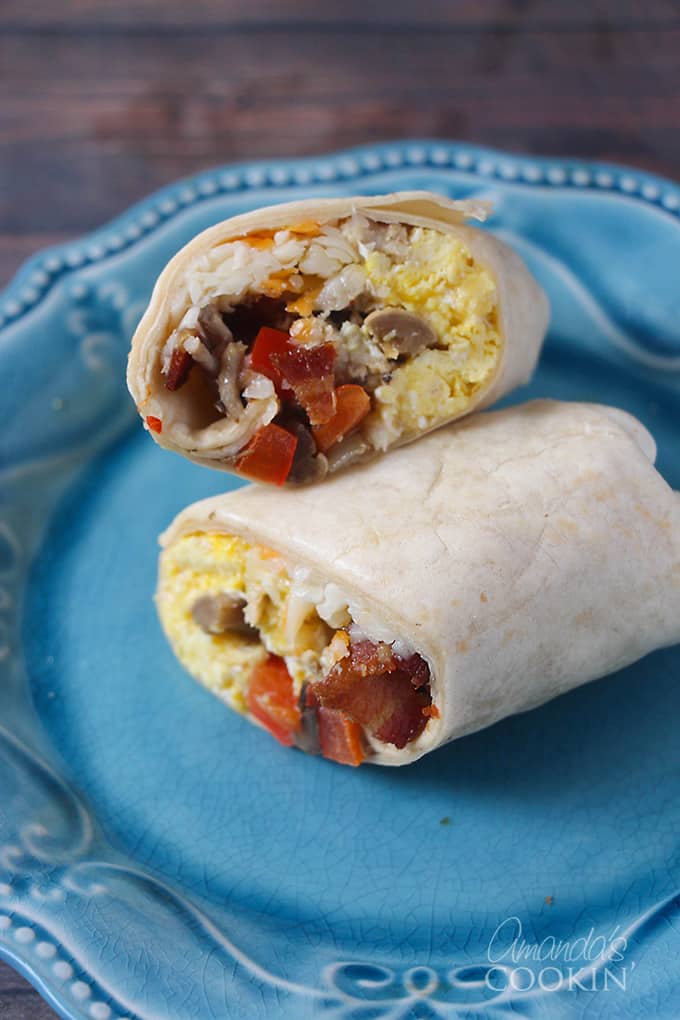 Breakfast Burritos:
I found this recipe in my friend Cheri's book, The Complete Idiot's Guide to Easy Freezer Meals
. She was kind enough to send me a copy and I was eager to try something for breakfast first. Cheri and I have known each other since the late nineties and I've always known she was a whiz at freezing meals.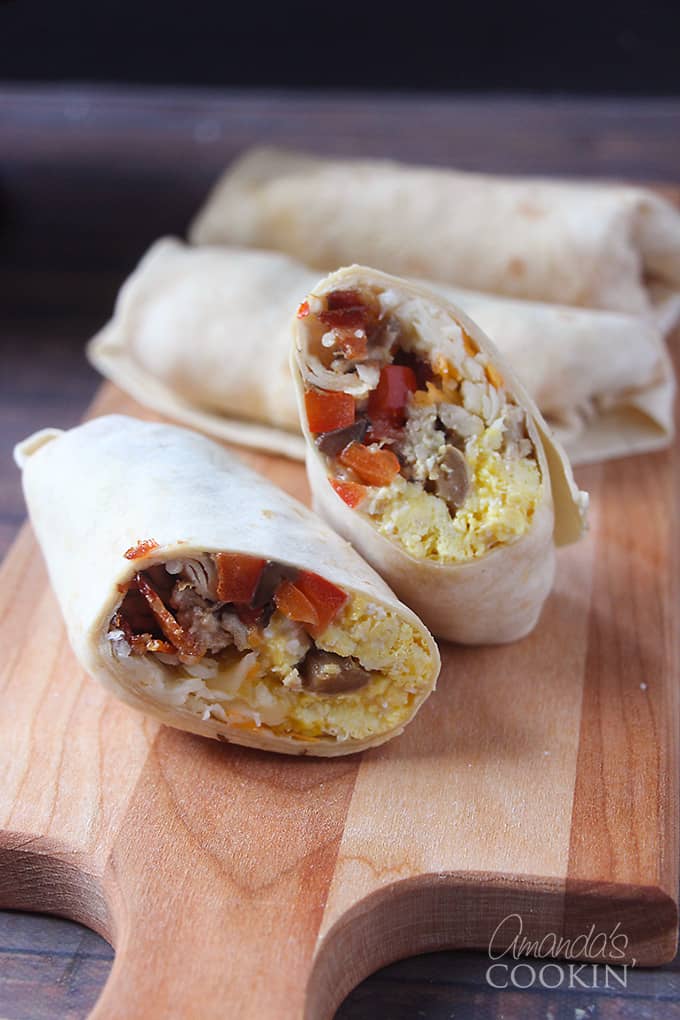 When my kids were in high school they constantly ran out of the house with an empty stomach, which meant they had to wait until lunch to eat anything. Having these freezer breakfast burritos was a great way to keep them fueled up until lunch time. Pop them in the microwave and off they went. A nice and simple breakfast for your fast paced environment.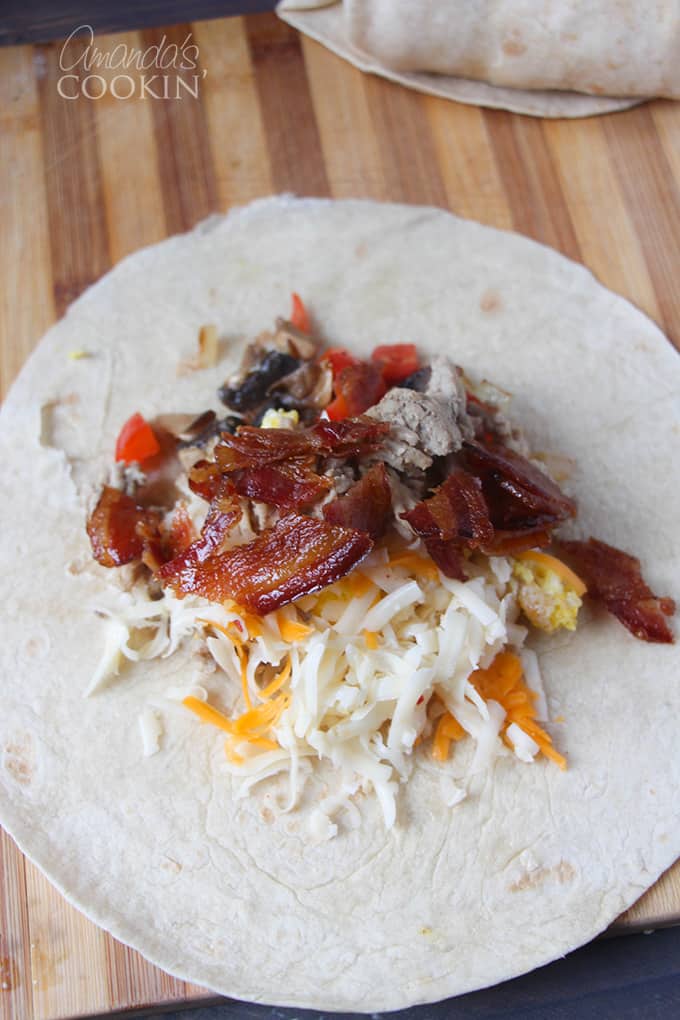 Cheri's recipe includes green chiles and breakfast sausage. I changed the recipe a bit to fit our families tastes. Since not everyone here enjoys sausage, I made some with just bacon and some with a combination. I also love green peppers and mushrooms, so I added those in to the sausage burritos.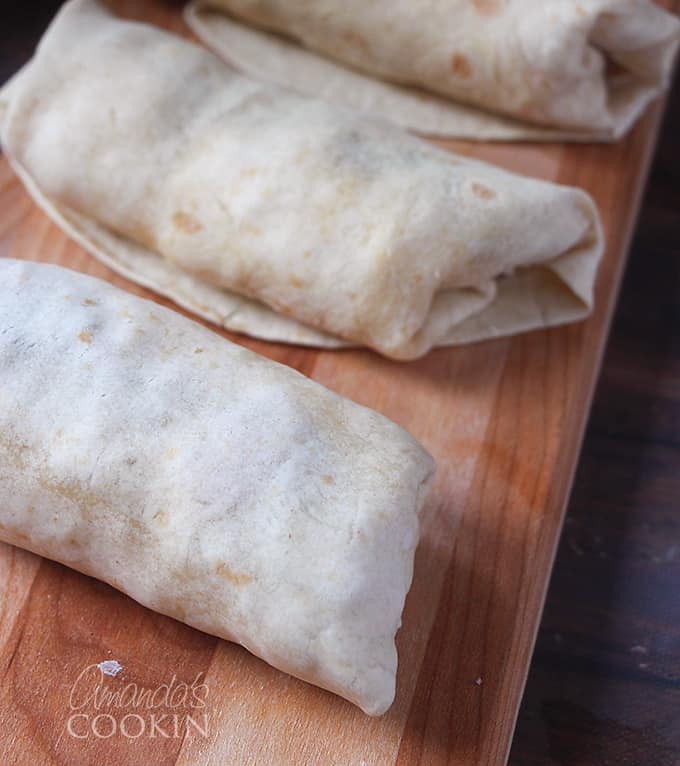 I love these, they are delicious! Cheri's recipe says it makes 16 breakfast burritos, but based off of the measurements for what to place in each burrito, I got 12, so I have changed the potato measurement below which should hopefully yield 16. Next time I think I'll just do everything based on weight instead since there will always be fluctuations based off of individual ingredients and brands.
There are affiliate links in this post. That means if you buy something from that link, I will earn a small commission, but it won't cost you anything additional.
Ingredients:
5 or 6 medium potatoes, cubed
1 tablespoon plus 2 teaspoons olive oil
salt
freshly ground black pepper
16 large eggs
1 teaspoon unsalted butter
12-16 8-inch flour tortillas
For Bacon and Egg Burritos:
1 small onion, diced
1/2 lb bacon
1 cup Mexican cheese blend and Pepper Jack cheese, shredded
For Sausage, Bacon and egg Burritos:
1/2 cup diced green pepper, mushroom, onion mixture
1/4 lb bacon
1/4 lb breakfast sausage
1 cup Mexican cheese blend and Pepper Jack cheese, shredded
Helpful Kitchen Tools:
If you're looking for more freezer breakfast ideas check out my freezer french toast sticks  or my freezer pancake dippers.
This post was originally published on this blog May 26, 2011.