When my friend and neighbor gave me a huge zucchini from her garden I knew I would be baking something. I love a good zucchini bread but I wanted to try something a little different. A lemon zucchini bread with some blueberries tossed in sounded amazing.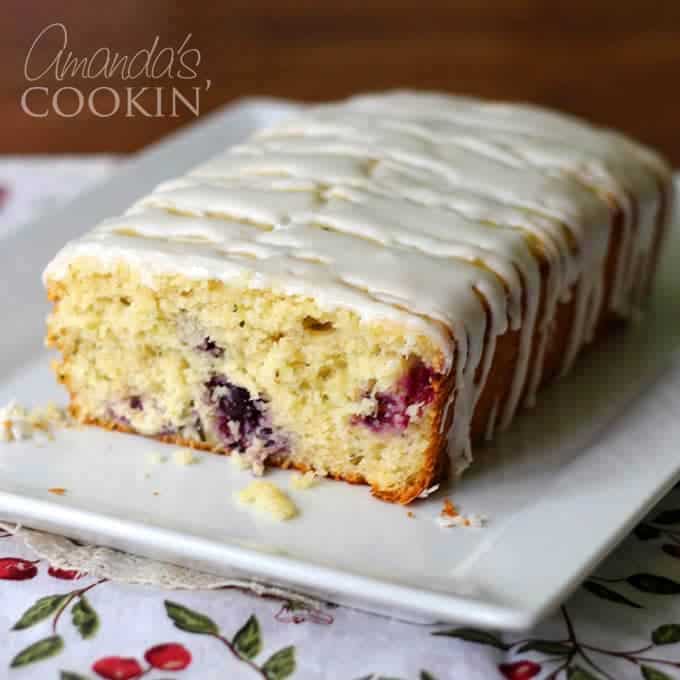 I definitely have my favorite zucchini bread recipes, including this chocolate zucchini bread which is a LOT more like eating chocolate cake than a quick bread! I love these vanilla zucchini muffins too, but if I'm in a hurry I'll doctor a cake mix to make these shortcut zucchini muffins. After tasting this super lemon-y quick bread, I'm glad to be adding it to my zucchini arsenal! if you're looking for a gluten free version, try Michelle's gluten-free zucchini bread!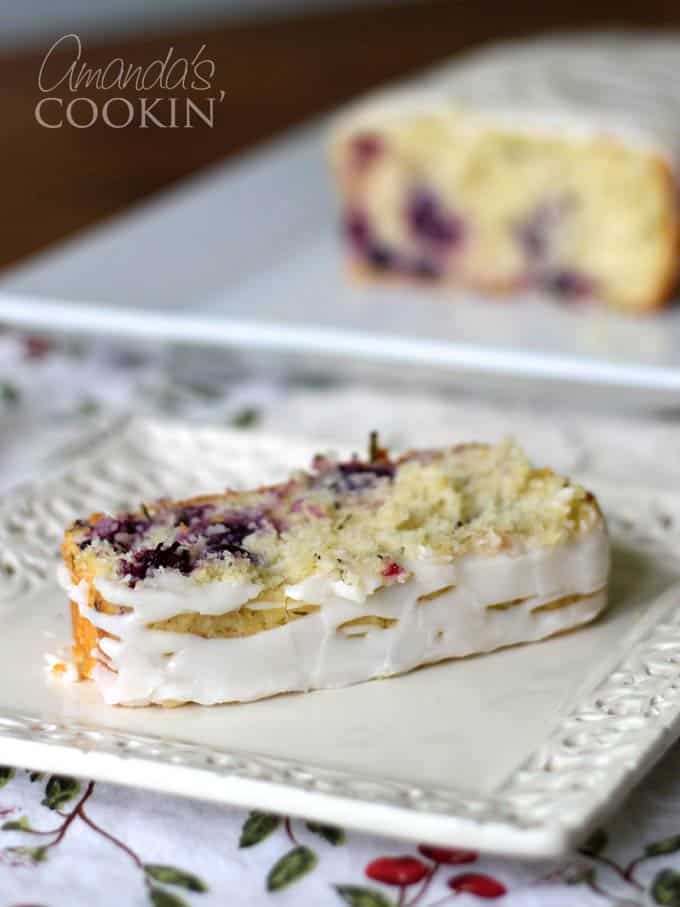 I used to clip recipes from magazines, photocopy them from cookbooks before returning the book to the library, and I have quite a few hand written recipes from many years ago, all sitting in a big, unorganized binder. There was a lemon zucchini bread recipe in that binder and I spotted it a few weeks ago when sifting through the pages and pages of recipes. So when my friend handed me that huge zucchini, I knew lemon zucchini bread was on my agenda.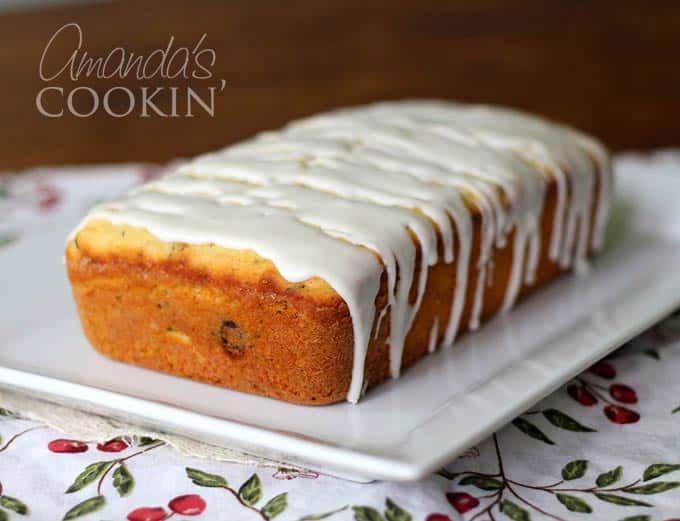 Lemon Zucchini Bread with Blueberries
The recipe I had saved for this lemon zucchini bread didn't have a glaze. Instead they simply dusted the top with powdered sugar. I love how that looks, but I have a bad habit of breathing in that loose powdered sugar on top as I'm taking a bite, thus choking and coughing for several minutes afterward. So I tend to switch to a glaze now. You can use powdered sugar or leave it plain, whatever you prefer. The glaze is included in the printable version of this recipe below.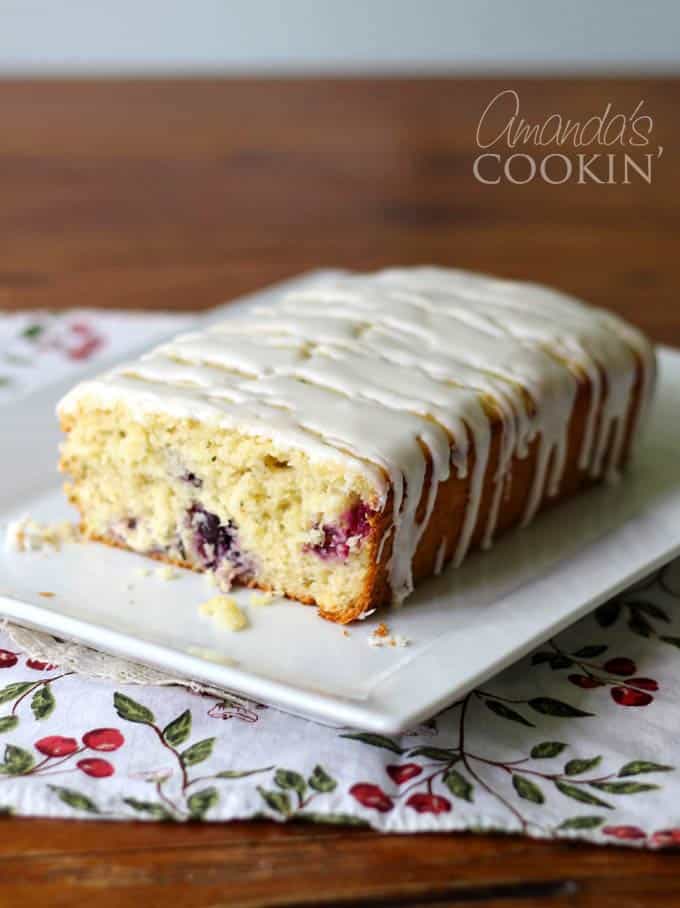 The recipe I followed called for fresh blueberries, but I used frozen blueberries with absolutely no problems. Either one will bake up just fine. No need to thaw the frozen fruit, in fact it's better that you don't. Thawed fruit is wet and it can "stain" your bread batter when stirred in.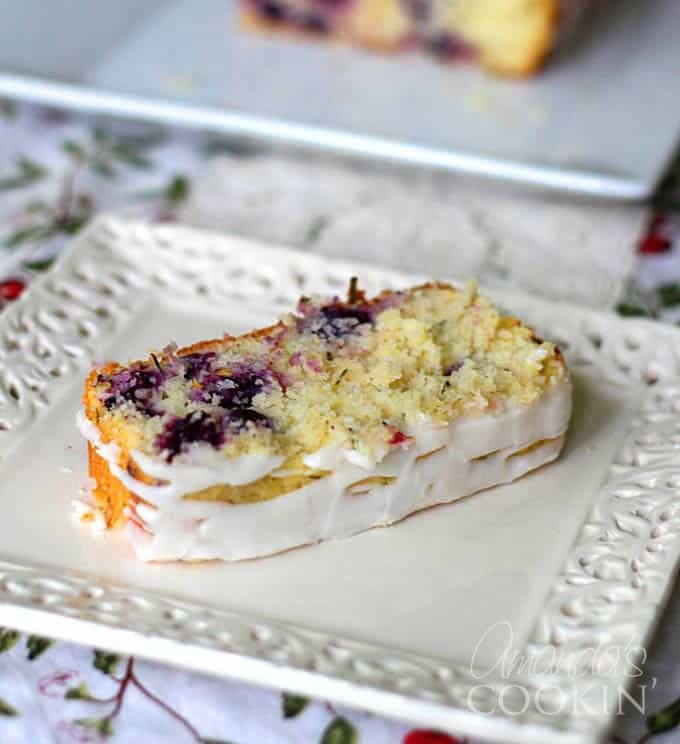 This lemon zucchini bread calls for 1/2 – 1 cup of blueberries. I used about 3/4 of a cup as that's what I had on hand. I would definitely use the full cup when making this again. This would be amazing with other berries too, blackberries and raspberries would be fabulous with the lemon flavor in this bread!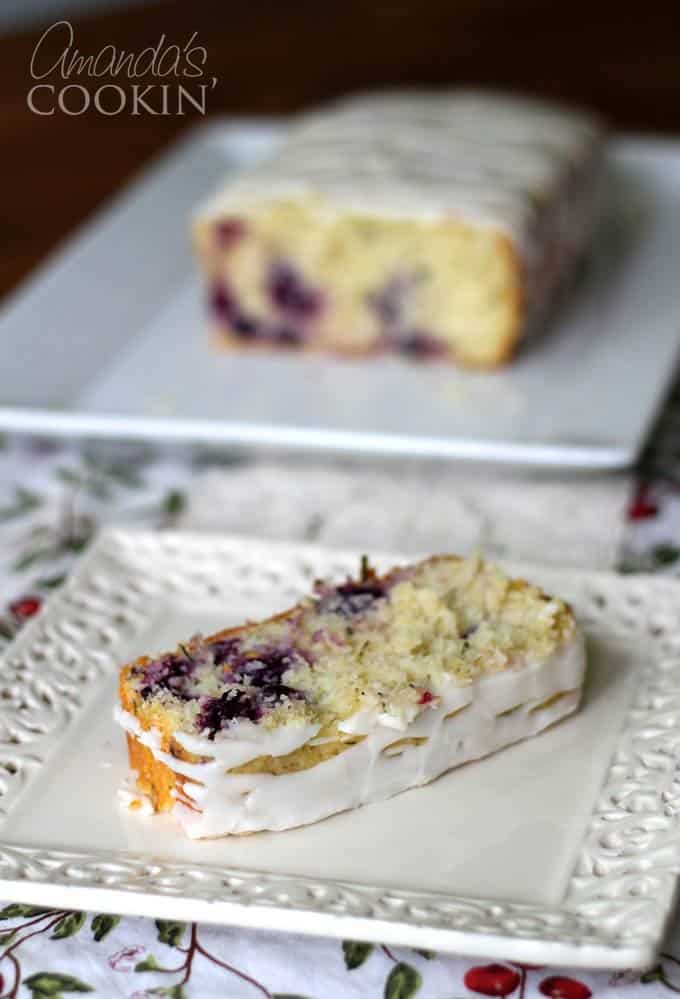 Preparation and Baking Tips
After greasing and flouring the loaf pan, wrap paper towel around your finger and wipe clean the top one-inch of the inside of the pan. This keeps the top of the bread from curling up around the edges, allowing it to crown better.
Drain your zucchini through a sieve, but don't toss the juice. Save it (freezing it in a zipper sandwich bag works great) to toss into stews and soups for added hidden nutrients.
Never over beat a quick bread or muffin batter as it can cause the baked good to be tough. Fold or stir in dry ingredients just until they disappear or almost disappear.
A simple hand mixer is perfect for beating the eggs and wet ingredients, no need for a big Kitchenaid for this recipe. Especially since you will be folding in remaining ingredients by hand.
Wait until the zucchini bread has cooled completely before actually making the glaze. otherwise the top of the glaze will begin to crystalize and harden, forming a solid later on top. Stirring it will help get rid of it, but your glaze will be much smoother if made when needed, not ahead of time.
To thicken glaze, add small amounts of sifted powdered sugar. To thin out the glaze, add lemon juice or milk 1/2 teaspoon at a time and stir well.
Place a piece of waxed paper under your cooling rack before drizzling the bread with glaze.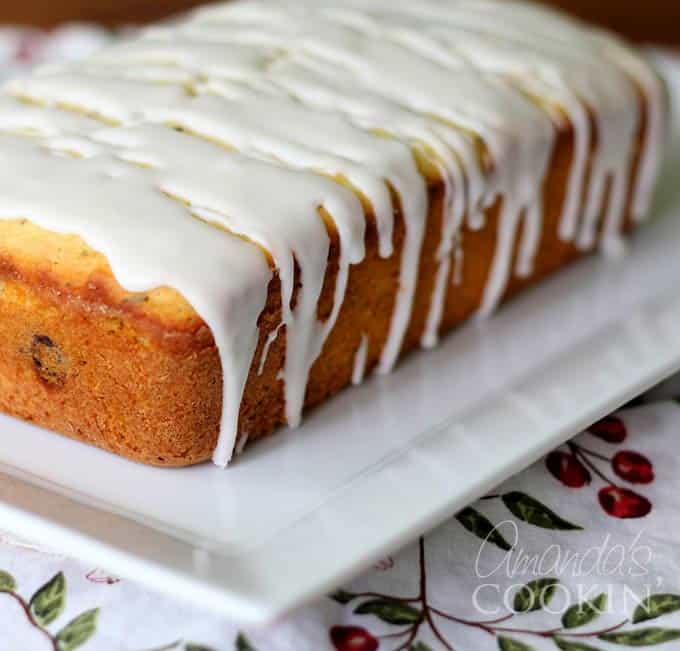 More zucchini recipes
If you need some other zucchini ideas, I found these zucchini boats and these stuffed zucchinis that look really tasty. This cinnamon zucchini cake looks really good and wow, check out this amazing blueberry zucchini cake! If that's enough to use up your zucchini, I suggest freezing it in baggies for later use.
Enjoy!

Amanda Formaro
Serves: 1
Lemon Zucchini Bread with Blueberries
This lemon zucchini bread is brimming with blueberries and packed with luscious lemon flavor!
20 minPrep Time
50 minCook Time
1 hr, 10 Total Time
Ingredients
2 cups all purpose flour
2 teaspoons baking powder
1/2 teaspoon salt
2 eggs
1/2 cup canola oil
2/3 cup sugar
1/2 cup buttermilk
2 tablespoons fresh lemon juice (about one large lemon)
Zest from one lemon
1 cup shredded and drained zucchini
1/2 - 1 cup fresh or frozen (not thawed) blueberries

Lemon Glaze

1 cup powdred sugar, sifted
2 tablespoons fresh lemon juice
Instructions
Preheat oven to 350 F. Butter and flour a 9x5 loaf pan.
whisk together flour, baking powder and salt and set aside.
Beat eggs with mixer until light yellow.
With mixer on low-medium speed, add oil and sugar, then buttermilk, lemon juice and zest.
Fold in zucchini.
Stir in dry ingredients just until combined.
Gently fold in blueberries.
Transfer batter to prepared pan and bake for 45-55 minutes.
Cool in pan on wire rack for 15 minutes.
Remove from pan and cool completely.
Prepare glaze by carefully combining ingredients and drizzle over top of bread.
7.8.1.1
344
https://amandascookin.com/lemon-zucchini-bread/
Amanda Formaro, AmandasCookin.com

Amanda Formaro is the crafty, entrepreneurial mother of four children. She loves to bake, cook, make kid's crafts and create decorative items for her home. She is a crafting expert and guru in the kitchen and has appeared online and in print publications many times over the years. She is also a craft book author five times over and product developer as well as the owner of
FunFamilyCrafts.com
. You can find her on social media by using the buttons to the left!
Latest posts by Amanda Formaro (see all)