This light and fresh zucchini tomato pasta is a great way to use summer produce. It's so easy to make which means there's less time in the kitchen and more time to enjoy warm summer nights. Just like this Grilled Corn and Zucchini Salad.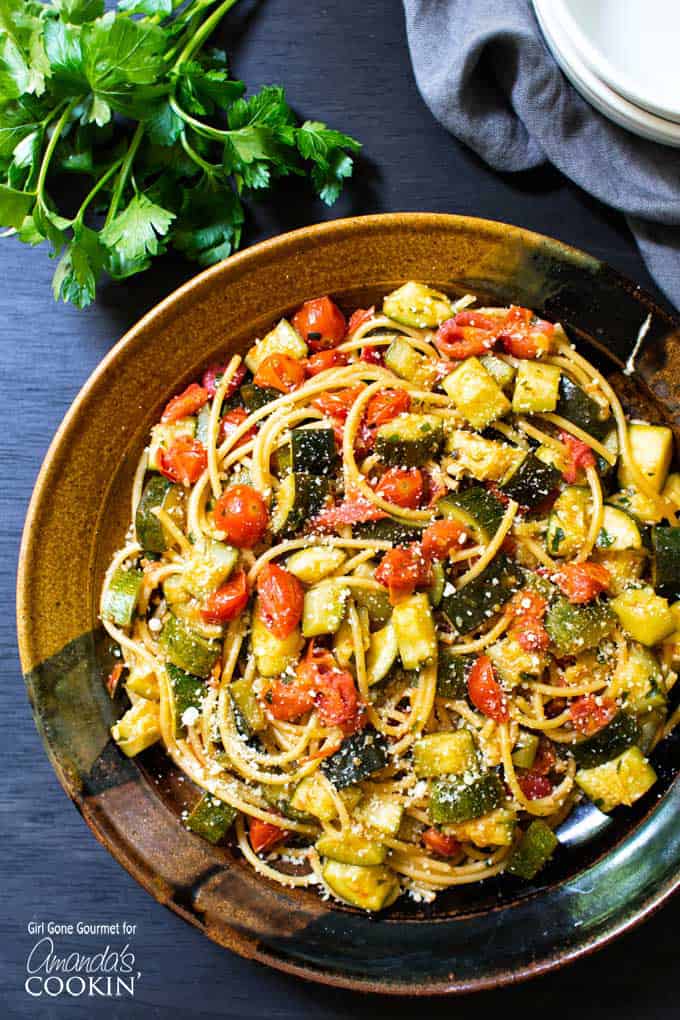 Simple Zucchini Tomato Pasta
And, just like that, it's summer. The produce section at the store is somehow more vibrant, the fruits and vegetables piled high and ripe for the taking. The farmer's markets here in North Carolina are in full swing, bustling with shoppers eagerly toting their finds home to the kitchen. It's hard not to get caught up in all the excitement and it's spilled over into my own kitchen. The dishes I'm making lately are like summer itself – fresh, airy, and light.
Check out more of my favorite summer recipes: Mango Avocado Salsa with Grilled Chipotle Chicken, Huevos Ranchers, and BLT Pasta Salad!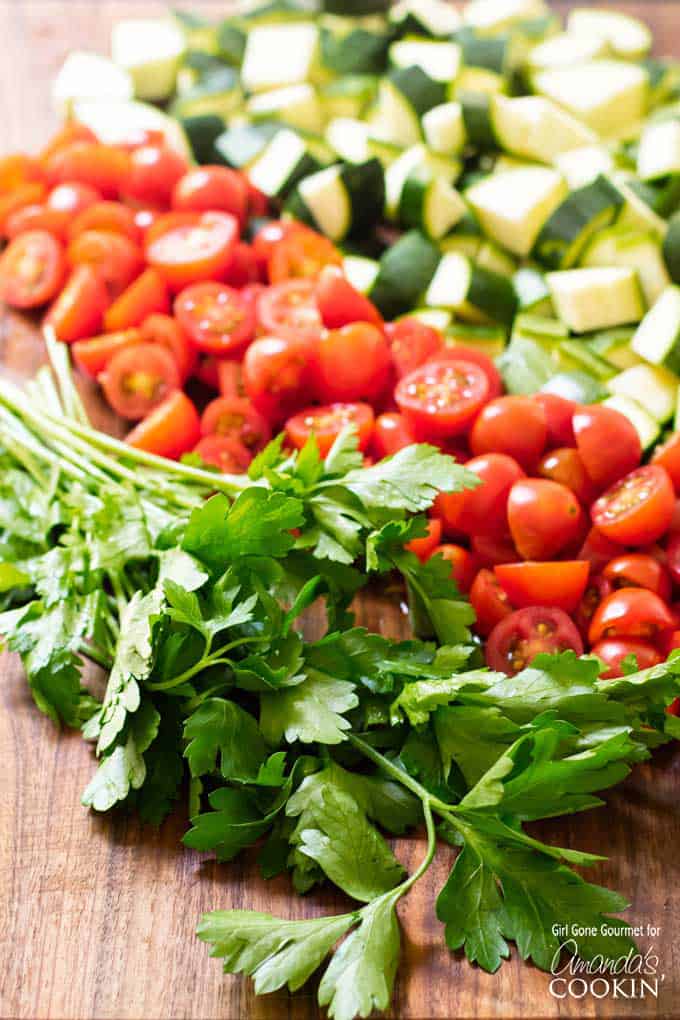 If there's anything we can count on this time of year it's zucchini. It's a prolific vegetable and often grows at a rate that makes it hard to keep up. It's not unusual to spot bags and boxes on neighborhood stoops, gifts from neighbors who garden and can't possibly keep up with their harvest. Having a few choice recipes up your sleeve for this summer squash is always a good thing. You never know when a bounty of zucchini will show up.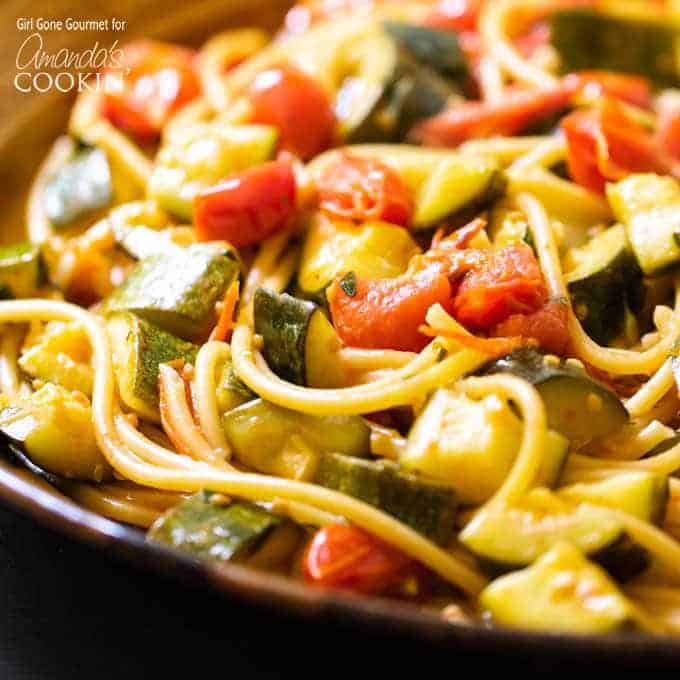 When it does show up, due to your own over-zealous produce shopping or by-way of a generous neighbor, I've got you covered with this simple zucchini tomato pasta. It's heavy on the veg, light on the pasta, and easy to make because when it's summer our time is best spent lingering over dinner instead of slaving away at the stove.
So, here's to summer produce, easy cooking, and dinners served outside. It's such a wonderful time of year.
Some Ingredients You'll Need for Zucchini Tomato Pasta
Four zucchini. Be sure to give them a good scrub, especially if you buy them directly from a farmer. The grit has a tendency to stick to the skin so a simple rinse under the tap isn't always enough to remove it.
Grape tomatoes. It's still a little early for summer tomatoes around these parts so grape tomatoes (or cherry) are a good choice this time of year. Plus, they're bite-sized and only the large ones need to be halved. The cook with the zucchini and as they heat up they burst making a simple sauce.
Fresh parsley. Basil and thyme would be delicious, as well, or a mix of all three. A quarter cup is all you need so mix things up a bit based on what you have on hand.
Fresh lemon juice adds brightness.
A little butter adds some richness.
Pasta. I used bucatini, a thick and long pasta that's hollow in the center. I love how sturdy it is, but you can use any sort of pasta. Spaghetti, linguine, fettuccine, or even penne would work great.
Grated Parmesan cheese for serving.
Helpful Tools for Zucchini Tomato Pasta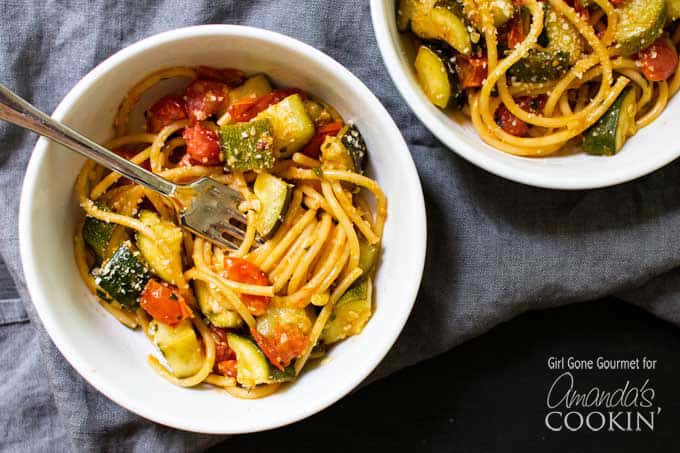 We hope you enjoy this light and fresh zucchini tomato pasta dish!
For more delicious summer-inspired recipes check out…