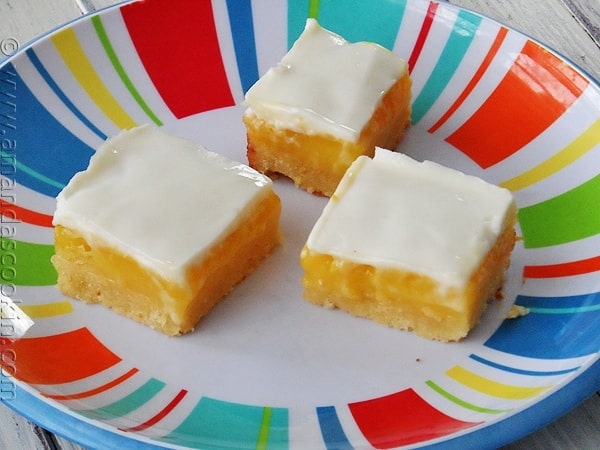 Do you love the tang of lemon countered by the sweetness of sugar? These fabulous lemon bars are not only beautiful, they taste marvelous and have the perfect combination of sweet and tart. Freshly squeezed lemon juice and grated zest are the secret to the success of these bars.
It's no secret that I love lemon flavored desserts. I've been known to make soft lemon cake, like this truly amazing Lemon Rosemary Olive Oil Cake or this Lemon Cornmeal Cake with Blueberry Sauce. A few years ago my daughter needed a recipe for German class, so we made these cute little German Mini Lemon Cakes, or – Zitronenkuchen (lemon cake) / Zitrone Mini-Kuchen.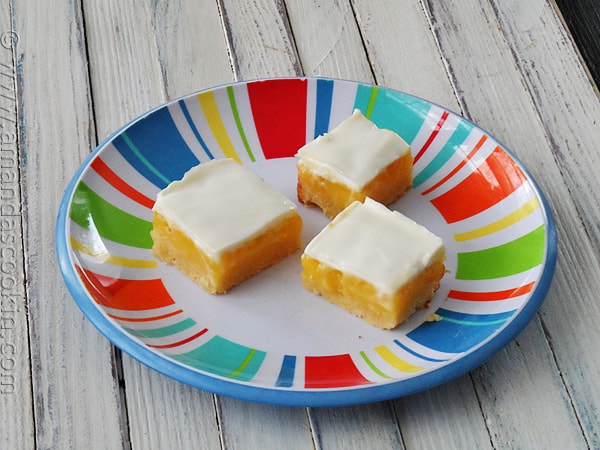 I've made plenty of other things using fresh lemons, including cookies, a tart, and even a mousse. Of course, lemon is also perfect for chicken, so don't miss any of the lemon recipes I've made.
These lemon bars are not hard to make. They are great for a party, especially if you enjoy tea time or just sitting down with friends for coffee. Have a potluck your attending, church function, picnic? Great for taking along as well! The instructions call for a food processor, simply because it's easier and faster. You can use your mixer for the filling, and if you prefer, you can cut the butter in the old fashioned way, with your fingers or using two butter knives scissor fashion.
However you make them, you'll want to try these bars. But, believe me, make sure you have someone to share them with. Otherwise, you may be tempted to eat them all yourself!
Recipes for more Lemon Bars
Dominic's Lemon Bars – made by my son
Meyer Lemon Squares – Closet Cooking
Lemon Squares with European Style Butter – Cookie Madness