These frosted sugar cookie bars would be perfect for Valentine's Day, Easter, a birthday or just about anytime. They're super soft, chewy, colorful and made with love! What more could you ask for in a cookie? This frosted sugar cookie bar recipe is extra fun because you can mix and match the colors of the frosting to whatever colors you desire making an ultra colorful and pretty dessert!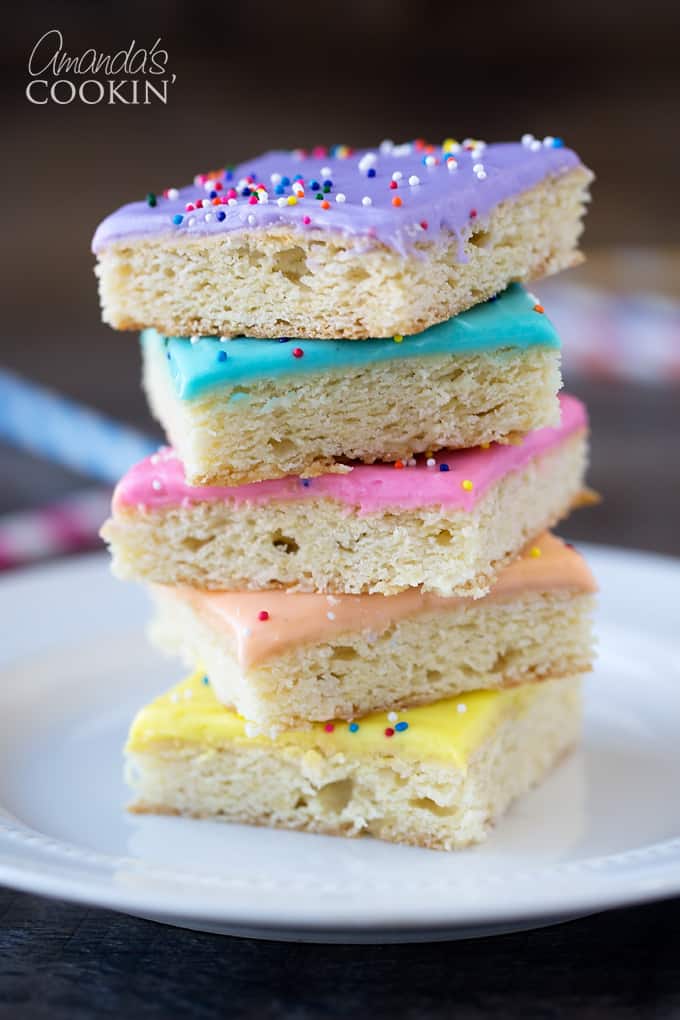 Frosted Sugar Cookie Bars
You know those frosted sugar cookies that you can buy at the grocery store? They are usually in the bakery section in a plastic container, two rows of cookies, about 10 or 12 altogether. Each season or holiday they come in different colors and are usually decorated with sprinkles. And they are so good. These bars remind me of those cookies. They aren't exactly the same, but they put the same smile on my face as those cookies do!
I have seen frosted sugar cookie bars on quite a few different food blogs, but none were of this recipe. This recipe has cream cheese in it and so does the frosting. And it's delicious!
NOTES: I followed the recipe on this, the only thing I did differently was to add more powdered sugar to the frosting because mine was too thin. I also used 5 different colors of paste food coloring. I cut the pan into five sections first using my dough cutter, then frosted one section and added sprinkles. Then I frosted the second section and sprinkles, third section and sprinkles, etc. After all the frosting was added I cut the sections of the frosted sugar cookie bars into squares, again using the dough cutter.
There are affiliate links in this post. That means if you buy something from that link, I will earn a small commission, but it won't cost you anything additional.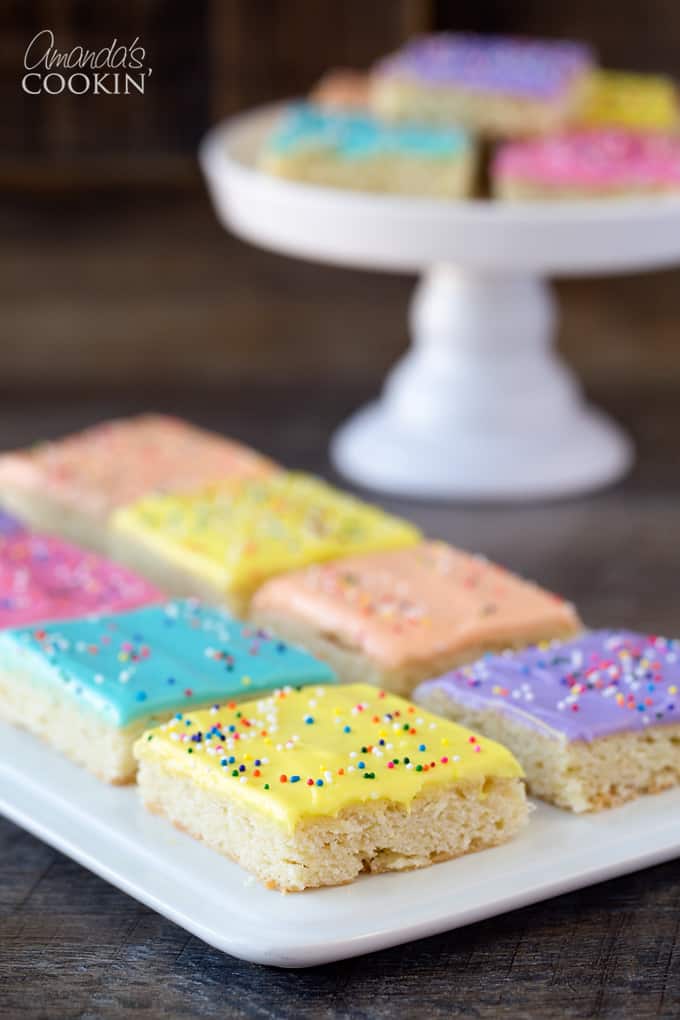 Ingredients you'll need for Frosted Sugar Cookie Bars
1 1/2 cups sugar
1 cup butter, softened
8 oz cream cheese, softened
1 egg
1/2 t almond extract
1 teaspoon vanilla
1/2 teaspoon baking soda
1 teaspoon baking powder
2 1/2 cups all-purpose flour
For the frosting
1/2 cup butter softened
4 oz cream cheese, softened
3 1/2 cups powdered sugar
3-5 tablespoons milk
1 teaspoon vanilla
food coloring or icing paste
Helpful Kitchen Tools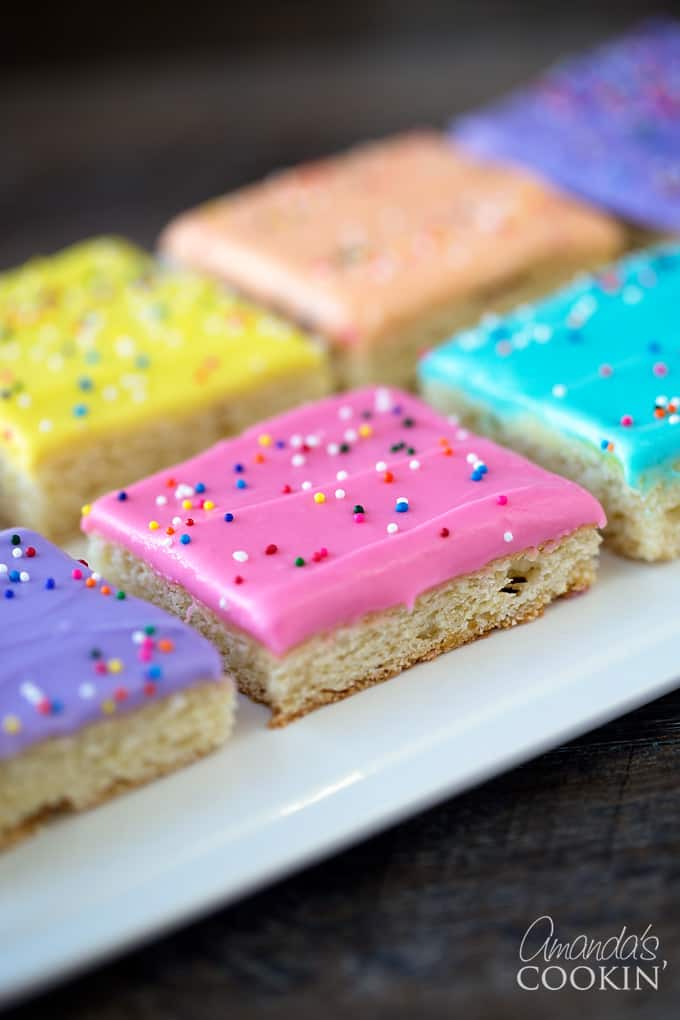 YOU CAN FIND THE PRINTABLE VERSION OF THIS RECIPE AT THE END OF THIS POST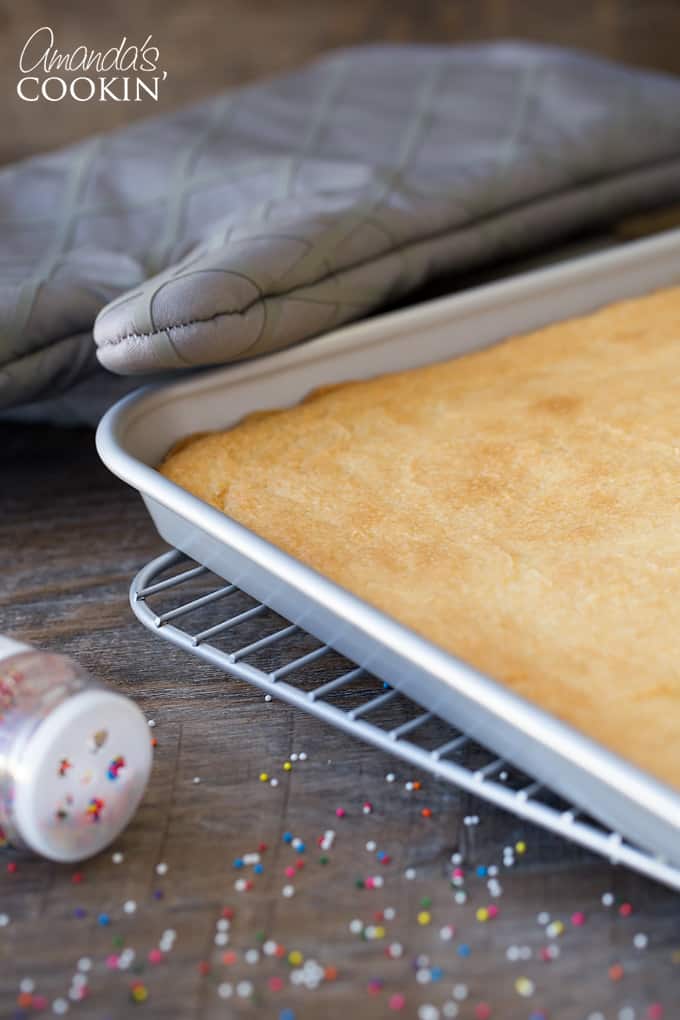 In a large mixing bowl or stand mixer beat the butter, cream cheese, sugar, and egg until nice and frothy. About 4 minutes. Add the vanilla and almond extract and beat for 1 minute more. In a small bowl combine the flour, baking powder and baking soda. Mix them around so that all ingredients are well incorporated. Add the flour mixture to the butter mixture and beat for about 2 minutes. Press the dough into a large jelly roll (cookie sheet) pan. Bake at 350 degrees for 20 minutes. Let the pan cool completely.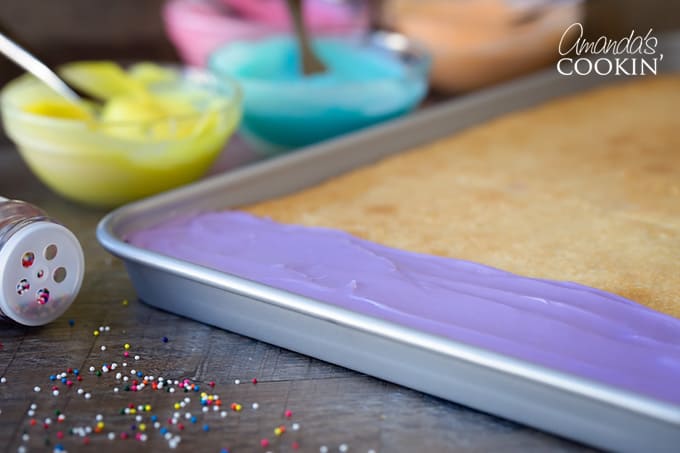 To make the frosting, in a medium-sized bowl (or your stand mixer) combine the butter and cream cheese. Beat for about 2 minutes. Add the powdered sugar, milk, vanilla and food coloring. Mix for 1-2 minutes or until smooth.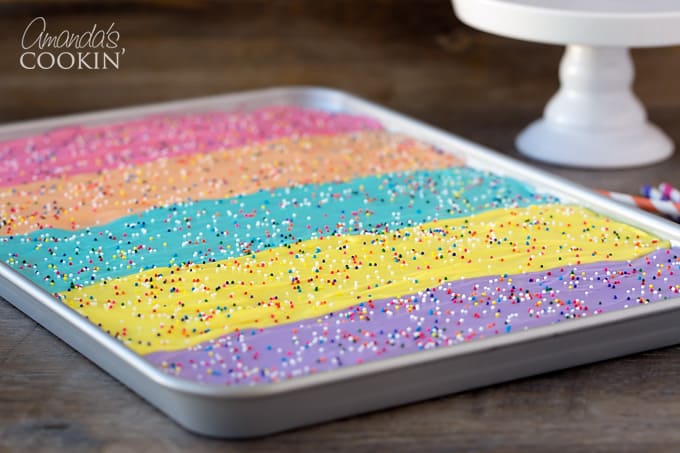 Frost your pan of cookies using each different color.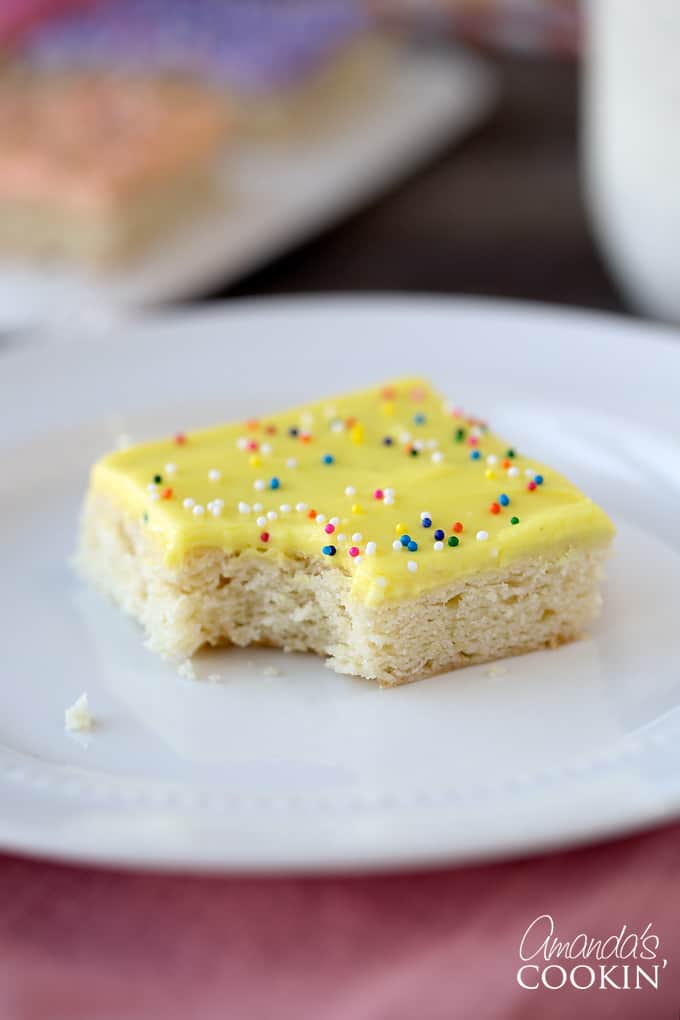 Cut the frosted sugar cookie bars into squares and serve!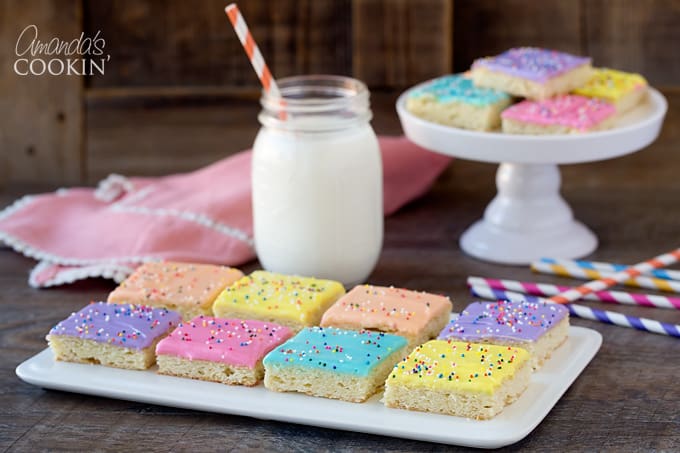 I hope you enjoy these bright and delicious frosted sugar cookie bars! I've added them to my favorite bar recipes along with these Fudge Frosted Espresso Brownies and these Peanut Butter Chocolate Chunk Bars!
This recipe was adapted from Utah Mama.
This post was originally published on this blog on Jan 24, 2011.