If you love Key Lime Pie, this Key Lime Pie Martini is everything you could ever want in a cocktail. The blend of coconut rum and vanilla vodka along with pineapple, lime and cream tastes like key lime pie in a glass.  My martini recipe and incredible trip to Alaska was sponsored by Princess Cruises but my opinions are 100% my own.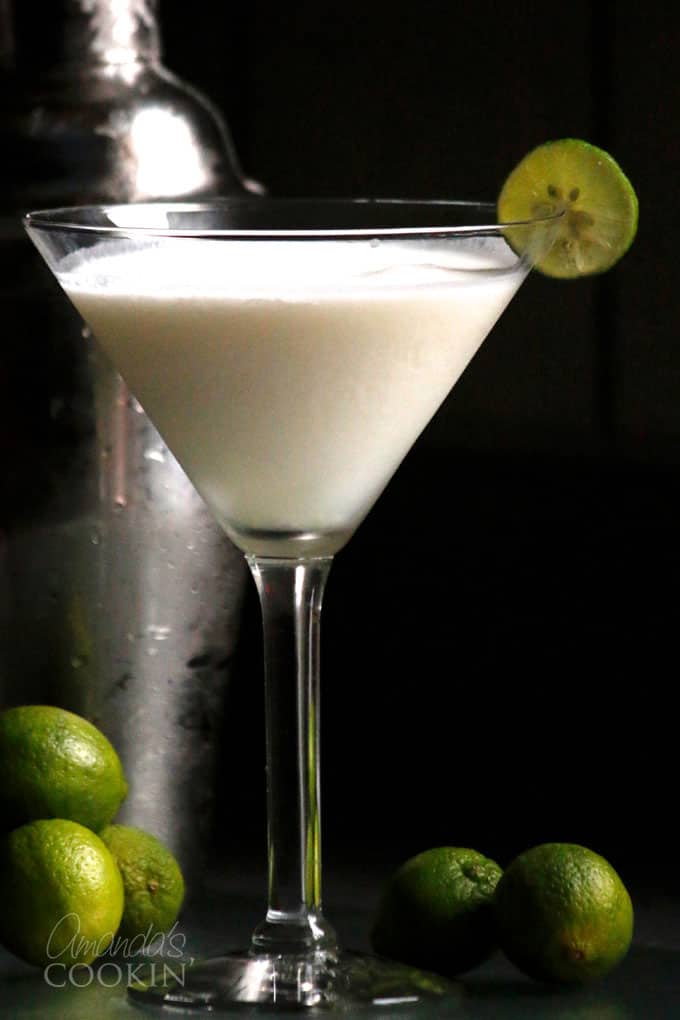 Key Lime Pie Martini
This martini is so decadent and delicious, you'll ask yourself if it's a drink or a dessert. Whatever your answer may be, I'll bet you can't drink just one!
I am a huge fan of anything citrus. For as long as I can remember, one of my favorite flavors has been lime. As a kid, I was crazy for lime soda, lime ju-jubes and lime popsicles. As an adult, however, my palette has matured, so when I'm craving lime now, I prefer a more grown-up indulgence like key lime pie or a decadent lime cocktail.
In fact, those are two of my favorite treats ever, (aside from my obsession with this amazing Espresso Creme Brulee) so imagine my delight when I recently learned that they could be combined and served up in a martini glass. 
Yes, Key Lime Pie Martinis are actually a thing, my friend.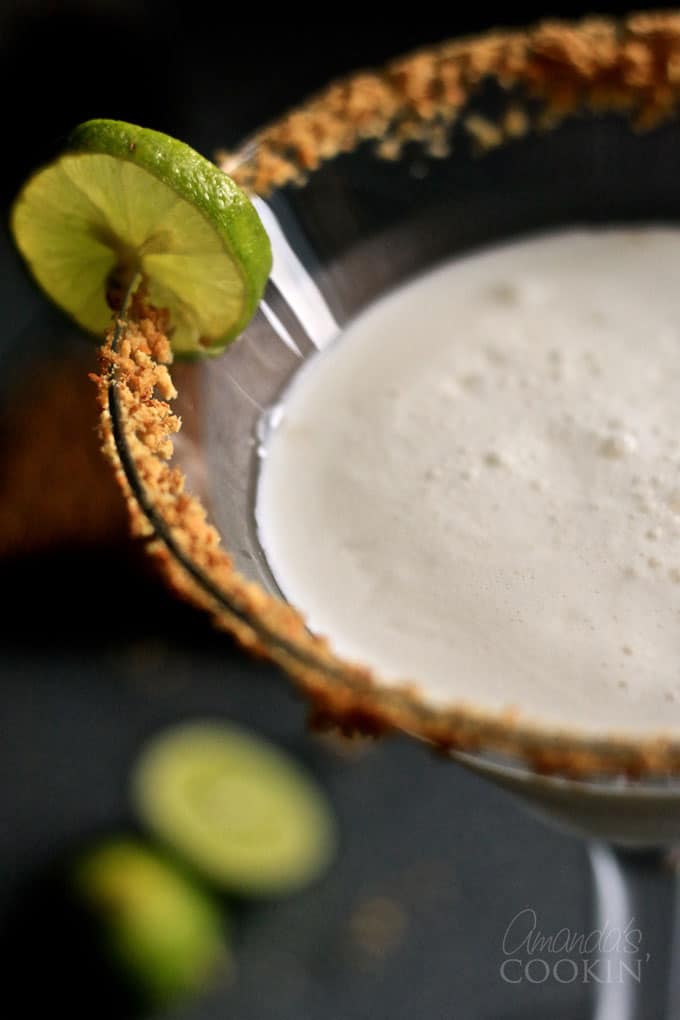 I made this happy discovery when Amanda and I were onboard a luxury Princess cruise ship last month, enjoying an incredible, week-long Alaskan cruise with several blogging friends and colleagues.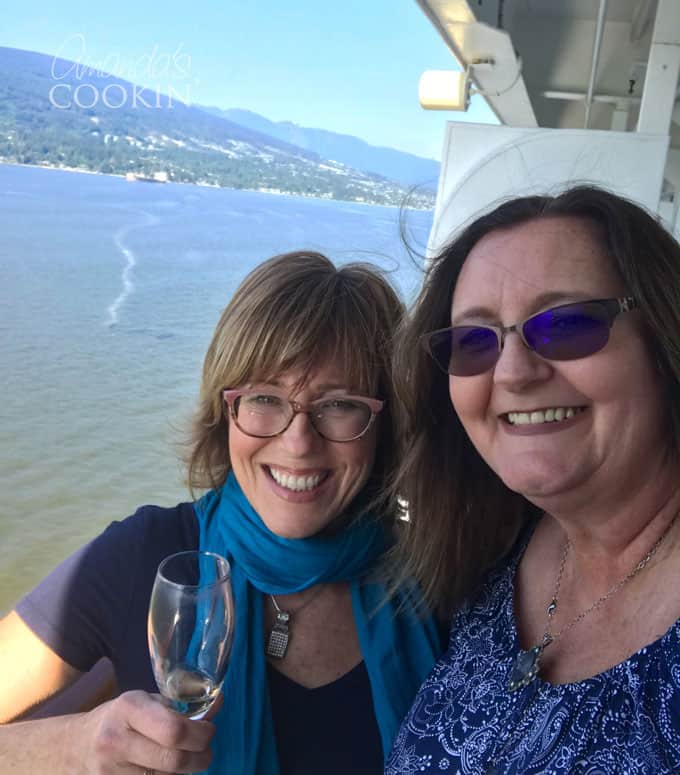 What an experience! The scenery was magnificent – snow-capped mountains for as far as the eye could see, glacier after glacier, unforgettable excursions and whale-sightings, the friendship, and my-oh-my, the food and drink… Those were unforgettable too.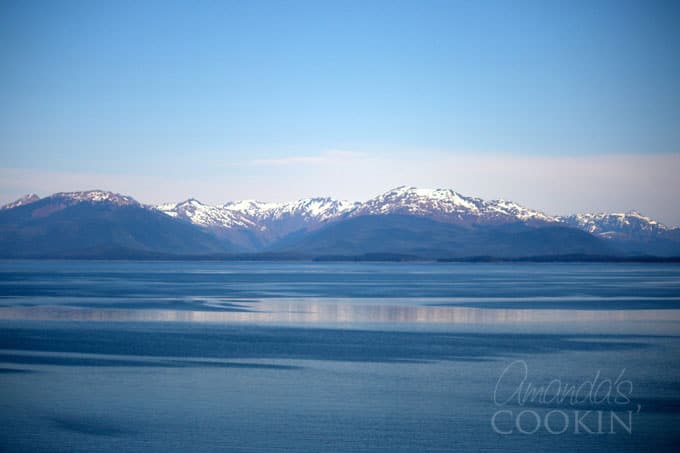 On our last evening at sea, we were enjoying cocktail hour at The Wheelhouse Bar before dinner when I decided to skip my usual glass of red and have a cocktail instead. Everyone else was enjoying colorful drinks from the menu, so I decided to have a look myself.




I'm a fan of fun and fruity drinks, so I was scanning the menu for something intriguing when I spotted it:
~ Key Lime Pie Martini ~
Absolut Vanilla, Coconut Rum, Fresh Lime, Pineapple Juice and Cream
Waiter!!
Oh my. I can't even tell you how incredible that martini was. It was seriously like key lime pie in liquid form. It was rich and creamy, tart and tropical, and topped with a bubbly foam. It was everything a key lime pie should be.
How do you just "sip" something that delicious?
I tried. I really did. But you know when something tastes so good, you just can't take it slow? That's the way it was with this martini. I may have inhaled it. I may have ordered seconds. And I may have dreamed about Key Lime Pie Martinis that night.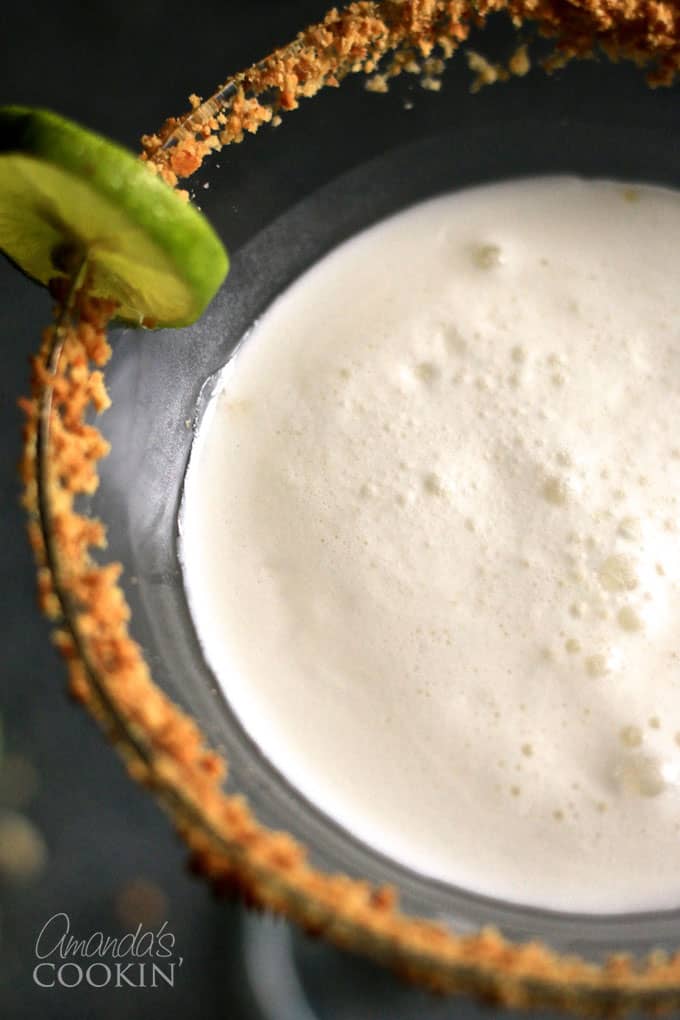 I returned home from my cruise, determined to recreate the recipe using the ingredients I'd seen listed on the bar-menu. 
I wasn't certain about the measurements or the kind of cream they'd used though, so I experimented over the course of a week. And I'm not gonna lie, it wasn't exactly a chore having to haul out the martini shaker every afternoon until I got the recipe right. In fact, I may have intentionally gotten it wrong a few times just so I'd have to try again.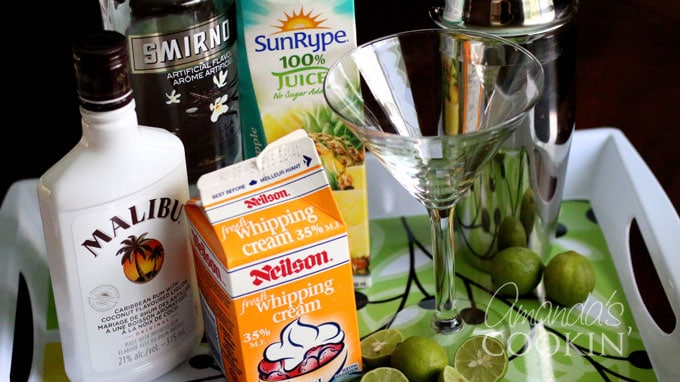 My first few attempts weren't great; too limey, too boozy, too pineapple-y, too thin. So I tweaked and adjusted and experimented with different creams – half and half, coconut milk, and whipping cream.
I shook that martini shaker more in 7 days than I had in 7 years, and with every revision, I got closer and closer until BAM!
Perfection.
Rich and creamy, slightly foamy and so darn good you can't sip it slowly.
Key Lime Pie Martini Ingredients
1.5 ounces Coconut Rum
1 ounce Vanilla Vodka
1/2 ounce (or 1 tbsp) Pineapple Juice
1 ounce heavy cream (also known as 35% cream or whipping cream)
juice of 2 key limes
ice cubes
Helpful kitchen tools:
Note: To rim your glass with a graham cracker crust, see the instructions further below and rim the glass before making your martini.
How to Make a Key Lime Pie Martini
To start, pour your coconut rum, vanilla vodka, pineapple juice, and cream into a martini shaker.
Next, cut two key limes in half, and squeeze the juice of all four halves into the strainer. Don't worry about the seeds as the strainer of your martini shaker will keep them out of your drink.
Before adding your ice, place the lid on your shaker and give your martini a 10-second "dry shake".
What is a Dry Shake?
Dry shaking is when you shake the ingredients of your cocktail without ice to blend certain ingredients like eggs or cream. A second shake with ice follows.
After your dry shake, remove the lid of your shaker and add ice cubes to fill it to the halfway mark.
Place the lid back on your shaker and continue to shake your martini for another 20 seconds or so until the shaker is icy cold.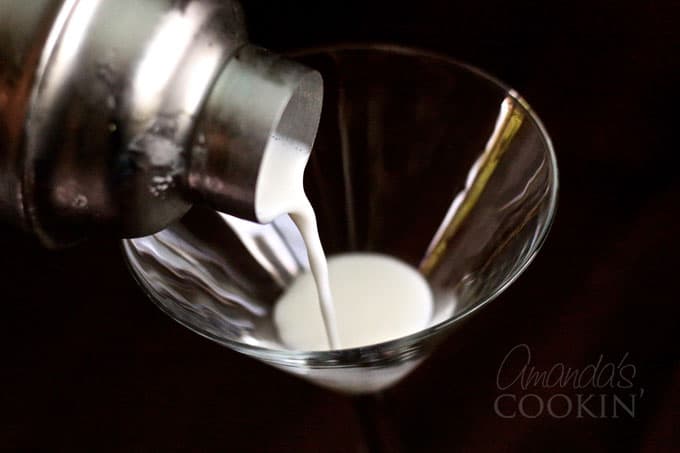 Remove the lid of the shaker and pour through the strainer into a martini glass.
Garnish with a slice of lime.
Rim your Martini with a Graham Cracker Crust
To make your martini even more like a slice of key lime pie, before mixing your martini, you can rim your glass with crushed graham crackers.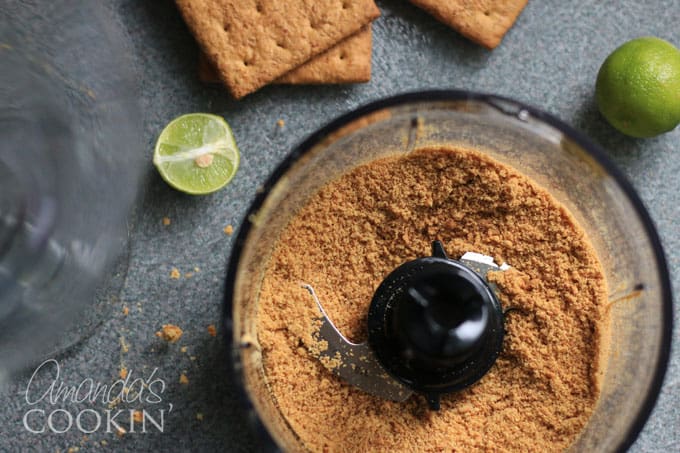 This step isn't necessary, but it adds a nice touch to a Key Lime Pie Martini. After all, what's a key lime pie without a graham cracker crust?
To make your rimmer, crush a handful of graham crackers. A few pulses in a blender until the crumbs are quite fine will do. If you don't have a blender, you can crush your graham crackers in a sealable sandwich bag with a heavy glass or a rolling pin.
Pour the crumbs in a thick layer into a shallow bowl or saucer.
To wet the rim of the glass, you can swipe a lime around the edge, but I got the best results by running the edge of my glass under the tap. Another idea is to put water in a shallow dish or small plate and placing the glass upside down into it to get the rim wet.
Press the outside edge of the glass into the crumbs, rolling and pressing until you have a nice "crust" all the way around the rim of the glass.
Rimming your glass is quick and easy to do, but if you don't have graham crackers, don't fret. Your key lime martini will do just fine without them.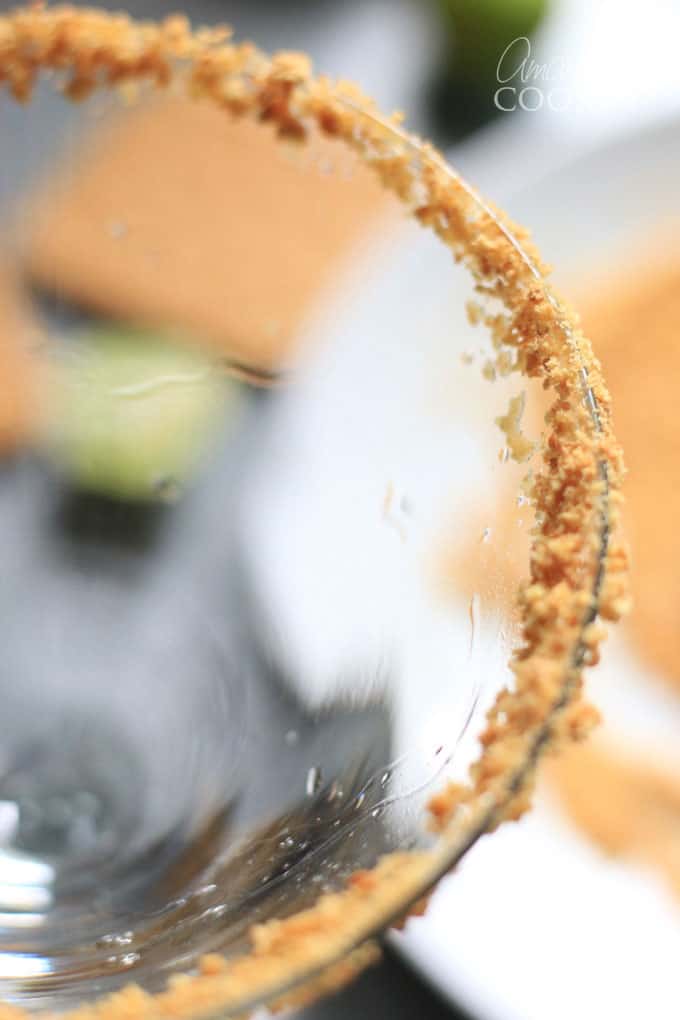 Don't believe me? Give it a try. Bet you can't drink just one.
While we're on the subject of limes, be sure to check out one of our latest recipes, Chile Lime Chicken! Chicken doused in a chile lime marinade, creating a juicy, flavorful chicken breast. And for drinks, our Coconut Rum Mojitos are a classic coconut lime infused cocktail that everyone loves!
Check out all the Alaskan cruise recipes I've collected.
More Martini Recipes
---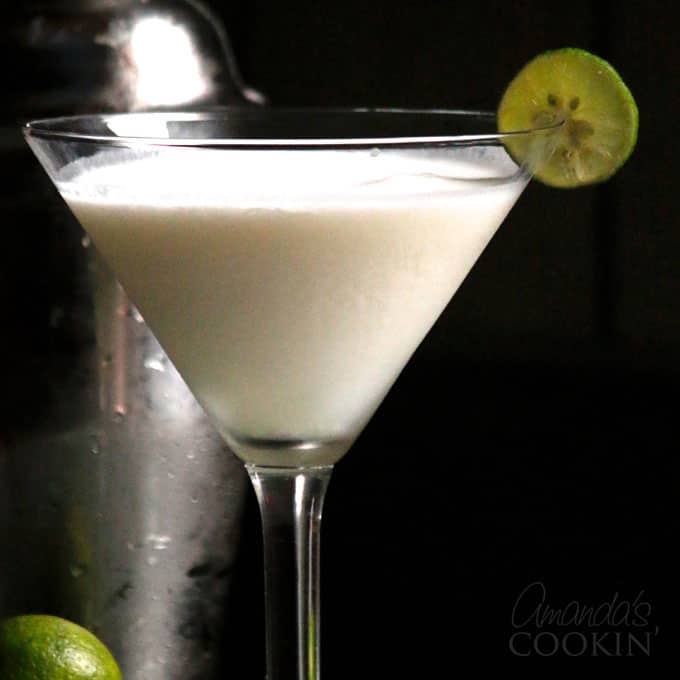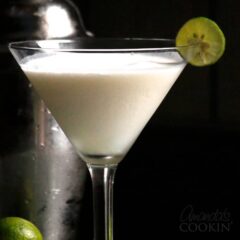 Key Lime Pie Martini
This Key Lime Pie Martini is everything you could ever want in a cocktail. The blend of coconut rum and vanilla vodka along with pineapple, lime and cream tastes like key lime pie in a glass.
IMPORTANT - There are often Frequently Asked Questions within the blog post that you may find helpful. Simply scroll back up to read them!
Print It
Rate It
Ingredients
Martini
1.5

ounces

Coconut Rum

1

ounce

Vanilla Vodka

1/2

ounce

or 1 tbsp Pineapple Juice

1

ounce

heavy cream

(whipping cream)

2

key limes

ice cubes

1

slice

lime to garnish
Graham Cracker Rimmer
1/4

cup

graham crumbs (4-5 crushed graham crackers)
Instructions
Pour rum, vodka, pineapple juice, lime juice, and cream into shaker

Dry shake (without ice) for 10 seconds

Add ice cubes to fill shaker halfway and shake for 20 seconds

Strain and pour into martini glass

Garnish with slice of lime
To Make Graham Cracker Rimmer (Note: Rim Glass Before Mixing Martini)
Crush graham crackers finely in blender or by hand

Swipe rim of martini glass with wedge of lime or run under tap to wet outside rim

Press and roll outside rim of glass in graham crumbs before pouring martini into glass
Expert Tips & FAQs
Calorie count does not include graham crackers.
Nutrition
Serving:
1
glass
|
Calories:
309
cal
|
Carbohydrates:
16
g
|
Protein:
1
g
|
Fat:
10
g
|
Saturated Fat:
6
g
|
Cholesterol:
38
mg
|
Sodium:
14
mg
|
Potassium:
136
mg
|
Fiber:
3
g
|
Sugar:
3
g
|
Vitamin A:
485
IU
|
Vitamin C:
40.4
mg
|
Calcium:
63
mg
|
Iron:
0.8
mg
Jackie Currie is a mom, wife, home daycare provider, and the creative spirit behind Happy Hooligans. She specializes in kids' crafts and activities, easy family recipes and parenting.
Latest posts by Jackie Currie (see all)