If you are considering an Alaskan cruise and one of your stops will be Icy Strait Point in Hoonah, Alaska, I highly recommend going on a whale watching excursion! The wildlife that can be seen from your guide boat is truly magnificent and worth the trip. This post and trip was sponsored by Princess Cruises but all opinions about this excursion are 100% my own.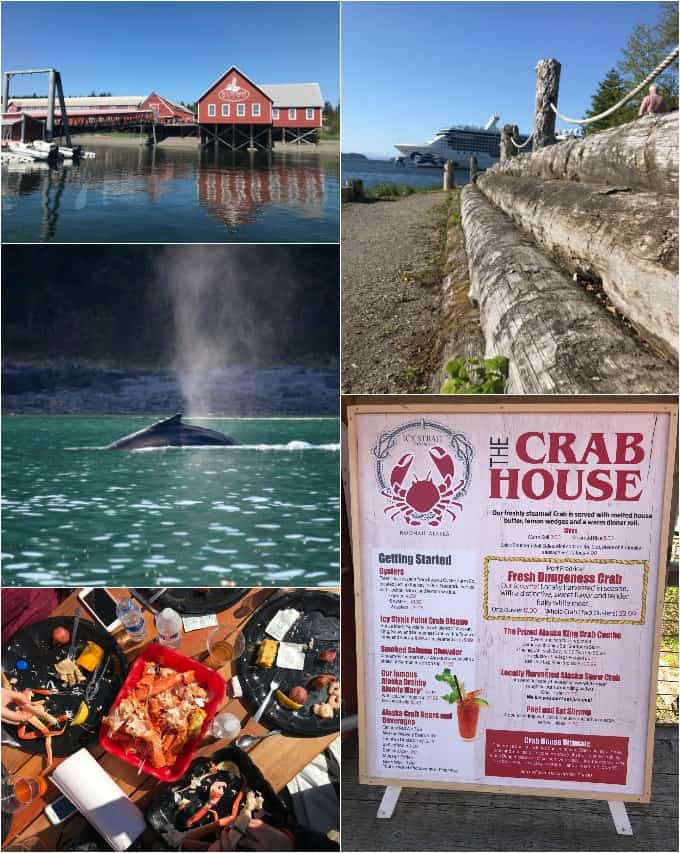 Whale Watching in Icy Strait Point, Hoonah, Alaska
In May I spent an amazing week with Princess Cruise Lines aboard the Island Princess. On May 18th we came into port at Icy Strait Point in Hoonah, Alaska. Icy Strait Point is home to an abundance of tours and excursions designed to help you experience what Alaska has to offer.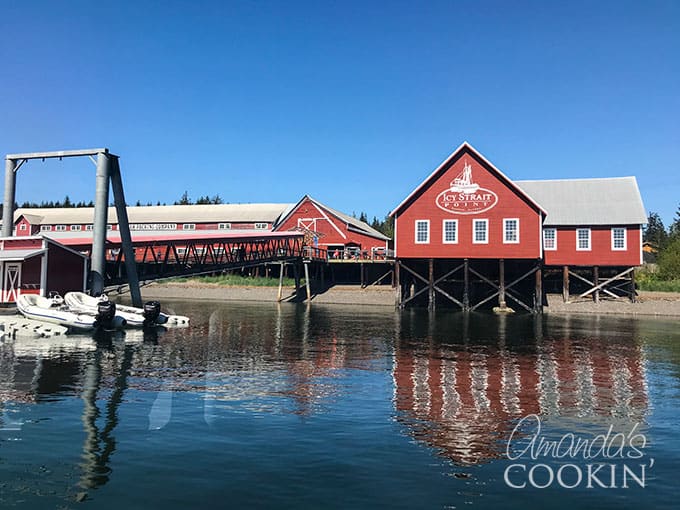 Before we even disembarked (that's cruise speak for exiting the ship) we were watching two Orcas bouncing around in the water in the distance! Exciting!
Choosing the excursion
Prior to the cruise we were able to go through all the available excursions that Icy Point Strait had to offer. I actually didn't realize how much I appreciated this option until I was onboard and saw the line of people waiting to sign up for excursions! I highly recommend taking the time to go through the excursion listings before your trip. If you're traveling with Princess, you can do this easily from their website. If you change your mind, you can always edit your choices later.
I chose the Whale Watching & Seafood Feast excursion, a 3.5 hour tour that guaranteed I would for sure see a whale. In fact, they boast that they haven't had to issue a refund since 2004… well they definitely delivered!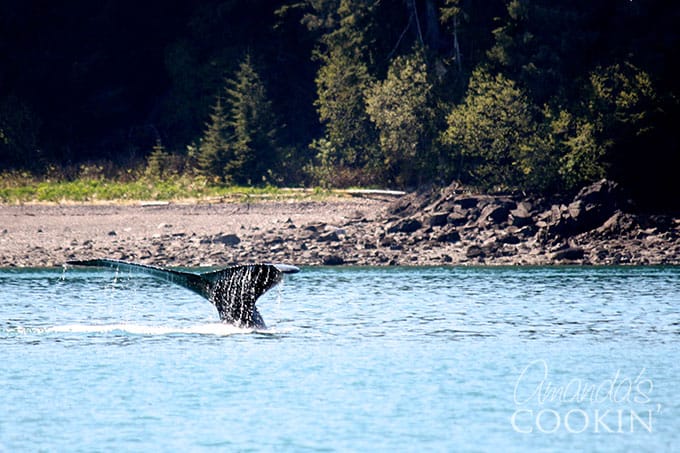 Whale Watching
My good friend Jackie (a fellow blogger from Happy Hooligans) came with me on this Alaskan adventure. While I was busy manning the video option on my phone, Jackie was capturing some memorable moments with her camera, like these humpback whale photos!
What to bring on your Alaskan whale watching excursion:
Depending on the time of year, layers, rain jacket and hat
Sunglasses
Binoculars – Due to obvious reasons the boat can't get too close to the animals, so having binoculars will really give you a spectacular view.
Camera or your fully charged phone
Mobile charger – I was so glad to have mine along because shooting video drains the battery so quickly!
Closed-toe shoes
After heading out on a special boat equipped with flip-up viewing windows, our captain told us about the sea life found in those waters and what we might have a chance to see. We were lucky enough to see several Humpback whales, so many porpoises, lots of otters and even some bald eagles during our boat trip. You definitely want to have your camera ready at all times so you can catch a whale when they come up. It happens so much faster than you think!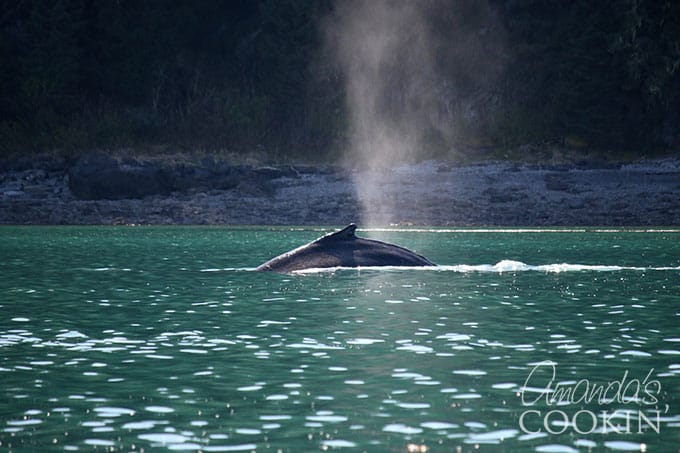 According to the tour guides, whales have a breathing cycle that typically lasts four to six minutes; they surface several times in quick succession to recharge their oxygen supply, then show their massive tail flukes before disappearing into the depths to feed on krill and small schooling fish. We definitely saw that in action that day!
I spent most of the trip shooting video with my phone instead of actually taking pictures. So I've put together a short video compilation below that includes whales, otters (and an otter baby!) and a bald eagle.
Seafood Feast
I'll admit, I'm not a huge fan of seafood. I like some types of fish and love shrimp, but anything that tastes really fishy… I'm out. I've tried crab legs a couple of times but was not impressed either time. This seafood feast changed everything for me.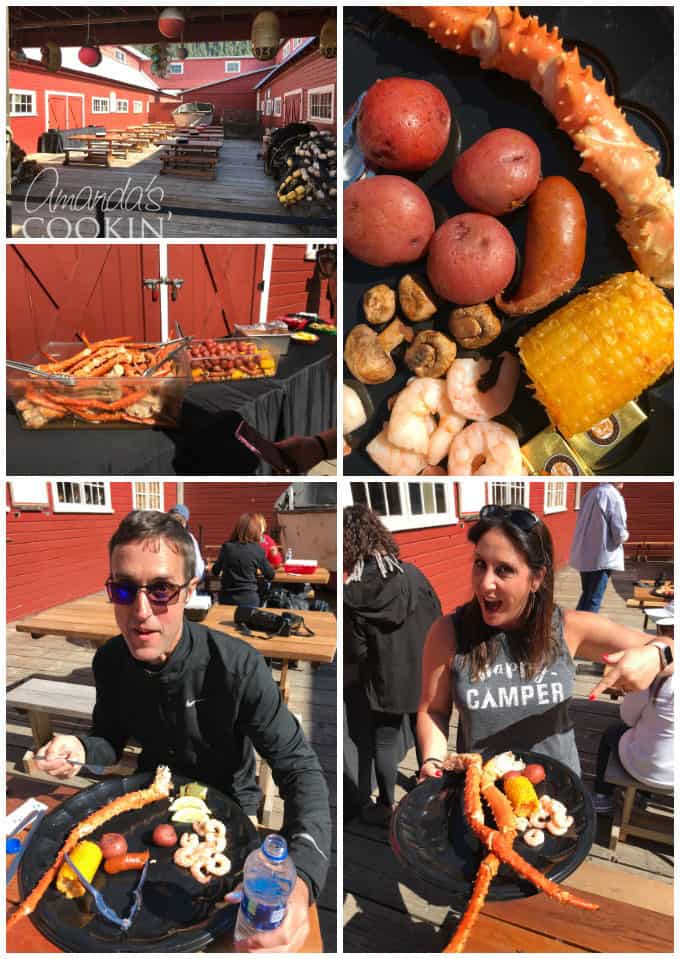 I am certain that the freshness factor plays a huge part, but wow, whatever they soaked these in or flavored them with was amazing! Thank goodness they gave us piles of food because we couldn't get enough and it was truly delicious. Now I really do understand why an old friend of mine used to say there's nothing like seafood from the coast.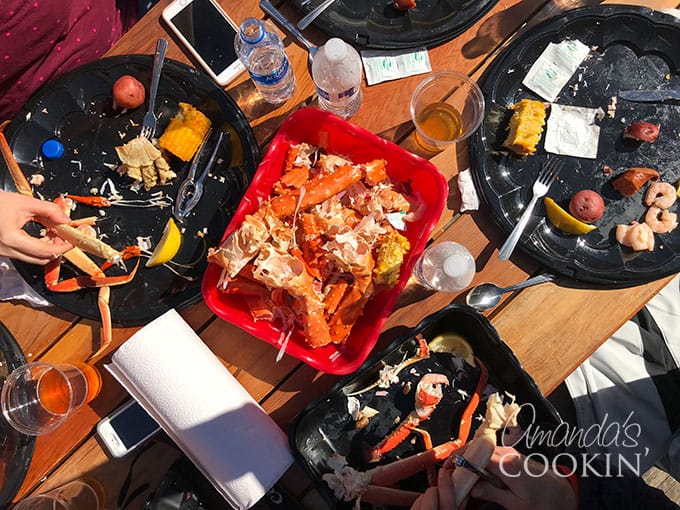 I love this photo so much. It totally tells a story of good friends enjoying a meal together and making memories of a great day. Our seafood feast included King crab legs, shrimp, corn on the cob, boiled potatoes, mushrooms, andouille sausage and home brewed beers.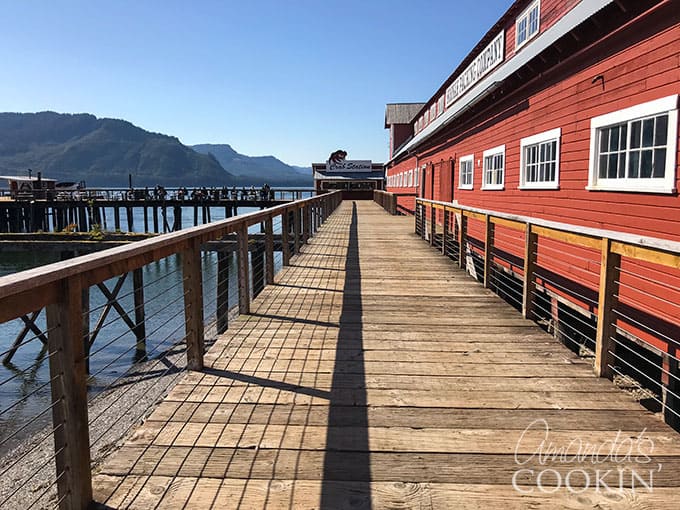 Shopping and Browsing Icy Strait Point
After lunch we had plenty of time before we had to be back on the ship, so we checked out the different shops as well as the scenic views. Inside the red "Hoonah Packing Company" building you will find plenty of souvenir shops selling everything from edibles to outerwear.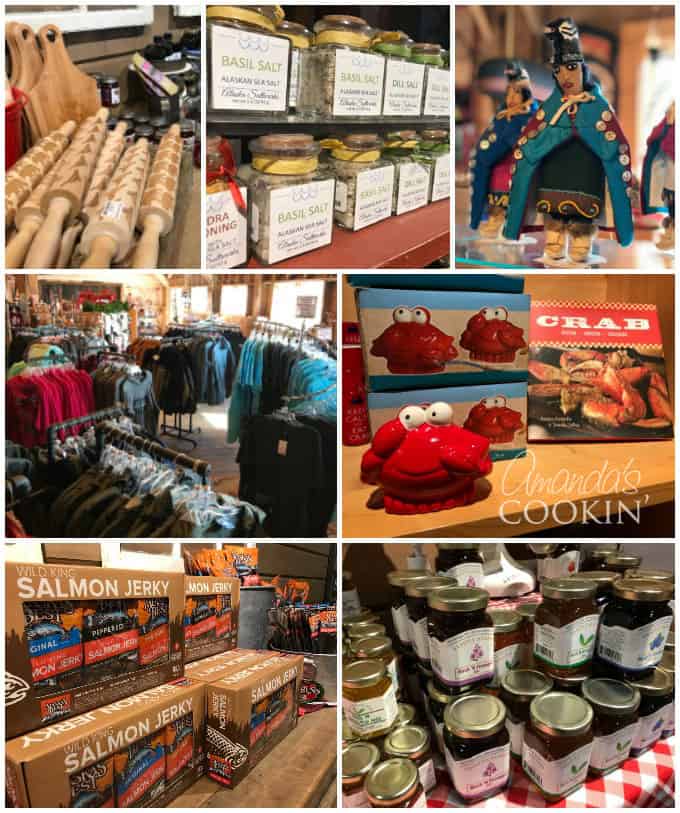 Some interesting finds include salmon jerky, flavored Alaskan sea salt, and homemade Alaskan jam. Definitely a tourist's dream with plenty of different trinkets and fun items to take back home.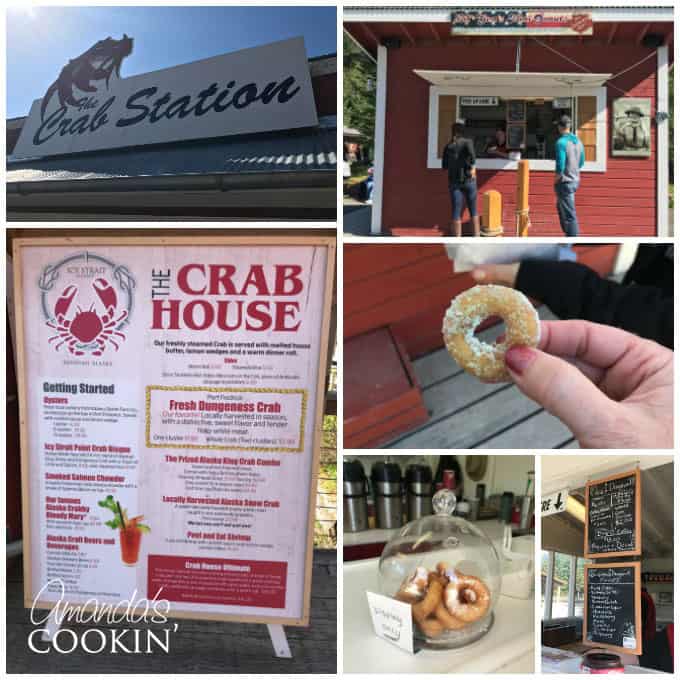 Fun things to eat
Lil' Gen's Mini Donuts – How fun are these little tiny donuts? When I think of mini donuts my mind immediately goes to donut holes. But these were truly miniature donuts that you could watch them make right through the window. Flavors included apple cider, birthday cake, butterscotch and pistachio, among others!
Crab Station – While we didn't get a chance to eat from this place, the aromas coming from inside were wonderful! So no worries if you don't actually do the excursion that includes the seafood feast, you can still have one of your own.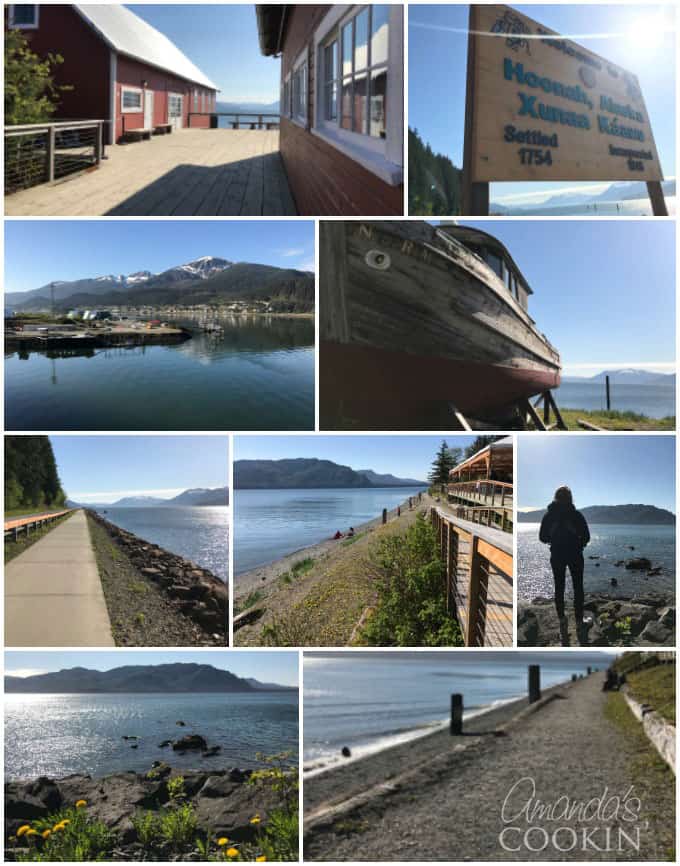 Scenic opportunities
The views in Alaska are nothing short of spectacular and Hoonah is no exception. Icy Strait Point offers all sorts of excursions, including scenic tours, but you can find plenty of photo-worthy shots just along their walking path. Walk or sit along the shoreline and take in the fresh air, take a picture near the old boats or go for a long afternoon stroll (or jog!) on the paved path. There are lots of lovely views to be had before getting back on the ship and completing your fabulous day.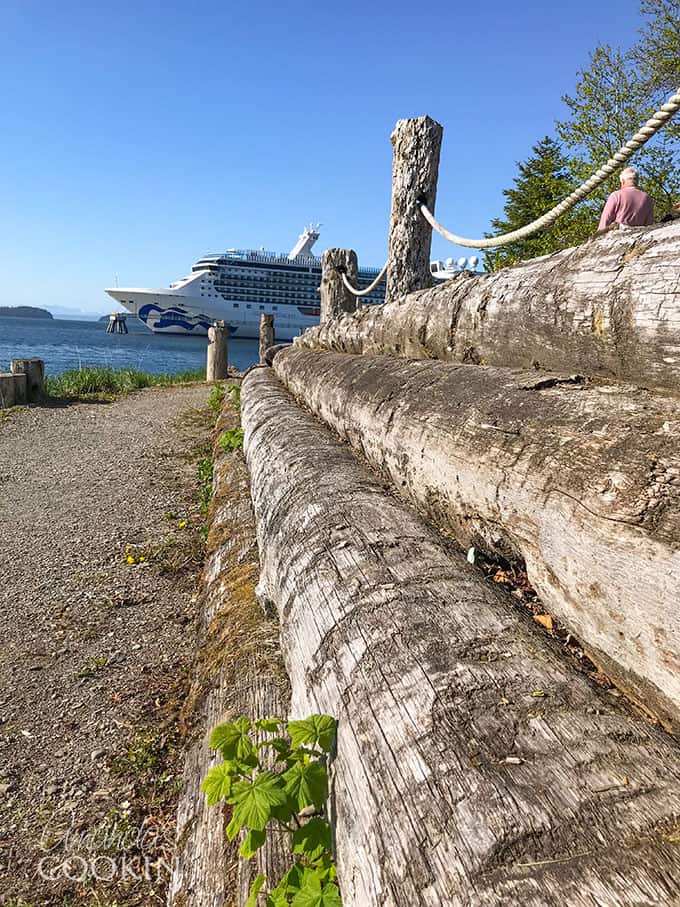 At the end of the day we bid farewell to Icy Strait Point in Hoonah, Alaska and climbed back aboard the Island Princess to talk about our adventure and go through footage and photos. It's actually really nice not to worry about driving a long way back to your hotel and worrying about fighting traffic. Just head back on board the ship and head to the Wheelhouse Bar for a Key Lime Pie Martini! The perfect end to a perfect day.
Want to see what happened next? Check out my Mendenhall Glacier Helicopter Tour in Juneau, Alaska and my Davidson Glacier Canoe Tour in Skagway, Alaska!
Amanda Davis is the entrepreneurial mom of four grown children and four step children. She and her husband, Chef Antoine, love to cook together creating recipes for this blog. Amanda also make kid's crafts and creates decorative items for her home. She is a crafting expert and guru in the kitchen and has appeared online and in print publications many times over the years. She is also a craft book author five times over and product developer as well as the owner of
FunFamilyCrafts.com
. You can find her on social media by using the buttons to the left!
Latest posts by Amanda Davis (see all)