Sometimes, like with our Root Beer Float Cocktail or our Homemade Eggnog Cocktail,  you want something fun and nostalgic when you're indulging in cocktails with friends. This Hot Chocolate Cocktail is the perfect winter cocktail for cozying up with friends or loved ones on a cold winter's night.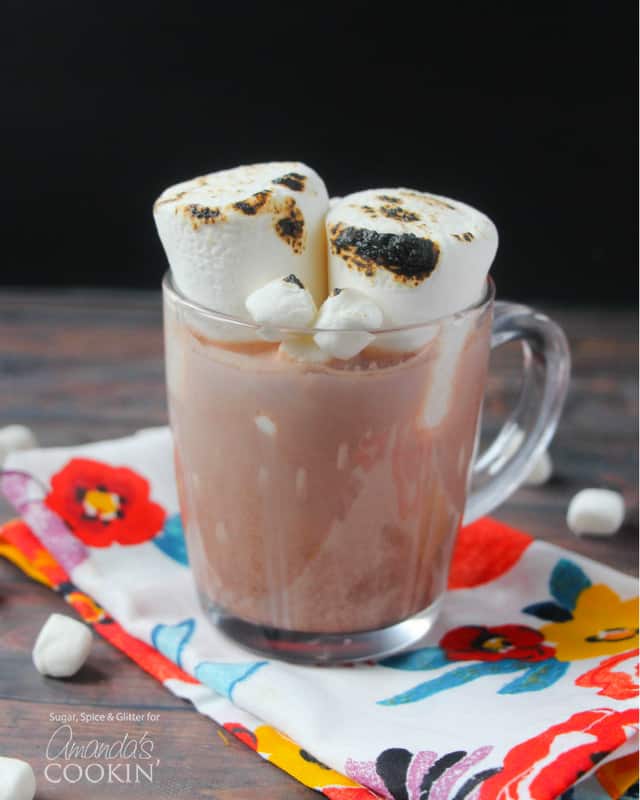 Hot Chocolate Cocktail
This Hot Chocolate Cocktail uses whipped vanilla vodka and chocolate liqueur to make a delicious and toasty treat – other alcohols can curdle milk which would not be ideal, so I encourage you to stick to our recipe or only substitute with other whiskeys or vodkas for best results. It is also important to add the alcohol to the milk and not the milk to the alcohol – I know, it sounds silly but it's actually a fundamental chemistry concept of how acids react with water.
You can however make this Hot Chocolate Cocktail without milk… but that's too much of a compromise for me!
I used a crème brûlée torch to char the marshmallow garnish but you can use a barbecue lighter if you don't own one. (It surprisingly comes in handy for a lot of recipes and is great if you'd like to have more control over browning or charring than you would with a broiler, so I definitely encourage you to look into one!)
Related Recipe – Grinch Cocktail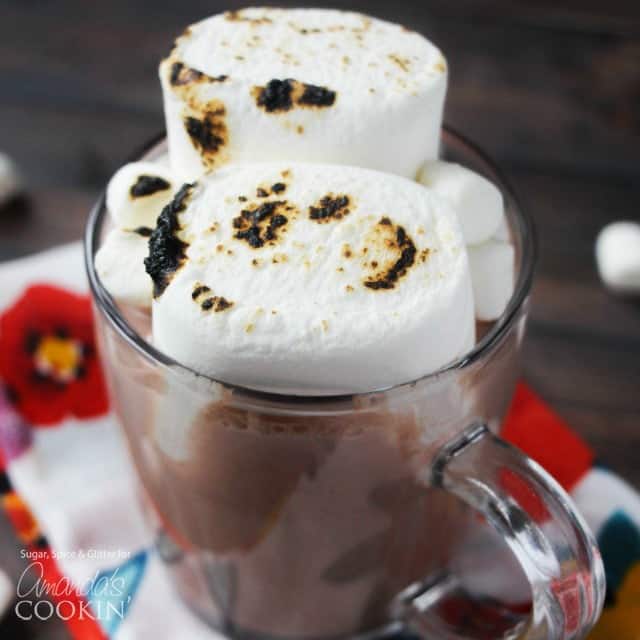 Ingredients Needed for a Hot Chocolate Cocktail
1 cup milk
1 Tablespoon hot chocolate mix or unsweetened cocoa
1 1/2 oz vanilla or whipped vanilla vodka
1 1/2 oz chocolate liqueur
Marshmallow garnish, optional
Kitchen Tools You May Find Helpful:
h
This hot chocolate cocktail is an easy and delicious treat to add to your recipe collection.
Who would you enjoy this cozy winter cocktail with? You might also like this Blended Frostbite Martini and this Salted Caramel Coffee Cocktail. If you're just looking for a different twist on hot chocolate, try this recipe for Champurrado (Mexican hot chocolate).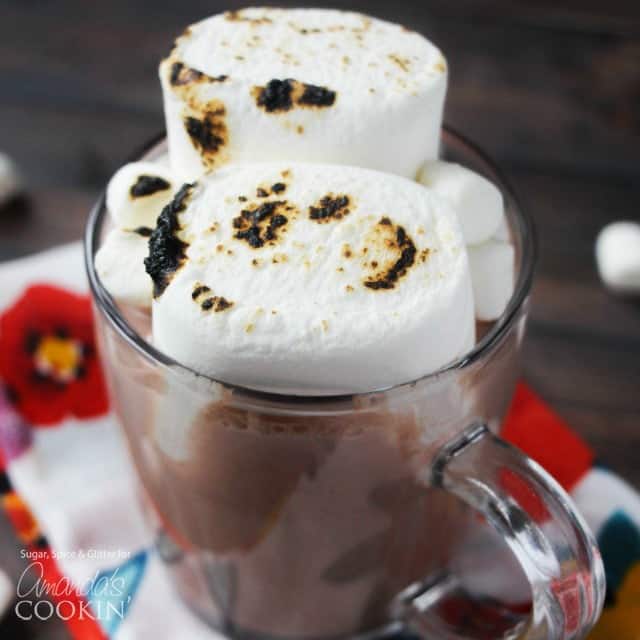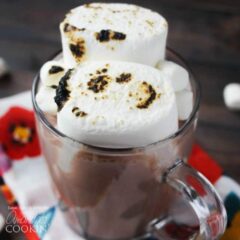 Hot Chocolate Cocktail
IMPORTANT - There are often Frequently Asked Questions within the blog post that you may find helpful. Simply scroll back up to read them!
Print It
Rate It
Ingredients
1

cup

milk

1

Tablespoon

hot chocolate mix or unsweetened cocoa

1 1/2

oz

vanilla or whipped vanilla vodka

1 1/2

oz

chocolate liqueur
Instructions
Place the milk in a heat-proof mug and microwave for 45 seconds.

Stir well and check to ensure the milk is heated throughout. (Re-heat if needed.)

Whisk or stir in the hot chocolate powder until completely dissolved.

Pour in the vodka and chocolate liqueur and stir quickly.

Garnish with marshmallows and use the crème brûlée torch or lighter to char the marshmallows.

Serve hot.
Jennifer loves sharing positive parenting inspiration, easy recipes for the foodie family, and fun kids' activity ideas. Her goal is to provide a safe space for busy moms to come find great resources and reliable ideas to help you & your family thrive.
Latest posts by Jennifer Tammy (see all)