Root beer floats are the ultimate nostalgic drink. Why not combine them with one of the perks of being a grown up? Make this creamy, delicious Root Beer Float Cocktail for your next get together! Just like the original, this Root Beer Float Cocktail is a smooth combination of vanilla ice cream and cold root beer that perfectly melt together to create a caramelized vanilla malt with just the slightest bitter bite. But remember, this beverage is just for the adults!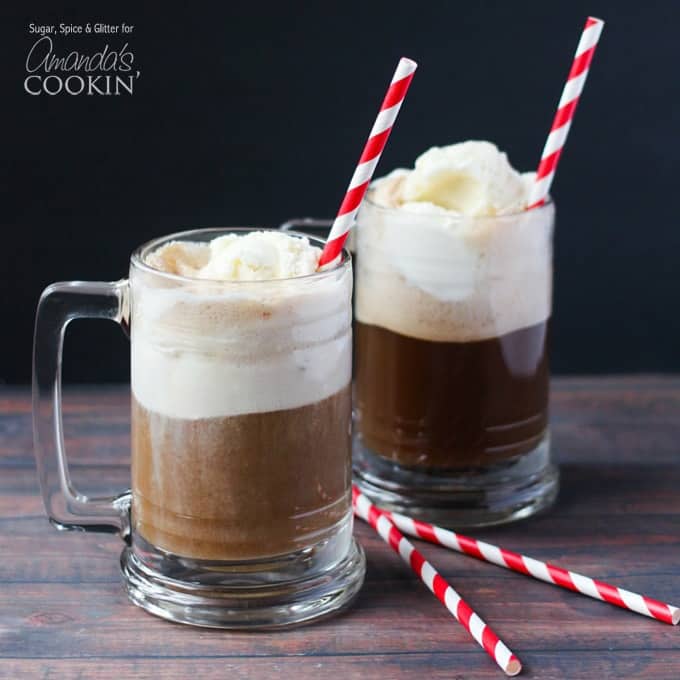 Root Beer Float Cocktail
There are so many fun root beer concoctions out there – we've made root beer float cupcakes and no-churn root beer float ice cream before – but I wanted to create something that was strictly for grown-ups.
I've actually tried this recipe with a few different alcohol combinations – vanilla vodka, dark rum, tequila, and butterscotch schnapps. My favorite is the butterscotch schnapps, probably because I have a huge sweet tooth! It really brings out the caramel notes in the root beer and compliments the vanilla ice cream beautifully.
The tequila really gave the cocktail a bite. If you're a tequila fan this is a delicious way to enjoy it in something other than a margarita. The vanilla vodka was actually a bit too subtle. It simply blended in with the taste of the ice cream and wasn't that noticeable. However, if you prefer subtle drinks, that may be the route for you! The rum was my dad's favorite as he's more of a Rum & Coke fan.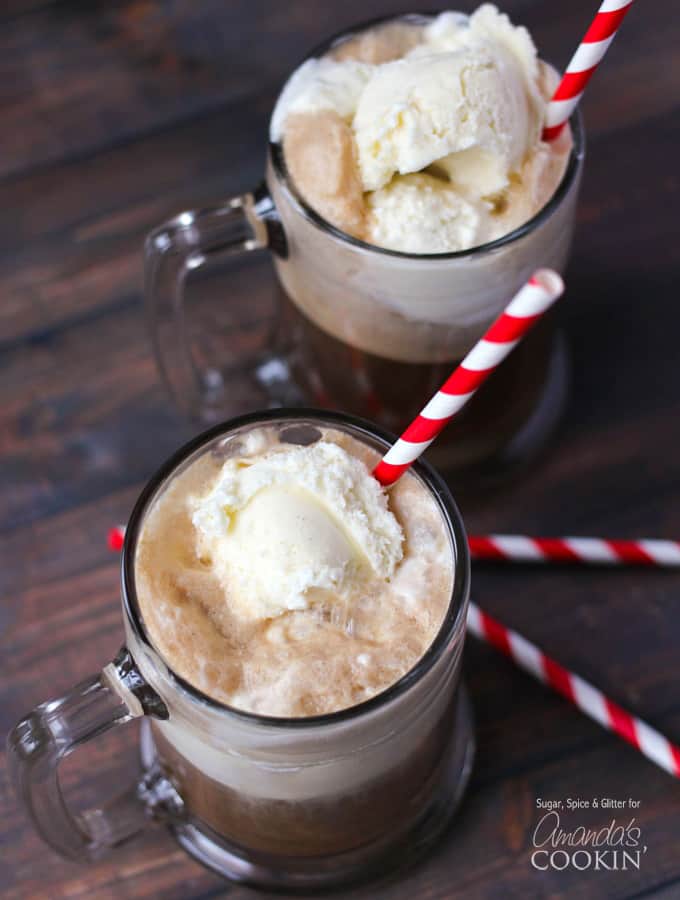 How to Make a Root Beer Float Cocktail
There are affiliate links in this post. That means if you buy something from that link, I will earn a small commission, but it won't cost you anything additional.
For ONE cocktail you will need:
You'll also need:
Pour half of the root beer into the mug then add vanilla ice cream. Pour the butterscotch schnapps over the top of the ice cream then top with remaining root beer. Adding root beer at the end will help create foam.
Top with cherries and serve with a fun, colorful straw.
One 12-ounce can of root beer makes 2 perfect root beer float cocktails.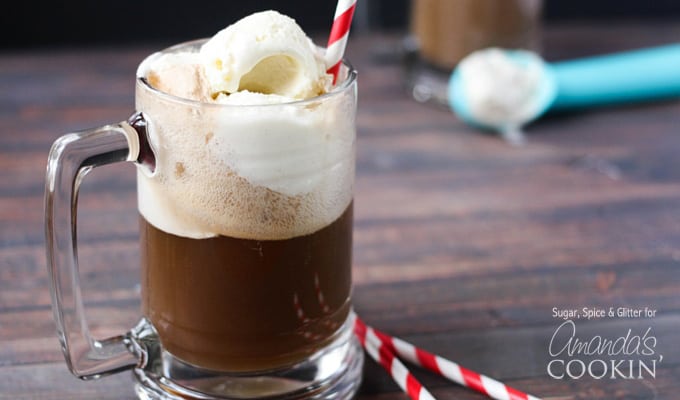 This root beer float cocktail is the perfect cold drink on a hot summer day – great for pairing with barbecue or a late movie night. And if you just happen to have this homemade root beer ice cream in the freezer, I bet it would be  great replacement for the vanilla!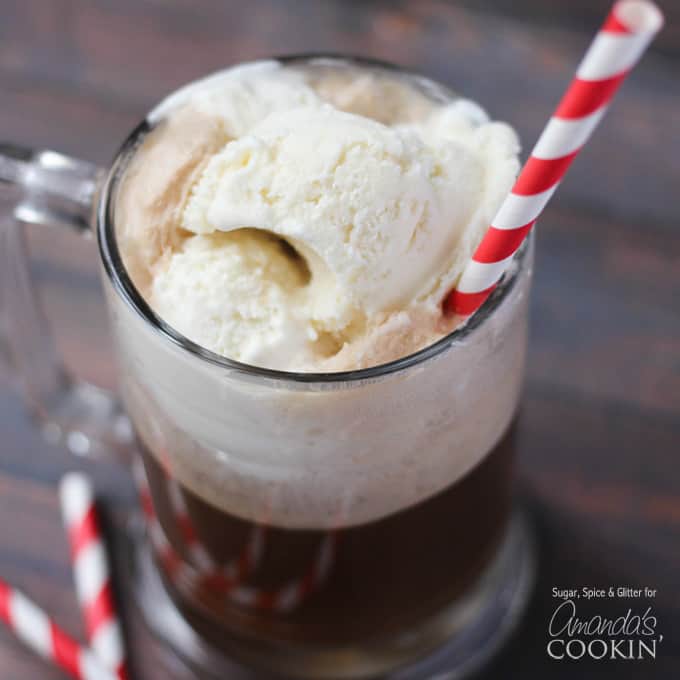 Do you have a favorite summer cocktail? Here are a couple of ideas for you:
More summer drinks
This White Sangria is made with a white Moscato, plenty of fresh fruit, some carbonation and orange liqueur. It's sweet and refreshing and perfect for summer get togethers, barbecues and bridal showers.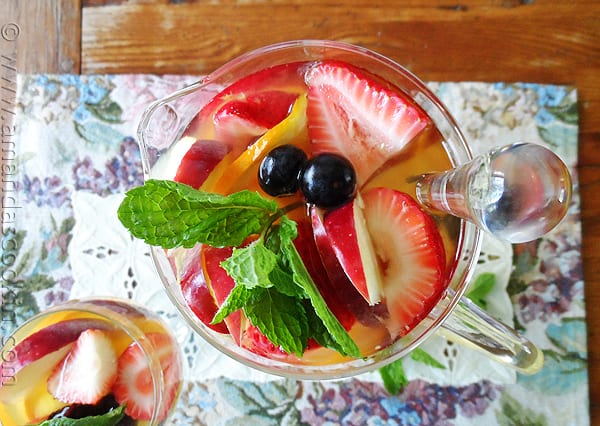 If it's just something cold and refreshing you're looking for without the alcohol, this Olive Garden Peach Tea copycat is positively delicious. Of course, you certainly could add alcohol to it if you like!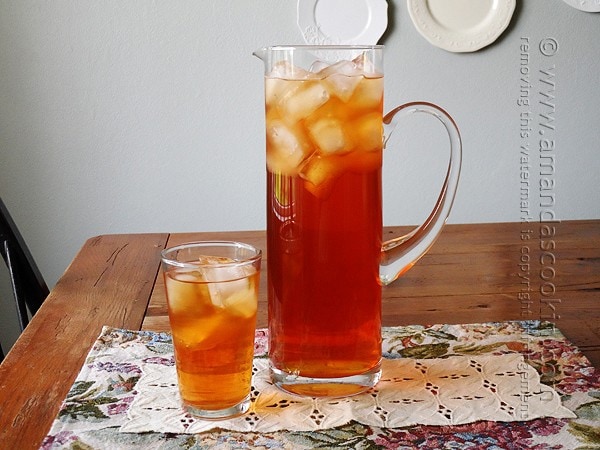 And if it's something cold you seek, skip Starbucks and make your own Mocha Frappucinos at home! Just make sure you have a good blender as you'll need to do some serious ice crushing.