In case you are wondering, champurrado is basically Mexican hot chocolate married with an atole, a traditional masa-based Mexican hot drink. Masa harina is the flour used for making corn tortillas, and is also used to thicken this rich, chocolate drink.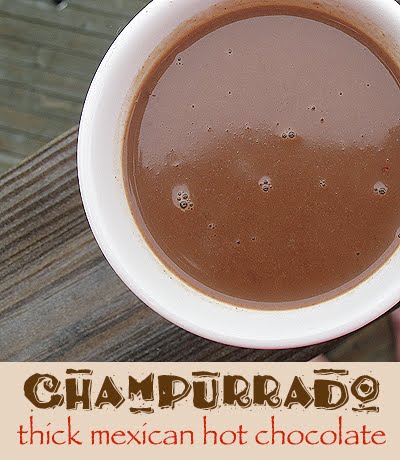 How to Make Champurrado
Traditionally, champurrado (chom-poo-rah-doe) is sweetened with piloncillo, a Mexican unrefined brown sugar, and often flavored with anise seed, and/or vanilla bean. It's served most often at Christmas time with tamales, or as a breakfast drink served alongside churros.
I've professed my love for Mexican food before, and I've also told you about this marvelous magazine I found, BHG's Ultimate Mexican. I recently made the Spicy Grilled Chicken with Baja Black Beans and Rice and it was marvelous. Among the other ear marked pages, was this enticing recipe for champurrado.
I've read elsewhere that this deliciously thick and creamy drink is widely available from Mexican food vendors, and honestly I've never noticed it. I bet it would be wonderful for breakfast with mallorca, a Puerto Rican sweet bread! I decided to try this because of the Mexican chocolate I had sitting in my pantry after making the amazingly satisfying Mexican Chocolate Ice Cream a couple of months ago.
Hint: A commenter below suggested adding a cinnamon stick to stir your drink, great idea!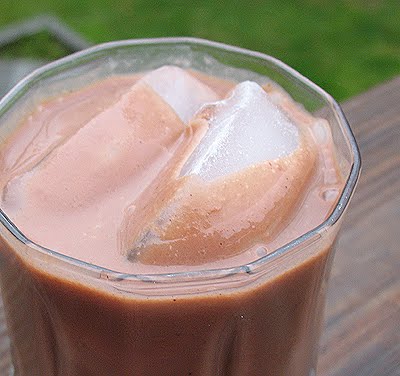 I took it one step further and decided to try it cold as well so I could enjoy it in the summer heat. I thoroughly enjoyed it warm, especially on this chilly, rainy day, but I realize I'm a bit out of season with this post, so I wanted to give you a more seasonal option as well.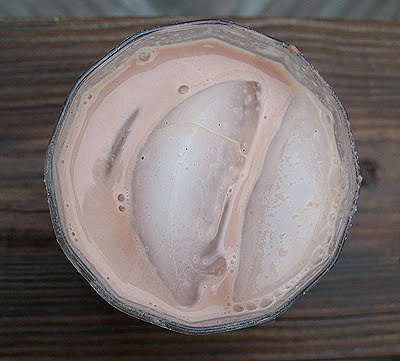 While it was still good cold, it seemed a bit heavy as is. So I added a splash of milk to lighten it up. Much better, though it does dilute the sweetness a little. This would be amazing in a mixed drink or a martini!
Amanda's Notes:
1) The recipe below makes 4 servings. I cut it in half without any problems. I also did not have any anise seeds, but I did have some star anise, so I ground some of that up instead.
2) If you want a bit more bite, add a pinch or two of cayenne pepper!
Serves: 4 servings
Champurrado: Thick Mexican Hot Chocolate
Ingredients
1/4 cup masa harina (corn tortilla flour)
2 cups warm water
2 cups whole milk
1 disk (3.25 oz)Mexican chocolate, chopped
3 oz piloncillo cons, chopped or 1/2 cup packed brown sugar
1/8 teaspoon ground anise seeds (I used star anise)
Instructions
In a large saucepan, slowly add masa harina to the warm water, whisking until combined. Add milk, chocolate, piloncillo, and ground anise seeds. 
Heat over medium heat just until boiling; reduce heat. Simmer, uncovered, about 10 minutes or until chocolate is completely melted and sugar is dissolved, whisking occasionally. Serve immediately.
7.6.4
572
https://amandascookin.com/champurrado-thick-mexican-hot-chocolate/
Amanda Formaro, AmandasCookin.com
Amanda Formaro is the crafty, entrepreneurial mother of four children. She loves to bake, cook, make kid's crafts and create decorative items for her home. She is a crafting expert and guru in the kitchen and has appeared online and in print publications many times over the years. She is also a craft book author five times over and product developer as well as the owner of
FunFamilyCrafts.com
. You can find her on social media by using the buttons to the left!
Latest posts by Amanda Formaro (see all)