If you have some cranberries leftover from Thanksgiving, this Cranberry Streusel Coffee Cake is a delicious way to use them up. I actually am a big fan of coffee cake. Why? Because it's a way to eat cake for breakfast and no one gives it another thought! This cranberry streusel coffee cake is packed with plump cranberries and topped with a fabulous streusel topping, what's not to like?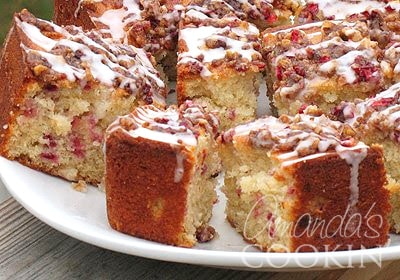 Cranberry Streusel Coffee Cake
This is an ideal coffee cake for Christmas morning, full of beautiful red cranberries and drizzled with a snowy glaze. Let's be serious here. If you wanted to call this a dessert you absolutely could, but dessert for breakfast is definitely on my radar, so Cranberry Streusel Coffee Cake it is! They remind me of these delicious Cranberry Cream Cheese Pastries because they certainly can double as a dessert.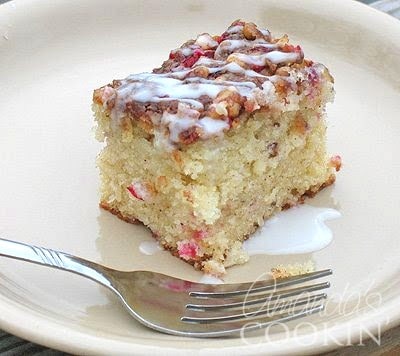 This cake is so moist and delicious, I can't wait to see how it tastes cold. It was still warm and we were munching on it. I added a drizzle of confectioner's glaze and instead of a 9×9 pan, I used an 8×8 pan and put the excess batter into a mini muffin pan. I also found that my streusel wasn't as crumbly as I thought it should be, so for the muffins I added some more flour.
There are affiliate links in this post. That means if you buy something from that link, I will earn a small commission, but it won't cost you anything additional.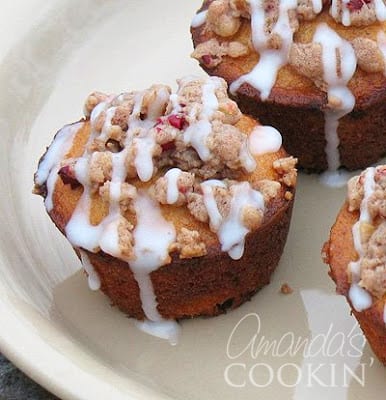 Cranberry Streusel Cake
For the cake:
9 ounces (2 cups) all-purpose flour; more for the pan
1 teaspoon baking powder
1/2 teaspoon baking soda
1/2 teaspoon ground nutmeg
1/4 teaspoon table salt
8 tablespoons (1 stick) unsalted butter, well softened at room temperature; more for the pan
1 1/3 cups sugar
1 teaspoon vanilla extract
3 large eggs, at room temperature
1 cup plain, low-fat yogurt
1/2 cup fresh cranberries, chopped
For the streusel:
1/4 cup packed light brown sugar
2 tablespoons all-purpose flour
1/2 teaspoon ground cinnamon
2 tablespoons cold unsalted butter, cut into 4 pieces
1/4 cup chopped walnuts
1/4 cup fresh cranberries, chopped
Helpful kitchen tools:
PRINT THIS RECIPE BELOW
Would love to hear your thoughts on this recipe if you try it. I loved it and have made it several times!