These Pumpkin Spice Donuts are moist, baked cake donuts and can be topped with a pumpkin spice – sugar mixture and/or a maple glaze. Enjoy them with coffee or tea on an Autumn day! (makes 12-13 donuts)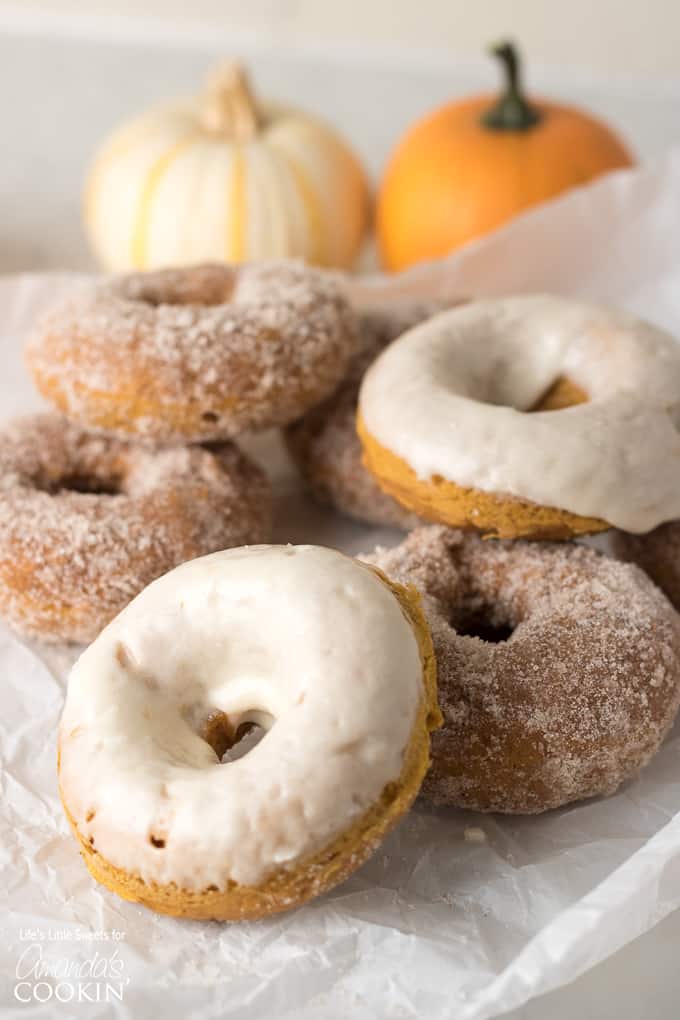 Pumpkin Spice Donuts
Hi Everyone, I have the perfect Autumn breakfast or snack for you: Pumpkin Spice Donuts! They are so good when made fresh and enjoyed with some coffee or tea. These delicious and moist, cake donuts are baked, not fried.
I have been getting requests to make this recipe from my daughter who loves donuts. Both my husband and daughter love the pumpkin spice mix – sugar coating (as do I). I also love the flavor of the maple glaze frosting. I wanted to give those two options for topping these donuts just in case you prefer one versus another – or both. You can cut the coating recipe in half if you need to.
RELATED: You may also love these Apple Cider Donuts – topped with a cinnamon sugar mixture, donuts don't get much better than this!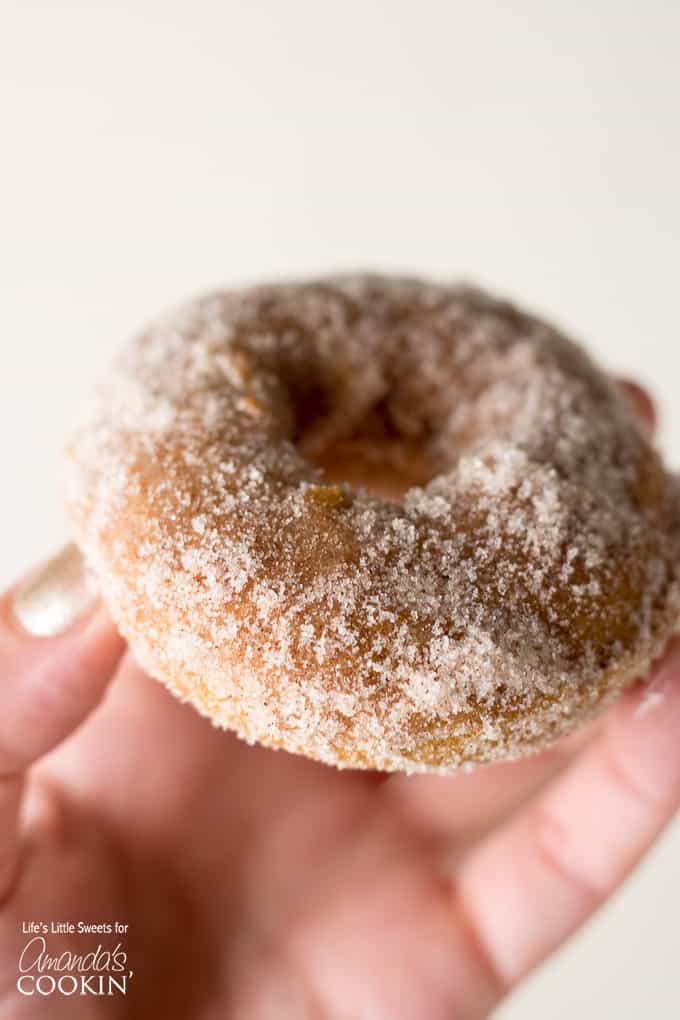 Ingredients for Pumpkin Spice Donuts
This recipe is inspired by  "Glazed Pumpkin Donuts"
Pumpkin Spice Donut batter:
2 cups all-purpose flour
1/2 cup dark brown sugar
1 1/2 teaspoons baking powder
1 1/2 teaspoons pumpkin spice mix
1/2 teaspoon Kosher salt
1/4 teaspoon baking soda
1 cup pumpkin puree
2 large eggs
1/4 cup whole milk
1/4 cup unsalted butter, melted and cooled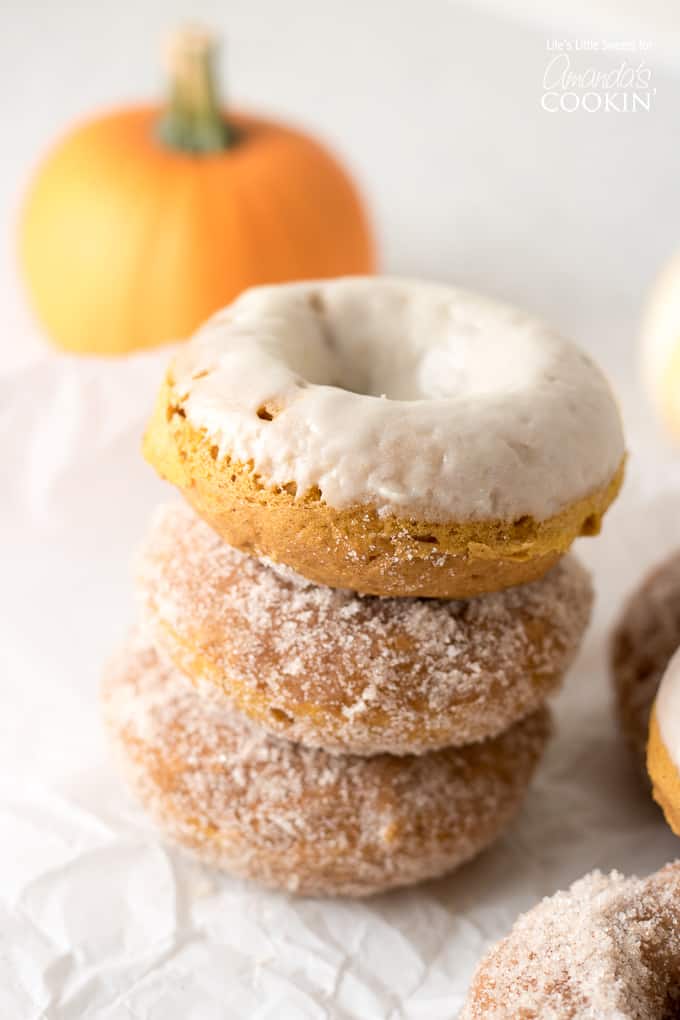 Maple Glaze (for 12-13 donuts)
1 1/2 cups confectioner's sugar
1/4 cup unsalted butter, melted and cooled
2 tablespoons 100% pure maple syrup
2-3 tablespoons water
1 teaspoon pure vanilla extract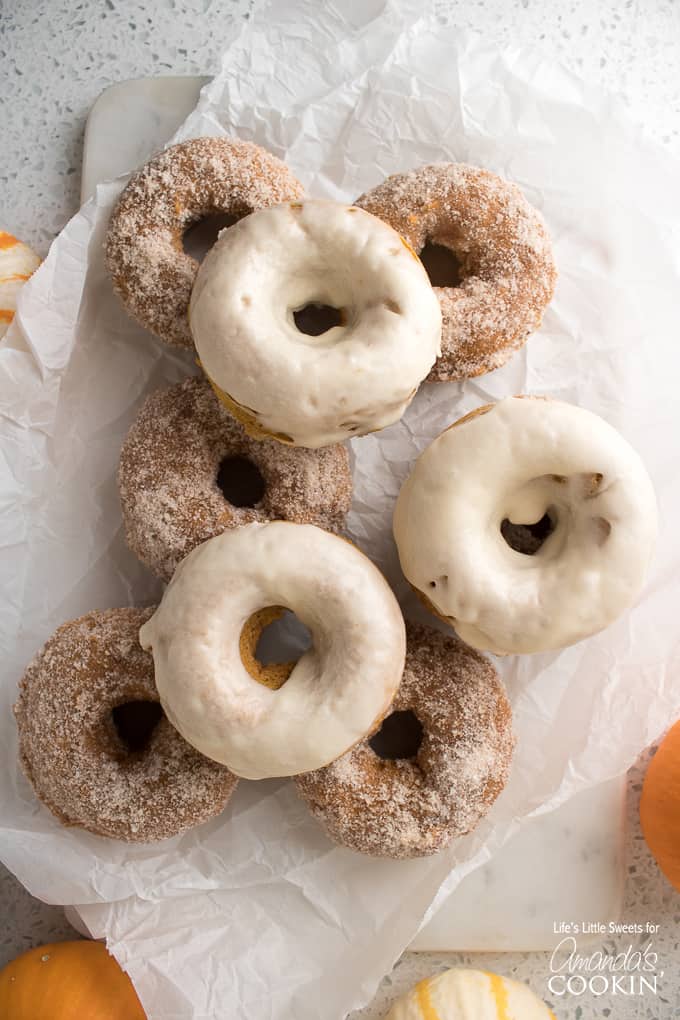 Sugar – Pumpkin Spice Coating (for 12-13 donuts)

Helpful Kitchen Tools for Pumpkin Spice Donuts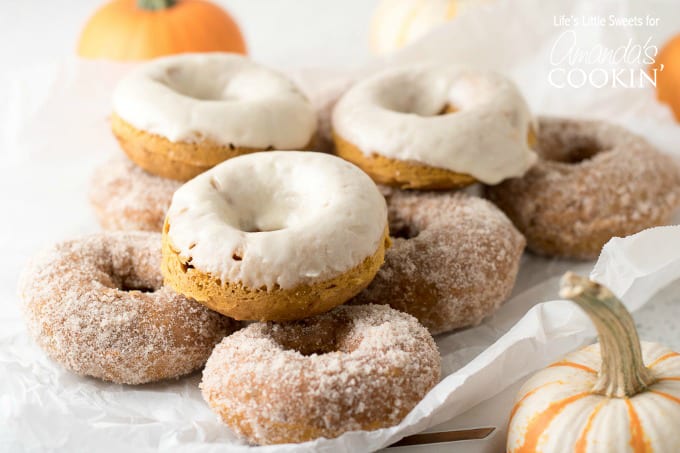 You can save time by using store-bought pumpkin spice mix or using my recipe (linked above). I also suggest not over-mixing the donut batter to avoid making the donuts tough – mix until just combined.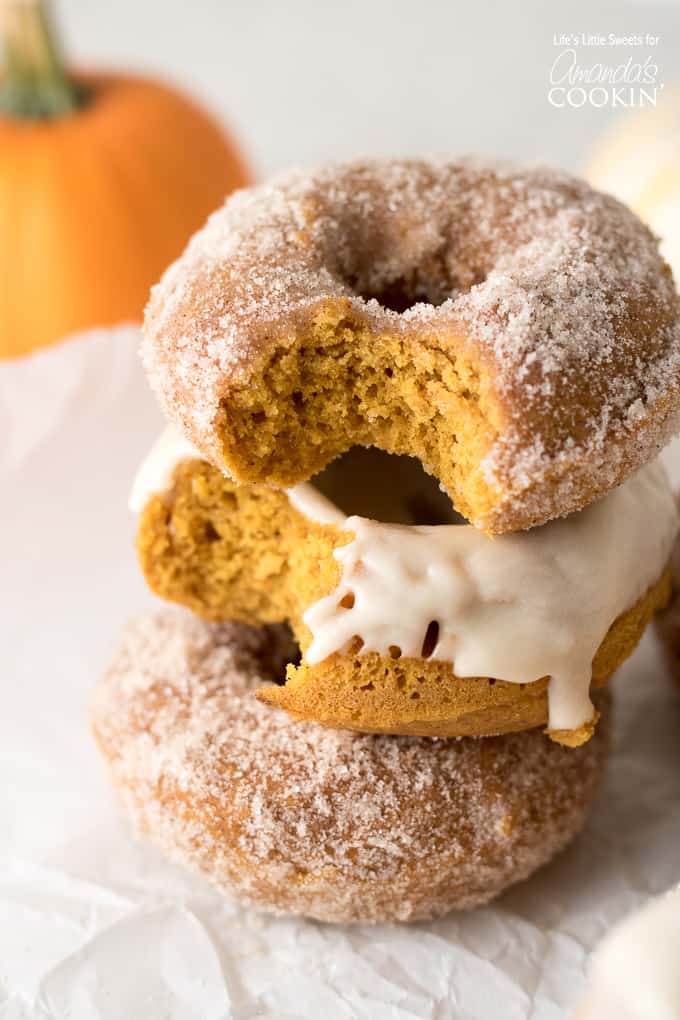 I know you will love these Pumpkin Spice Donuts! If you're looking for more delicious pumpkin spice recipe ideas, check out these Pumpkin Hand Pies, which also pair beautifully with a cup of coffee for either breakfast OR dessert. This Pumpkin Cobbler is another solid choice for pumpkin flavored goodness.
It's a recipe that everyone will love! Lastly don't miss our Perfect Pumpkin Pie recipe, it's a holiday tradition in our house. Lastly, serve up this Caramel Pumpkin Cocktail when you have guests over or for a Halloween party!
To see just how easy these donuts are to make, watch our video below!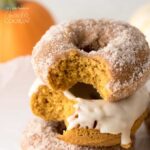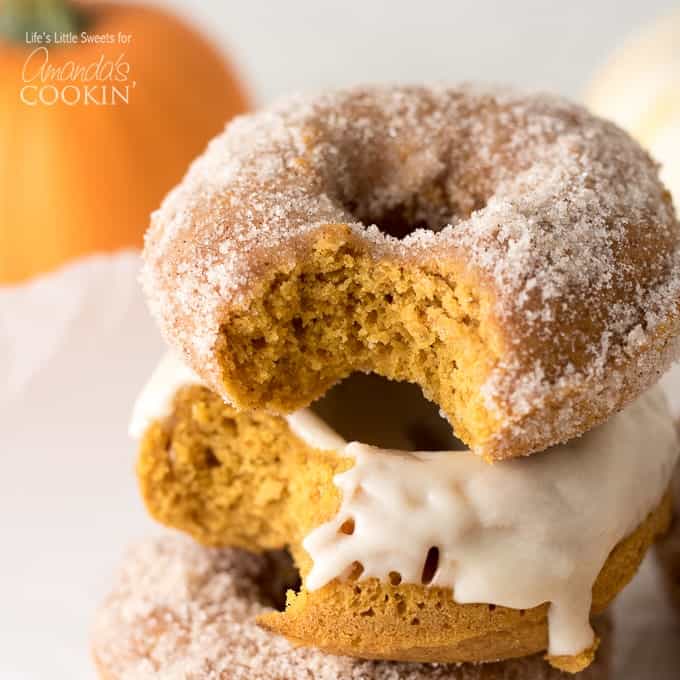 Pumpkin Spice Donuts
These Pumpkin Spice Donuts are moist, baked, cake donuts and can be topped with a pumpkin spice – sugar mixture and/or a maple glaze. Enjoy them with coffee or tea on an Autumn day! (makes 12-13 donuts)
Print
Ingredients
Pumpkin Spice Donuts batter:
cooking spray oil

for greasing the donut pan

2

cups

all-purpose flour

1/2

cup

dark brown sugar

1 1/2

teaspoons

baking powder

1 1/2

teaspoons

pumpkin spice mix

1/2

teaspoon

Kosher salt

1/4

teaspoon

baking soda

1

cup

pumpkin puree

2

large

eggs

1/4

cup

whole milk

1/4

cup

unsalted butter

melted and cooled
Maple Glaze
1 1/2

cups

confectioner's sugar

1/4

cup

unsalted butter

melted and cooled

2

tablespoons

100% pure maple syrup

2-3

tablespoons

water

1

teaspoon

pure vanilla extract
Sugar – Pumpkin Spice Coating
1

cup

sugar

1

teaspoon

pumpkin spice mix

2

tbsp

unsalted butter

In a separate bowl:
Instructions
Preheat oven to 325 degrees F.

Spray a donut pan with cooking spray oil.

In a large mixing bowl, mix the all-purpose flour, brown sugar, baking powder, pumpkin spice mix, Kosher salt and baking soda until evenly combined.

Add the pumpkin puree, 2 eggs, whole milk, and melted and cooled unsalted butter. Stir until combined; do not over mix. Spoon into a donut pan. (You can also put the batter into a large zip lock bag and cut the corner.)

Bake 8-11 minutes in a preheat oven. When donuts are ready, they should spring back when touched.

To make maple glaze topping (for 12-13 donuts):

In a medium bowl, mix confectioner's sugar, unsalted butter (melted and cooled), maple syrup, water and vanilla extract until combined.

To make Sugar – Pumpkin Spice Coating (for 12-13 donuts):

In a small-medium mixing bowl, mix sugar and pumpkin spice mix until combined. Melt butter in the microwave at 20 second intervals until melted. Using a pastry brush, brush cooled donuts with butter and toss in the sugar - pumpkin spice mixture until coated.

These Pumpkin Spice donuts are best when served right away. Keep in an airtight container in the refrigerator for up to 2 days.
Recipe Video
Recipe Notes
You will need a donut pan for this recipe.
Calorie count is for donuts without sugar coating or glaze.
Nutrition Facts
Pumpkin Spice Donuts
Amount Per Serving (1 donut)
Calories 167
Calories from Fat 45
% Daily Value*
Total Fat 5g 8%
Cholesterol 41mg 14%
Sodium 138mg 6%
Potassium 145mg 4%
Total Carbohydrates 27g 9%
Protein 3g 6%
* Percent Daily Values are based on a 2000 calorie diet.
Sara is an architectural designer turned work-at-home Mom.She lives in NJ with her husband, toddler daughter and two dogs.She loves design, being creative and spending time with family and friends.She enjoys and shares baking, vegan, traditional & family recipes as well as DIY, lifestyle, organization and design ideas.
Latest posts by Sara Maniez (see all)