These Pumpkin Spice Donuts are moist, baked cake donuts and can be topped with a pumpkin spice – sugar mixture and/or a maple glaze. Enjoy them with coffee or tea on an Autumn day! (makes 12-13 donuts)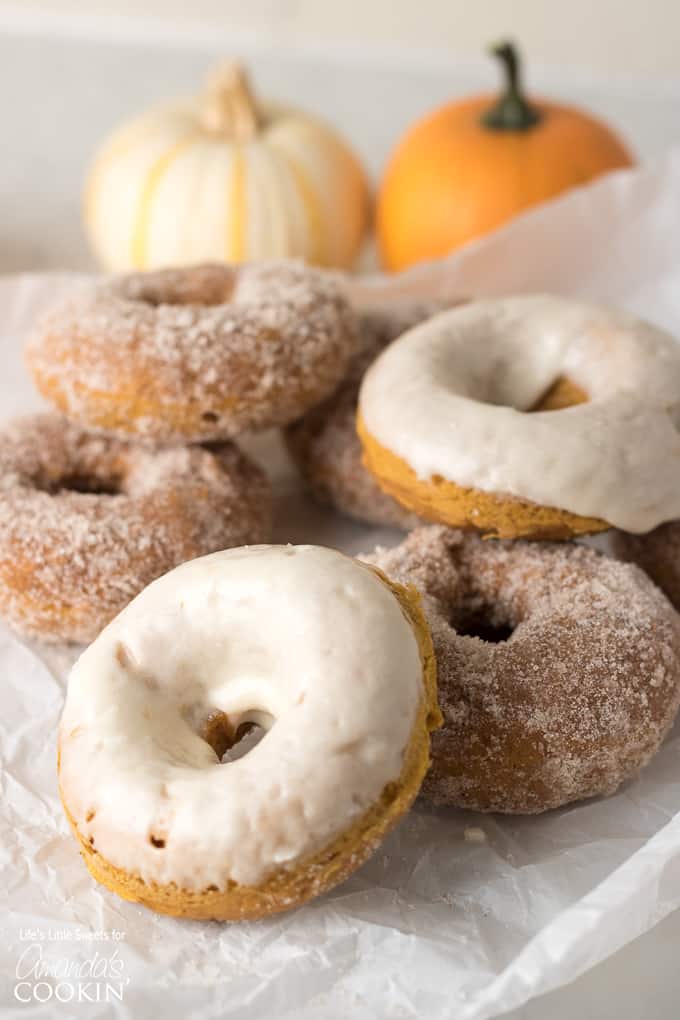 Pumpkin Spice Donuts
Hi Everyone, I have the perfect Autumn breakfast or snack for you: Pumpkin Spice Donuts! They are so good when made fresh and enjoyed with some coffee or tea. These delicious and moist, cake donuts are baked, not fried.
I have been getting requests to make this recipe from my daughter who loves donuts. Both my husband and daughter love the pumpkin spice mix – sugar coating (as do I). I also love the flavor of the maple glaze frosting. I wanted to give those two options for topping these donuts just in case you prefer one versus another – or both. You can cut the coating recipe in half if you need to.
RELATED: You may also love these Apple Cider Donuts – topped with a cinnamon sugar mixture, donuts don't get much better than this!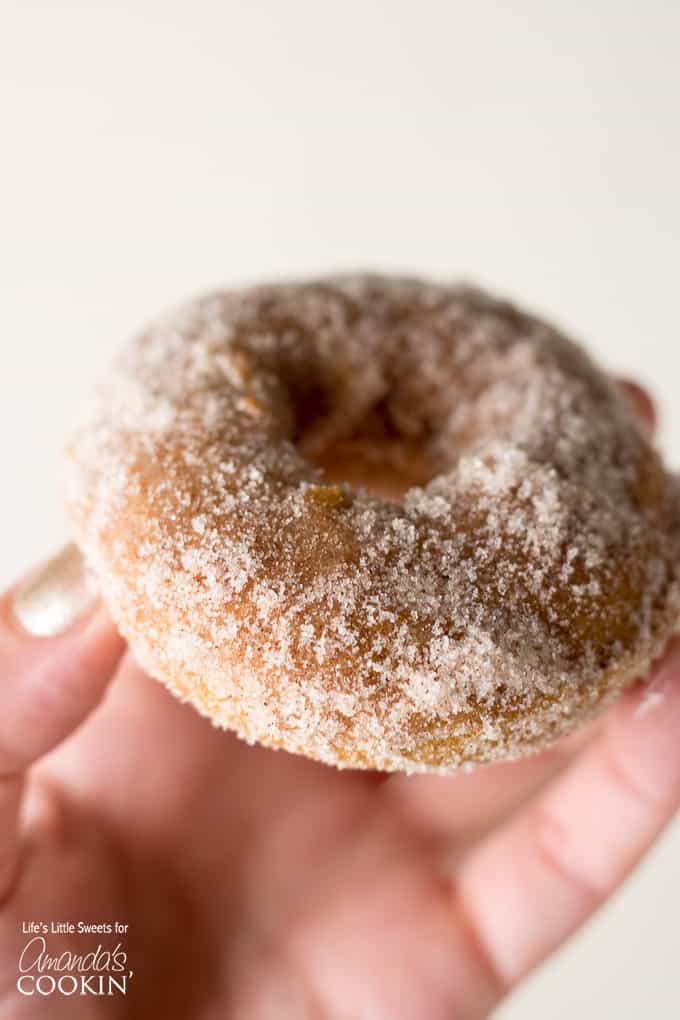 Ingredients for Pumpkin Spice Donuts
Pumpkin Spice Donut batter:
2 cups all-purpose flour
1/2 cup dark brown sugar
1 1/2 teaspoons baking powder
1 1/2 teaspoons pumpkin spice mix
1/2 teaspoon Kosher salt
1/4 teaspoon baking soda
1 cup pumpkin puree
2 large eggs
1/4 cup whole milk
1/4 cup unsalted butter, melted and cooled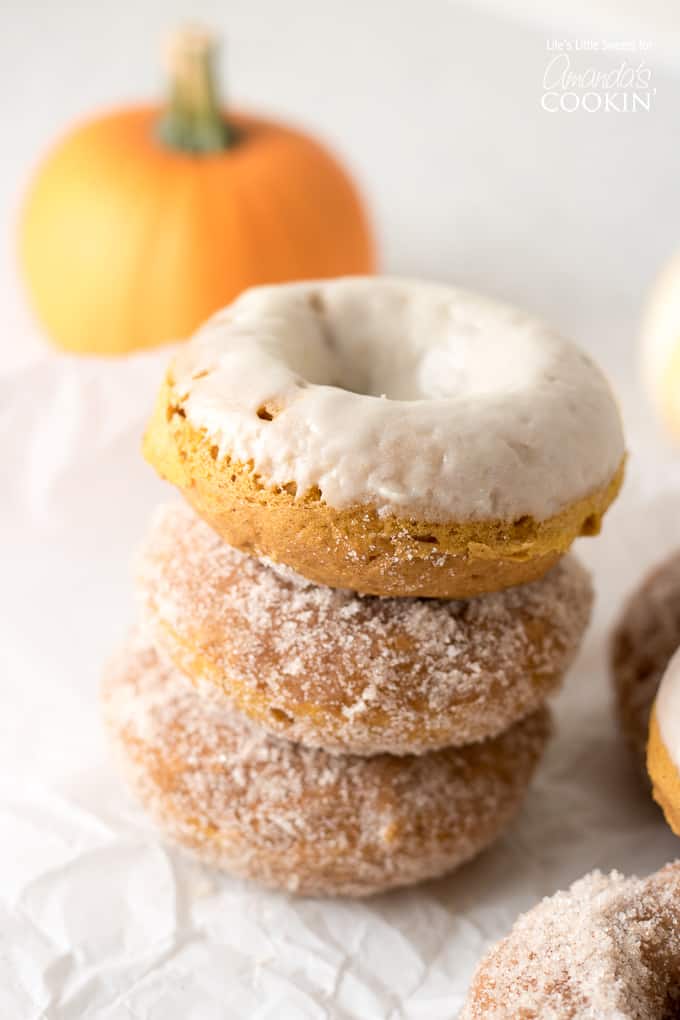 Maple Glaze (for 12-13 donuts)
1 1/2 cups confectioner's sugar
1/4 cup unsalted butter, melted and cooled
2 tablespoons 100% pure maple syrup
2-3 tablespoons water
1 teaspoon pure vanilla extract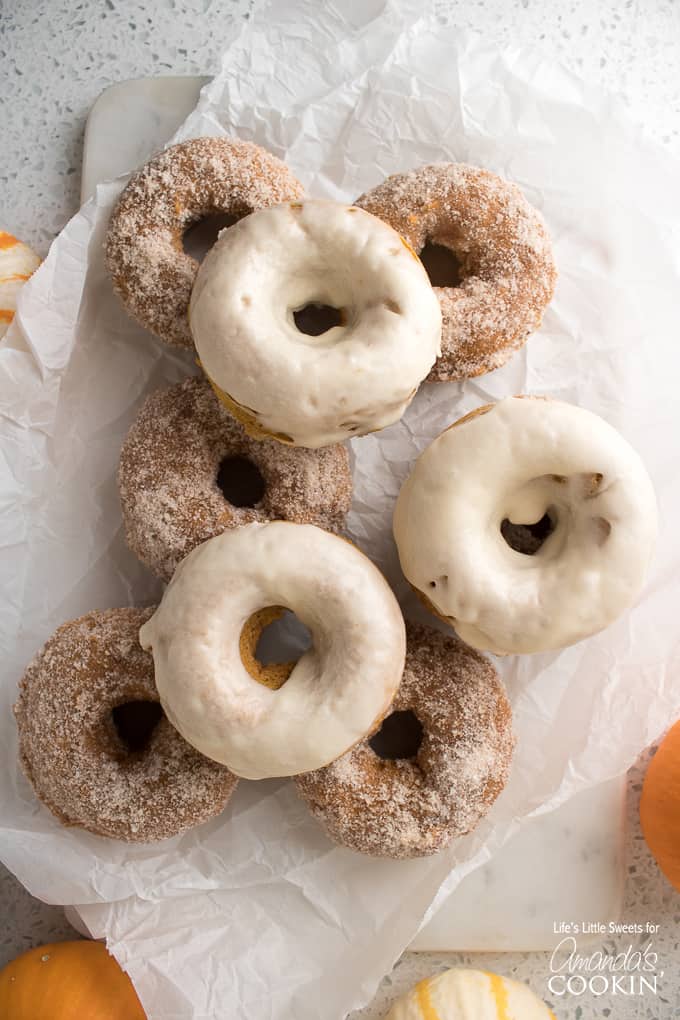 Sugar – Pumpkin Spice Coating (for 12-13 donuts)
1 cup sugar
1 teaspoon pumpkin spice mix
In a separate bowl: 1/4 stick unsalted butter

Helpful Kitchen Tools for Pumpkin Spice Donuts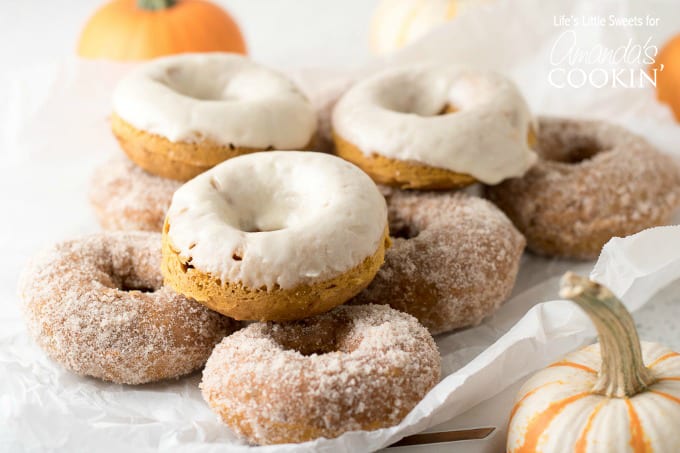 You can save time by using store-bought pumpkin spice mix or using my recipe (linked above). I also suggest not over-mixing the donut batter to avoid making the donuts tough – mix until just combined.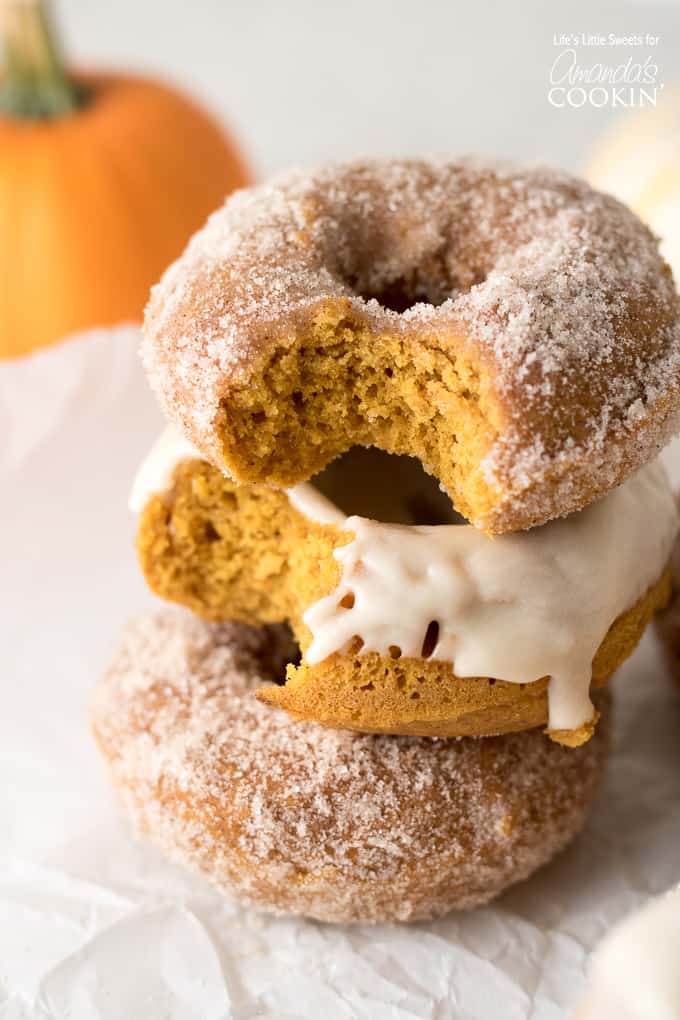 I know you will love these Pumpkin Spice Donuts! If you're looking for more delicious pumpkin spice recipe ideas, check out these Pumpkin Hand Pies, which also pair beautifully with a cup of coffee for either breakfast OR dessert. This Pumpkin Cobbler is another solid choice for pumpkin flavored goodness. It's a recipe that everyone will love! Lastly don't miss our Perfect Pumpkin Pie recipe, it's a holiday tradition in our house.