I'm on a skinny kick these days. It's all part of an ongoing everything-in-moderation campaign I have with myself. It really just means I'm disguising healthy ingredients in the form of indulgently-familiar dips, dressings, and deli salads. But, with one requirement…the dish must absolutely, positively taste good, or I'm out! So, check out this easy, creamy, rich-tasting, Skinny French Onion Dip recipe.

Skinny French Onion Dip Recipe
There are so many things to love about this dip recipe!
Made with mostly nonfat Greek yogurt, so you're getting protein that you won't get from a mayo-based, french onion dip.
Takes 5 minutes to make this dip…five minutes!
You're in control of your ingredients and you can avoid added sugars, salt, msg, and unnecessary calories or fat that you might expect from a pre-packaged dip.
Besides the yogurt and touch of mayo used in this recipe, the other ingredients are likely in your pantry.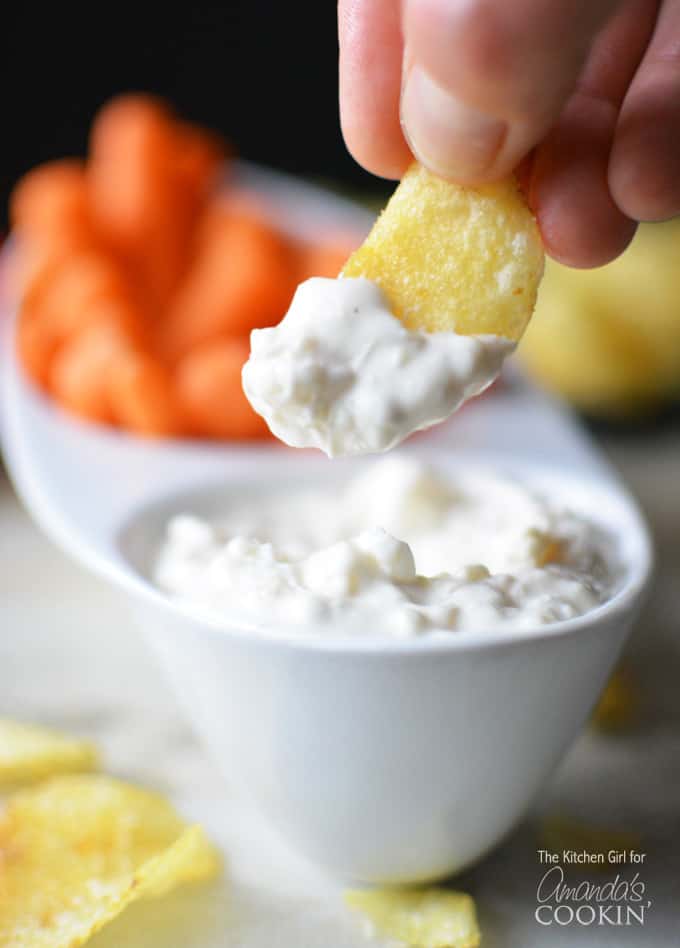 Ingredients you will need
1 cup nonfat Greek yogurt
1-2 tablespoons mayonnaise (optional)
2 tablespoons dried onion flakes
Dash Worcestershire sauce
Salt and black pepper, to taste
Tools I use for this recipe
For more warm-weather recipe ideas using nonfat Greek yogurt as a healthy substitute, check out my Turkey Waldorf Salad and my Avocado Ranch Dressing recipes.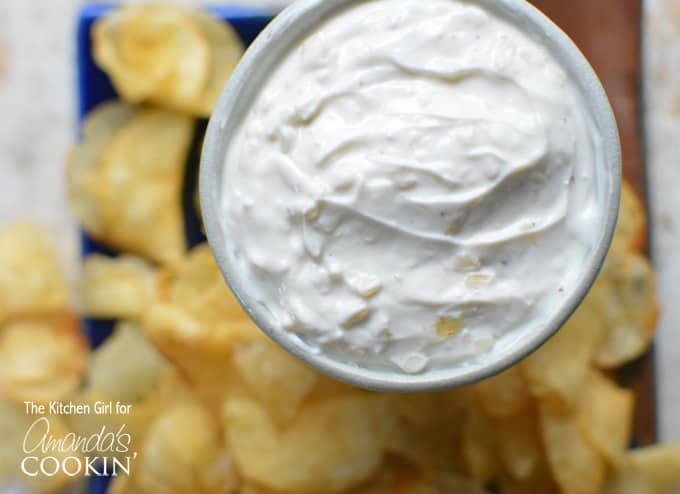 This Skinny French Onion Dip recipe has been tried and tested on many occasions with multiple people. The results? Boom, always a hit! You can make this recipe a day or two in advance for any occasion, including picnics, dinner parties, lunch boxes, sandwich spreads, tailgating appetizers. The sky's the limit! Did I mention it only takes 5 minutes to make?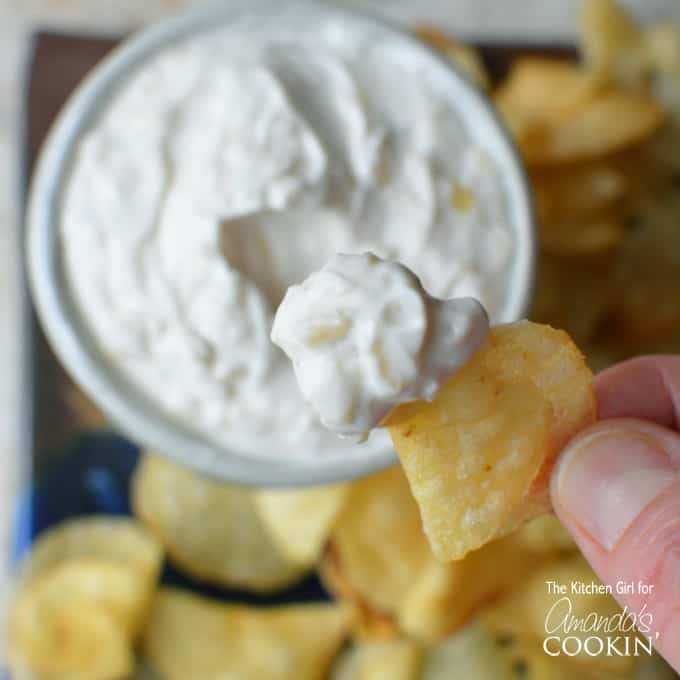 Cheers to your (hopefully) new favorite skinny dip!
Scroll down for the printable version of this recipe
Looking for another tasty dip option? This Creamy Onion Dip is a great choice. Pair it with potato chips or veggies, it's good either way!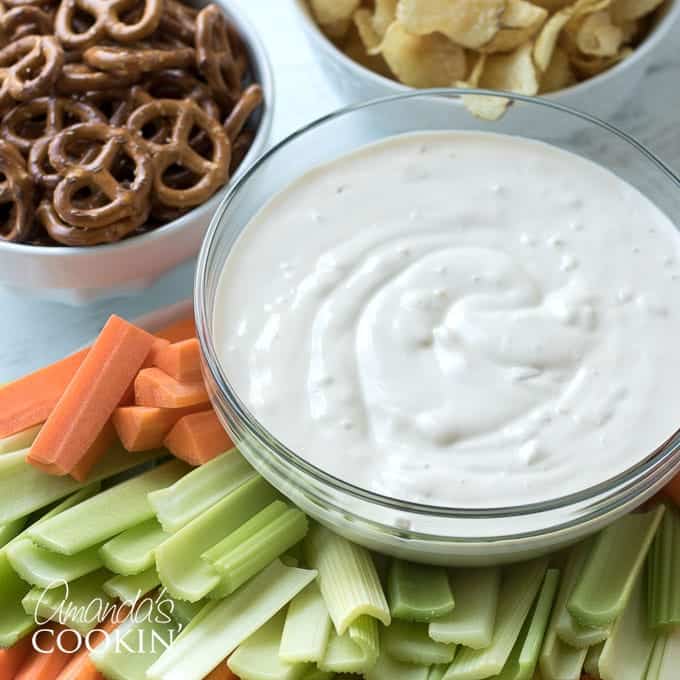 This Ricotta Spinach Dip is served warm inside a bread bowl. It uses light ricotta cheese and shredded parmesan cheese for a different kind of spinach dip!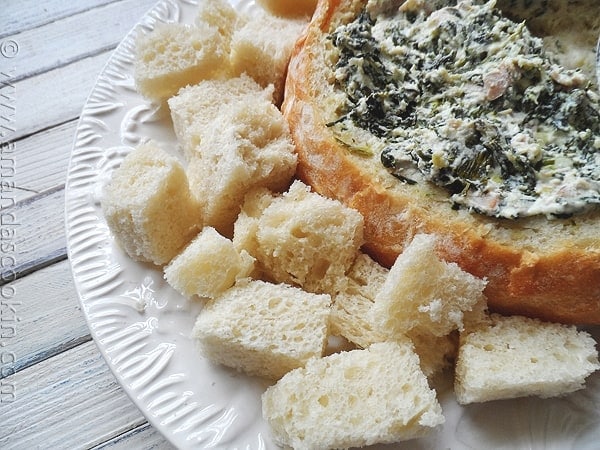 Mozzarella and parmesan cheeses are combined to make this Cheesy Pesto Dip. Great for crunchy, raw vegetable trays!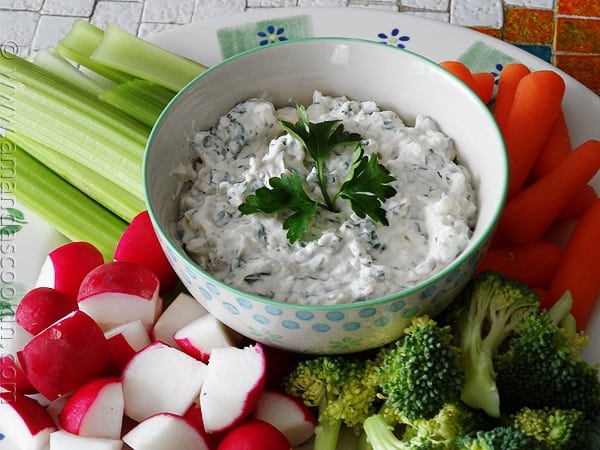 Another spread idea is this delicious Sun-dried Tomato Pesto. Perfect for pasta or spreading on sandwiches.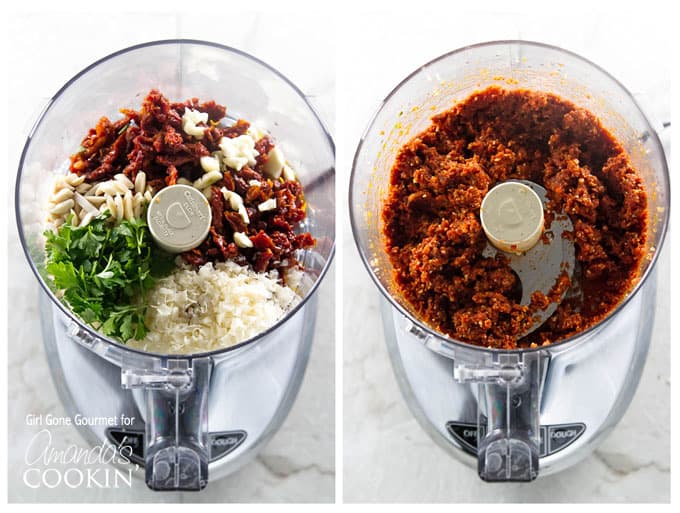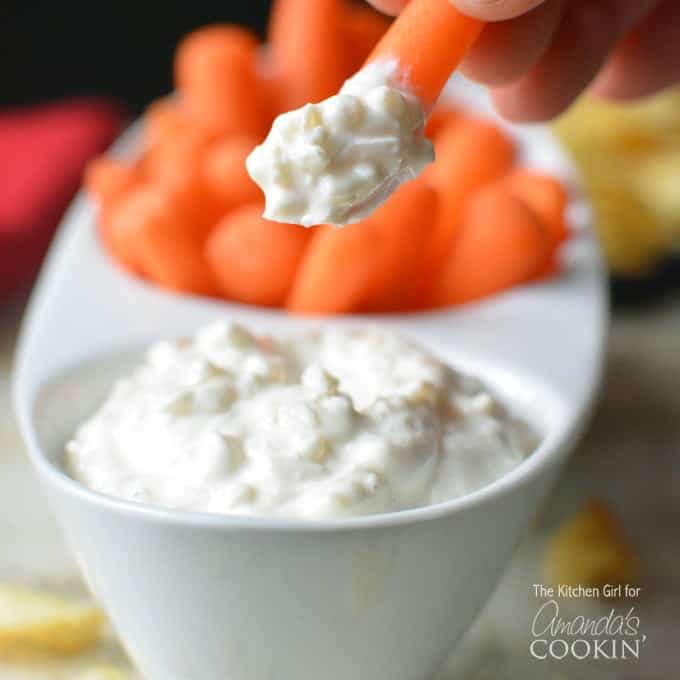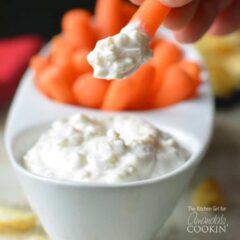 Skinny French Onion Dip
IMPORTANT - There are often Frequently Asked Questions within the blog post that you may find helpful. Simply scroll back up to read them!
Print It
Rate It
Ingredients
1

cup

nonfat Greek yogurt

1-2

tablespoons

mayonnaise

optional

2

tablespoons

dried onion flakes

Dash Worcestershire sauce

Salt and black pepper

to taste
Instructions
In a mixing bowl, whisk together yogurt, mayonnaise, dried onion flakes, Worcestershire sauce, salt, and pepper.

Cover and refrigerate at least 2 hours; serve chilled.
Traci authors The Kitchen Girl® food blog, where busy people on a budget grow smart food habits. She advocates eating for wellness as a lifestyle, offering healthy kitchen tips and everyday, whole food recipes that won't break your wallet...or your palate. She loves her job...even the 'dishes' part.
Latest posts by Traci Antonovich (see all)