It's all th flavors of Boston Cream Pie in a cute little stuffed cupcake!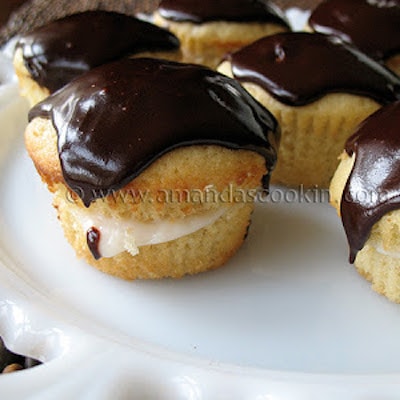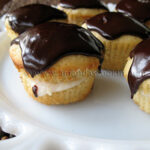 I love Boston Cream Pie, but sometimes making smaller, hand held portions is better. Such is the case when you have kids, and your kids have friends. After all, I'm not cooking and baking for a barrage of guests at a dinner party. What I make satisfies the hunger pangs (or as in this case, the sweet tooth) of those between the ages of 12 and 19. That means not everything has to have sprinkles, nor does it have to be baked with the addition of rum or something exotic. These Boston Cream Cupcakes are a perfect middle ground that satisfies both kids and adults alike.
While these perfect little cakes are great for portion control, be careful. You might find yourself indulging in more than just one! The cake alone is nothing spectacular, a plain jane of sorts. But when paired with homemade vanilla filling and topped with a decadent chocolate ganache, it's the perfect cake for the job. Not too sweet and without any competing flavors.
I've made these two ways. One with a small amount of filling done through a hole in the top of the cake, and another version with the top sliced off and considerably more filling spread inside. Whether you like a lot or a little, these cupcakes are delicious.
FILLING NOTE: I used my homemade vanilla pudding mix. The recipe is at the bottom of the post linked at left. I measured 1/2 cup of mix and 1 1/2 cups of milk with 1 tablespoon of vanilla extract. However, you CAN use a 3-oz package of Cook & Serve vanilla pudding and  1 1/4 cups milk. After cooking, add in 1/2 tsp vanilla extract.
I have also provided the measurements below in the filling section to make enough homemade pudding mix for use in this cupcake recipe alone.
Boston Cream Pie Cupcakes 
adapted from Woman's Day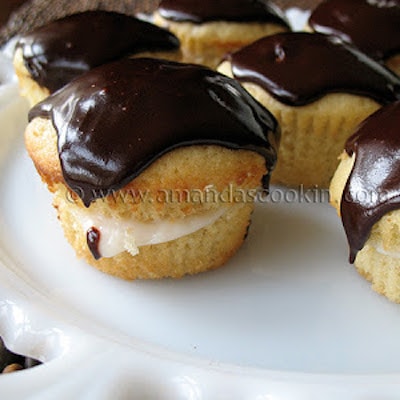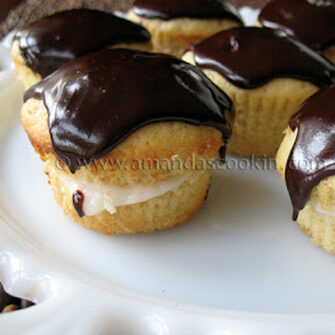 Boston Cream Pie Cupcakes
It's all th flavors of Boston Cream Pie in a cute little stuffed cupcake!
Print
Rate
Ingredients
Cupcakes
2 1/2

cups

all-purpose flour

3/4

tsp

baking soda

1/2

tsp

each baking powder

1/2

tsp

salt

3/4

cup

1 1/2 sticks unsalted butter, softened

1 1/4

cups

sugar

3

large eggs

2

tsp

vanilla extract

1

cup

buttermilk
Filling
3

tablespoons

dry milk powder

1/4

cup

sugar

pinch

salt

3

tablespoons

of cornstarch
OR
1/2

cup

homemade vanilla pudding mix

recipe toward bottom of linked page

or see substitution note above
Plus
1 1/2

cups

milk

1

tablespoon

vanilla
Chocolate Glaze
8

oz

semisweet chocolate

chopped

1/3

cup

sugar

1/3

cup

water

3

Tbsp

unsalted butter

cut into small pieces
Instructions
Cupcakes
Heat oven to 350 F and line 18 muffin cups with paper liners.

In a bowl, whisk flour, baking soda, baking powder and salt until blended.

Beat butter and sugar in a large bowl with electric mixer until light and fluffy, about 2 minutes. Add eggs, one at a time, until well blended. Beat in vanilla extract.

With mixer on low speed, alternately beat in flour mixture and buttermilk, beginning and ending with flour mixture, until just blended.

Spoon about 1/4 cup batter into each muffin cup. Bake 18 to 20 minutes until wooden pick inserted in center comes out clean. Cool 5 minutes; remove from pan to wire rack to cool completely.
Filling
Whisk together dry filling ingredients or homemade pudding mix and milk in a heavy bottomed saucepan. Cook over medium heat, stirring often, until thickened. Remove from heat and stir in vanilla. Scrape into a bowl; cover surface directly with plastic wrap and refrigerate until cold.
Glaze
Place chocolate, sugar and water in a small saucepan over low heat. Cook, stirring, until melted and smooth, about 3 minutes. Remove from heat; stir in butter until it melts and mixture is smooth. Let cool.
To Fill
Use a cake decorating tip (I used a Wilton 230) to make holes in the cupcakes as shown. Then fill the holes, using the same tip and decorator bag. Smooth the top with the back of a spoon before adding ganache.

Alternatively, for more filling and to appear more like a true Boston Cream Pie, slice the top off of the cupcake and spread about a tablespoon of pudding onto the cake, then replace the top.

The first method of filling is less messy and a better alternative for smaller kids.
Glazing
Add about a tablespoon or so of ganache to the top of the cupcake. Allow it to spread, add more or help it along by spreading the ganache across the top a bit.
---
Did you enjoy this post? Why not subscribe to my feed, or better yet, to my free newsletter – Foodie in the Craftroom, which provides not only recipes but crafts from my other blog, Crafts by Amanda too!
---
NEW! Be sure to subscribe to my newsletter, Foodie in the Craftroom, to receive updates and tips from both Amanda's Cookin' and Crafts by Amanda! Visit https://amandascookin.com/p/subscribe-to-newsletter.html
Amanda Formaro is the crafty, entrepreneurial mother of four grown children. She loves to bake, cook, make kid's crafts and create decorative items for her home. She is a crafting expert and guru in the kitchen and has appeared online and in print publications many times over the years. She is also a craft book author five times over and product developer as well as the owner of
FunFamilyCrafts.com
. You can find her on social media by using the buttons to the left!
Latest posts by Amanda Formaro (see all)