This one-pan no bake blueberry cheesecake is made with Mascarpone cheese, making it a decadent and delicious dessert with fresh blueberries and tart lemon curd. Enjoy this zesty and flavorful one-pan dessert for your next party, potluck or holiday!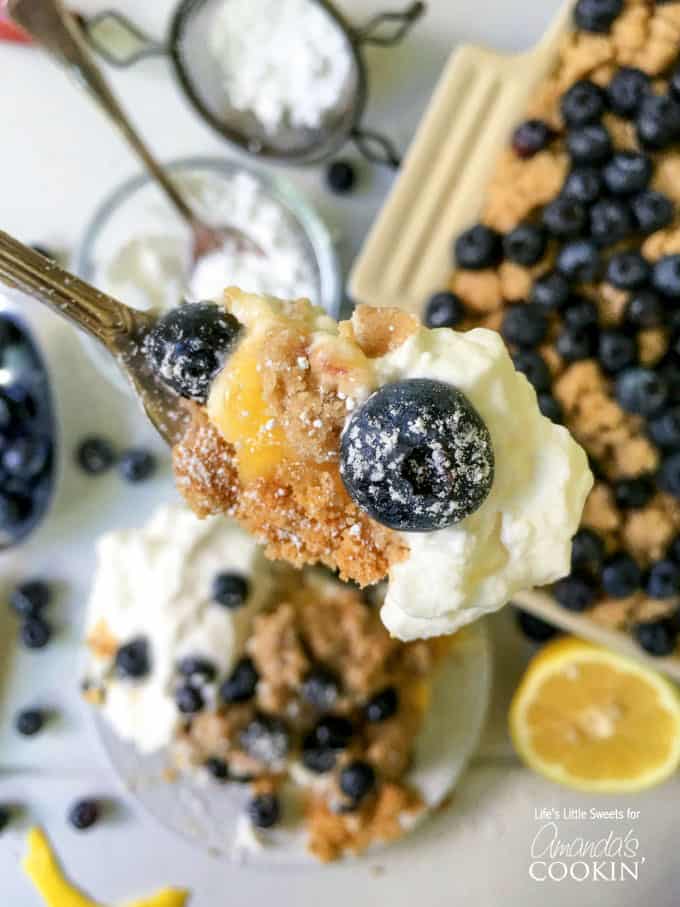 One-Pan No Bake Blueberry Cheesecake
I have been thinking about my No Bake Mason Jar Berry Cheesecake Trifle recipe and wanted to make a version of it into a one-pan dish using fresh, in season blueberries and zesty lemon curd. Lemon and blueberry marry well together, and combining them in a creamy no bake cheesecake makes for a refreshing summer dessert. But where does the crumble part come from? I adore coffee cake with lovely crumbles on top. That got my wheels turning and I decided to combine my love of coffee cake crumble with decadent cheesecake.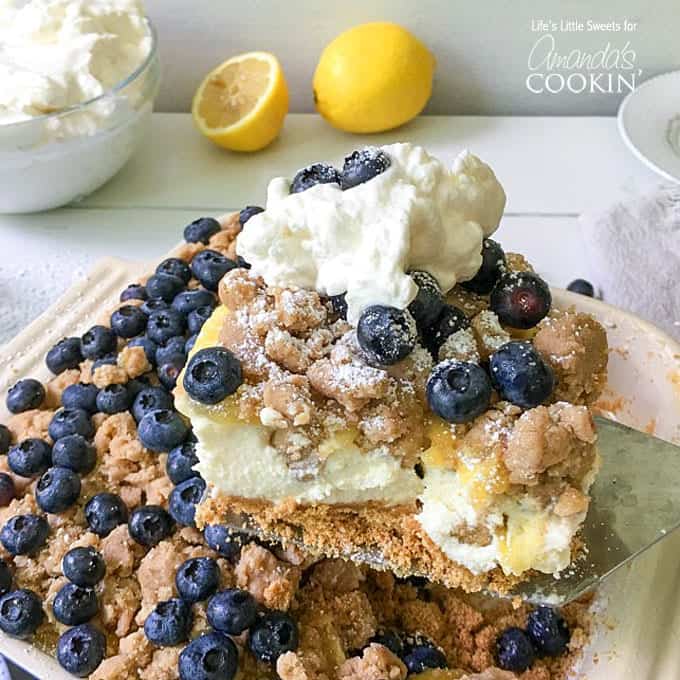 If crumb topping isn't your thing, that layer can be skipped and you still have a complete, one-pan no bake dessert that is delicious and satisfying. For those of you who don't mind (i.e. all those cookie dough lovers out there!), you will love the extra texture and rich, brown sugar flavor it provides.  Another favorite of mine, Mascarpone is lightly sweet and very smooth which lends itself very well to this no bake blueberry cheesecake.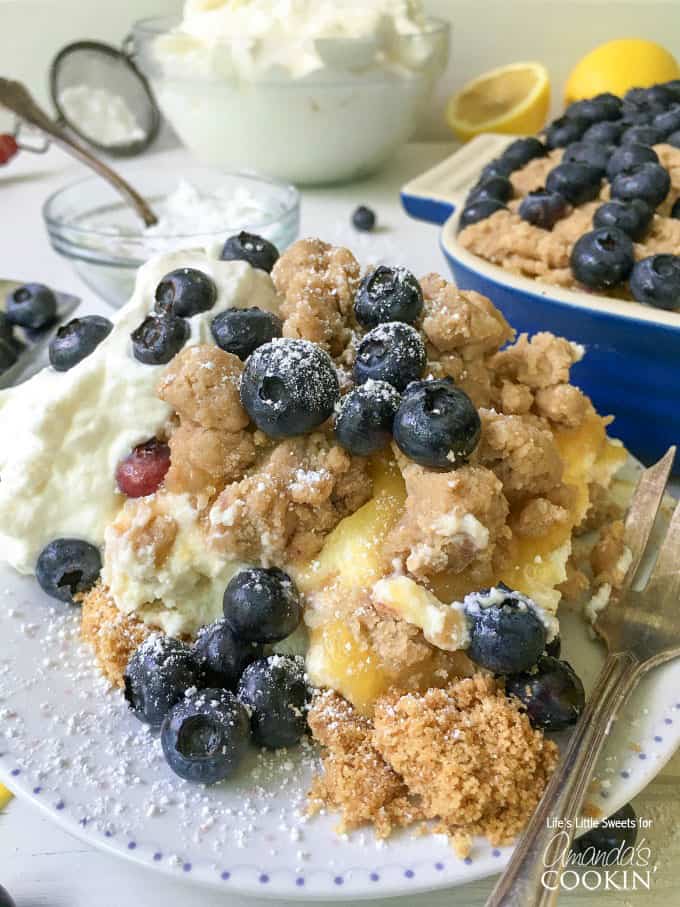 Ingredients you will need:
This no bake blueberry cheesecake can be broken down into a series of layers as follows, bottom to top:
Crust Layer
2 packages of regular graham crackers (5 ounces each package, 10 ounces total)
5 tablespoons of butter, melted and cooled (can substitute coconut oil in the same amount)
No Bake Cheesecake Layer
16 ounces Mascarpone cheese (can substitute 2-8 ounce packages regular cream cheese), room temperature
1-14 ounce can of sweetened condensed milk
1/4 cup fresh, squeezed lemon juice
1 teaspoon vanilla extract
Lemon Curd Layer
5 ounces (about 1/2 of a 10 ounce jar) lemon curd either homemade or store bought (I used store bought for this recipe), room temperature so that it's spreadable
Crumble Layer
1/2 cup dark brown sugar
1-1/4 cups all-purpose flour, plus more if needed, to form large crumbs
1/2 cup coconut oil or same amount unsalted butter, melted and cooled to room temperature
Toppings Layer
1 package (1 pint) fresh, washed & dry blueberries
1 recipe Vanilla Whipped Cream
Lemon peel for garnish
1-2 tablespoons confectioner's sugar, to dust *optional
There are affiliate links in this post. That means if you buy something from that link, I will earn a small commission, but it won't cost you anything additional.

Kitchen tools you will find useful:
I hope you enjoy this no bake blueberry cheesecake as much as my family has been enjoying it!
SCROLL DOWN FOR THE PRINTABLE VERSION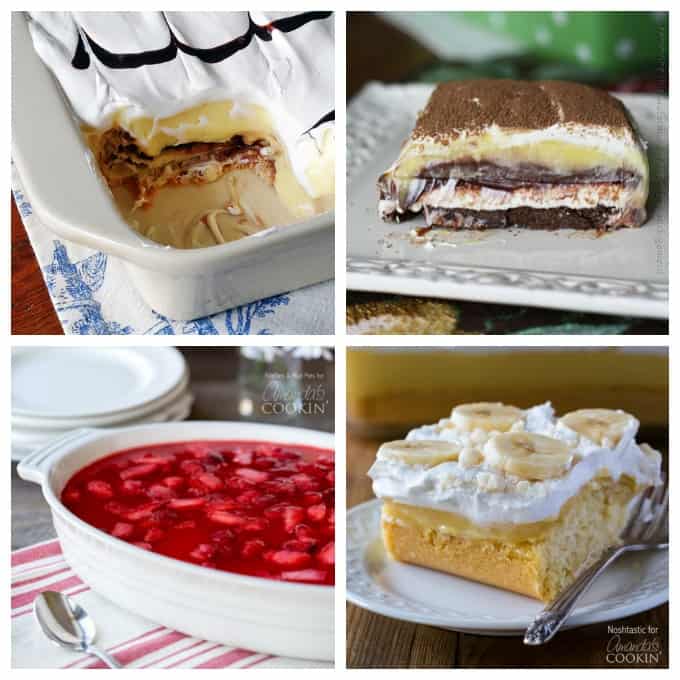 MORE DELICIOUS ONE-PAN POTLUCK DESSERT IDEAS
Want even more free recipes? Be sure to join my newsletter for FREE recipes and craft ideas sent to your email inbox every week.

Recipe Attribution
This recipe for One-Pan No Bake Blueberry Cheesecake was inspired by No Bake Blueberry Lemon Crumble Cheesecake and No Bake Mason Jar Berry Cheesecake Trifle