This Raspberry Coffee Cake is not an overly sweet coffee cake recipe, yet the delightfulness of the berries offsets a slightly dull cake and makes for a scrumptious morning wake-me-up! I love having a little bit of sweetness to accompany my morning coffee, and this turned out to be the perfect fit.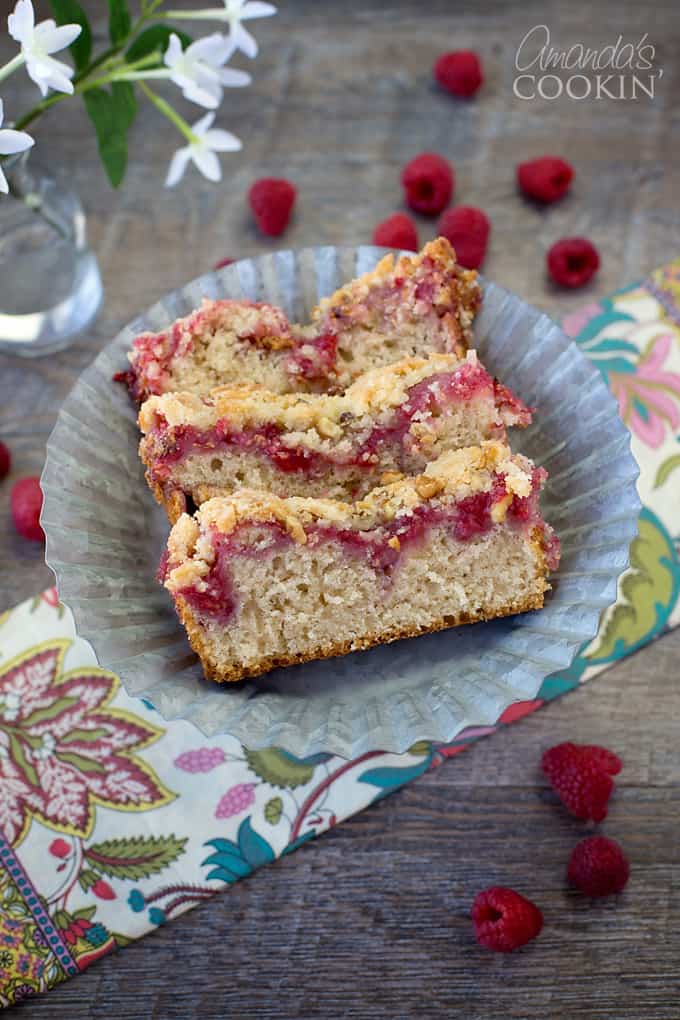 Raspberry Coffee Cake
I found this little gem of a recipe from The Taste of Home Cookbook
. It's a pretty subtle coffee cake recipe, but when you add your punch of flavor in with the delicious addition of raspberries, it transforms into a yummy morning cake.
My family and I really enjoyed this one. For some reason, in my household coffee cakes seem to disappear before you can blink an eye. It probably has to do with the fact that coffee cake does indeed look like a regular cake, which my kids are all over! You don't even have to mention to them that your baking something before they swarm you to ask you what your making and what time it's going to be done. I think they look at it as more of a dessert for breakfast kind of deal.
There are affiliate links in this post. That means if you buy something from that link, I will earn a small commission, but it won't cost you anything additional.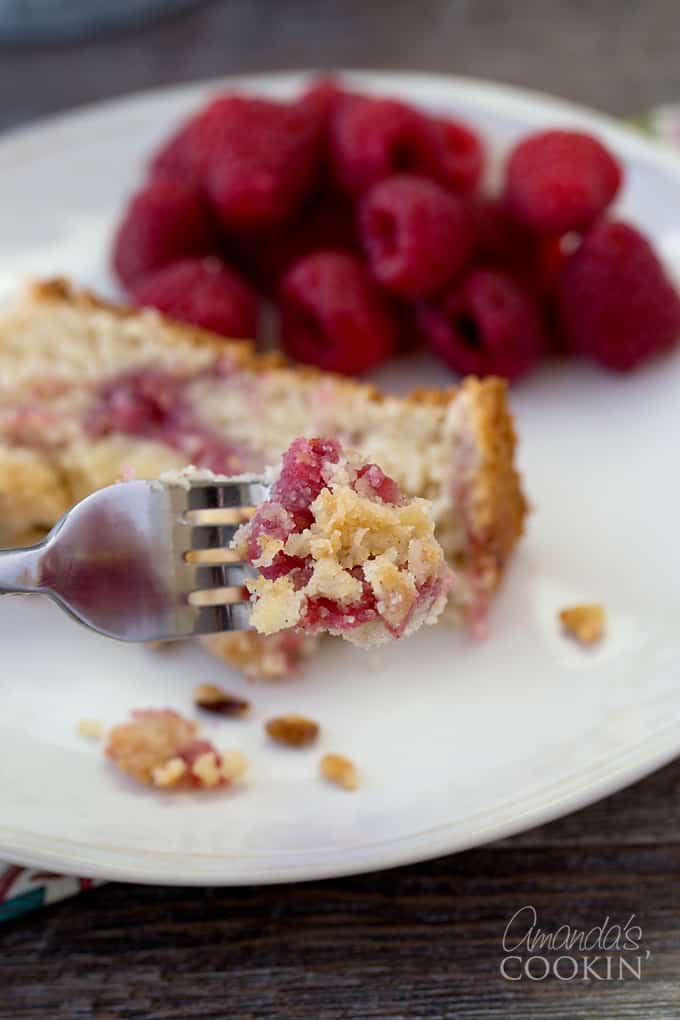 One or two slices of this filling breakfast cake kept my family and I full and energized until lunchtime!
FIND THE PRINTABLE VERSION OF THIS RECIPE BELOW

Raspberry Coffee Cake
(try it with other fruits instead of raspberries!)
1-1/2 cups all-purpose flour
1/2 cup sugar
1-1/2 teaspoons baking powder
1/2 teaspoon salt
1/2 teaspoon ground cinnamon
1/8 teaspoon ground mace, optional
1/2 cup cold butter
1 egg
1/2 cup 2% milk
1/2 teaspoon vanilla extract
FILLING:
1/2 cup sugar
2 tablespoons cornstarch
6 tablespoons water
1 cup fresh raspberries
1-1/2 teaspoons lemon juice
TOPPING:
1/3 cup all-purpose flour
3 tablespoons sugar
4-1/2 teaspoons cold butter
3 tablespoons chopped walnuts
TIP: I highly recommend planting your feet at the stove while cooking the fruit. It cooks quickly and will burn easily if not watched!
Helpful Kitchen Tools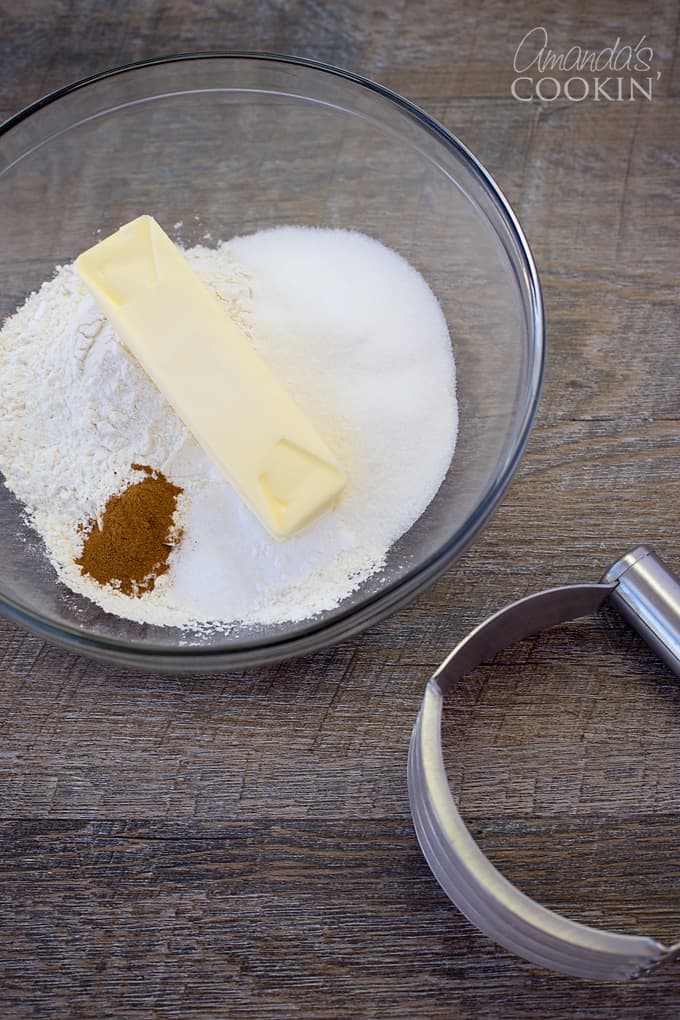 In a bowl, combine the first six ingredients. Cut in butter until mixture resembles coarse crumbs.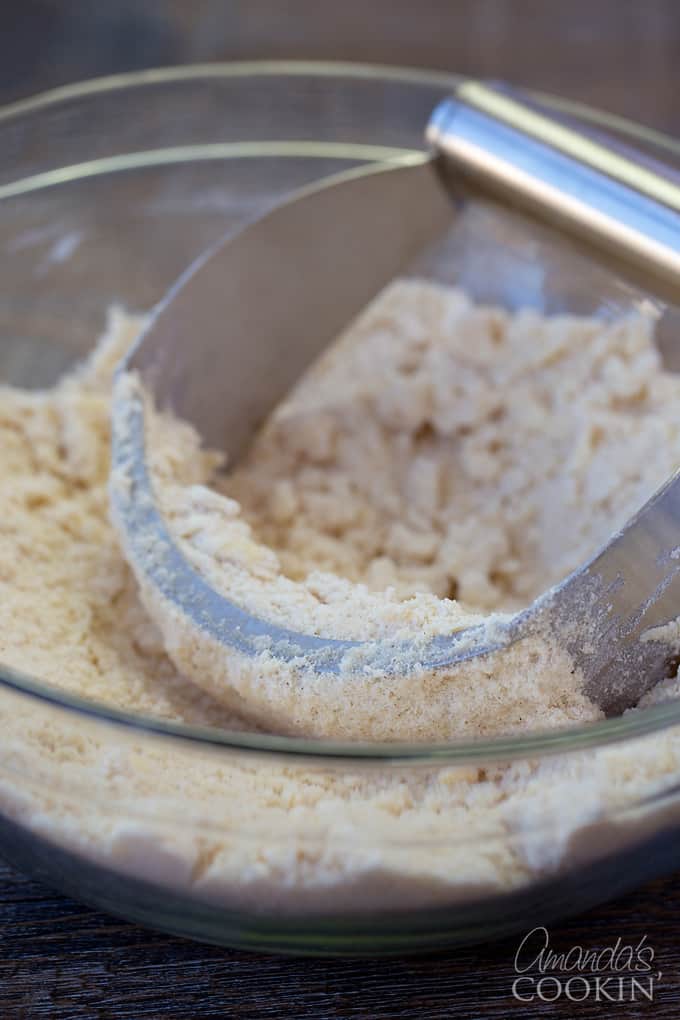 Whisk egg, milk, and vanilla; stir into crumb mixture just until moistened.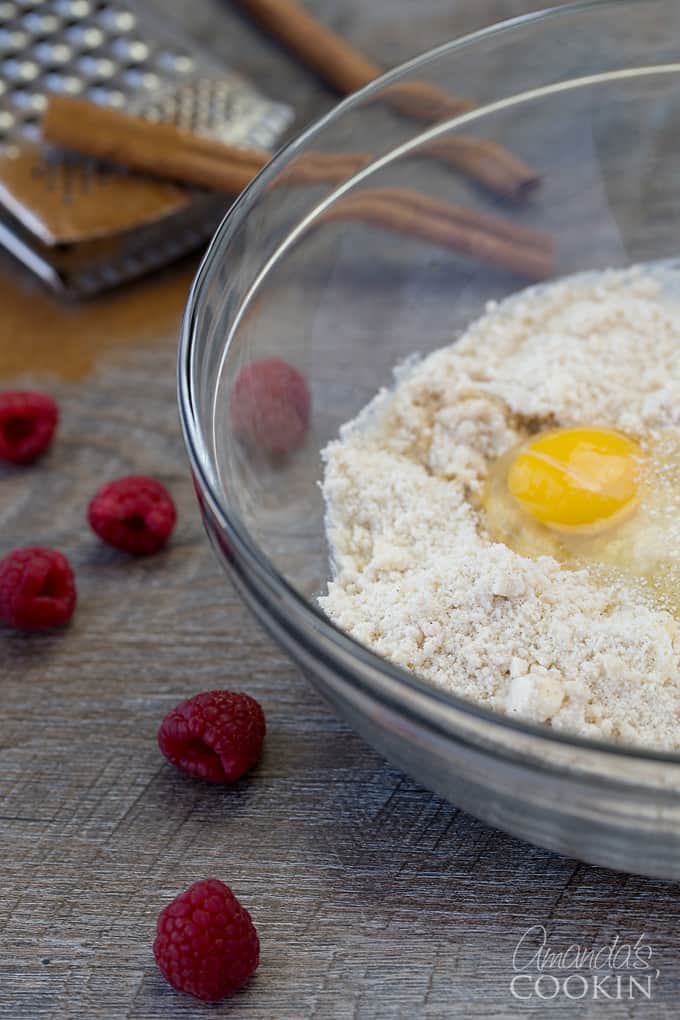 Spoon into a 9-in. x 5-in. loaf pan coated with cooking spray. In a small saucepan, combine sugar and cornstarch; stir in water until smooth. Add raspberries and lemon juice. Bring to a boil; cook and stir for 1-2 minutes or until thickened.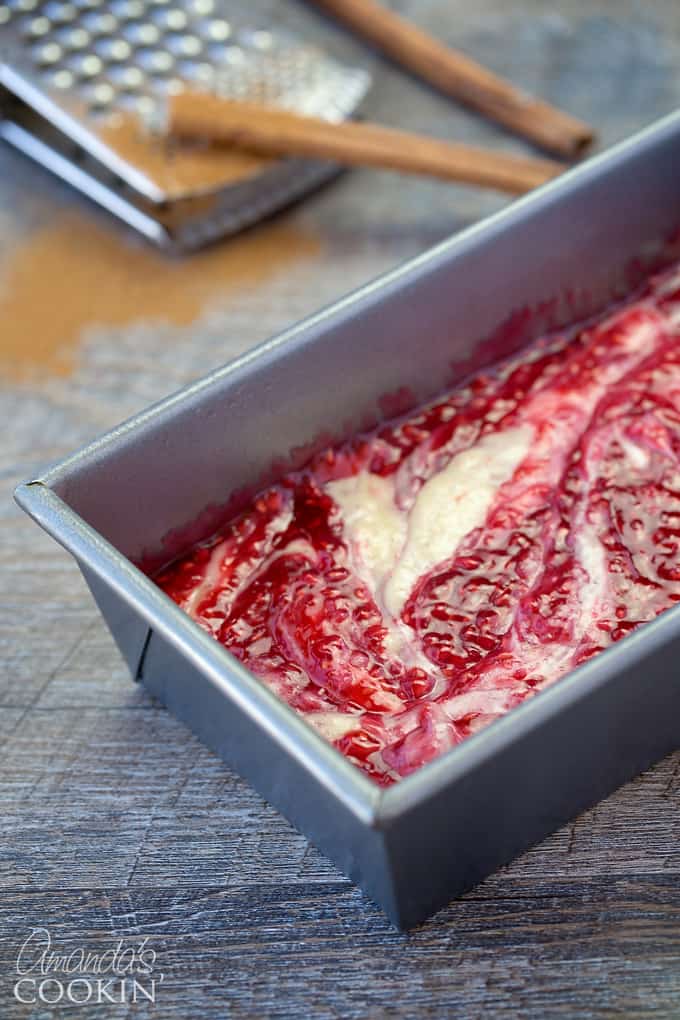 Pour over batter; cut through with a knife to swirl. In a small bowl, combine flour and sugar.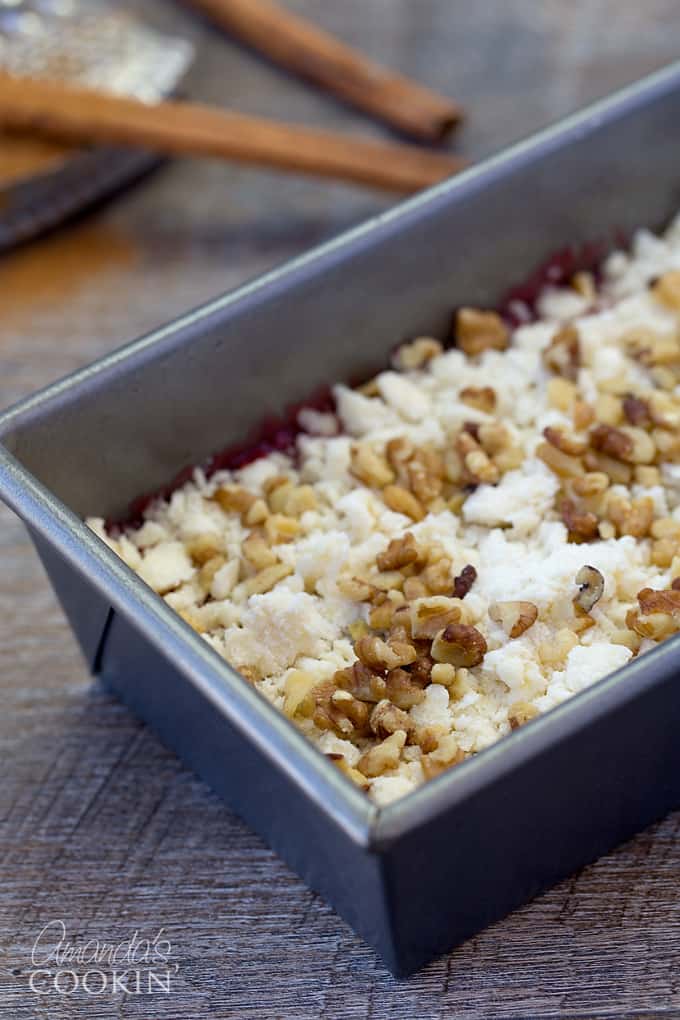 Cut in butter until crumbly. Sprinkle over batter; top with nuts.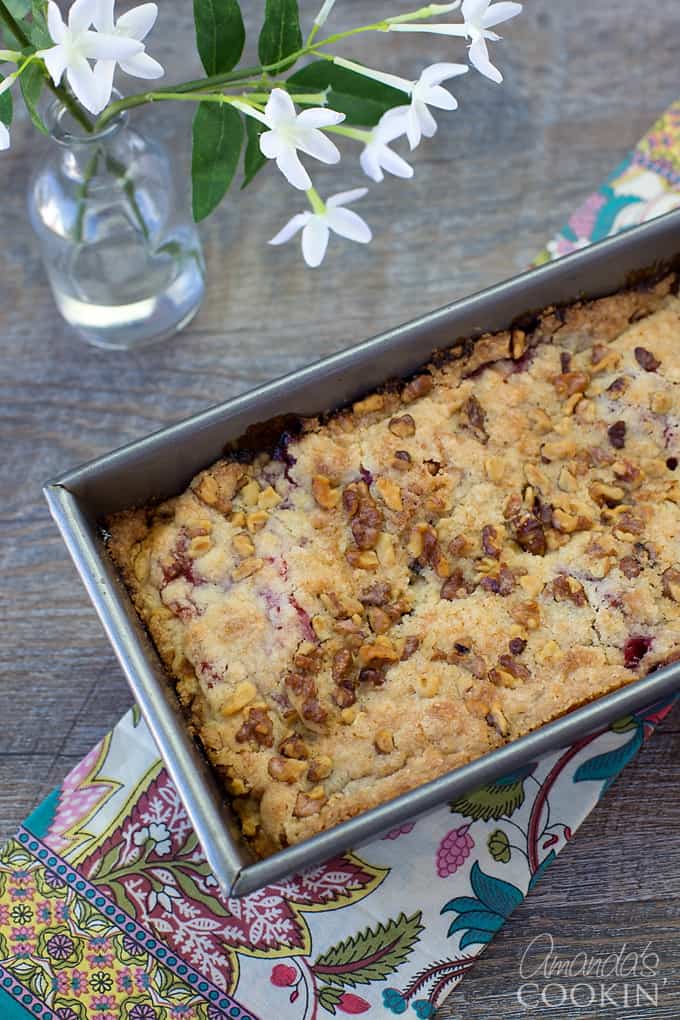 Bake at 350° for 35-40 minutes or until a toothpick inserted near the center comes out clean. Cool on a wire rack. Yield: 6 servings.
Doesn't it look amazing? The torturous smell of this raspberry coffee cake in the oven is SO worth the wait! I hope you and your families enjoy this delicious breakfast cake as much as we did. Have you mixed in other fruits in your coffee cakes? I've also made a Cherry Cream Cheese Coffee Cake, and let me tell ya… It was so yummy!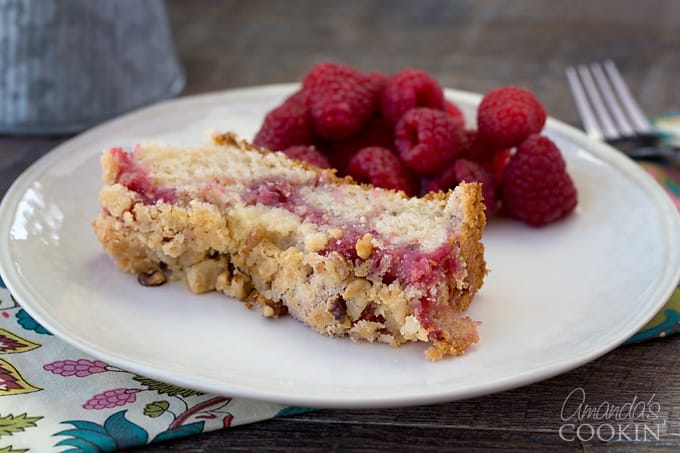 Check out more filling and super tasty breakfast ideas like these Baked Cake Donuts, this Cranberry Pumpkin Coffee Cake or this amazing Braided Blackberry Breakfast Danish. You won't regret trying these flavorful morning treats.
This post was originally published on this blog on Oct 10, 2008.