I love to cook and bake, and because of that, I've come across some of the best kitchen gadgets out there. The key to a good gadget is that it's useful and easy to operate. Today I'm sharing over 20 of my favorite, must-have kitchen gadgets to help you cook and bake.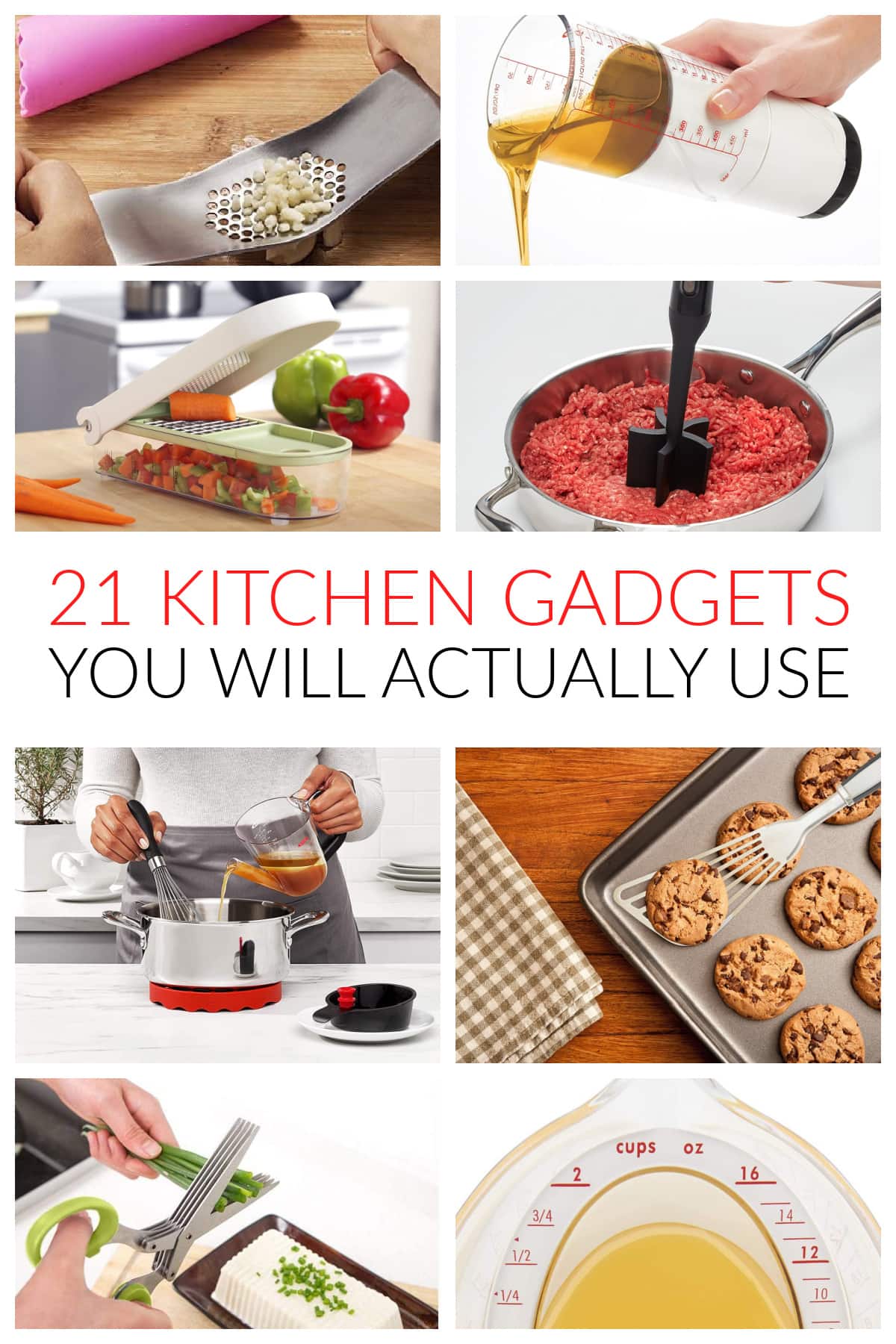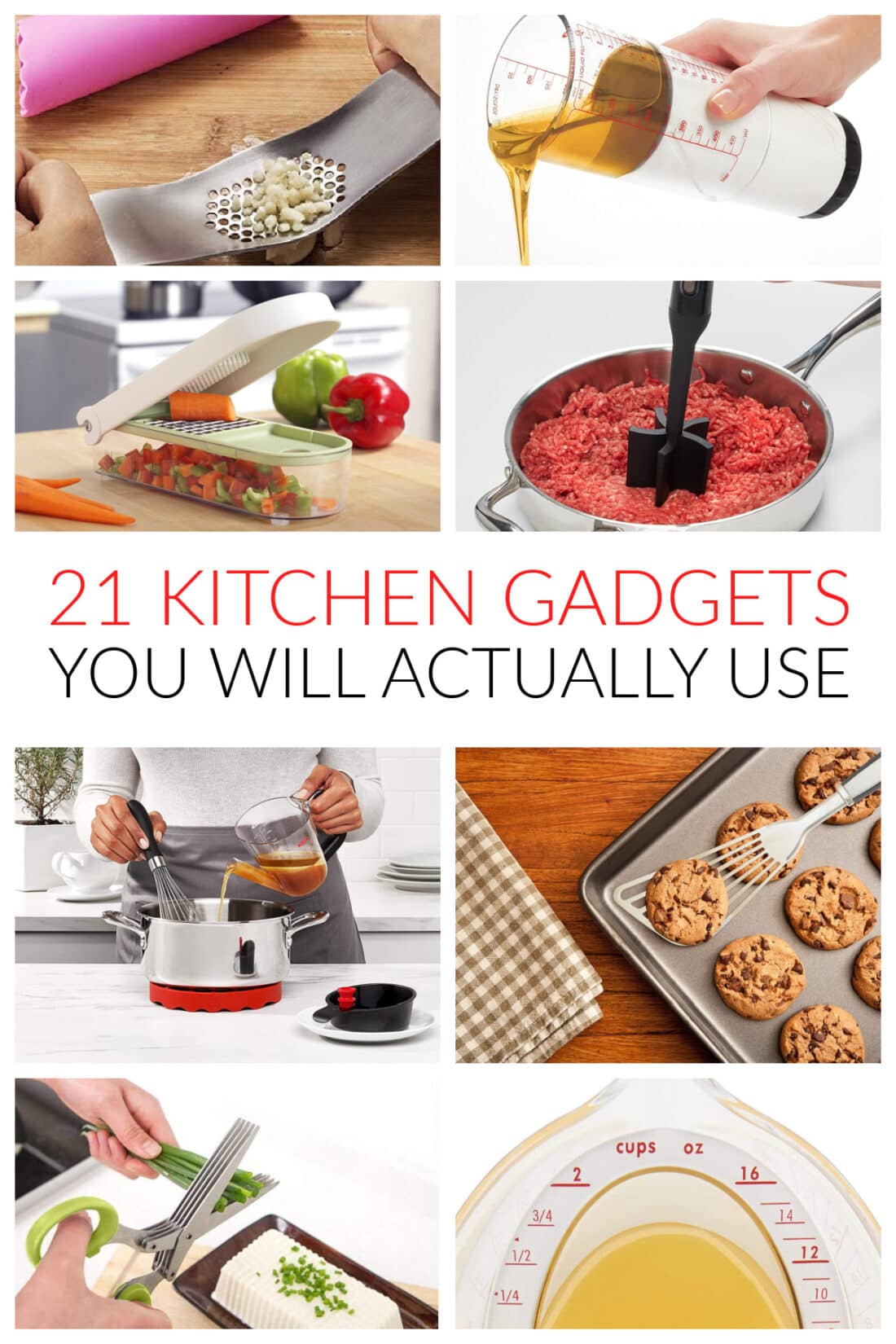 What kitchen gadgets do I need?
Kitchen gadgets tend to get a bad name because you buy them with every intention of using them, yet they live in the cabinet forever, never to see the light of day again.
This collection of helpful items are things you'll find yourself using over and over again. We aren't talking about big bulky, take up space on the counter type items. These are small but mighty and you'll be glad you picked them up!
For your convenience, I have included Amazon links below to the actual products that I use in my kitchen or you can find all of them here in my Amazon shop. I am an Amazon affiliate. If you buy something from one of my links, I will earn a small commission, but it will not cost you anything extra.
Cutting and Slicing
Whether you are cutting apart a chicken, slicing cheese, or cutting into a creamy cheesecake, here are some of my favorite ways to accomplish that task.
1. Knife Sharpener
This handy little sharpener has a comfortable grip, a safety guard for your fingers, and works surprisingly well for its modest appearance. You can run it through the dishwasher, the blades are reversible, it won't rust, and it comes with a lifetime warranty.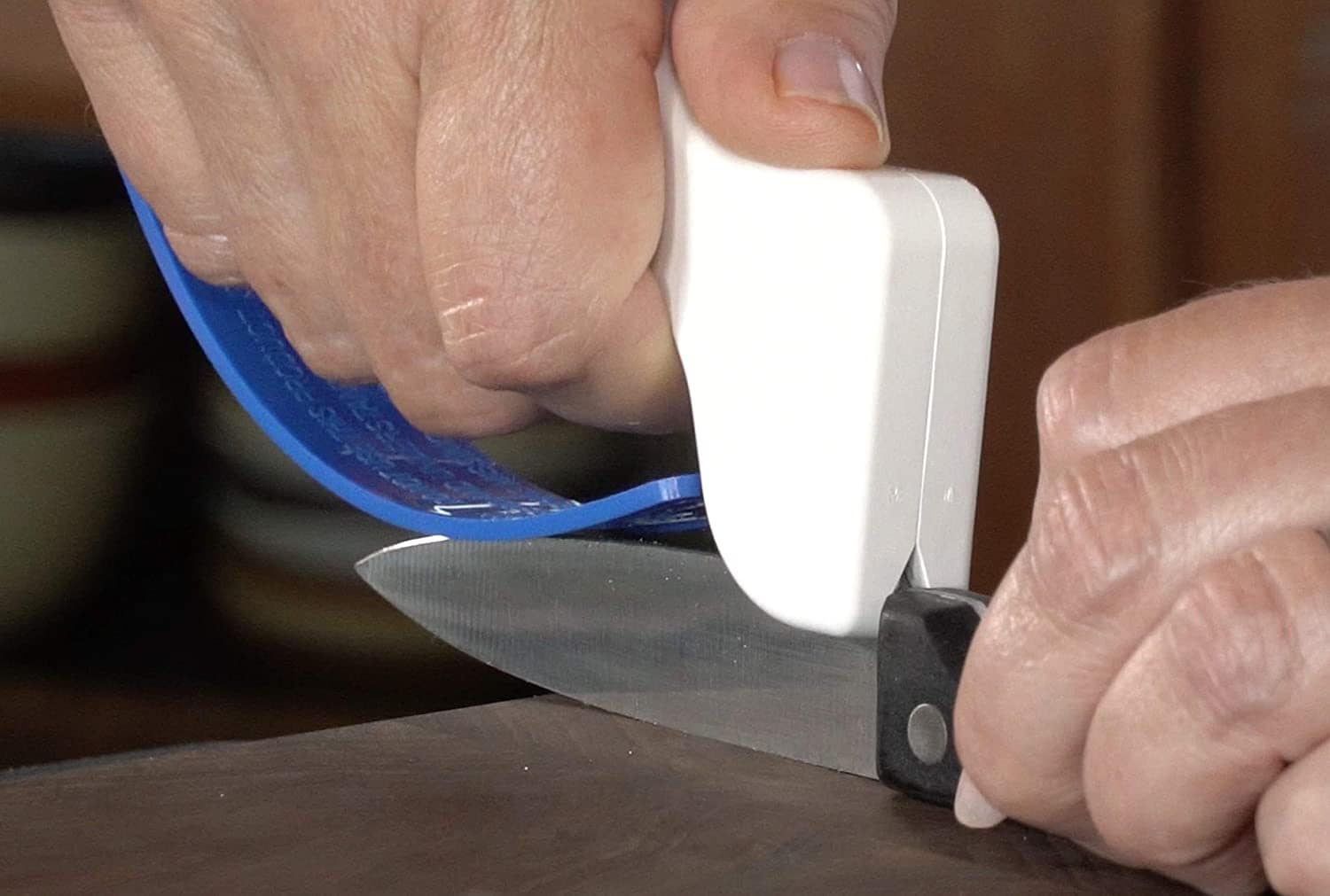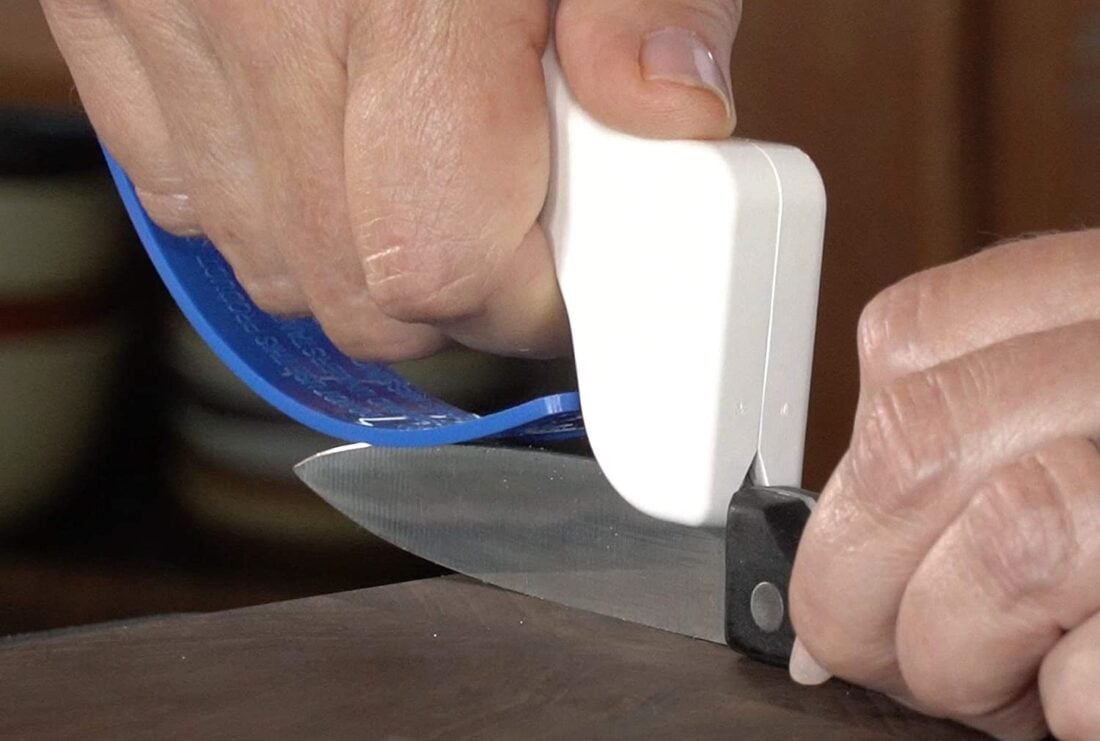 2. Kitchen Shears
Scissors made specifically for the kitchen are thicker and heartier than a standard pair of scissors. These shears will cut through meat as well as herbs. They come apart for easy cleaning, are rust-resistant, and come with a lifetime warranty and money back guarantee.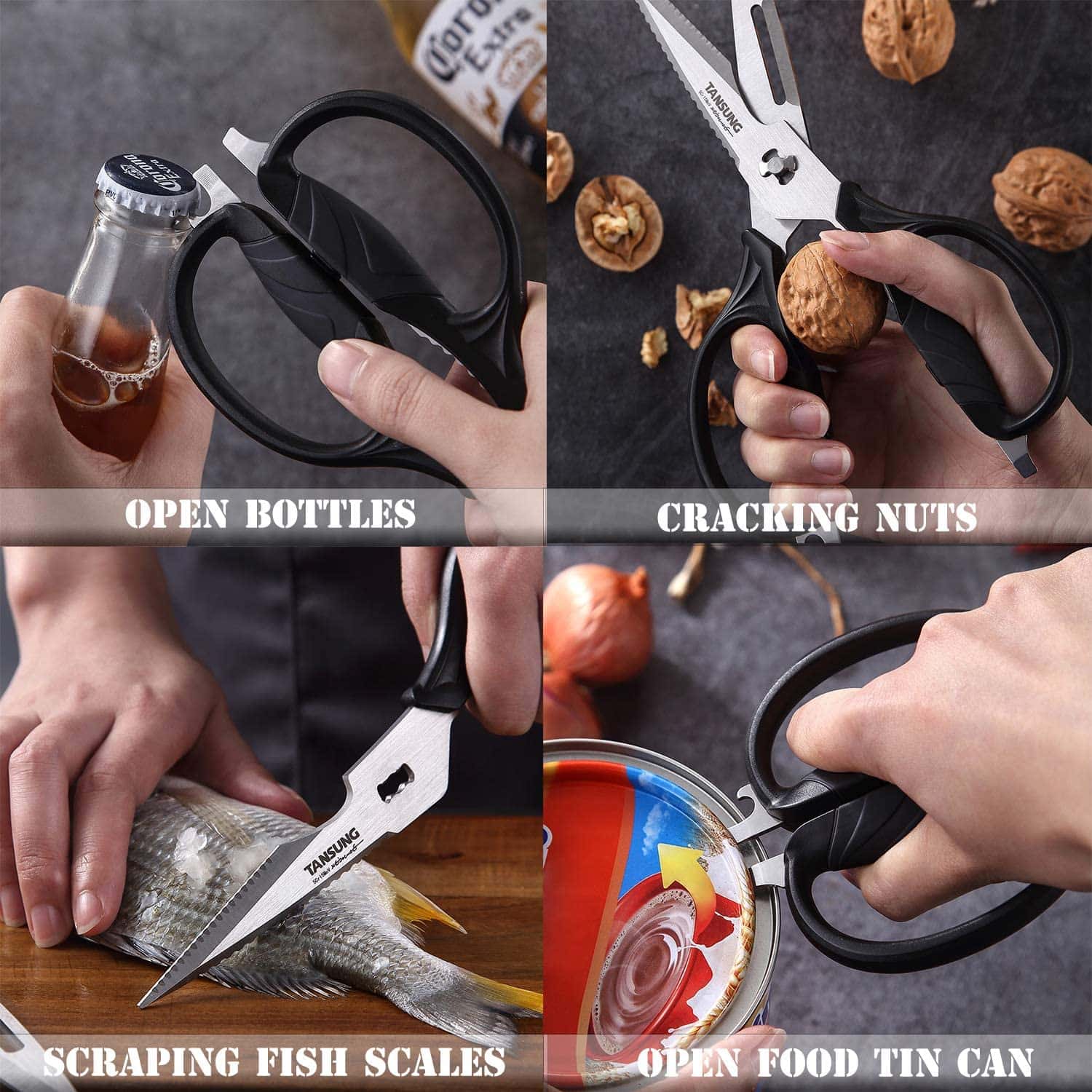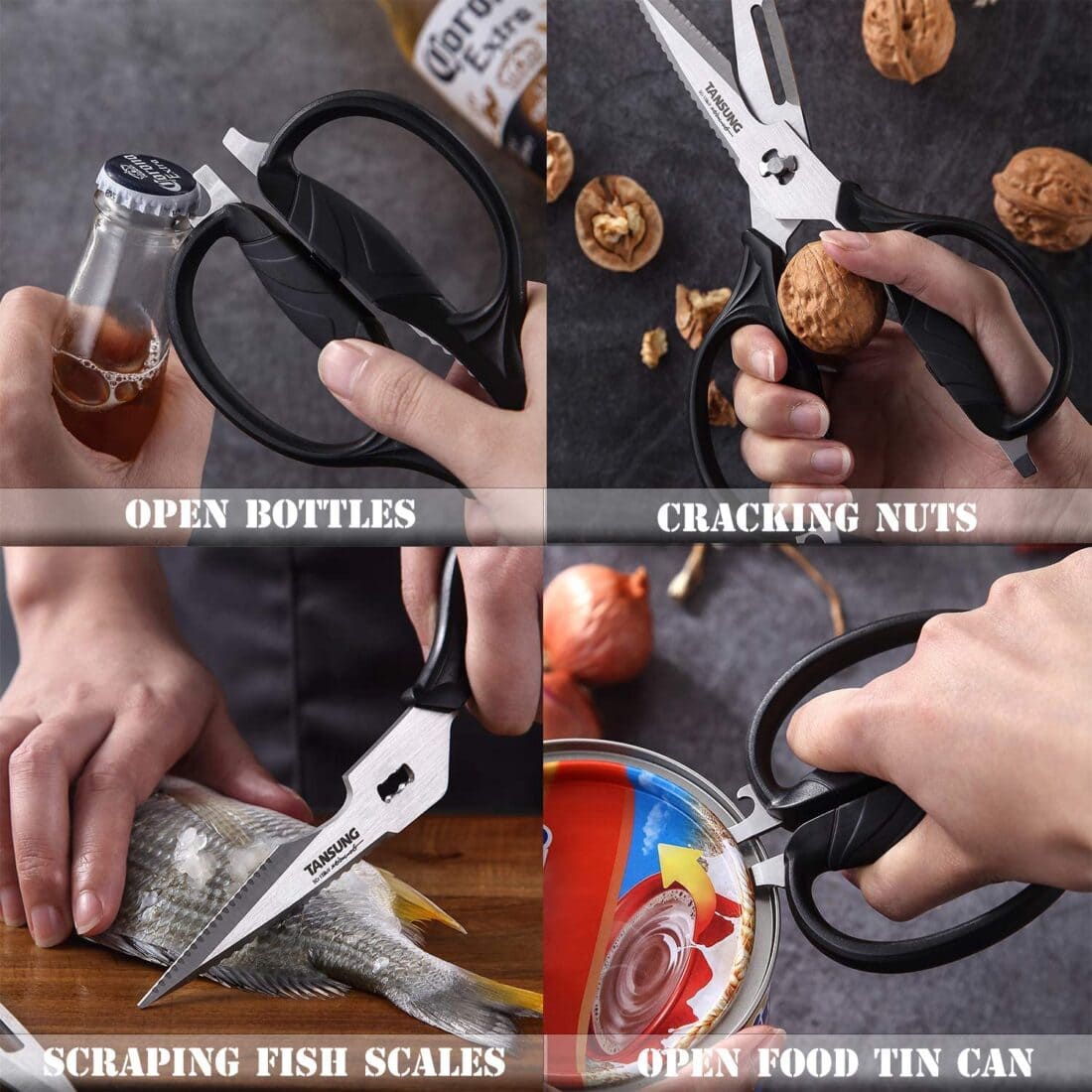 3. Paring Knife
Every kitchen needs a paring knife. I cook a lot, so I actually have a few of these beauties. This little knife is inexpensive, coming in under $13.00. It has a non-slip handle and comes with a limited lifetime warranty.
4. Avocado Slicer
A friend I went to high school with told me about her avocado slicer. She said "I was annoyed when my husband got it for me but it's seriously the best!" It splits, pits, and slices your avocado, has a comfortable handle, and is dishwasher safe.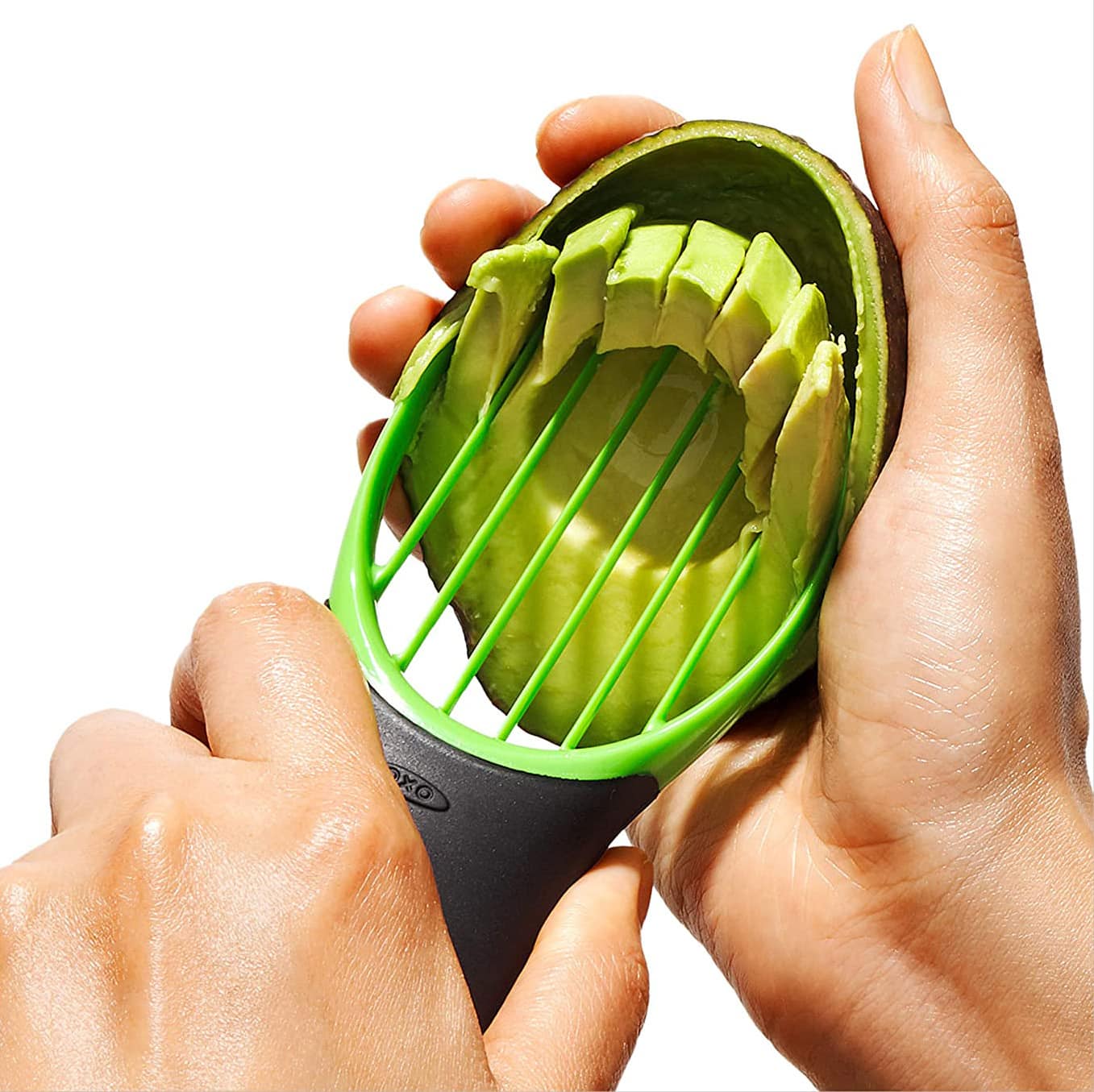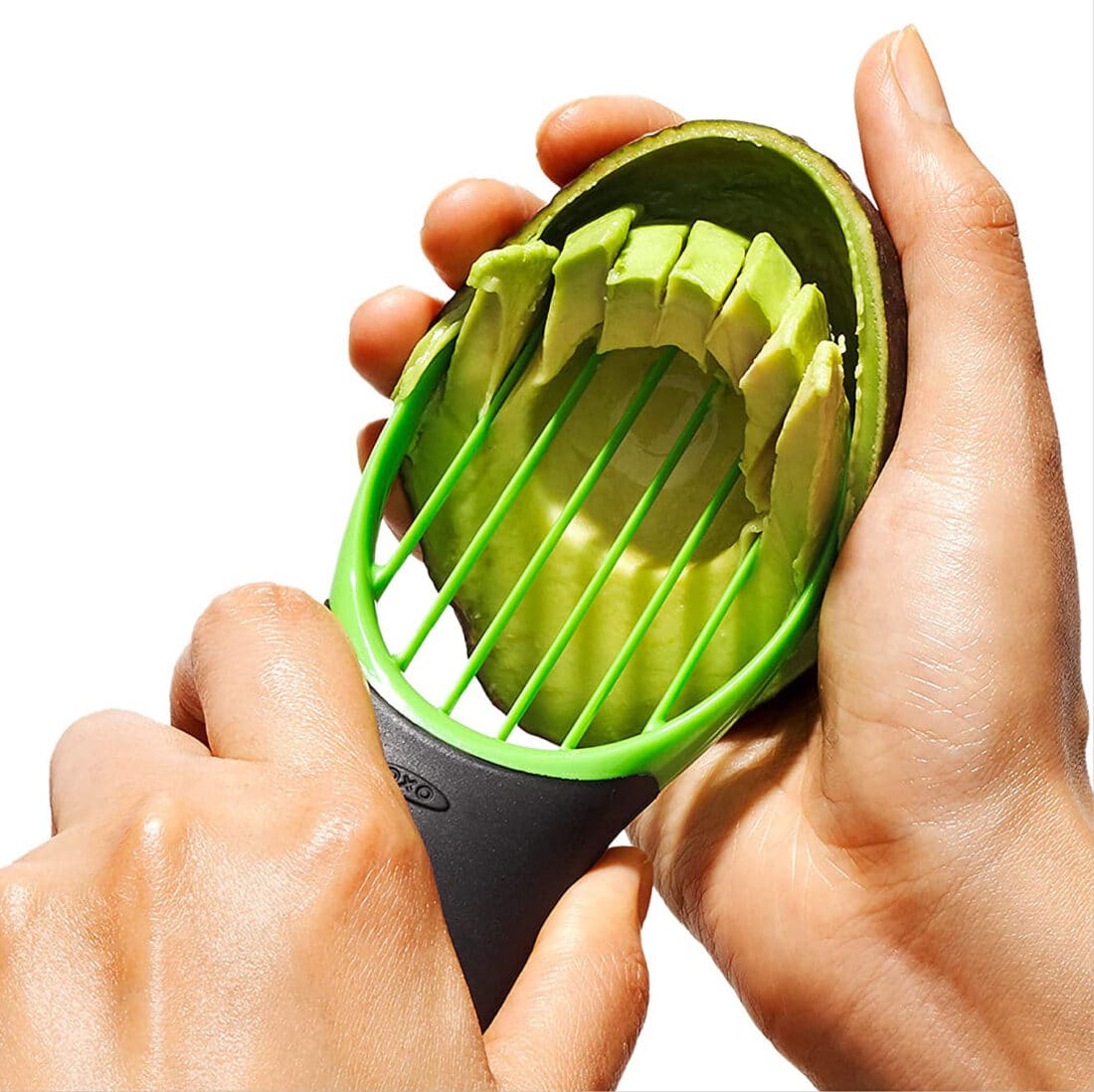 Measuring
As you might imagine, I do a ton of measuring. Flour, sugar, milk, cheese, the list goes on. But what about peanut butter and honey, and other sticky ingredients? Here are my go-to measuring utensils.
5. Angled Measuring Cup
The best part about this measuring cup is you don't have to hold it up at eye-level or bend down to counter level to check for an accurate measurement. The angled surface allows you to get an accurate measurement reading from above! I honestly don't know why I went so many years without one of these.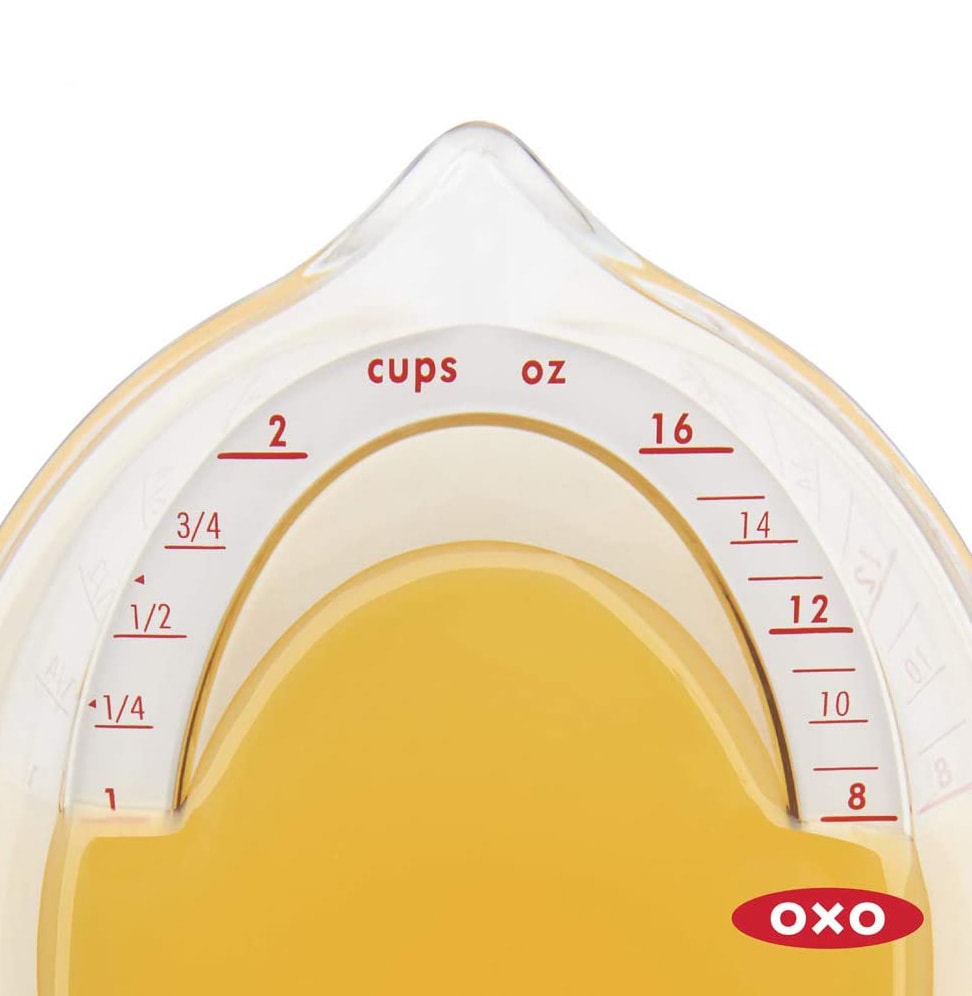 6. Adjustable Measuring Cup – I learned about this handy kitchen gadget a couple of years ago when making peanut butter cookies. The cool design measures wet and dry ingredients and allows you to squeeze sticky ingredients like peanut butter, oil, and honey out with no mess or loss. No more digging in that measuring cup with a rubber spatula!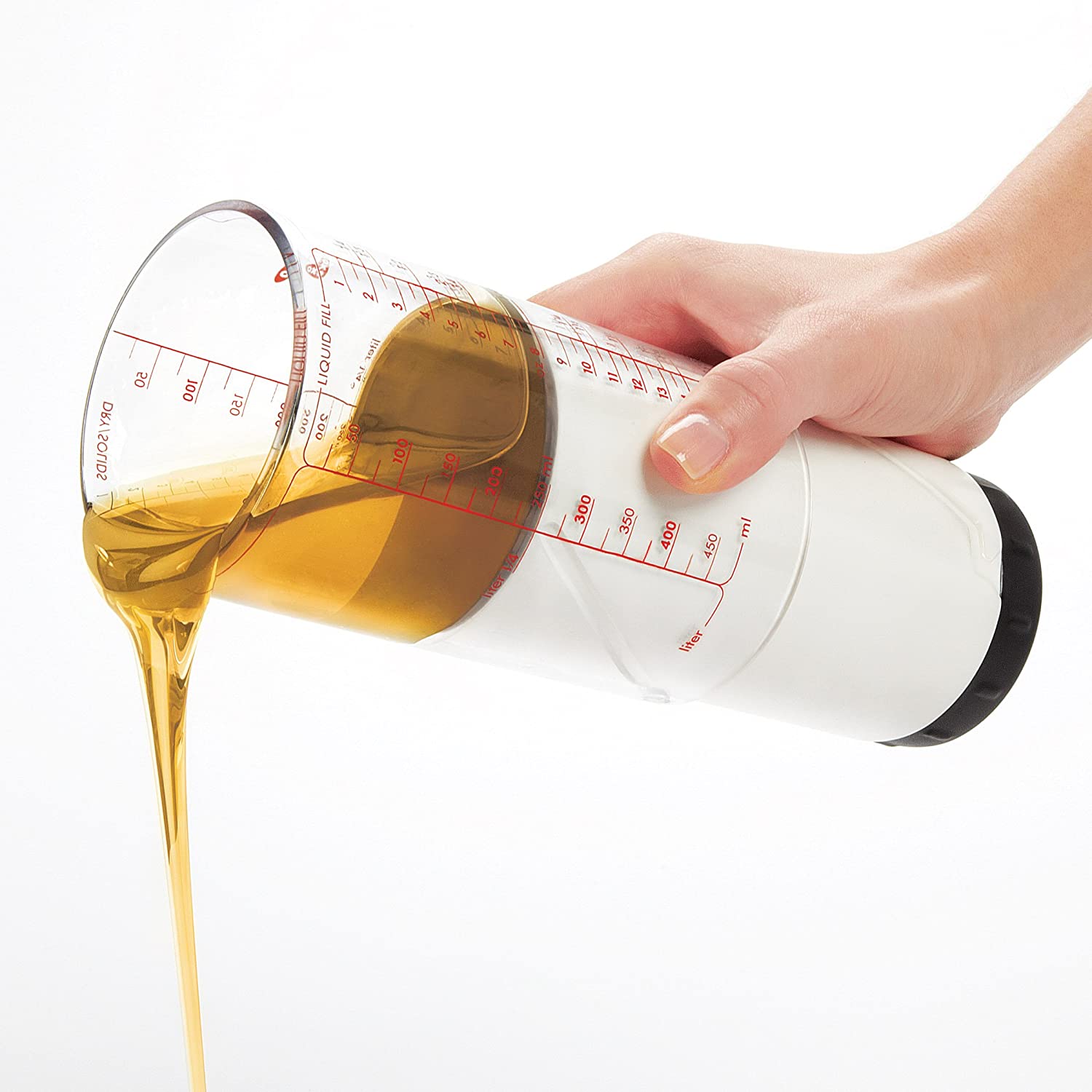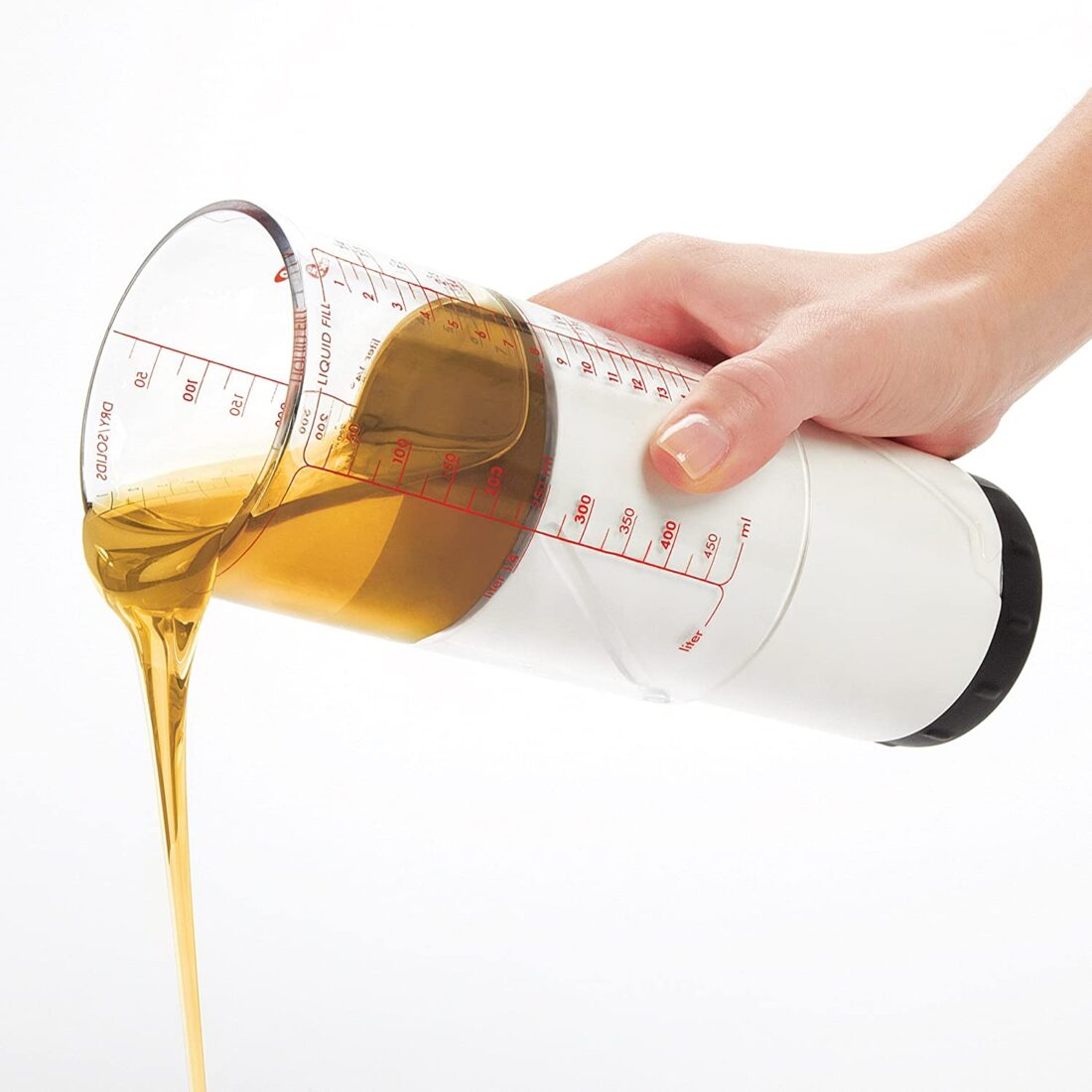 7. Fat Separator – I've had this must-have gadget in my kitchen for more years than I can remember. If you've ever cooked a fatty piece of meat (hello chuck roast) and had to spoon the fat off the top, you'll love me for saving you some time and energy! Simply pour the liquid through the heat resistant strainer on top, let the liquid settle, then pull out the rubber stopper. The fat separator does all the work for you, keeping the fat on top allowing you to pour out the consumable liquid.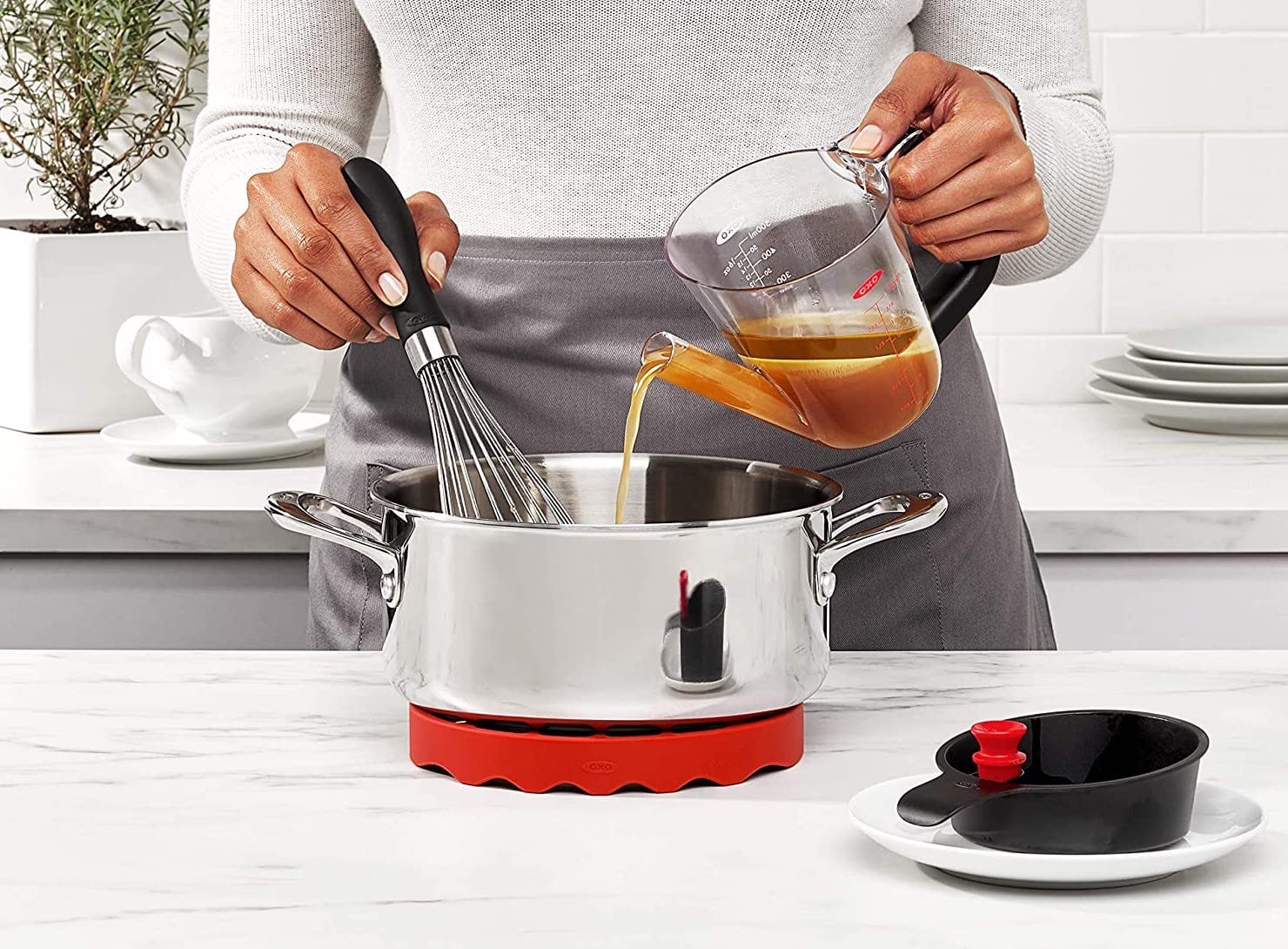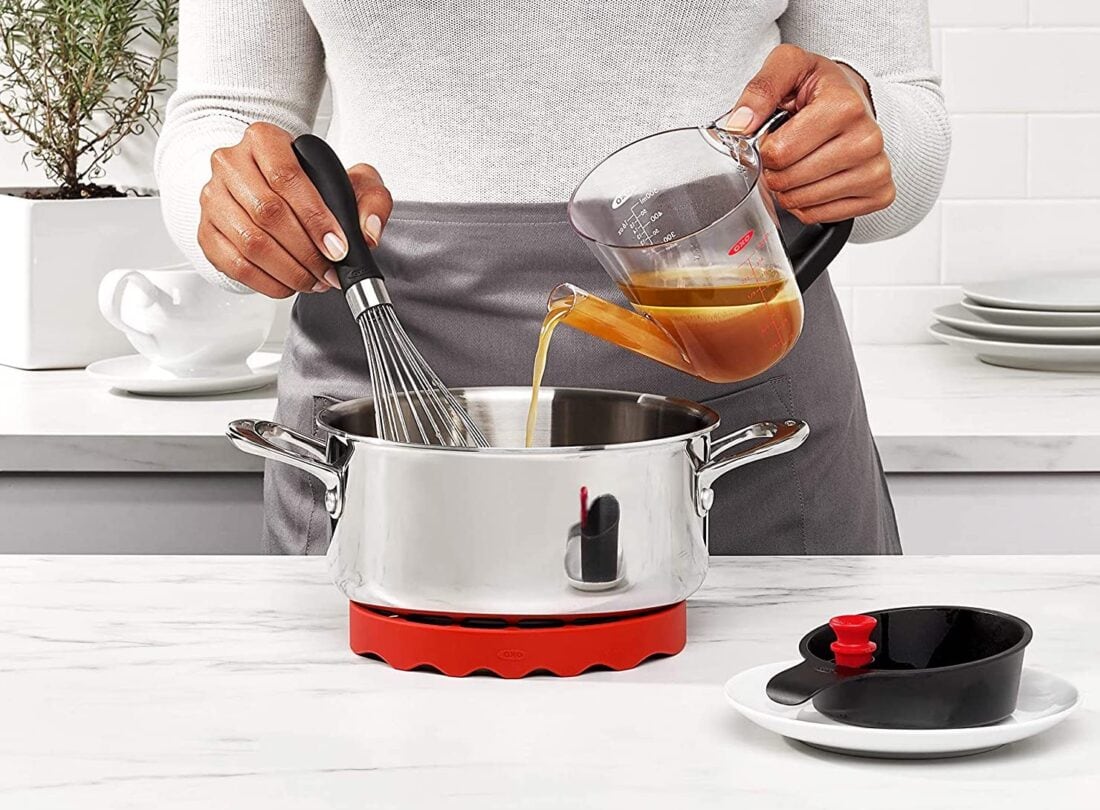 Food Preparation
There's a lot of chopping, grating, dicing, and shredding that happens in the kitchen. over the years I've found some super helpful kitchen gadgets that really help get the job done!
8. Citrus Zester, Cheese Grater, Micro-planer – I have used several types of graters over the years, but having this micro-planer has been a blessing. It's awesome for citrus zest, chocolate shavings, and for grating fresh cheese like Parmesan. You can even use it to grate onions, ginger root, and garlic. This particular zester has a non-slip handle and is rust-resistant.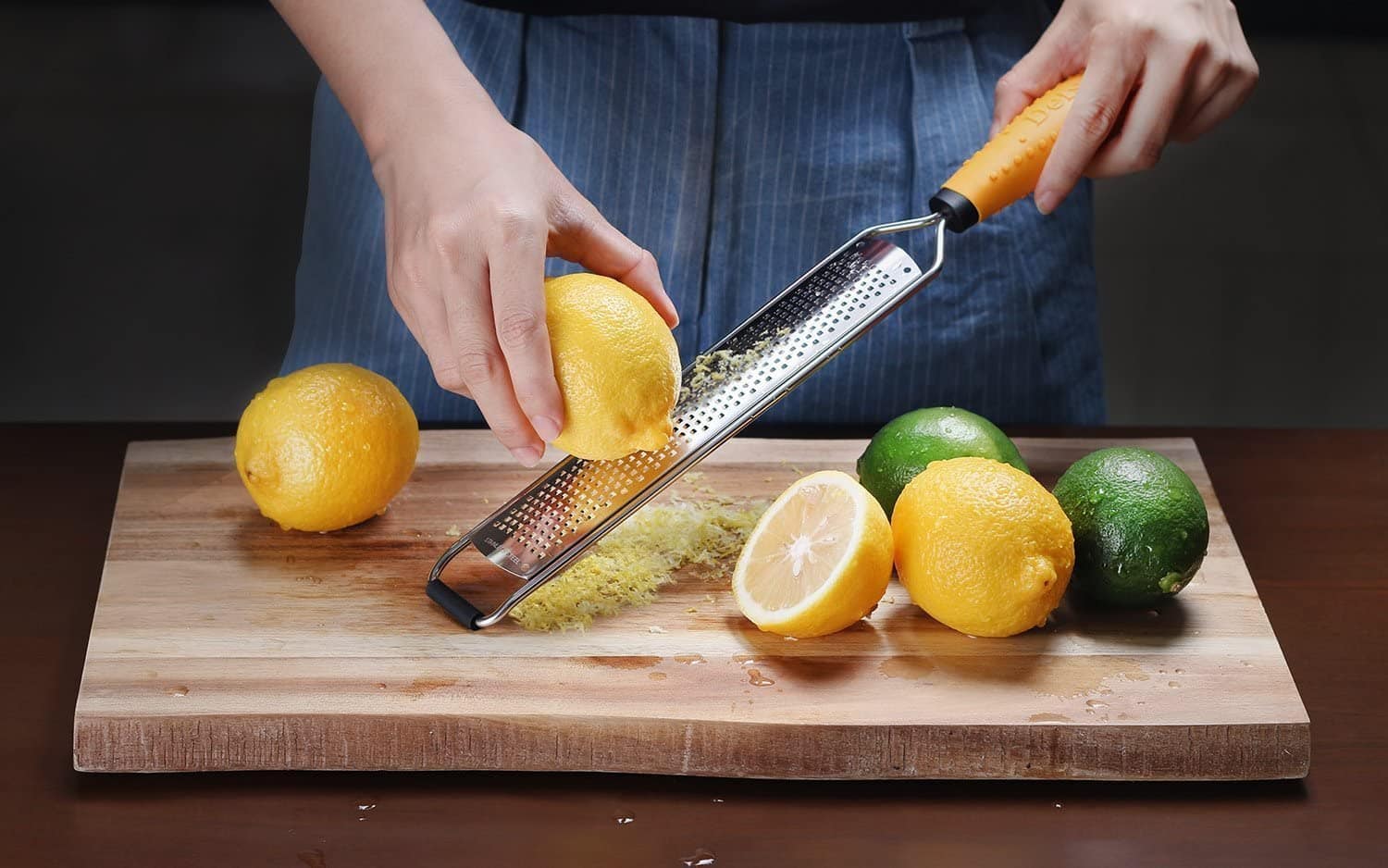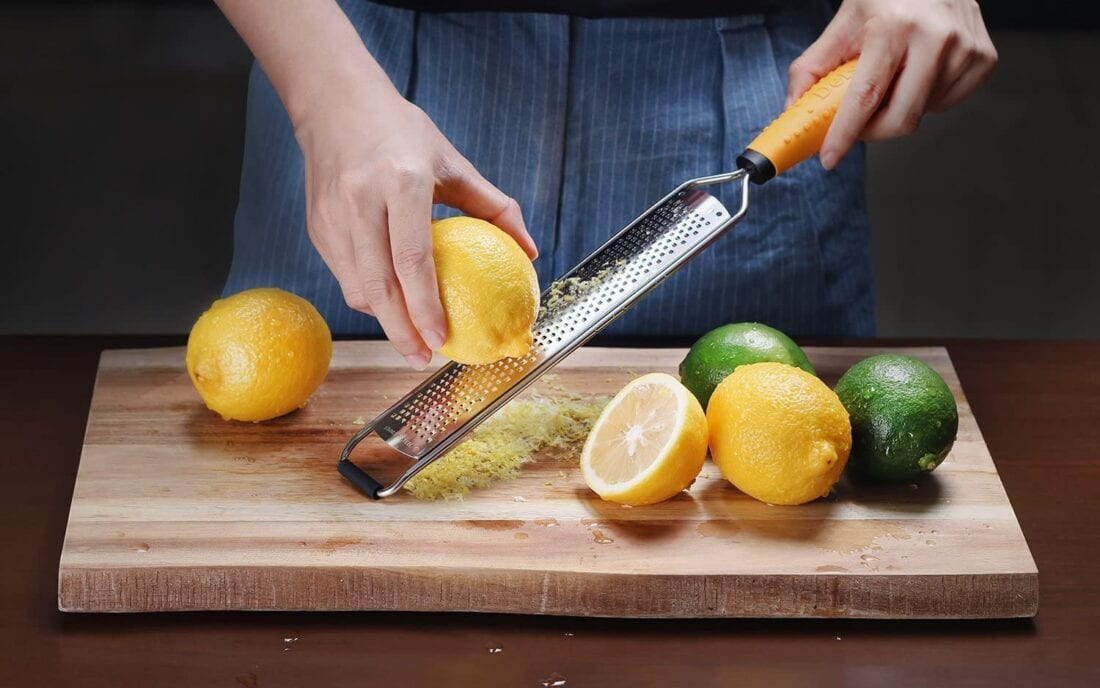 9. Garlic Press Mincer with Silicone Peeler – I don't use a garlic press anymore because they are a pain to clean. This garlic press mincer rolls over the garlic, mincing it and pushing it through the holes where they land in the curved spoon-like belly. It's super easy to clean and it comes with a silicone tube peeler. Put your garlic inside the tube and roll it in the palms of your hand to remove the skins easily.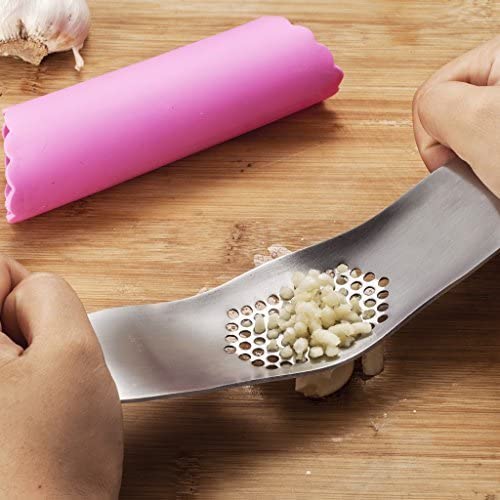 10. Herb Scissors – Seriously folks, these are the bomb. I make salsa fresca all the time, and I grow fresh herbs in my garden. Chopping up herbs is a pain, but herb scissors make this process so much easier! The scissors come with a cleaning comb, which honestly I've never needed. Usually, a rinse under the tap does the trick. They are dishwasher safe as well.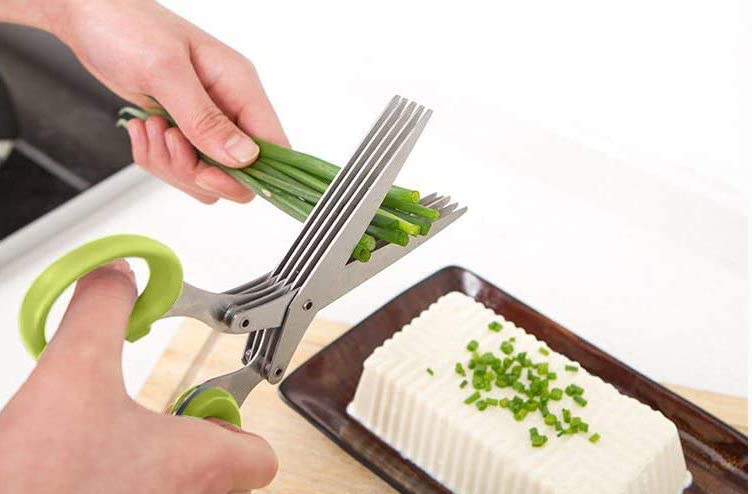 11. Ninja Food Chopper Express – If I can avoid bringing out my big 12-cup food processor, or my full-sized blender, I will grab this little gem. I love this thing! You can use it for everything from puréed soups to smoothies to pesto.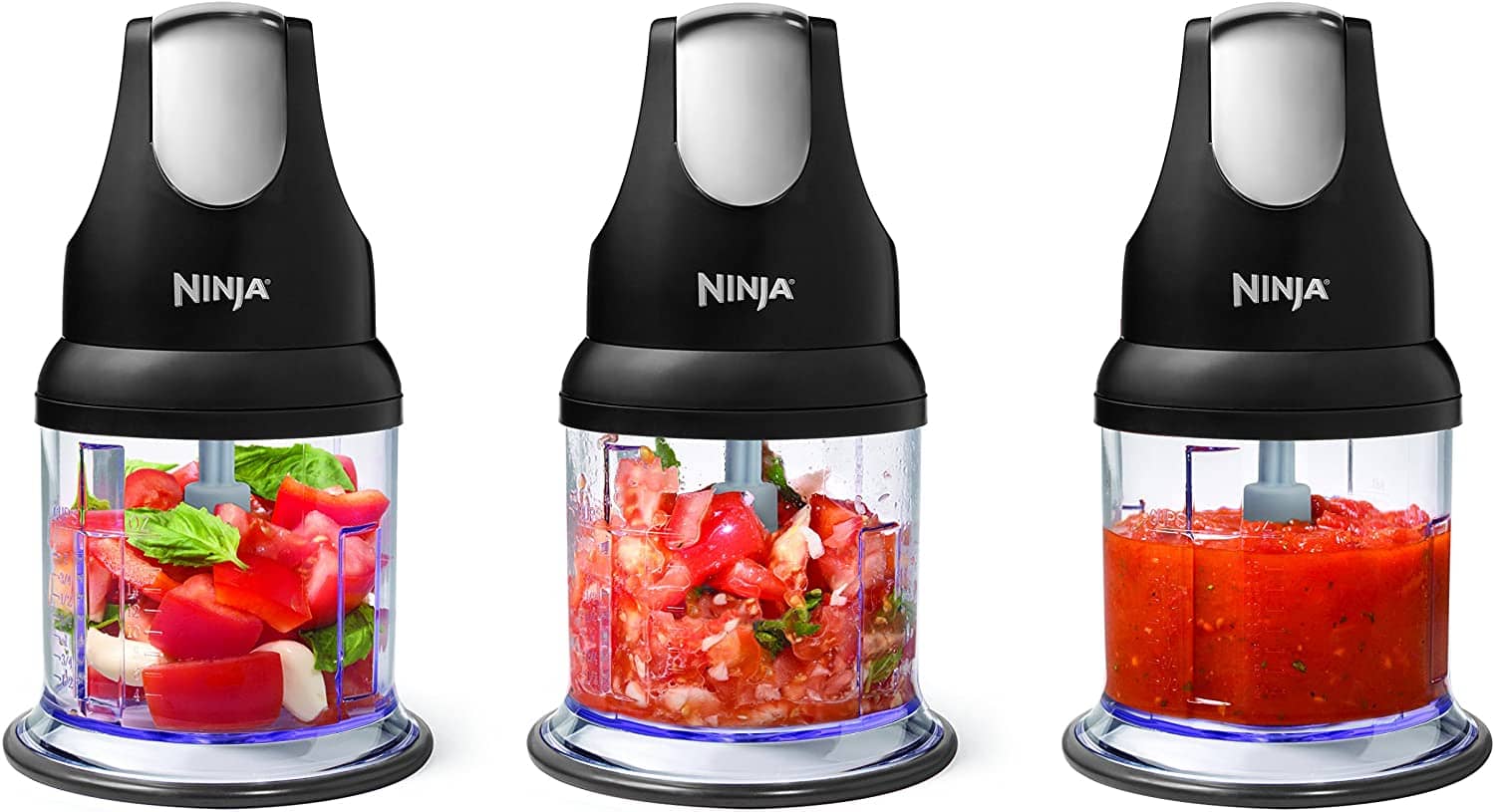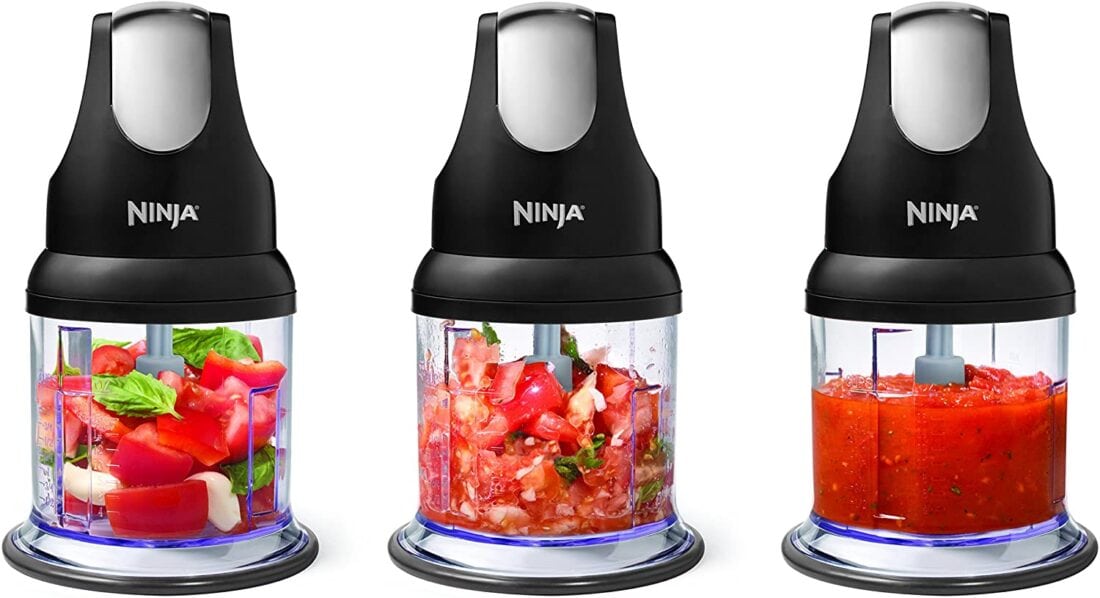 12. Vidalia ChopWizard – I love this chopper so much that I bought one for Christmas for all of my (adult) kids last year. Anytime I have to chop or mince a lot of vegetables, I pull this puppy out of the cabinet. It comes with a handy cleaning comb and two sized blades. You've probably seen this mentioned in my recipes multiple times.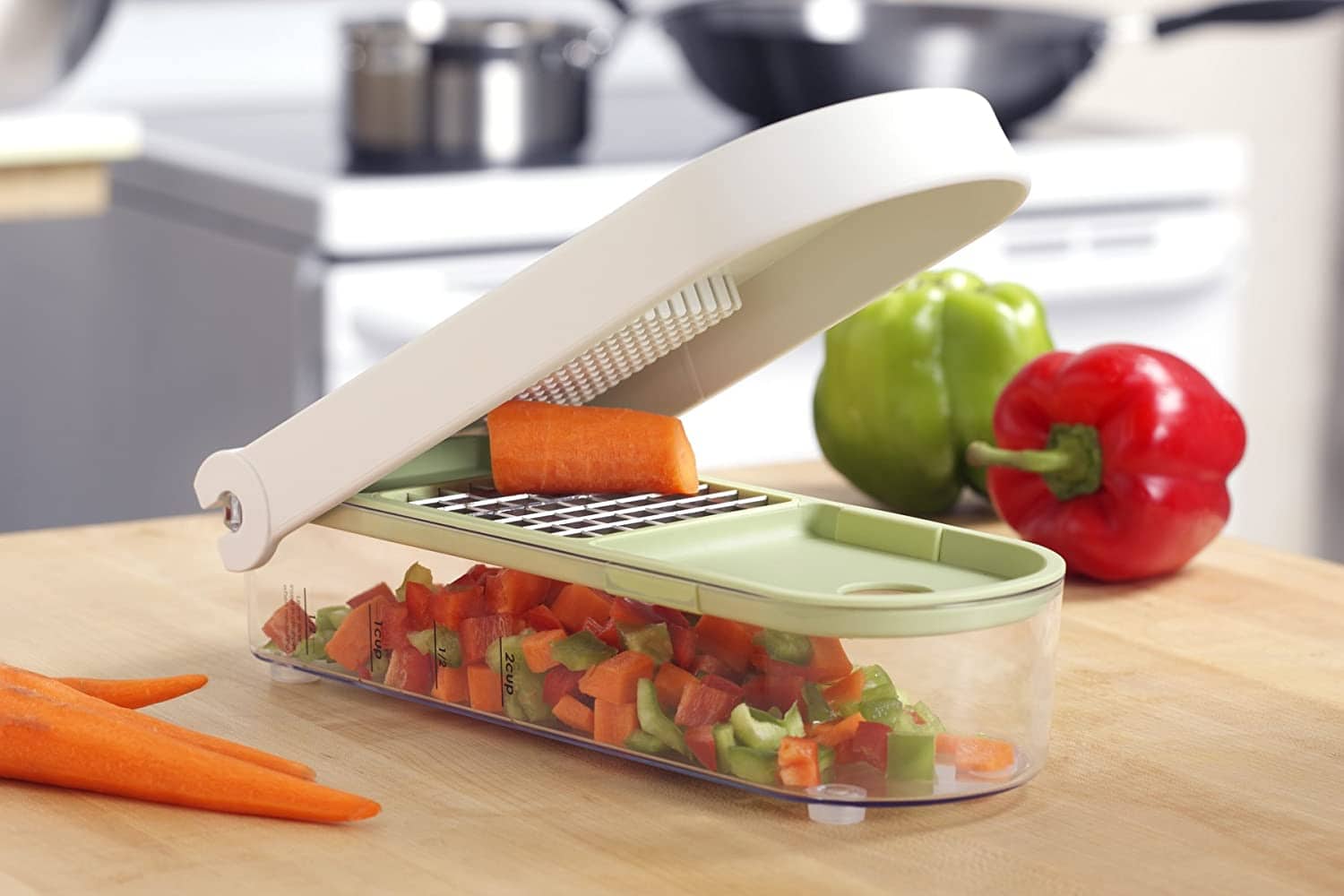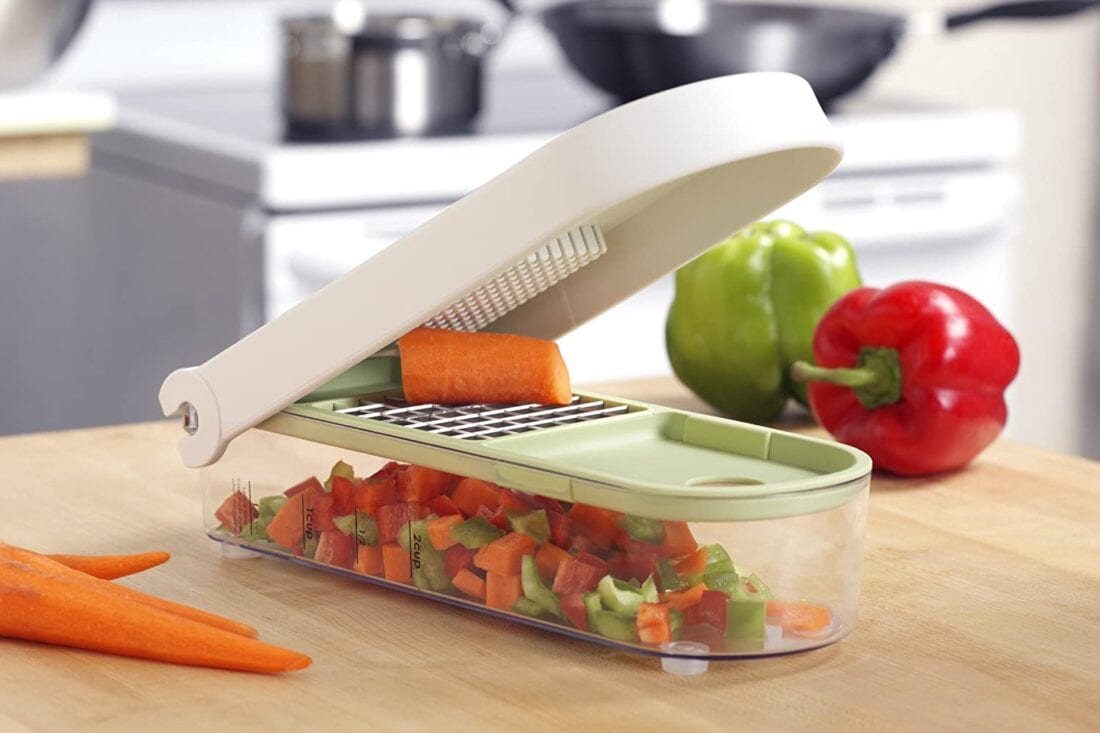 Whisking and Mixing
It's not all about the spoons. I have a few handy things to tell you about that will make the act of mixing and whisking that much easier.
13. Flat Wire Whisk – I still have my regular balloon whisk, but I find myself grabbing for a flat whisk more often than not. The best thing about it is you can whisk away and nothing gets stuck in the middle!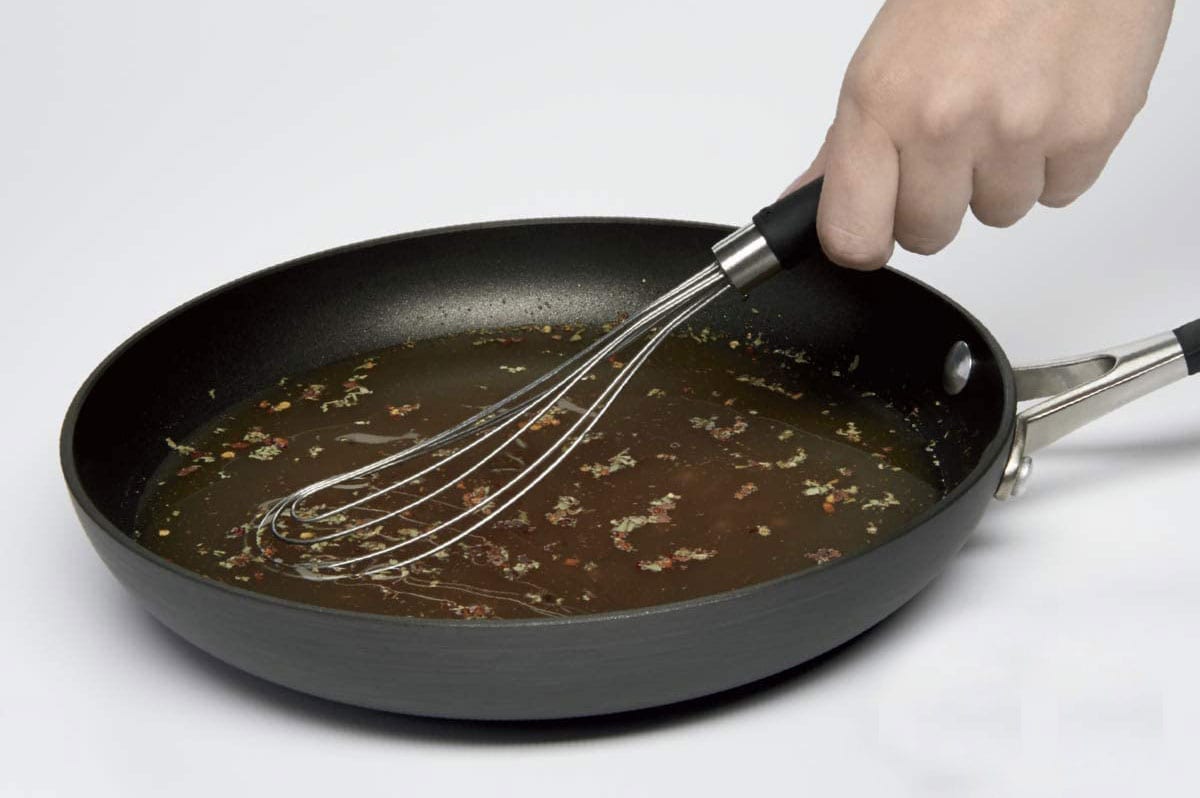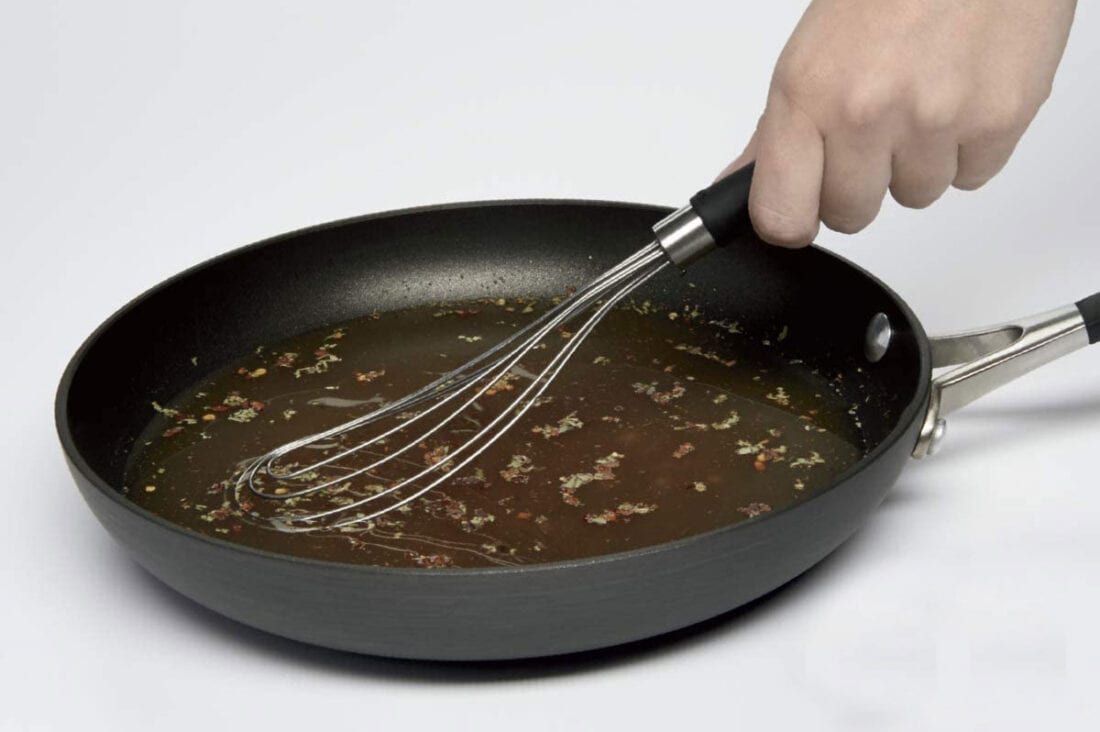 14. Meat/Potato Masher – While it's definitely great for mashing up potatoes (I like it for my crockpot mashed potatoes for sure!) it's also perfect for breaking up hamburger and other ground meats while you brown it!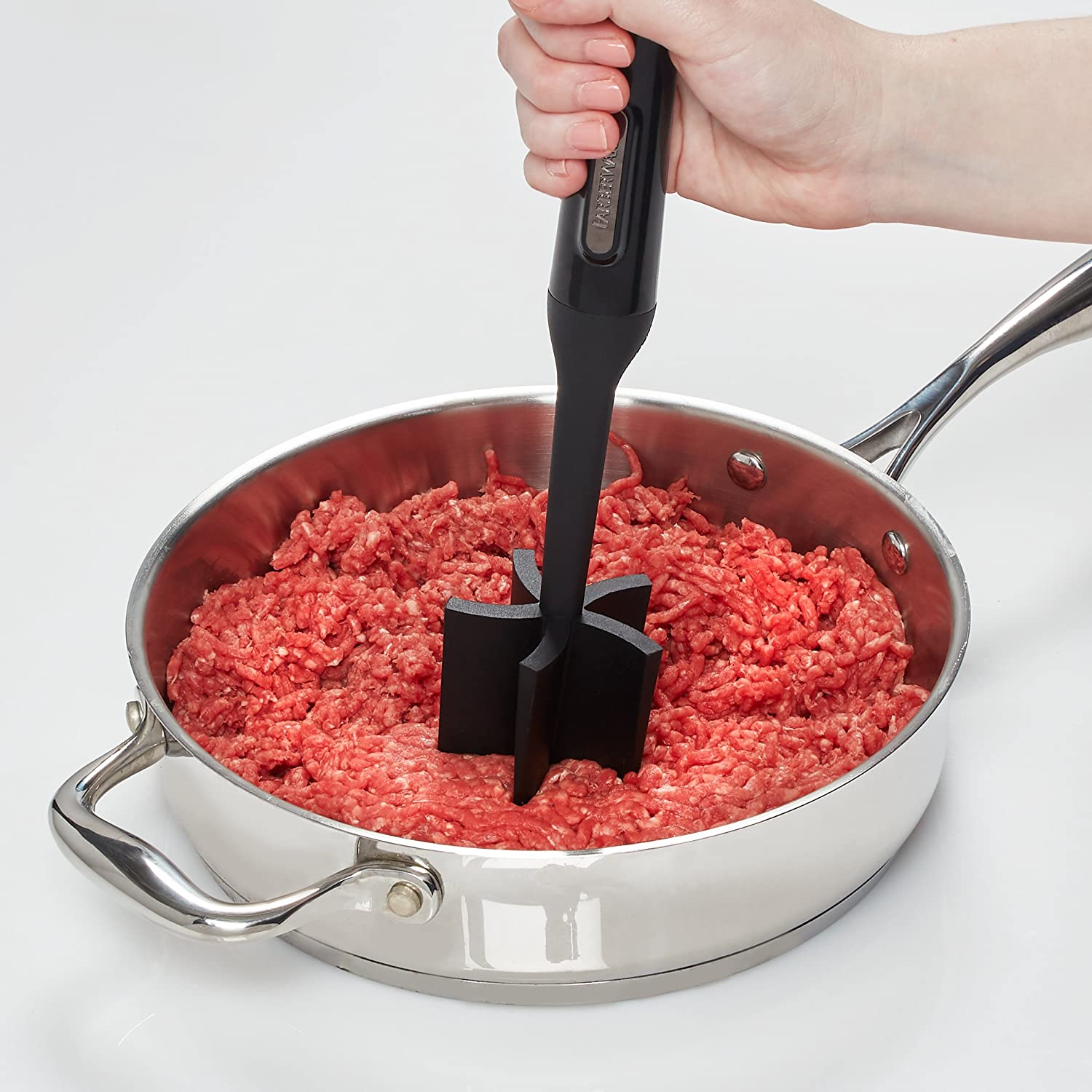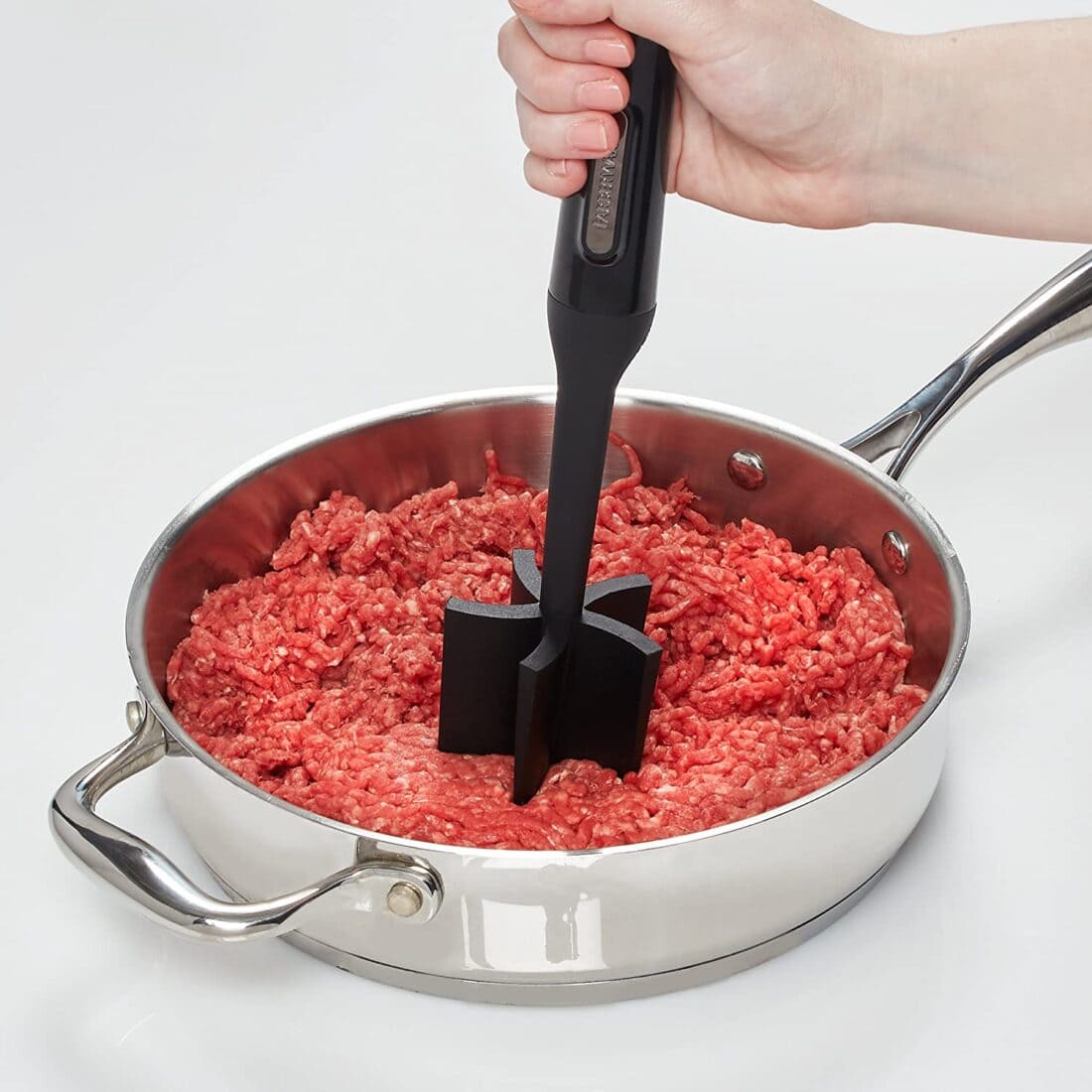 15. Small Rubber Spatulas – These are mini-sized rubber spatulas, and I can't live without them. Great for getting the last of the jam out of that little jar, or for portioning out small desserts into dessert cups. I still have and use my full sized rubber spatulas, but wouldn't think of being without these little ones.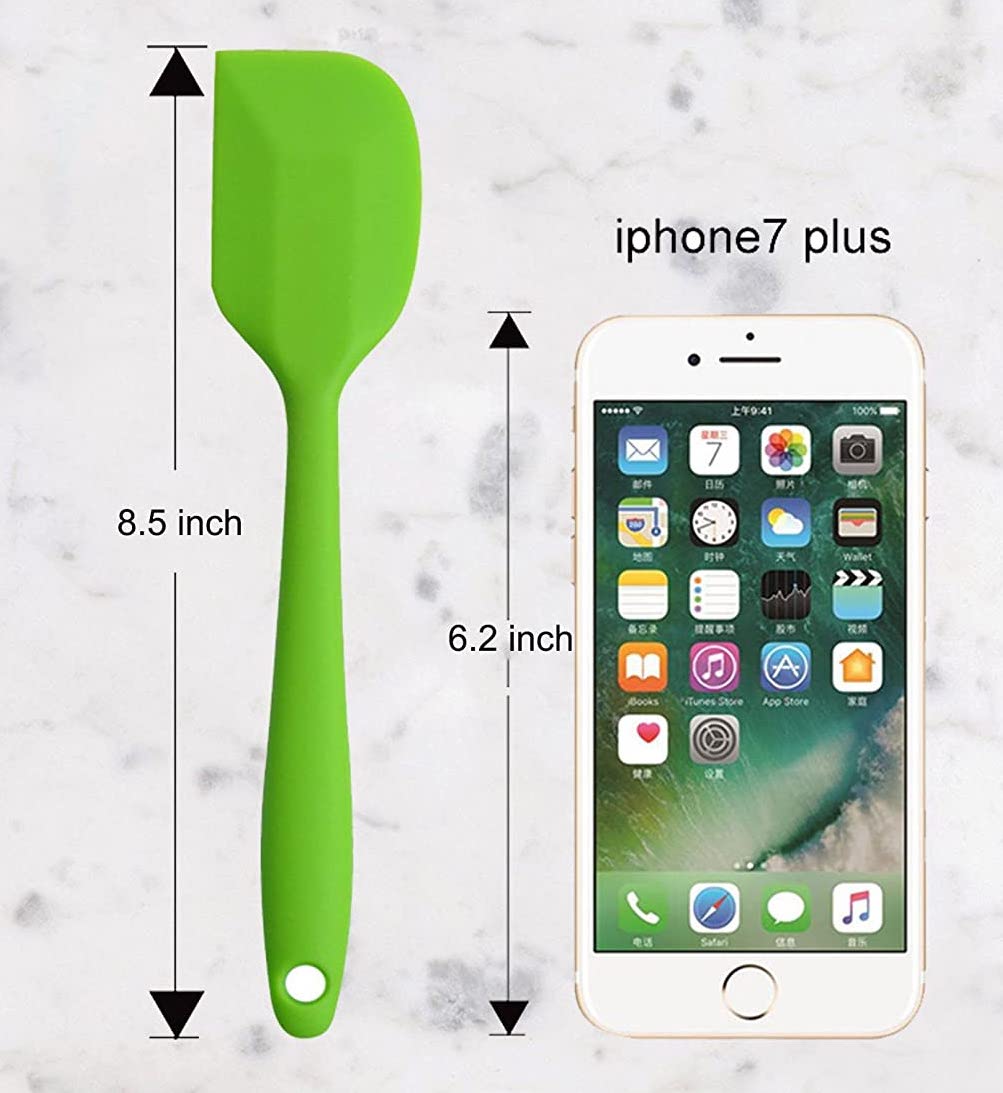 Cooking
I could go on and on with a big long list of cooking utensils, but this is about gadgets that help you in the cooking process. I have a few favorite go-to items to share.
16. Fish Spatula – I bought this fish turner on the recommendation of a friend. She said "I don't use them specifically as fish turners, I use them as my everyday spatulas. They're hands-down my favorite go-to gadget." I have to agree, I use them for anything that needs a spatula. My only gripe is that I am a lefty and didn't buy the left-handed fish turners at first! You can bet I have one now.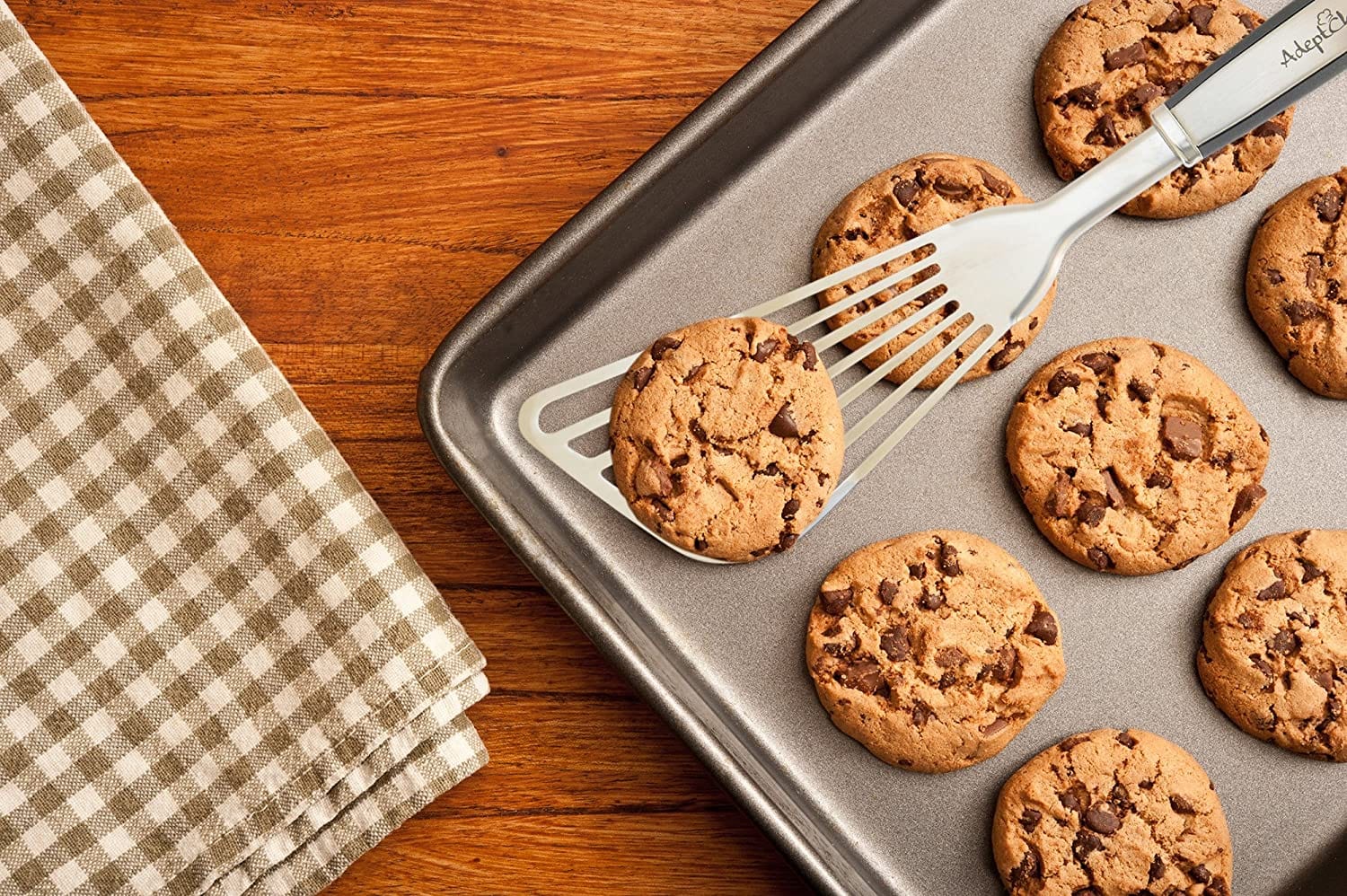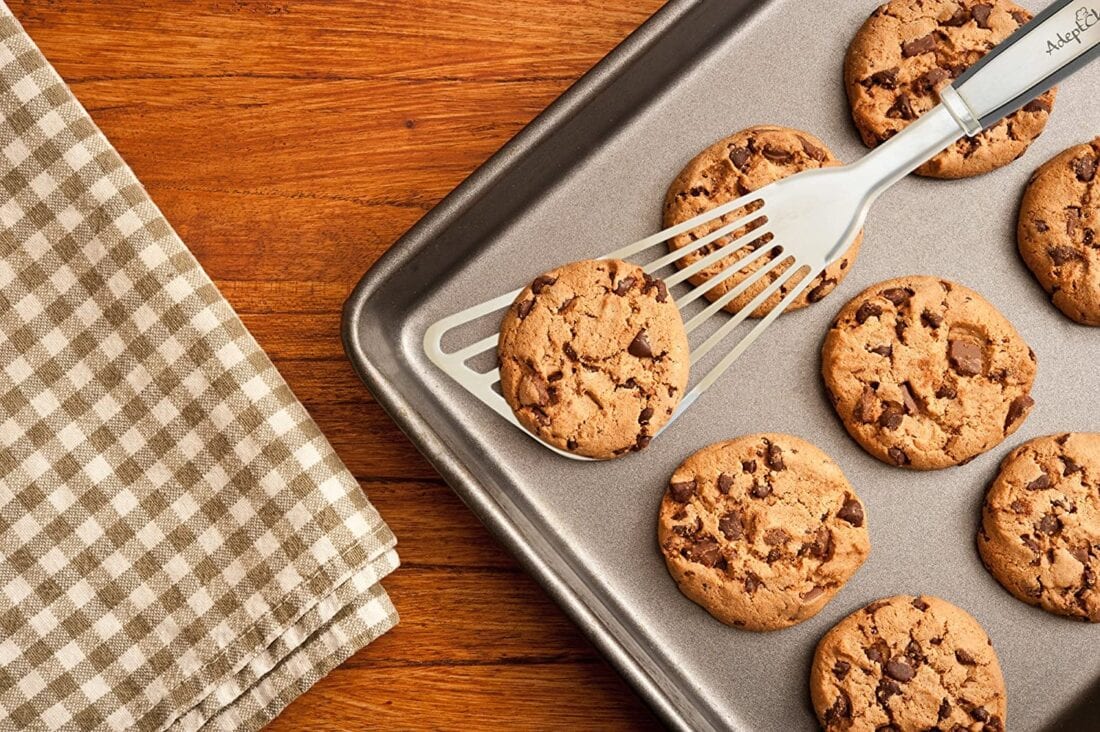 17. The Ove Glove – I know I've talked about these before. You've probably seen them in action in some of my recipe videos. I never liked those bulky oven mitts my grandma always used. These handy oven gloves make things easier to hold and they are highly heat resistant. I use them all the time.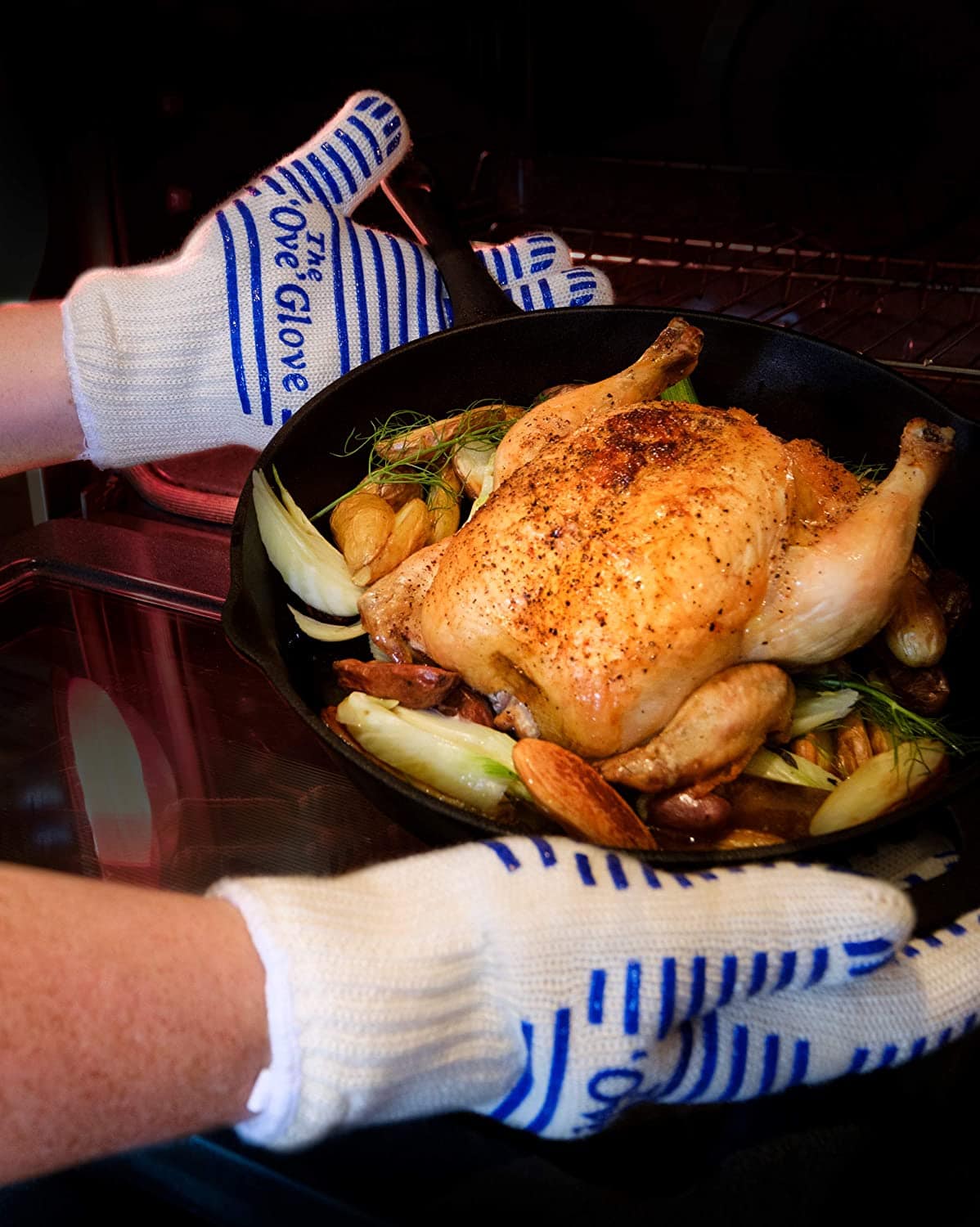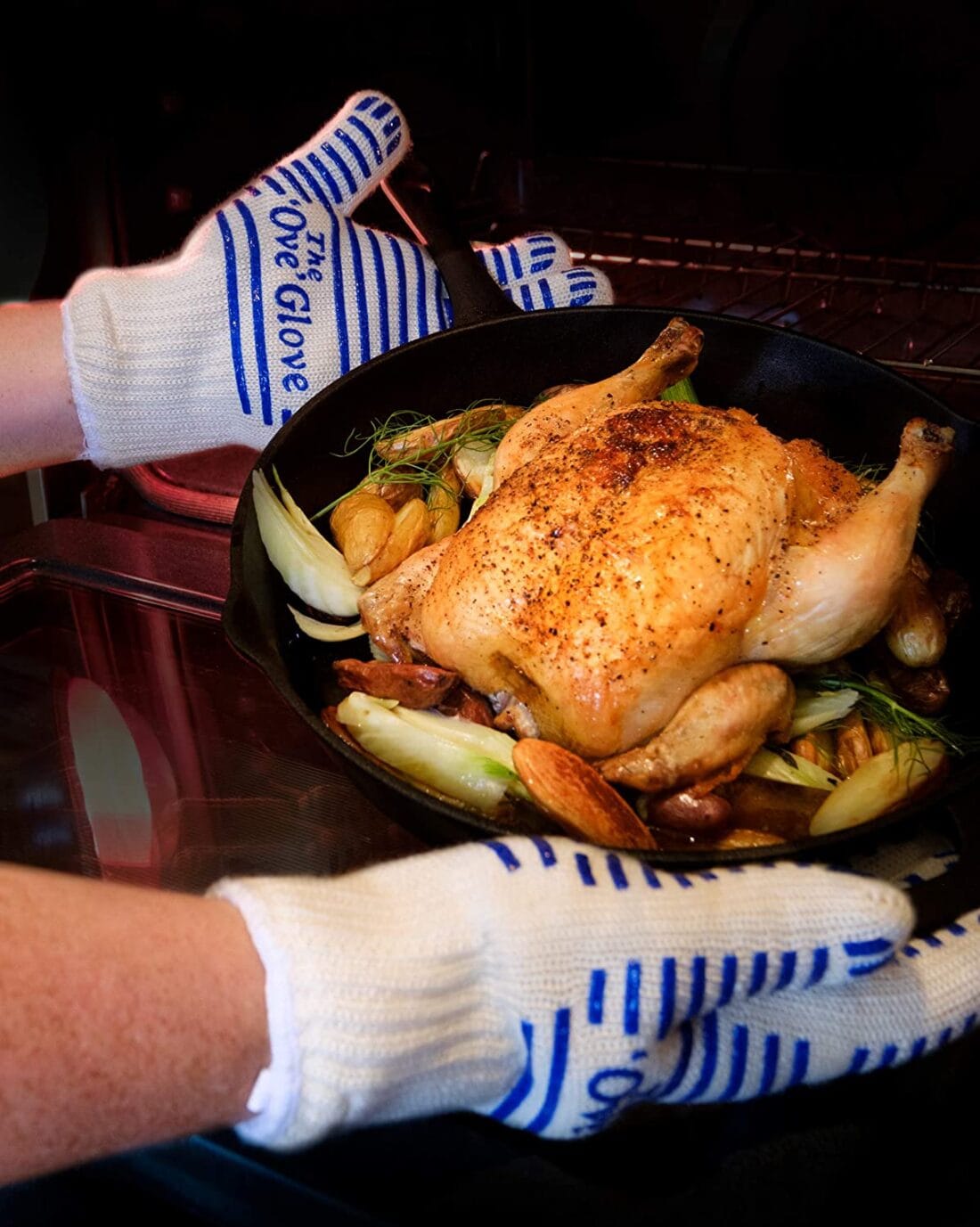 18. Cuisinart Egg Cooker – A few years ago I was buying farm fresh eggs from a friend in the county. I was telling her how when I boiled them they were horrible to peel. As it turns out, the fresher the eggs, the harder they are to peel – unless you steam cook them! That's what this egg cooker does and they are perfect every time. It comes with little trays for poaching (for yummy Eggs Benedict!) and mini omelettes too, but I mainly use it for making soft and hard-cooked eggs, ideal for egg salad and deviled eggs!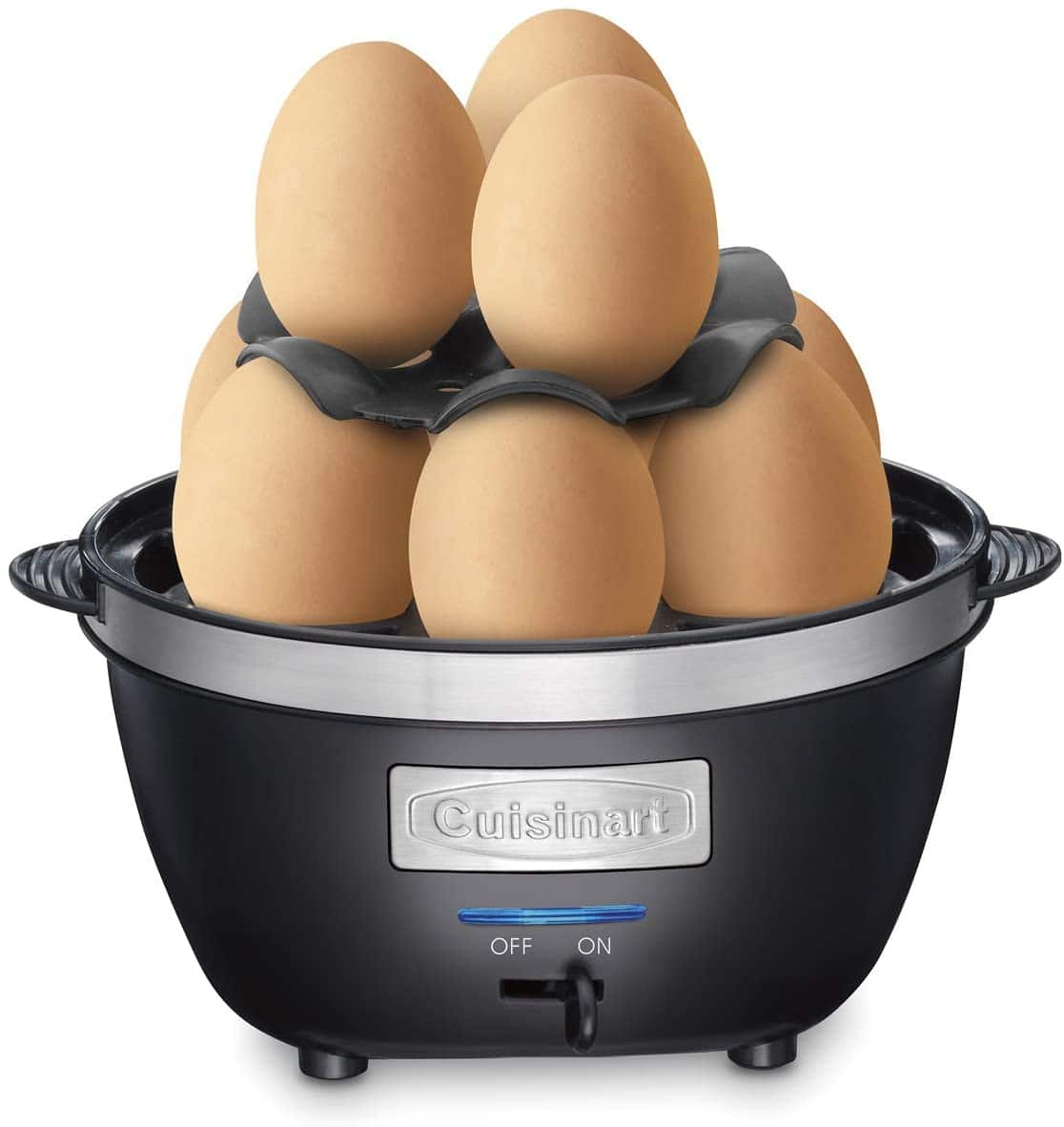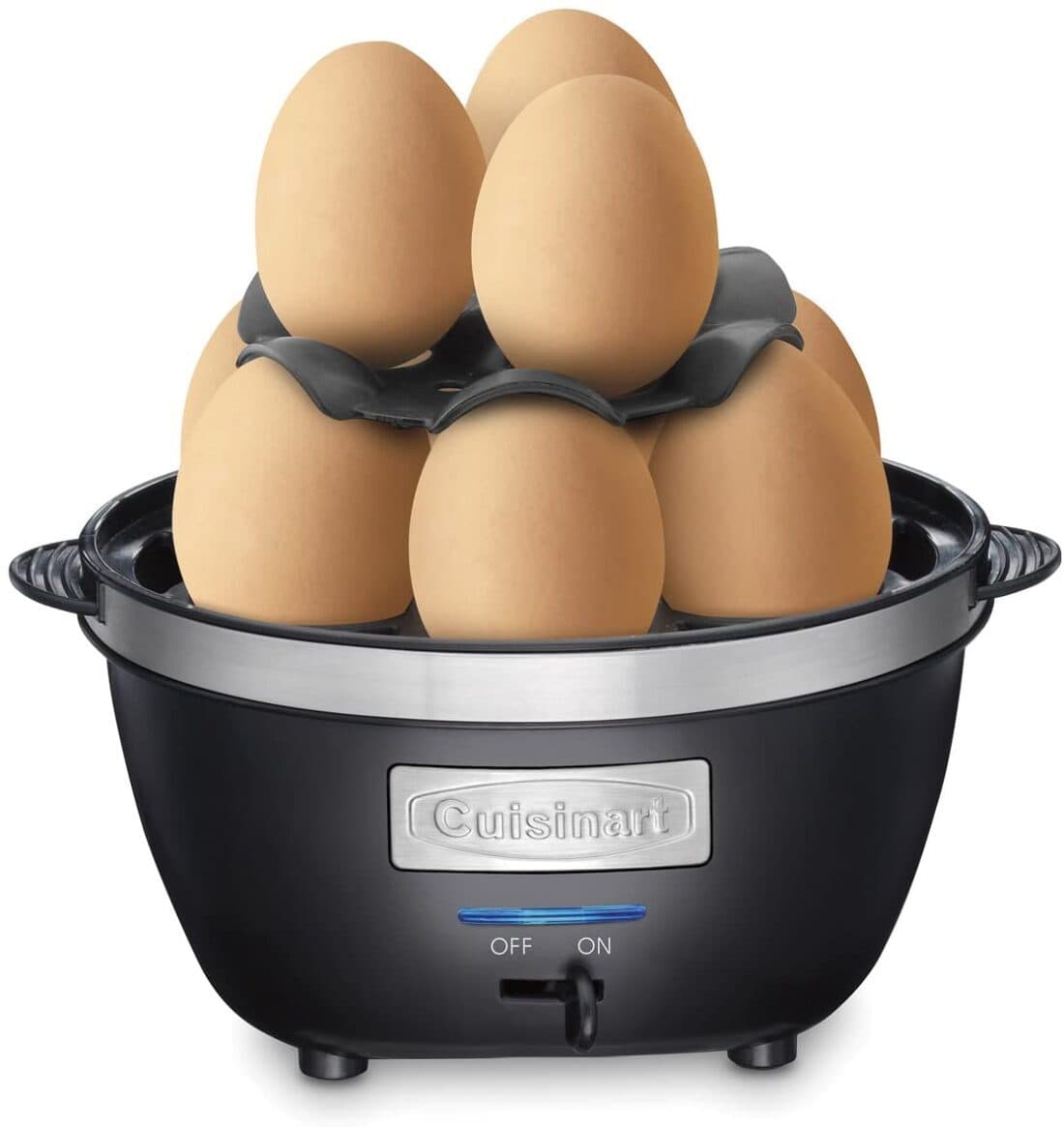 Relaxing
I don't know about you, but after several hours in the kitchen, my lower back gets fatigued and my feet start to hurt. Whether you relax with a latte or a cocktail, there's more than one way to help.
19. Anti-Fatigue Comfort Mat – Believe me, this mat helps so much! Extra thick and ergonomically engineered for comfort, you can stand in the kitchen without those dogs barking at you! I keep mine parked right in front of my long counter where I do most of my prep work.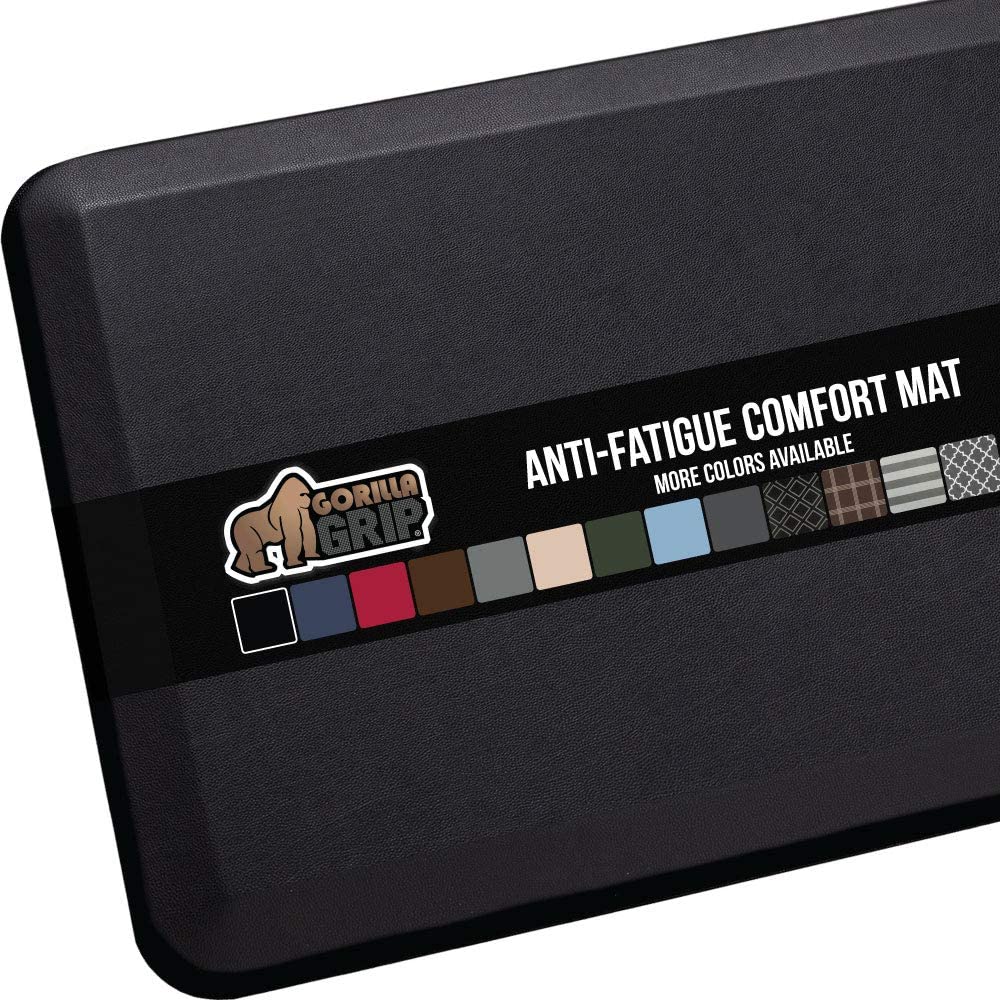 20. French Press Coffee Maker – The first time I had French pressed coffee was in a steak house in Las Vegas. They brought the French press out to the table, pressed the handle down, separating the grounds from the brewed coffee, and poured the best cup of joe I'd ever had. A French press is ideal for single mugs of coffee or for two cups. No more wasted coffee in the coffee maker.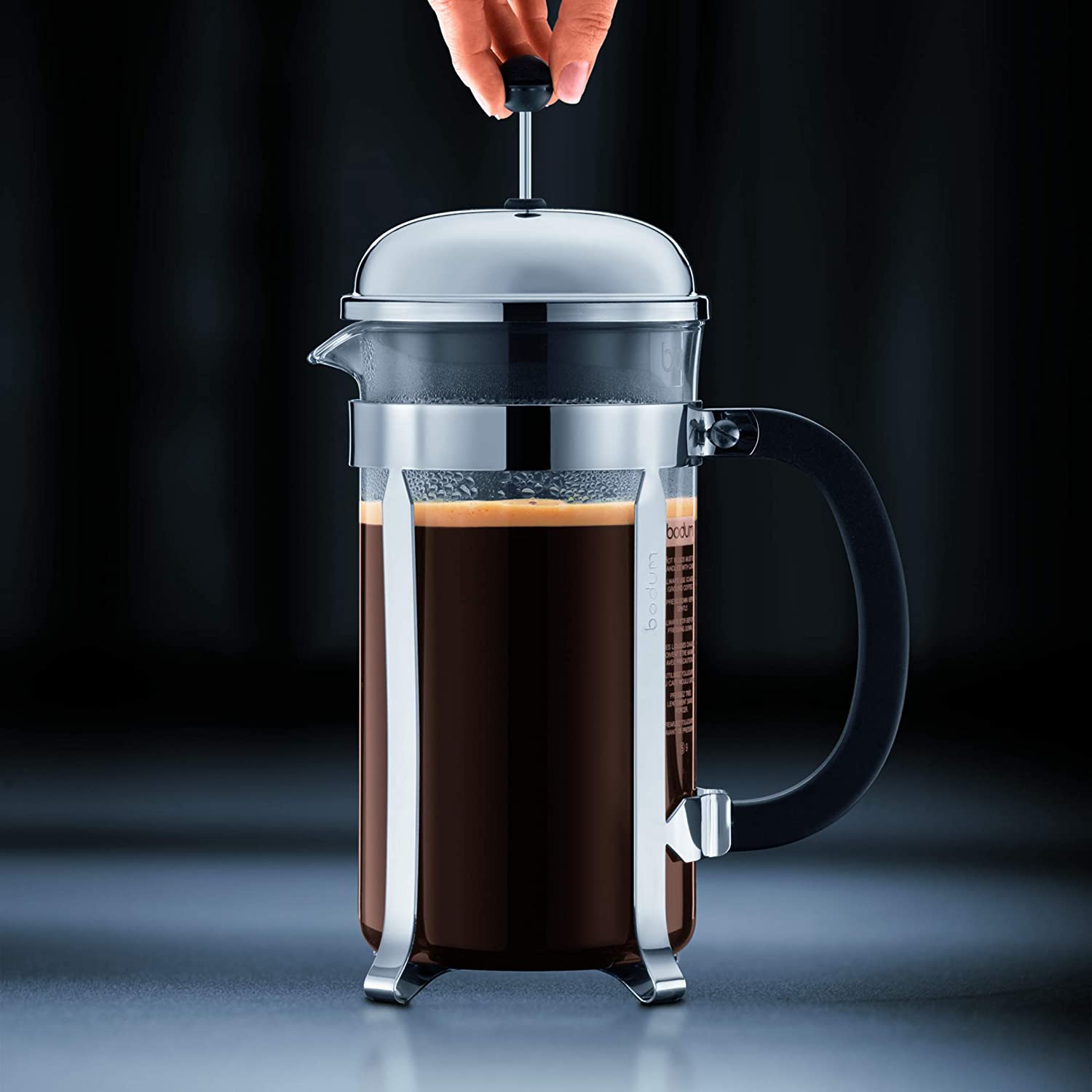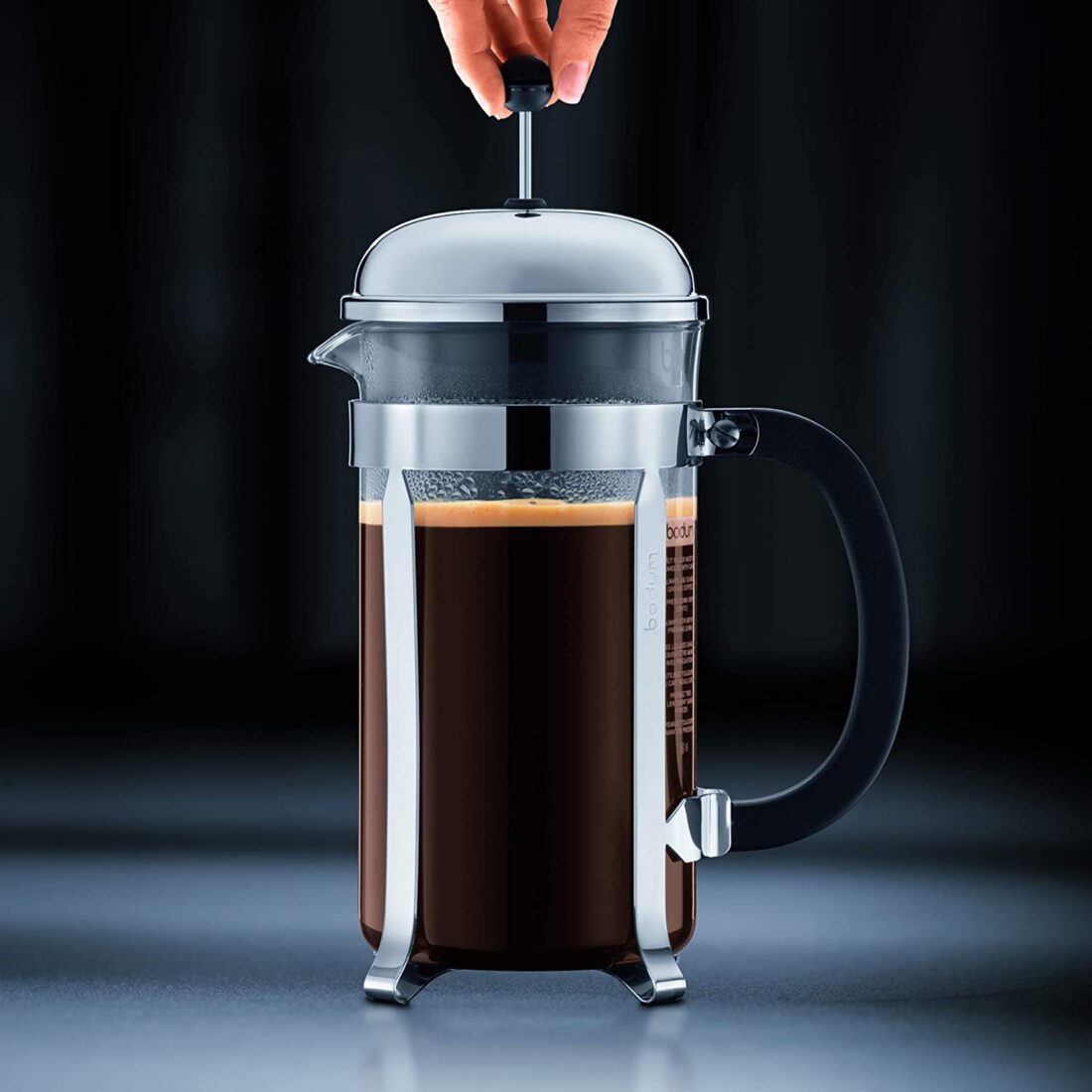 21. Cordless Wine Opener – Funny story about this gadget. I was at a thrift store and saw this sitting on the shelf. Someone must have received it as a gift and never used it, it was brand new in the box. No more manually uncorking a wine bottle, and makes a great gift for the holidays!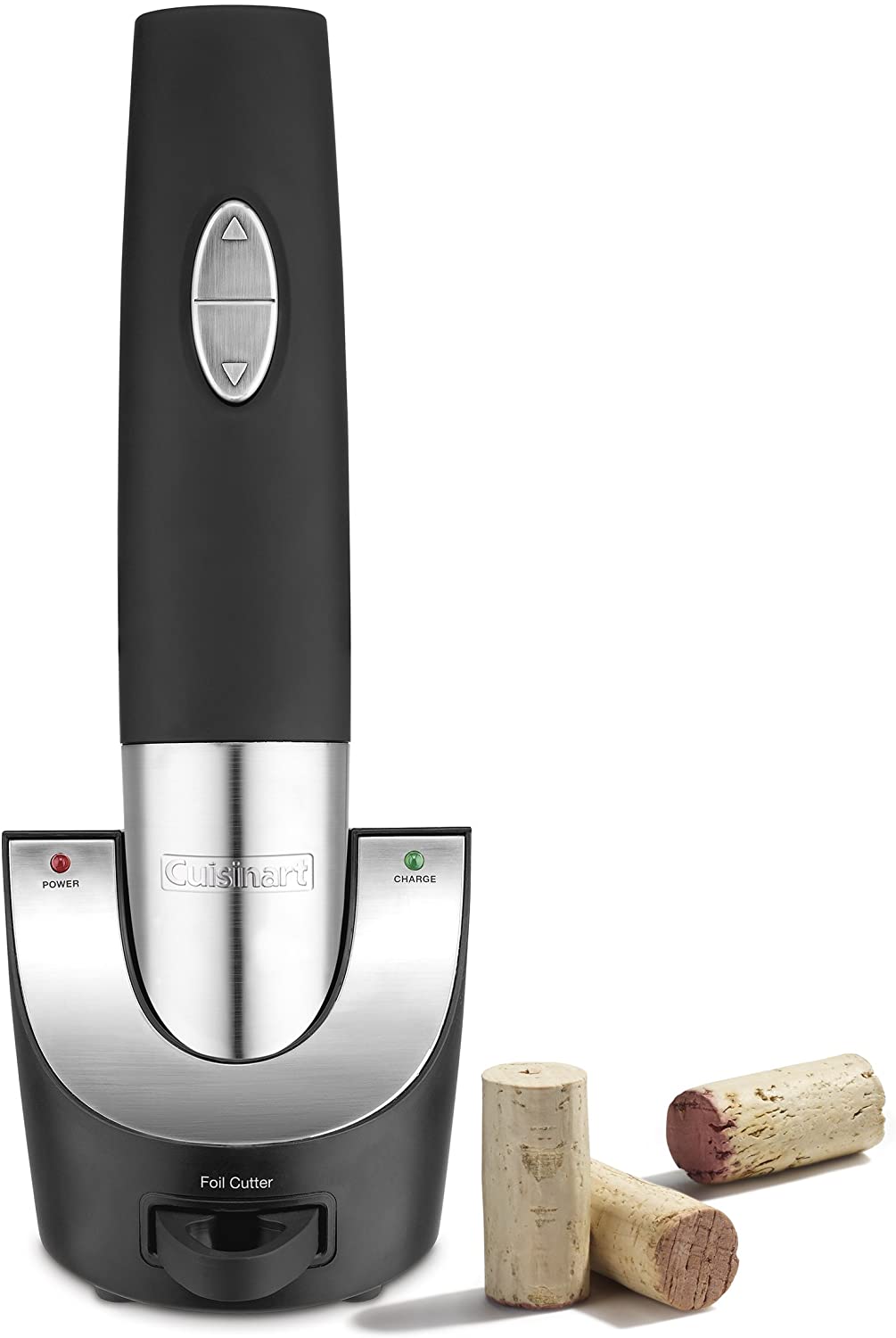 As I find new goodies I'll be sure to update this list. If you have any questions about anything listed here, let me know! These are all handy kitchen gadgets that I use regularly.
Reminder that you can access this entire list on Amazon in case you want to buy any of add them to a wish list!
What are your favorite kitchen gadgets?
I want to know what you can't live without in your kitchen! Did I miss your favorite gadget in my list? Share in the comments below!
I love to bake and cook and share my recipes with you! I know it's hard to remember to come back and search, so I've made it easy for you with my weekly newsletter! You can subscribe for free and I'll send you delicious recipes every week right to your email.
Amanda Davis is the entrepreneurial mom of four grown children and four step children. She and her husband, Chef Antoine, love to cook together creating recipes for this blog. Amanda also make kid's crafts and creates decorative items for her home. She is a crafting expert and guru in the kitchen and has appeared online and in print publications many times over the years. She is also a craft book author five times over and product developer as well as the owner of
FunFamilyCrafts.com
. You can find her on social media by using the buttons to the left!
Latest posts by Amanda Davis (see all)