Everyone should know how to make salsa using fresh tomatoes! I can show you how to make restaurant style salsa too, but today we're making my homemade salsa with chunks of fresh tomatoes that my family insists on constantly. They always say "Mom, you make the best salsa!"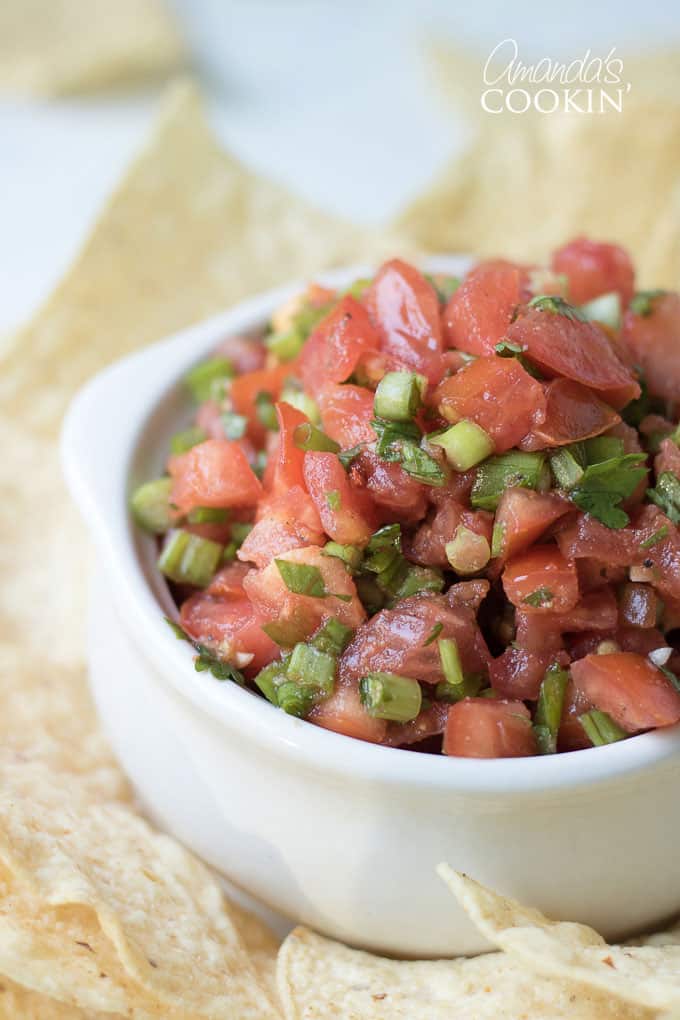 Salsa Recipe
This is the homemade salsa I have been making for over 20 years. I first tried it at a pool party when we lived in Las Vegas back in the late nineties. When I asked the hostess how to make salsa like she had, she gave me a rough list of ingredients. That's how my recipe was born!
My daughter was searching this blog recently and texted me "Ma, I can't find your salsa on your blog!" She wanted to take it to a party and was shocked she couldn't find it.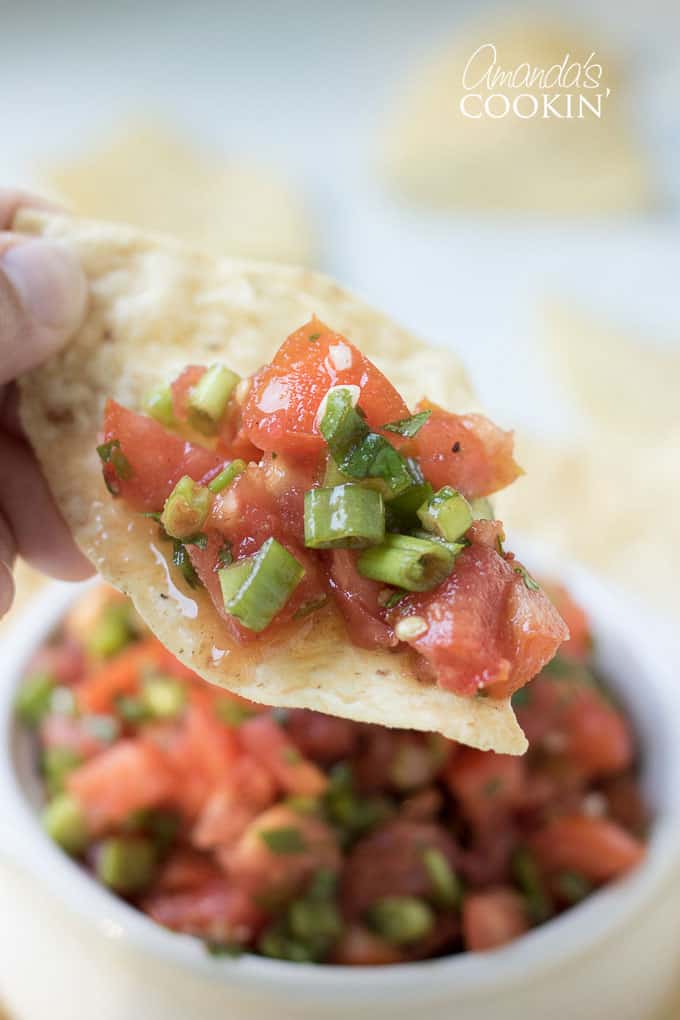 Well it used to be here, but it was combined with my homemade taco seasoning. But long ago when this blog was young I had combined those two recipes into one post. Then about two years ago I had new photos taken for the taco seasoning and rewrote the post just for that, hence removing the salsa recipe!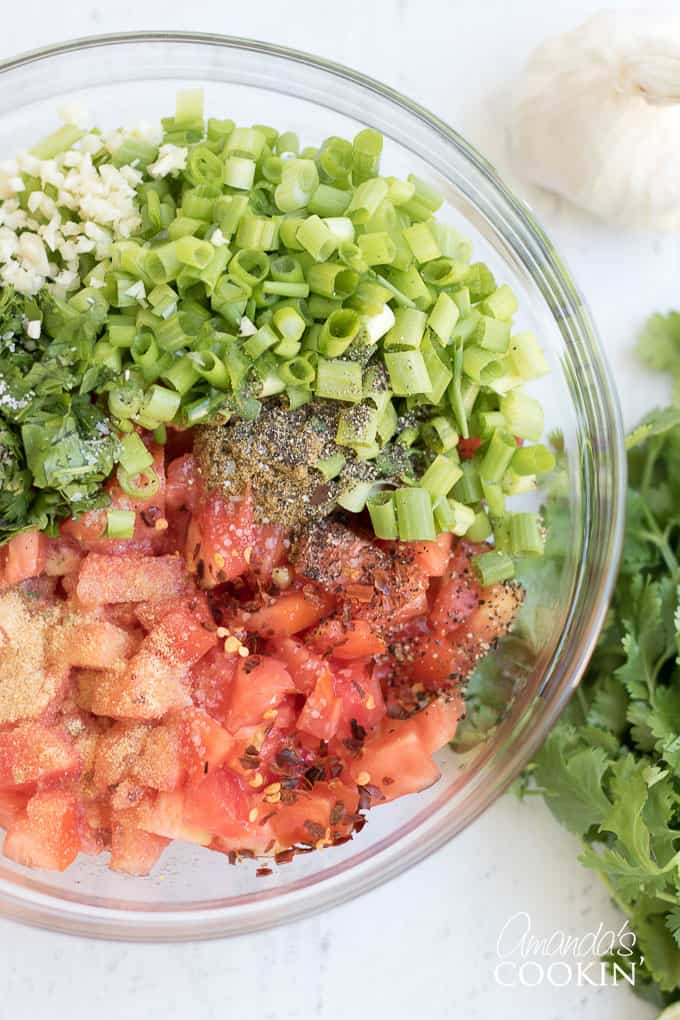 How to Make Salsa with Fresh Tomatoes
I've gotten to the point where I no longer measure, I've made my salsa that many times. In fact, in order to write up this recipe and show you how to make salsa, I had to use measuring cups and spoons to make sure I was giving you accurate instructions!
Tips for Making Salsa with Fresh Tomatoes
There are a few tips I can throw your way for making the best fresh tomato salsa you'll ever eat. Be sure you read these tips on how to make salsa that everyone will rave about.
Tomatoes
When choosing fresh tomatoes for making salsa you want them to be ripe yet firm. If they are too soft, they'll break down in the salsa, appearing mushy. Look for nice red tomatoes and give them a gentle squeeze. They should be firm to the touch but have just a little give. You don't want hard tomatoes.
I use my Vidalia Chop Wizard to cut my tomatoes. You get uniform pieces and it's a lot easier than using a knife. I'm not a big gadget person, but I love this chopper! I even bought one for my daughter for Christmas last year.
Cilantro
Rinse your fresh cilantro under the tap then pat it dry with some paper towels. Remove the leaves from the stems. You don't want to include the stems in your salsa. I use herb scissors to cut my cilantro, they are one of the best kitchen tools I have!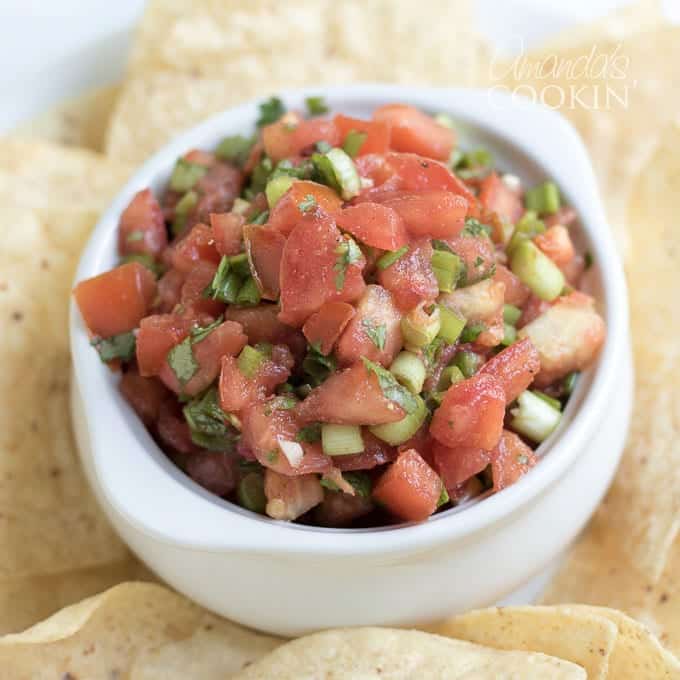 Garlic
You can use fresh garlic or jarred garlic. It's honestly based off of your preference. I have used both fresh garlic and the jar garlic and don't notice a big difference in my salsa. I love the convenience of the garlic in a jar to be honest!
Onions
I only use scallions in my homemade salsa. I have used yellow, white and red onions before and green onions are just my favorite for this recipe. Cut the end of the bulb off and slice the scallion thin all the way up to about halfway through the green ends.
Controlling the heat
As you can see from this recipe I use just a pinch of red pepper flakes and I don't use Jalapeno pepper. This seems to be the most pleasing to a variety of people, and since I bring my salsa to almost every single party, that's a deal breaker for me.
You can absolutely experiment with your favorite fresh peppers in order to adjust the spiciness in this salsa. Just remember that if you use fresh peppers such as Jalapeno or Serrano, if you leave the pith in, that's where all the heat is. It's a common mistake to think that just removing the seeds takes away the heat. In fact, the seeds don't contribute to the heat at all, it's that white tissue known as the pith that packs the punch.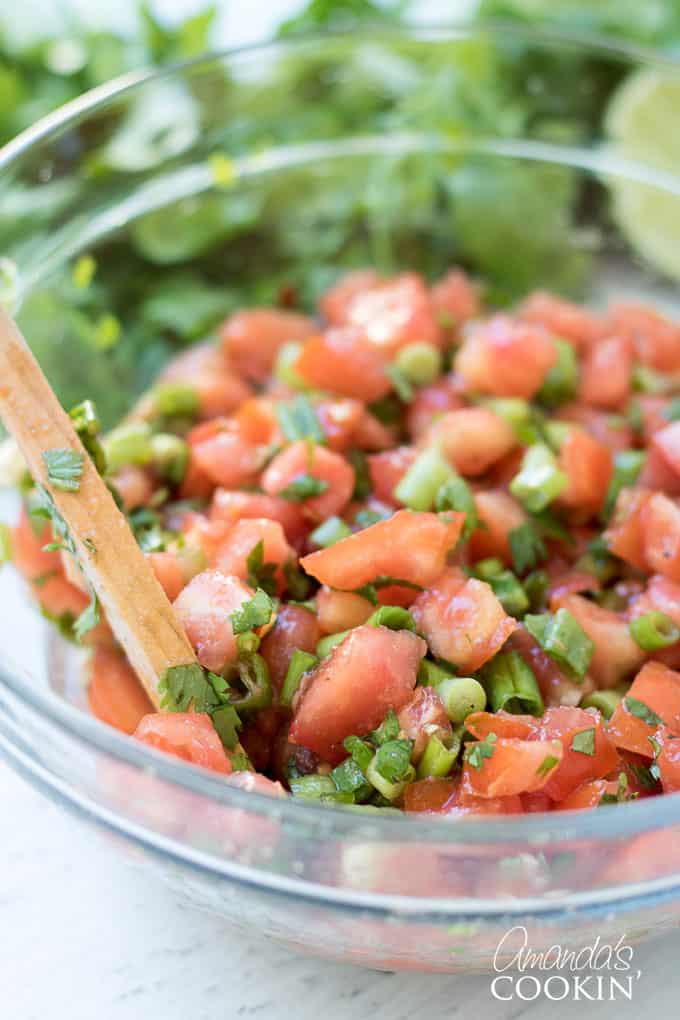 Salt
My fresh salsa recipe uses Kosher salt and garlic powder. If you want use table salt, go ahead and replace it with the same measurement. However, if you want to use garlic salt, then omit the salt and the garlic powder altogether and use 1/2 teaspoon of garlic salt instead.
Lime juice
Please, use fresh lime juice in this salsa recipe. The bottled lime juice, and the juice that comes in those little green plastic lime shape containers, is just not the same. But here's a tip. Always zest your limes before juicing them. Place the zest in a plastic sandwich bag, squeeze all the air out, then seal and put in the freezer. You can use it when you make my Coconut Rum Mojitos!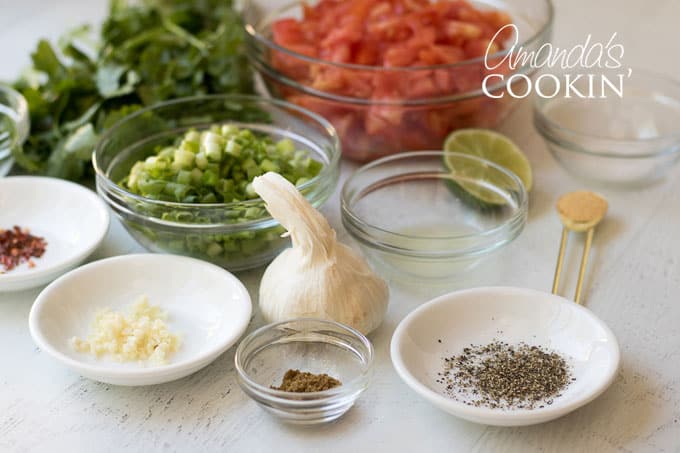 Ingredients for Homemade Salsa
These are the things you'll need to make the best homemade salsa ever. Check the printable version at the end of this posts for quantities and measurements. And be sure to check my tips above to get the most of your your ingredients and your homemade salsa.
Tomatoes
Scallions
Cilantro leaves
Garlic
Ground cumin
Red pepper flakes
Kosher salt
Garlic powder
Freshly ground black pepper
Lime juice
Helpful Kitchen Tools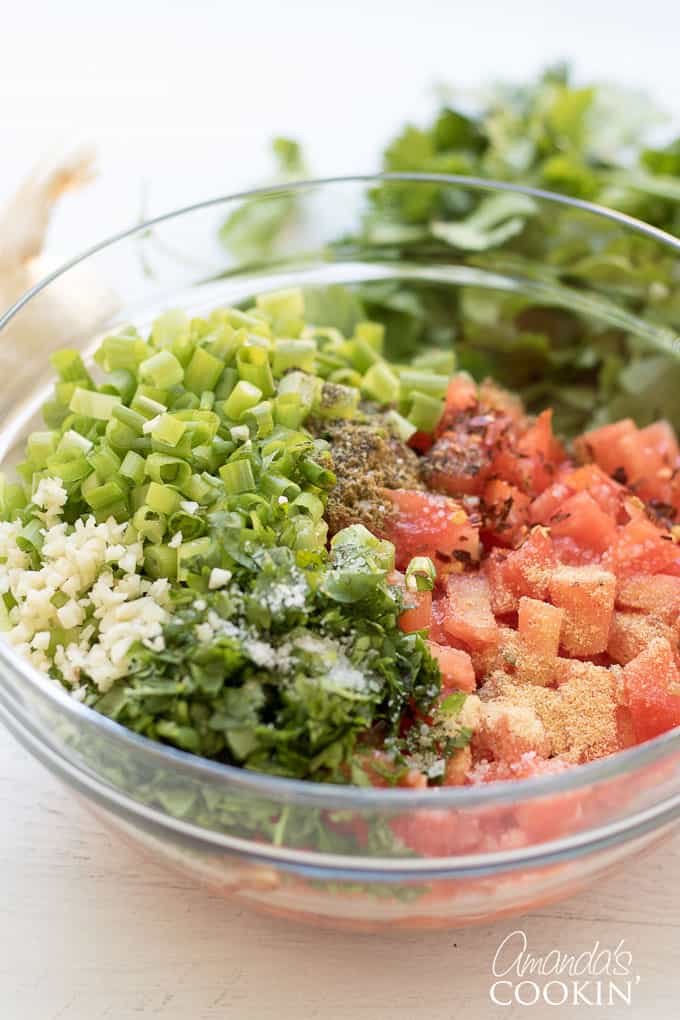 Chop your tomatoes first and put them into a large bowl.
Slice your scallions, trim and chop the cilantro leaves, and mince the garlic.
Add all the ingredients to the bowl with the tomatoes and stir it all together well.
Serve with tortilla chips.
Store leftovers (if you actually have any) in a covered container in the refrigerator for no more than two days.
Tip: I have also heated my leftover salsa in a saucepan to use in casseroles. Simply place in a saucepan and bring to a low boil over medium-high heat. Reduce to low and simmer for ten minutes. Store in the refrigerator for up to 5 days.
Don't miss our favorite fruit salsa's and the infamous Cowboy Caviar recipe below!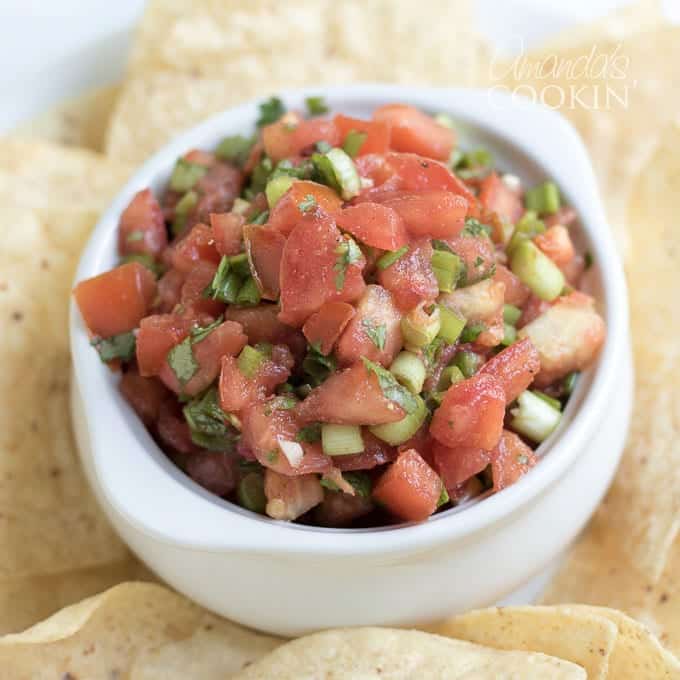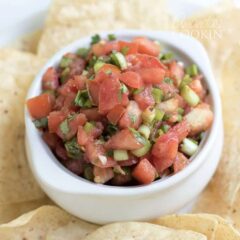 Salsa with Fresh Tomatoes
Everyone should know how to make salsa with fresh tomatoes!
Print
Rate
Ingredients
3

cups

tomatoes

20 ounces total, 3 cups chopped or 1.25 pounds

4

tbsp

green onion

2 scallions, sliced

2

tbsp

cilantro leaves

minced

2

cloves

garlic

minced

1/2

tsp

ground cumin

1/2

tsp

kosher salt

1/2

tsp

garlic powder

1/8

tsp

black pepper

fresh ground

1

pinch

red pepper flakes

2

tsp

lime juice
Instructions
Chop tomatoes and slice scallions.

Trim leaves from cilantro and mince.

Combine all ingredients in a large bowl.

Serve with tortilla chips.
Nutrition
Serving:
0.75
cup
|
Calories:
27
cal
|
Carbohydrates:
5
g
|
Protein:
1
g
|
Sodium:
298
mg
|
Potassium:
281
mg
|
Fiber:
1
g
|
Sugar:
3
g
|
Vitamin A:
1005
IU
|
Vitamin C:
17.7
mg
|
Calcium:
18
mg
|
Iron:
0.6
mg
Amanda Formaro is the crafty, entrepreneurial mother of four grown children. She loves to bake, cook, make kid's crafts and create decorative items for her home. She is a crafting expert and guru in the kitchen and has appeared online and in print publications many times over the years. She is also a craft book author five times over and product developer as well as the owner of
FunFamilyCrafts.com
. You can find her on social media by using the buttons to the left!
Latest posts by Amanda Formaro (see all)