Make this light and fluffy vegetable frittata the star of your next breakfast or lunch. It's loaded with potatoes, bell pepper, poblano pepper, creamy ricotta cheese, and spicy Monterrey Jack. Plus learn the secret that takes an ordinary frittata to extra-ordinary that will make it the star of your next brunch.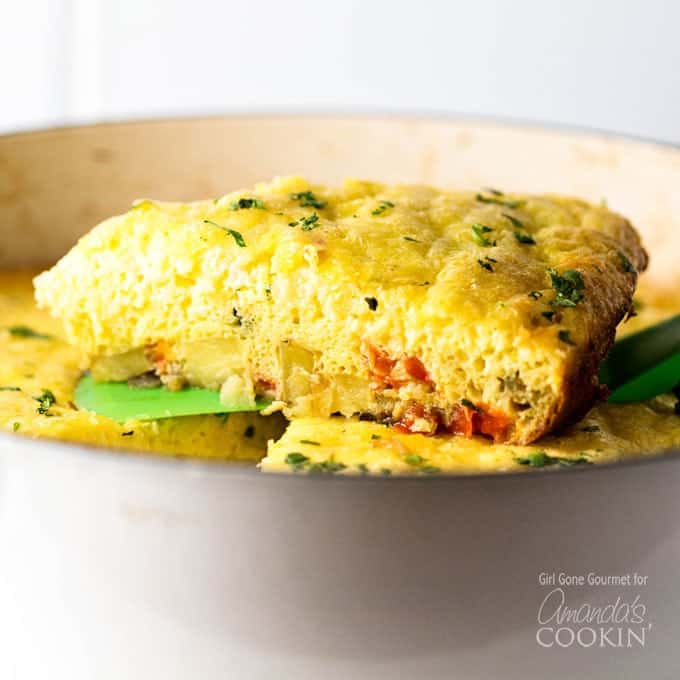 Vegetable Frittata
Most Saturdays you will find me curled up on the couch, cup of coffee in hand, watching the greatest love story of all time: Ina and Jeffrey Garten.
It started with the recipes. In the ten plus years I've been watching The Barefoot Contessa, Ina has never led me astray in the kitchen. Her recipes are simple and always wonderful. But in the last few years I've developed an appreciation for her relationship with her husband, Jeffrey. Now days I often tune into the show hoping for a Jeffrey cameo – seeing them together makes me happy and hopeful.
I think my fascination boils down to a truth: cooking with love adds an extra-special something to a dish. It just tastes better.
So, I'm taking a page from Ina's book and adapted her potato and pancetta frittata recipe, a recipe she made on a recent episode. I switched up the veggies and cheese, but kept the twist that takes an ordinary frittata to extraordinary.
The key to a towering, fluffy frittata is adding some flour and baking soda. Who knew? Ina does, of course, and this simple addition solved an issue I've had with frittatas in the past: sometimes they end up sort of flat and sad. Those eggs need a little extra oomph to rise to their full potential and the flour and baking soda makes that happen.
Oh, that Ina, she's so smart.
RELATED: You'll LOVE this breakfast casserole with ham and cheese. It's the perfect weekend breakfast choice that everyone in the family will enjoy. It would also make a great holiday-morning meal!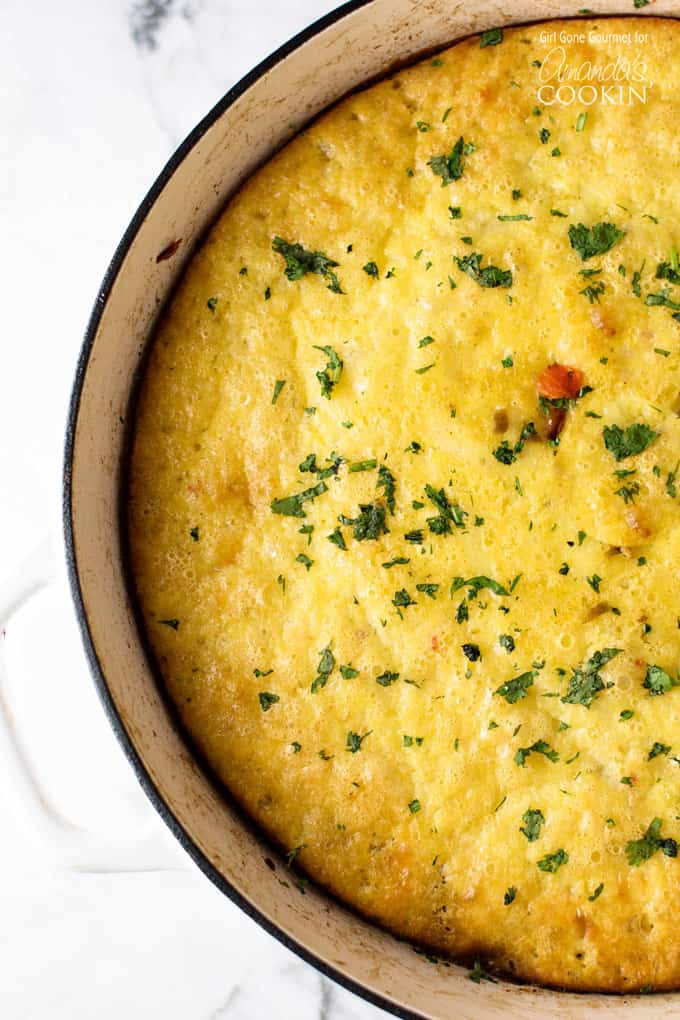 Some Ingredients You'll Need
I like to use Yukon Gold potatoes because they have a nice creamy texture, yet hold their shape when cooked. Give the potatoes a little head start in the pan before adding the other veggies to ensure they cook through.
Red onion, red bell pepper, and some poblano pepper for a little kick of heat are sautéed together until softened.
Whisk the eggs with flour and baking soda. This will give the frittata a bit more structure and allow it to puff up beautifully while it bakes.
I used two kinds of cheese: First, ricotta which melts into the eggs creating a creamy texture. Grated Monterrey jack cheese gives the frittata a little Southwestern flair.
Garnish with a sprinkling of chopped parsley.
Helpful Kitchen Tools
If you love frittata's and all the different ways you can spice them up or add extra flavor, you may want to check out my Cheesy Bacon Potato Frittata. Packed with cheese and bacon, this frittata is a favorite comfort breakfast of mine, I'm sure you'll love it too!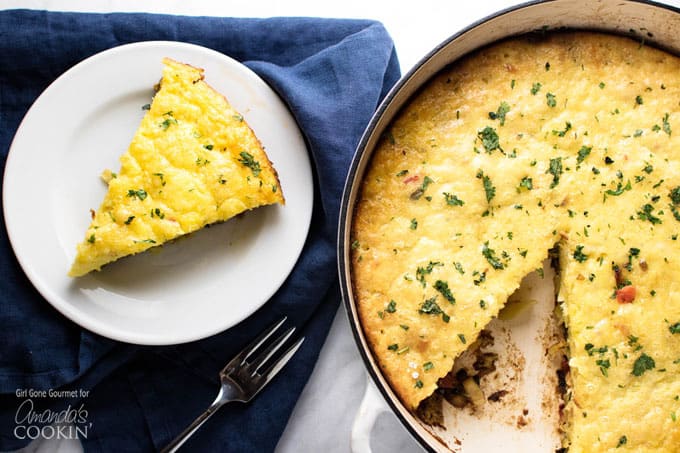 I hope you gather up the ingredients and make this vegetable frittata. Whether you make it for yourself or to share with others don't forget the most important ingredient is love.
Want more brunch recipes? Check out my tex-mex breakfast bake and ham and broccoli strata both can be made ahead and feed a crowd.