Do you own a food processor? If so, Strawberry Frozen Yogurt might just become your new favorite summer recipe! It's so easy, light, and delicious, you'll wonder why you never made it before! Just like this Cherry Yogurt Popsicles recipe, it's the perfect frozen treat to enjoy on a hot summer day!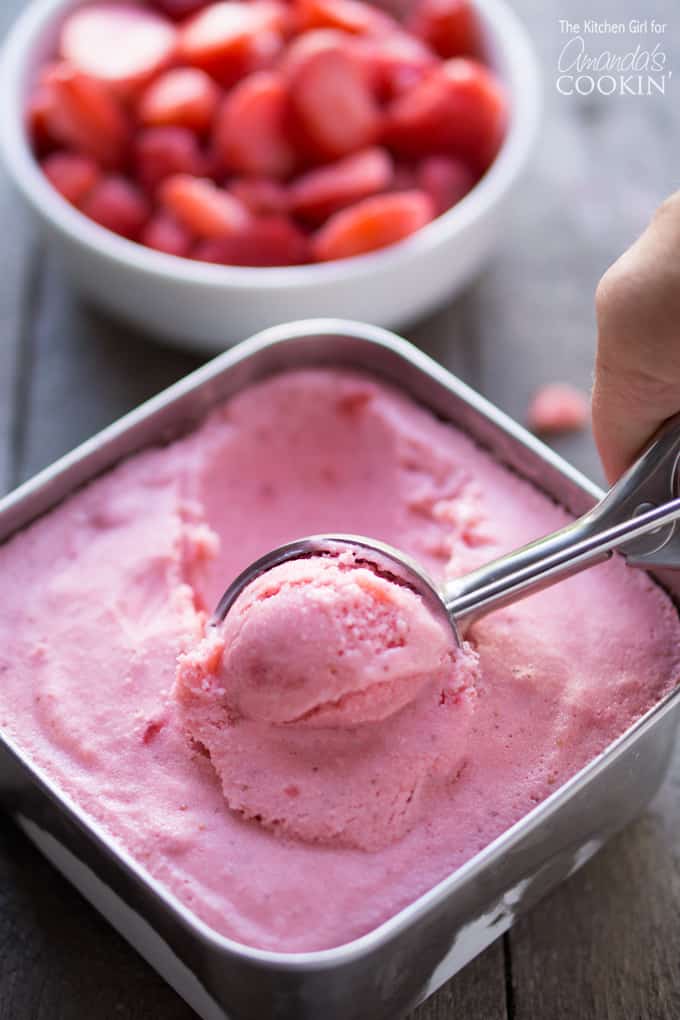 Strawberry Frozen Yogurt Recipe (Food Processor)
I'm curious to know how long ago someone cleverly discovered that you could use a food processor to make frozen yogurt. Bet it wasn't recent, but hey, there was no Pinterest back in the day to show and tell. These days, it's all over the internet…and with good reason. It rocks!!
This strawberry frozen yogurt has been on my test-kitchen list for quite some time, and I finally knocked it off the list. Why, oh why, did I wait so long?! All you have to do is toss strawberries and a few other ingredients into your food processor and, in about 5 minutes, you have the foundation for the healthiest frozen dessert of all time. Who doesn't want that?!
You can literally eat this right out of the food processor…if you like the really soft serve type. But, if you prefer your strawberry frozen yogurt with some structure to it, you'll want this to set up for several hours, preferably overnight, in the freezer. It does yield rock-solid results, making it difficult to serve uniform scoops. So, I recommend transferring it from the freezer to the fridge an hour or two before serving…so it's perfectly scoopable.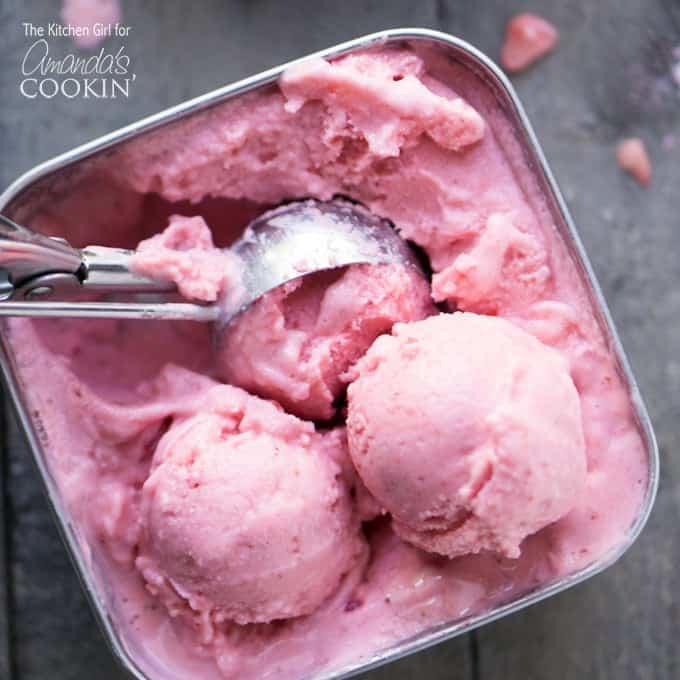 Need more fruit-inspired recipes to chill out this summer? This Strawberry Spring Salad recipe is a slam dunk for any party. It's made with fresh strawberries, feta cheese, candied walnuts, and tossed in balsamic vinaigrette. Or, check out my Grilled Peaches Caprese with Balsamic Glaze to put your grill to work with those seasonal, summer peaches. This one works as an appetizer or dessert!
Strawberry Frozen Yogurt Ingredients:
4 cups frozen strawberries
1/2 cup nonfat Greek yogurt
1 tablespoon honey
1 teaspoon lemon juice
Kitchen tools for this recipe: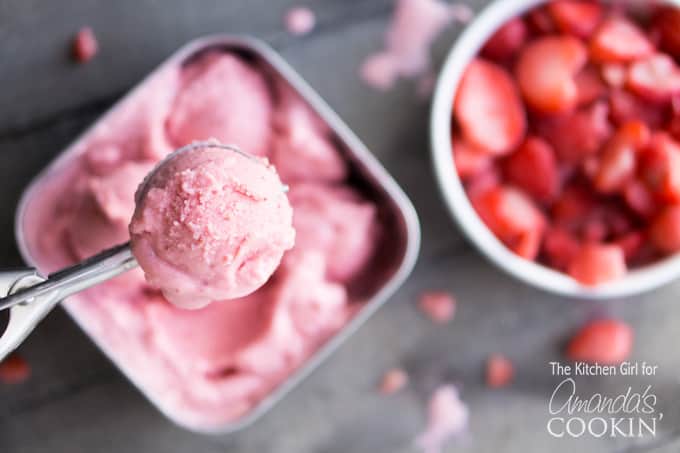 Now sit back, relax, and enjoy a couple scoops of your strawberry frozen yogurt!
Also, don't forget to check out 10 Ways To Use Your Mini Food Processor to get the most out of your mini version! Looking for more delicious frozen treats?
We have a collection of tasty homemade ice cream recipes on the blog, like this Mint Chocolate Chip Ice Cream, which is one of our favorite recipes to make and enjoy all year round. And of course, this Peppermint Ice Cream is a HIT around the holidays and during the winter months! Don't miss all the popsicles we have, including these delicious Mango Yogurt Popsicles.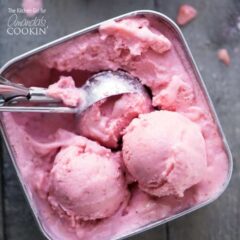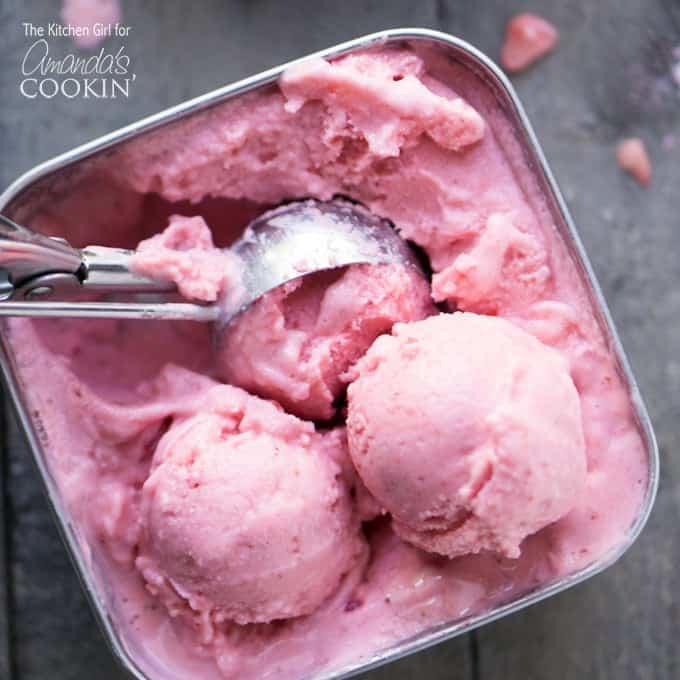 Strawberry Frozen Yogurt
Do you own a food processor? If so, Strawberry Frozen Yogurt might just become your new favorite summer recipe! It's so easy, light, and delicious, you'll wonder why you never made it before!

IMPORTANT - There are often Frequently Asked Questions within the blog post that you may find helpful. Simply scroll back up to read them!
Print It
Rate It
Ingredients
4

cups

frozen strawberries

1/2

cup

nonfat Greek yogurt

1

tablespoon

honey

1

teaspoon

lemon juice
Instructions
Place all ingredients into the bowl of a food processor with blade attachment and lid in place.

Pulse ingredients several times in quick bursts until strawberries begin to break down (remove lid to break clumps apart with a utensil if necessary).

At this point, you may flip the food processor switch to "on" for constant mixing. Allow ingredients to mix until well-combined.

Pour yogurt into a freezer-safe container; place in freezer overnight.

To serve, transfer to refrigerator for a few hours before serving (to soften).
Nutrition
Serving:
1
half cup
|
Calories:
51
cal
|
Carbohydrates:
10
g
|
Protein:
2
g
|
Sodium:
7
mg
|
Potassium:
170
mg
|
Fiber:
1
g
|
Sugar:
8
g
|
Vitamin A:
10
IU
|
Vitamin C:
56.8
mg
|
Calcium:
34
mg
|
Iron:
0.4
mg
Traci authors The Kitchen Girl® food blog, where busy people on a budget grow smart food habits. She advocates eating for wellness as a lifestyle, offering healthy kitchen tips and everyday, whole food recipes that won't break your wallet...or your palate. She loves her job...even the 'dishes' part.
Latest posts by Traci Antonovich (see all)