Bring the s'mores indoors with this s'mores icebox cake to feed a crowd. With layers of graham crackers, marshmallow whipped cream, and chocolate ganache I guarantee everyone will be clamoring for s'more! Just like these S'mores Cupcakes, this s'more icebox cake is one to be reckoned with! An easy one-pan, no-bake dessert everyone will love.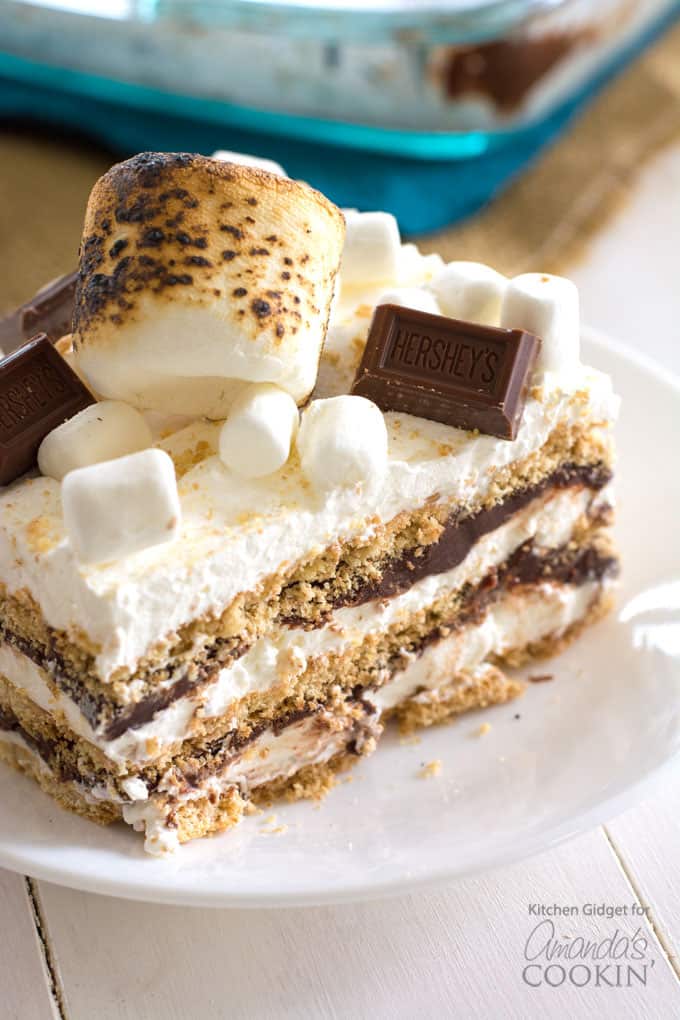 S'mores Icebox Cake
We all have certain foods we're crazy about. I'm talking slightly obsessed, makes you giddy, guilty pleasures that you can't resist. For me, that would be corn dogs, maple syrup flavored foods and all things s'mores. I cannot resist the combination of wheaty graham crackers, rich milk chocolate, and toasted marshmallows. Making s'mores around the campfire just isn't enough to satisfy my s'mores cravings, so I whipped up this no-bake s'mores icebox cake.
Icebox cakes are wonderful because all the ingredients are layered then set in the fridge, or "icebox", as our ancestors used to call that fantastic invention. Icebox cakes are perfect for summer when you don't want to turn on the oven, or when you need a make-ahead dessert. Or how about on a cold snowy day when you can only dream about a summer day? Whip up some Spaghetti Salad, put on a pot of BLT Lentil Soup and pretend it's 60 degrees warmer outside!
My version of s'mores icebox cake contains layers of graham crackers, marshmallow whipped cream and milk chocolate ganache. The toasty flavor is important, so I broiled a few marshmallows for the top before serving. I may have had a little too much fun with that part, but that's the point of s'mores!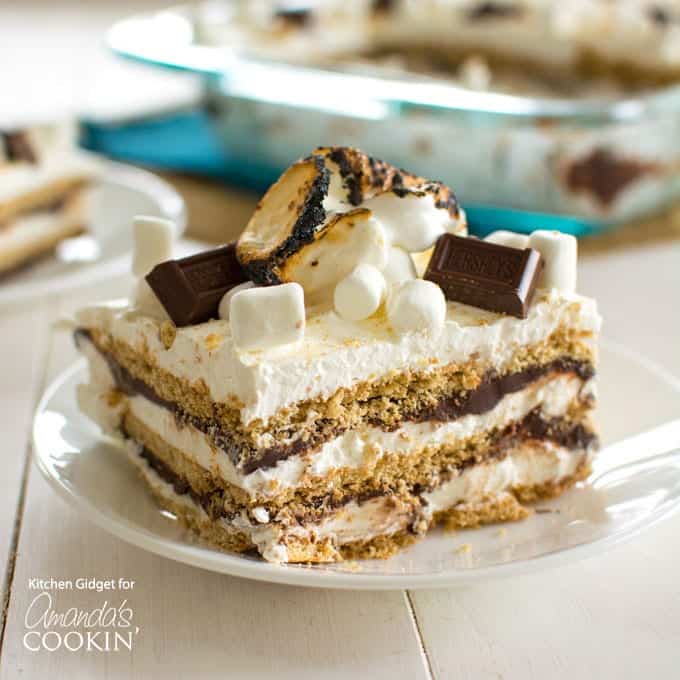 First, a thin layer of marshmallow whipped cream goes down in the pan, just to anchor the cracker layer. It's like making lasagna dessert. You can use whipped topping or homemade whipped cream. We prefer the taste of fresh whipped cream, but the convenience of cool whip is always nice.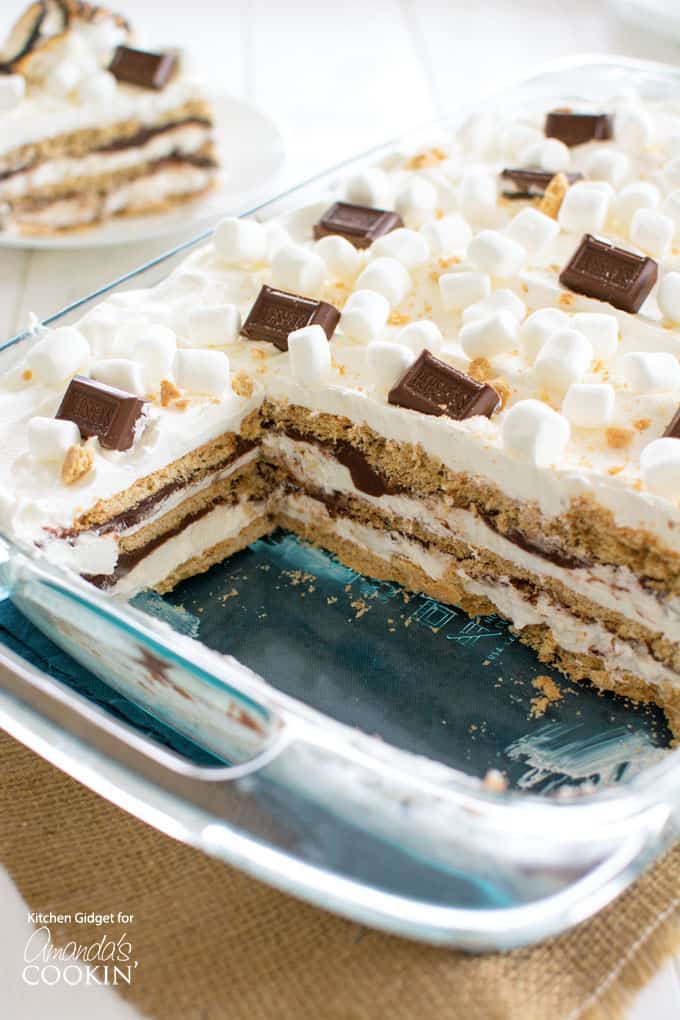 Next, place a layer of graham crackers on top of the whipped cream. They will soak up some of the cream and soften to a cake-like texture. Finally, a sheet of fudgy ganache. It's just a mixture of chocolate and cream—the same stuff they make luxurious truffles and pastry glazes from. This stuff tastes incredible, it's hard not to eat it by itself!
Repeat the layers until the pan is full, cover and chill your s'mores icebox cake overnight. Before serving, garnish with crushed graham crackers, chocolate chunks, and a few toasted marshmallows. To char them, you can use a kitchen torch, your oven broiler or stovetop burner (if you have a gas range).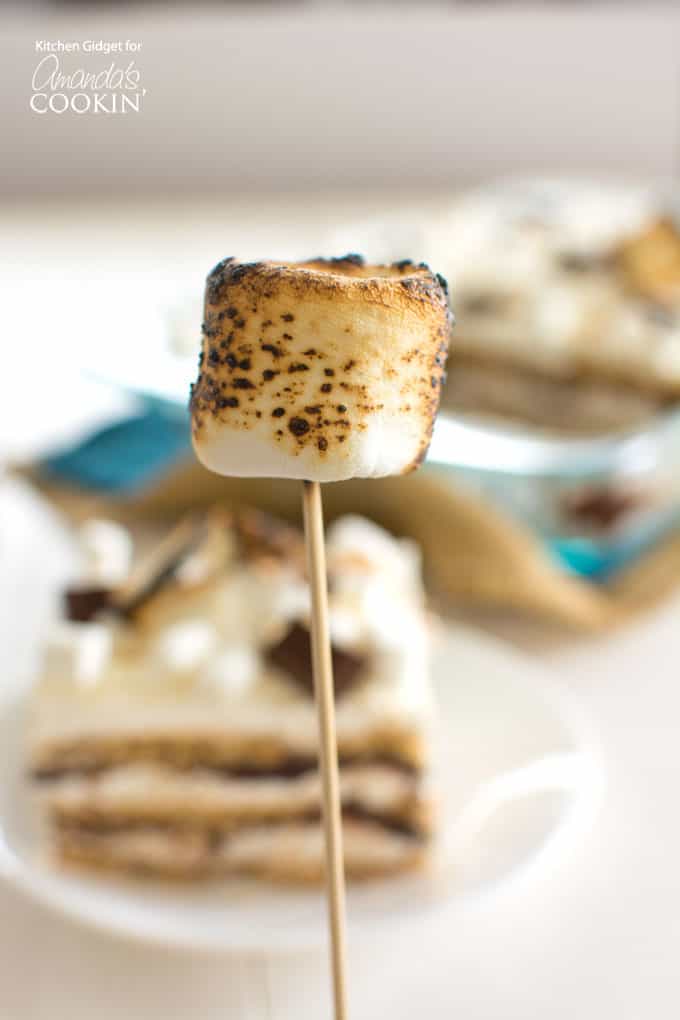 Ingredients for S'mores Icebox Cake:
3 packs of graham crackers
16 oz whipped topping, thawed
1 jar (7 oz) marshmallow fluff
2 cups mini marshmallows
2 1/2 cups chocolate chips
2 cups heavy cream
Helpful kitchen tools: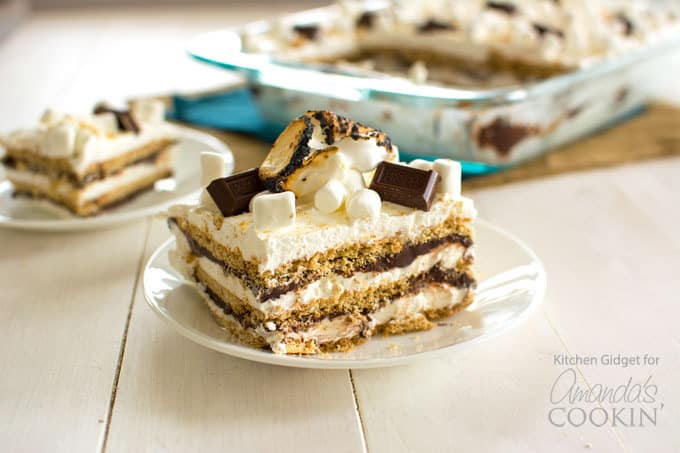 We hope you enjoy this S'mores Icebox Cake! Who wouldn't? This ultra enticing s'mores icebox cake will have s'mores lovers rejoicing! If you love all things s'mores, you may want to hop over to this S'mores Martini, these S'mores Cupcakes, or these Crumb-Coated S'more Cookies!
More One-Pan Dessert Ideas: