It's funny, when I bought the ingredients for this, my original intention was to make cream of mushroom soup. I had recently made my stuffed mushrooms for a get together and it made me crave more mushroom goodness. Then I remembered having some chicken sausage in the freezer and decided to veer away from the cream a bit and make it more of a golden mushroom soup. The recipe I was originally going to make called for barley, however I have a love for wild rice and decided to go that route instead.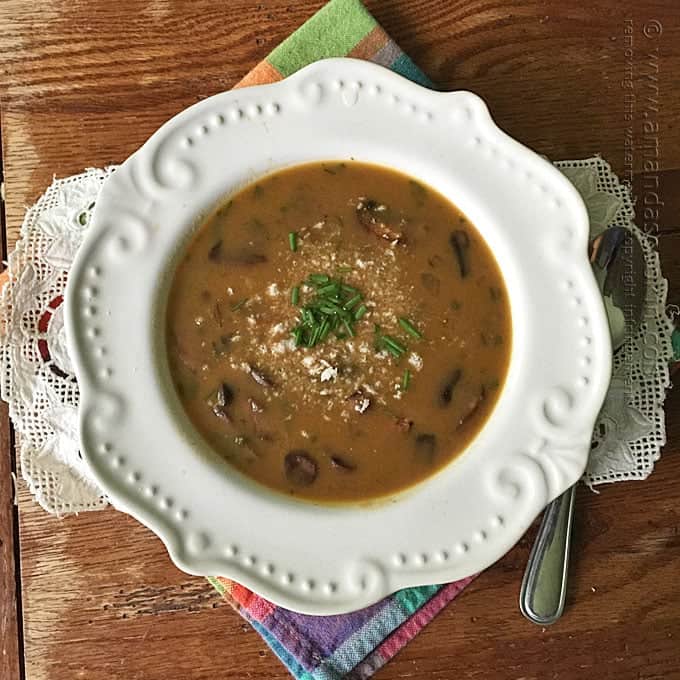 I recently bought myself a FitBit Flex
, and I LOVE it. I've been wearing it for less than two weeks, but it has already made me more active. You can set your goals within the app or on their website and your bracelet (called a tracker) automatically syncs with it. The default goal for number of steps per day is 10,000. On an average day where I don't move away from my computer too often, I will walk about 5,000 steps. Since getting the FitBit I've found myself parking father away from the door when I go to the store or walking somewhere that I might have otherwise driven. Just the other night the app notified me that I was close to my goal, and even though it was late and I was tired I found myself walking around the house so I could hit that 10K goal!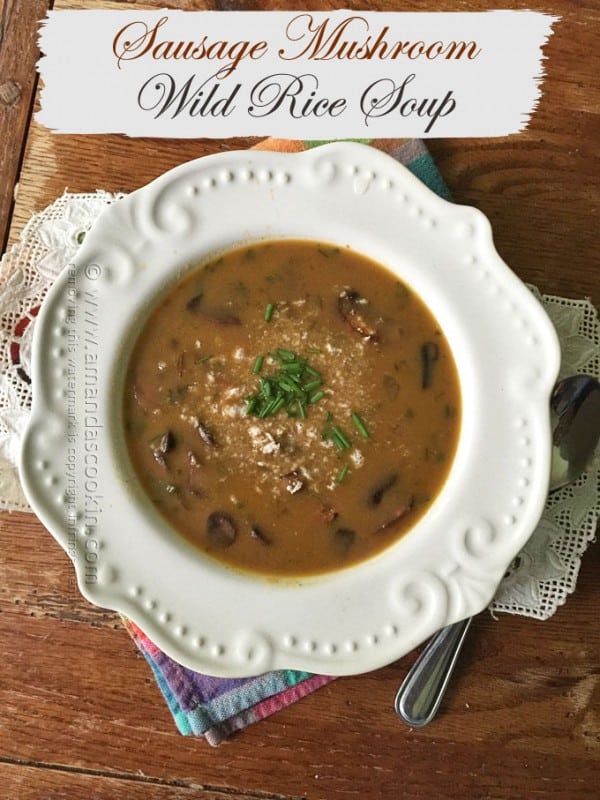 It's true that I want to lose weight, but I also want to improve my health. I just turned 48 at the beginning of May, so no better time than the present to get serious about eating better and getting some cardio in, even if it is just a little to begin with.
Since getting the FitBit, I've been watching what I eat and logging it into the app to keep track. I'm pretty proud of myself, after all it was not uncommon for me to eat a candy bar everyday! I ate a lot more junk than I realized actually. While I was still making good food choices like fresh vegetables, fruit, cheese and nuts, I continued to eat packaged chips, cookies and candy. I've already lost a few pounds and hope I can keep it going with choices like this mushroom soup.
Mushroom Soup with Sausage & Wild Rice
I haven't had a lot of time to cook or bake lately. My craft business has kept me pretty busy. My 3rd, 4th and 5th books all go on sale in August, one of them being Star Wars Mania! Very excited about all of those. I'm also working on branded craft kits for kids that will be available in 2016. So needless to say I've spent a lot more time around the craft table than I have around the mixer or saucepan.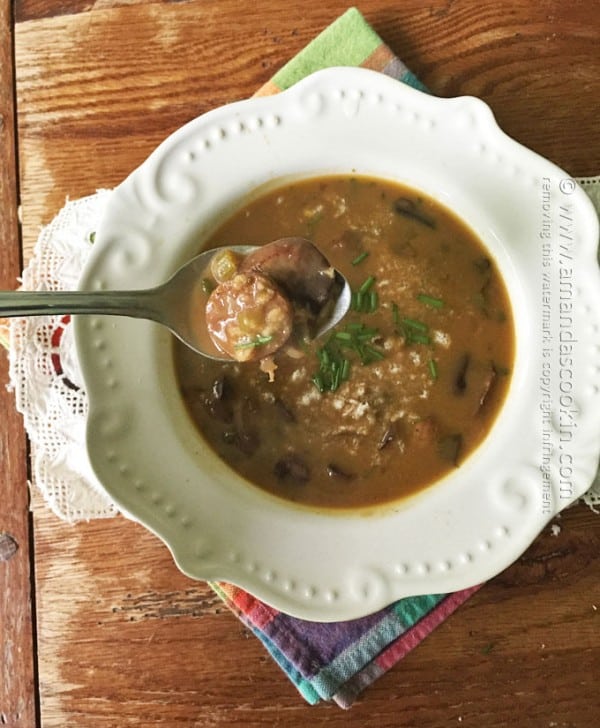 But today I was able to put this mushroom soup recipe together and it was truly delicious! The amounts listed make 3 servings. You can easily double it for more. I made three so I could have one for lunch today and save two more for lunches during the week. There are only 195 calories per serving, so they even make a decent afternoon snack if you're craving some comfort.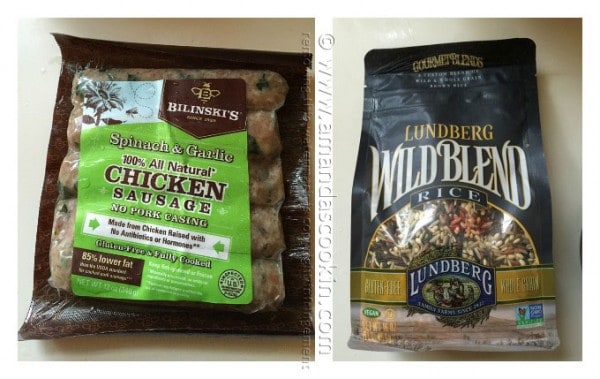 I used a chicken sausage I had on hand, you can use whatever your favorite is.
Combine wild rice and chicken broth in a small saucepan and bring to a boil. Reduce heat, cover and simmer for 30 minutes. There will still be liquid left in the pan.

Meanwhile, heat olive oil and butter in a medium saucepan and cook sausage, browning it on all sides. Remove sausage to a plate, slice and set aside. Add shallots to the oil/butter in the pan and saute for a minute or so.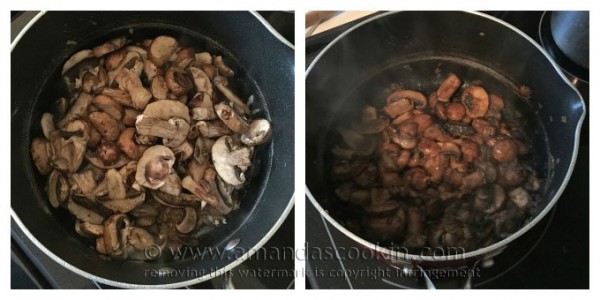 Add sliced mushrooms. Toss to combine and cook over medium heat for 8-10 minutes, stirring occasionally.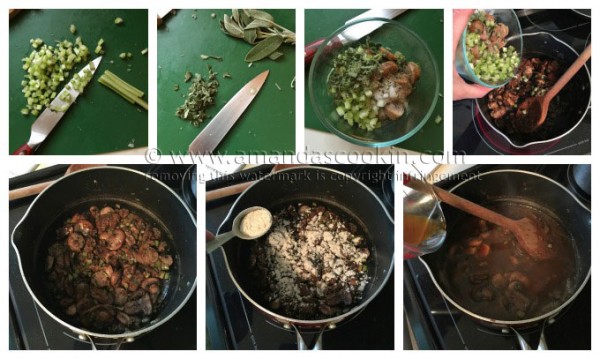 Stir in sliced sausage, celery, sage, salt and pepper. Sprinkle with flour and stir to combine. Add Chardonnay and cook until reduced by half, about 4 minutes or so.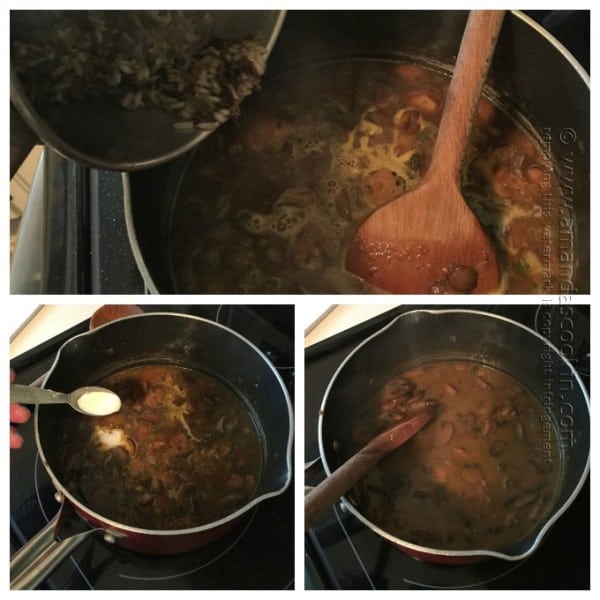 Add vegetable broth as well as the rice and its remaining broth, stir and bring to a boil. Reduce heat and simmer uncovered for 12-15 minutes. Stir in heavy cream and cook for another minute or two until heated through.
You might also like: