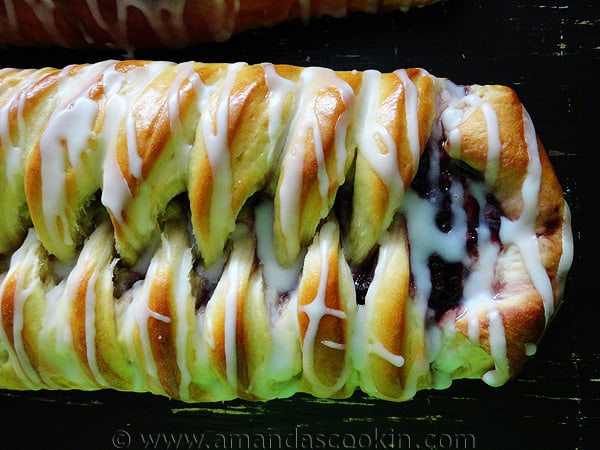 This beautiful breakfast danish is not only impressive looking, but it tastes amazing and makes enough for a couple of breakfasts or to give one to a friend. While the end result looks difficult it's really not, and actually it's quite fun once you get started! Admittedly I killed the yeast in my first attempt causing failure. I was a little more careful the second time and had great results as you can see above. This cream cheese and jam filled danish is absolutely delicious and beautiful to look at!
This recipe has serious wow factor. In fact, when I pulled these from the oven they were so pretty I called everyone in to have a look! Ha ha! There were oooo's and ahhhh' all around. :)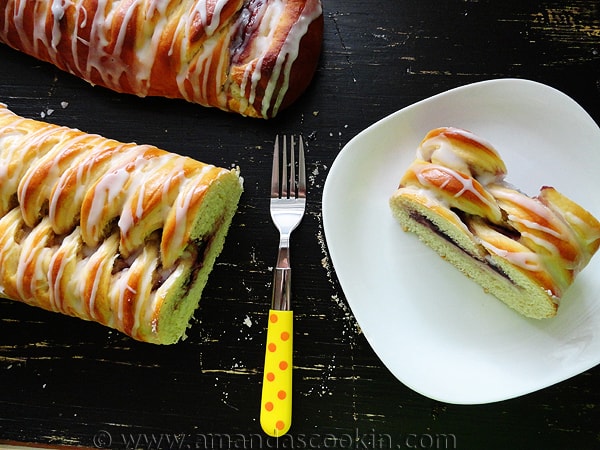 I first came across this recipe when I was browsing through my King Arthur catalog that came in the mail. The recipe can be found online as well as here -> Braided Lemon Bread (note, if you want to make the lemon curd version I omitted lemon juice from mine, so check their recipe) though I made a couple of changes to mine. I love the method and after the first attempt failed I sought out the online version and found it to be highly rated by many of their customers. That prompted me to try again.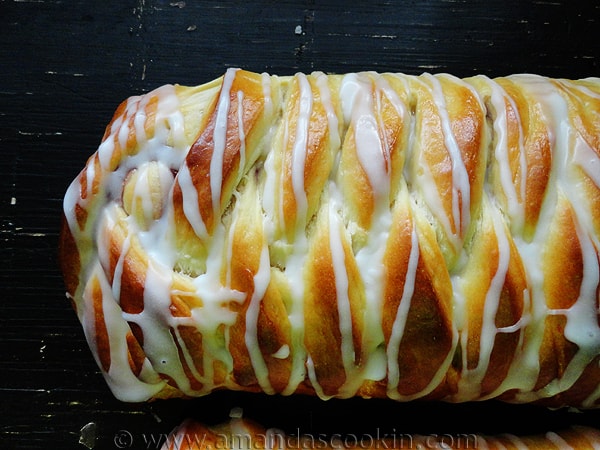 With the first attempt I rushed things a bit. I should have brought my ingredients to room temperature, but I didn't. I heated my water too much and didn't let it cool, hence killing my yeast. I should have stopped at the beginning when noticing my yeast didn't really proof properly… but I didn't. So don't be like me, at least on that day. ;-)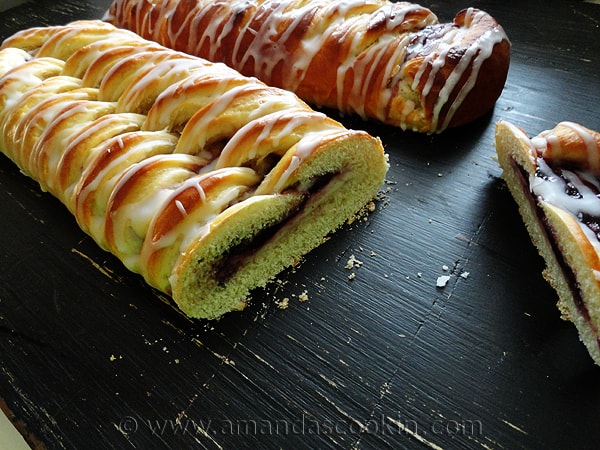 The second time around I was smarter. I brought the ingredients out and let them come to room temperature and was careful to check the sponge before continuing so I wouldn't waste a ton of ingredients.

What's a sponge? It's basically a starter, a mixture of yeast, flour, water and sugar. A sponge lets the yeast start working before adding it to the rest of the dough. Because this dough has eggs and butter in it, it makes for a much richer dough and also makes it a little harder for the yeast to work and do its thing. Using a sponge gives it that little bit of head start that it needs. After mixing the sponge ingredients, cover it with plastic wrap and let it work for about 15-20 minutes. It'll get all frothy and bubbly. While the sponge was growing I mixed together the yogurt, eggs and vanilla, and whisked together the dry ingredients.

In your mixer's bowl, combine the dry ingredients, the wet ingredients and the sponge. Mix it together, I used the dough hook. After the mixing the dough is going to rise from 60-90 minutes, so this is a good time to get your filling ingredients ready.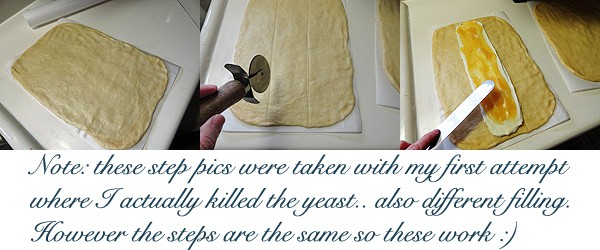 After the dough has risen you'll cut it in half and then roll it out to a 10″x15″ rectangle. I found the easiest way to do this was to actually cut a piece of parchment to that size, and roll the dough out to fit.  Then repeat for the other half of the dough. Lightly mark the rectangle to separate it into thirds, then spread the cream cheese mixture down the middle, followed by the preserves or lemon curd. NOTE: In the picture above I didn't leave much room at the end – in the second batch I did and it worked much better. So moral of the story, don't spread the filling all the way to the ends, leave about an inch of the dough showing.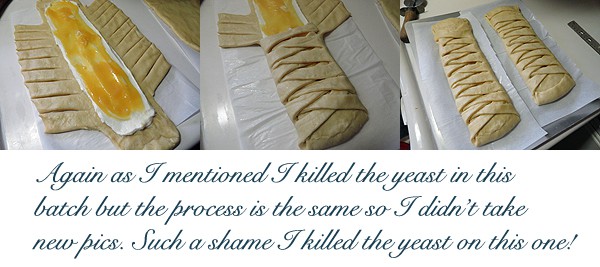 As you can see from the photo, if you do spread your filling too far, you can take the little excess pieces of dough that get cut off the ends and lengthen the dough in the middle. The braid is actually quite easy. Make your cuts (full instructions below) then pull one strand over the top, then pull from the other side, then the other side, etc, alternating all the way down. I also recommend gently pressing the end of each strip into the dough that it touches just so they don't pop open during cooking. I did read that in someone's comment on KAF that it did in fact happen to her.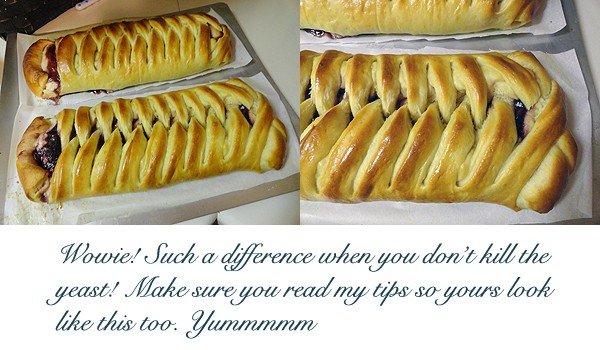 Now these pics are of the successful batch where I used blackberry preserves on one and black raspberry on the other. Would be great with apricot, cherry preserves, orange marmalade, lemon or lime curd, or even pie filling!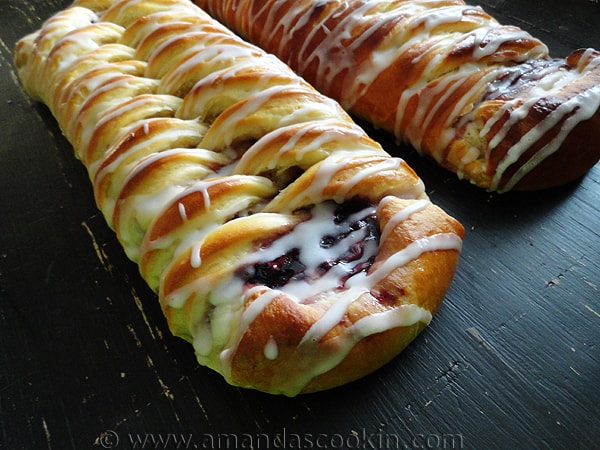 I decided to go with a powdered sugar drizzle on mine because 1) I don't have the pearl sugar that KAF used on theirs and 2) I think drizzle is much prettier. :) This is a delicious recipe that I will make again and again!