No-cook fudge and no-churn ice creams are my favorite easy desserts for just about any occasion. So naturally, with St. Patrick's Day just around the corner, I had to make some Rainbow Fudge, a colorful and kid-friendly counterpart to my 4-Ingredient Bailey's Fudge.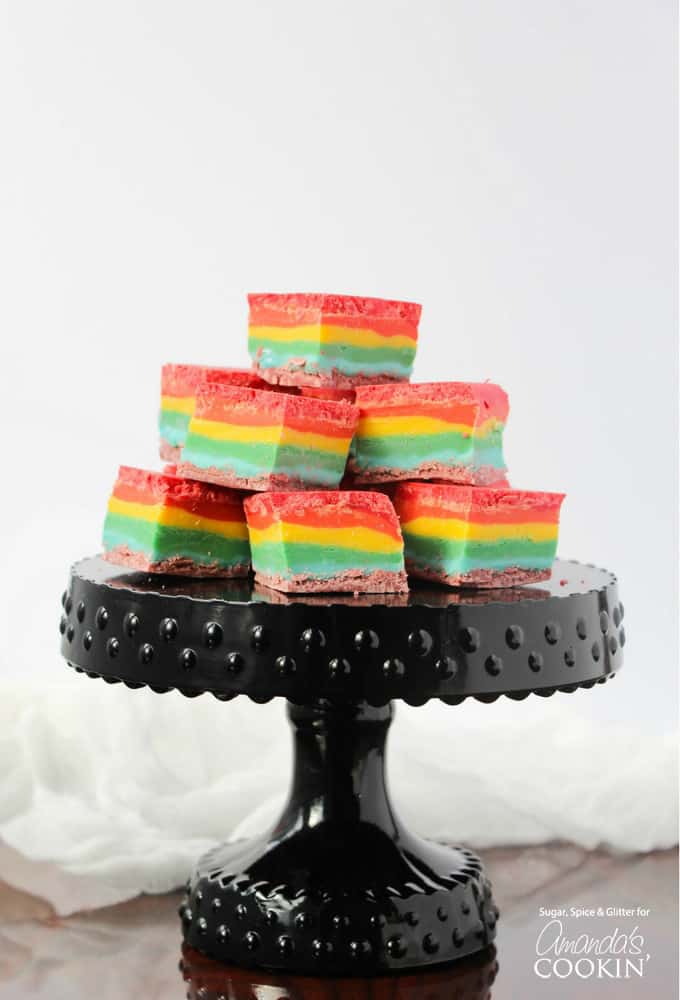 Rainbow Fudge Recipe
Unlike the majority of my no-cook fudge recipes, this recipe can be a bit time-consuming because each layer needs to be added after the previous layer has had a chance to cool and set in the fridge. Adding a layer takes just a couple minutes each time, so it's a great recipe to work on as you find yourself in the kitchen – make a layer at breakfast, when you're waiting for lunch, when you pop in for an afternoon coffee, etc.
There are a few different ways you can achieve the different colors for the rainbow fudge layers:
buy candy melts/melting chocolate in each color
buy candy melts in the primary colors (and mix for the secondary)
buy white candy melts or chocolate and use a gel-based food coloring
For the third option, using food coloring, just ensure that your food coloring is not water-based because that can cause the chocolate or candy melts to separate and take on a curdled appearance.
I'm going to write this recipe with method #1 in mind, but if you use method #2 you'll want 1 cup of each primary colored candy melt.
For a healthy rainbow recipe to enjoy before you dig into the fudge, check out my Fresh Rainbow Salsa or my Healthy Rainbow Spaghetti over on Sugar, Spice & Glitter.
There are affiliate links in this post. That means if you buy something from that link, I will earn a small commission, but it won't cost you anything additional.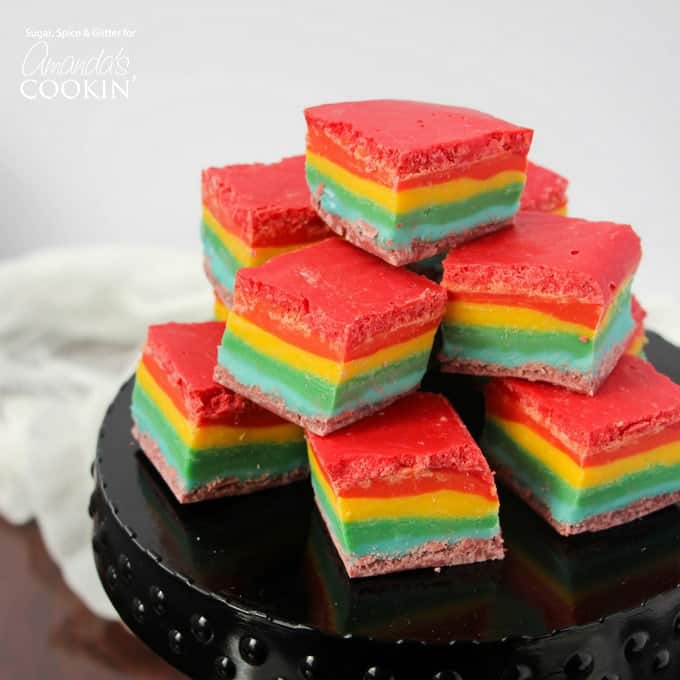 Ingredients to Make Rainbow Fudge
1/2 cup red candy melts
1/2 cup orange candy melts
1/2 cup yellow candy melts
1/2 cup green candy melts
1/2 cup blue candy melts
1/2 cup purple candy melts
1 cup sweetened condensed milk
2 teaspoons vanilla extract, optional
Find different colored candy melts here!
Kitchen Tools You May Find Helpful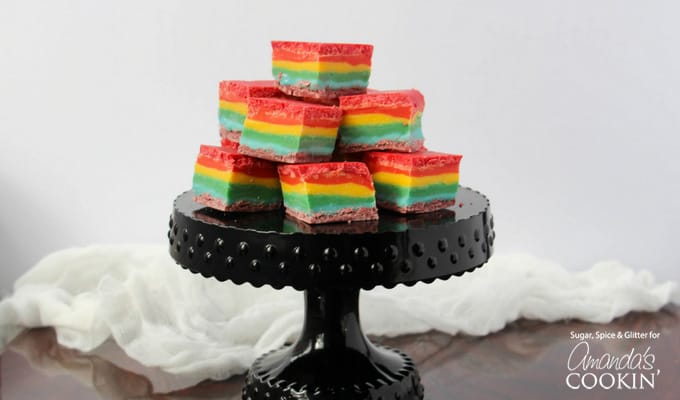 Do you have someone in your life that would love this cute and easy rainbow fudge? Mesmerized by all the pretty colors? Check out this
Mesmerized by all the pretty colors? Check out this Rainbow Grilled Cheese, these Rainbow Pancakes, and also these fun Rainbows, Shamrocks, and Gold St. Patrick's Day Cookies for more awesome rainbow inspired food!