These St. Patrick's Day cookies are uber colorful, super duper easy, and oh so fun to make! This is also a great recipe to make with your kids, so don't be afraid to let them dive right in. So whether it's simple gold coins, green clovers, rainbow shapes or just round cookies using all the colors of the rainbow, you are going to love this fun treat.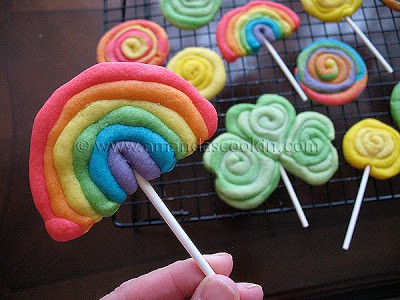 St. Patrick's Day Cookies: Rainbows, shamrocks, and gold
These colorful treats are the perfect little St. Patrick's Day cookies. They're super fun to make and easy enough for someone who doesn't have much experience to tackle. What better way to celebrate the Irish holiday then to indulge in deliciously colorful festive cookies?
You might remember this cookie recipe: Valentine's Play Dough Cookies – but they aren't actually made with play dough.
They are named that because when the dough is still raw and chilling in the fridge it looks like blobs of colorful play dough. I assure you though, these are 100% edible sugar cookies that everyone will love.
THE RECIPE – First, you're going to need the recipe. Here's the printable version or you can see it at the Valentine cookie link above.
Once I made the dough I separated it into two batches. One batch I separated into 4 pieces and the other batch into 6 pieces. The batch of 6 I used paste food coloring to tint each section a color of the rainbow. In case you don't remember, those colors are:
red, orange, yellow, green, blue and indigo (purple)
For the other 4 pieces I tinted two of them green, one darker than the other, and the other two yellow, again, one darker than the other. In hindsight, the yellows didn't end up looking any different, so if you want there to be some contrast, add a bit of orange to one of the yellow batches. The green dough is for the shamrocks and the yellow is for the gold coins. After you tint the dough it needs to chill in the fridge for a couple hours.
The gold coins are the easiest. Take your two different yellows, roll a 3/4″ ball of each one, then gently roll the two balls together. Don't go crazy, just roll them enough to combine the two. Using the palms of both hands, roll into a snake, about 10-12″ long. Start at one end and roll the snake into a spiral cookie.
To make the shamrock cookies you'll need three green discs.
Use the two shade of green as described in the yellow instructions above.
Next, where the coil ends, pinch the disc into a point.
Use a butter knife or a lollipop stick to create a dent at the opposite end, forming a heart shape.
Place the 3 green hearts together as shown above, insert a lollipop stick.
For the rainbows, simply roll colored dough into snakes. The smallest being purple and the largest red, just curve them around each other and insert a stick.
To make the rainbow twisted coiled cookies, you will need a 1/2″ ball of each rainbow colored dough.
Gently combine them into one ball. From here, you can simple roll into a snake then a coil and be done.
However, if you would like to know how to make these cool striped coil rainbow cookies, you'll want to watch the video below.
Because the instructions for the striped coils are hard to describe, I made a quick video. I'm really sorry for the cruddy quality. My batteries were almost dead and I had no replacements and I was running low on daylight in my kitchen window. I'm also sorry for the background noise! UGH
Oh yeah, and I don't talk in it, sorry! Sheesh, not a very good video-er. But hopefully you'll get the idea of how to do this. Basically, after you roll the dough into a snake shape, then you roll the ends of the snake which twists the colors into a spiral. WATCH…
One last note, when you watch you will see that the snake breaks a couple times, don't worry! Just pinch it back together it will bake up just fine :)
I hope you enjoyed these St. Patrick's Day cookies. Now go get busy baking. Your kids, husband, significant other, or coworkers will thank you for it!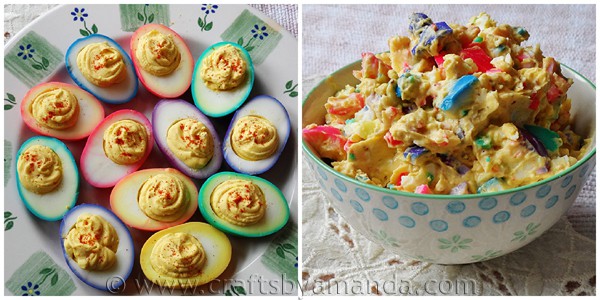 If you liked these, you might also like my Rainbow Deviled Eggs and Egg Salad!
Amanda Davis is the entrepreneurial mom of four grown children and four step children. She and her husband, Chef Antoine, love to cook together creating recipes for this blog. Amanda also make kid's crafts and creates decorative items for her home. She is a crafting expert and guru in the kitchen and has appeared online and in print publications many times over the years. She is also a craft book author five times over and product developer as well as the owner of
FunFamilyCrafts.com
. You can find her on social media by using the buttons to the left!
Latest posts by Amanda Davis (see all)