This Orzo Salad is tossed in an herby chimichurri sauce, fresh spinach, and feta. Your healthy dinner side dish is taken care of (and in less than 15 minutes!)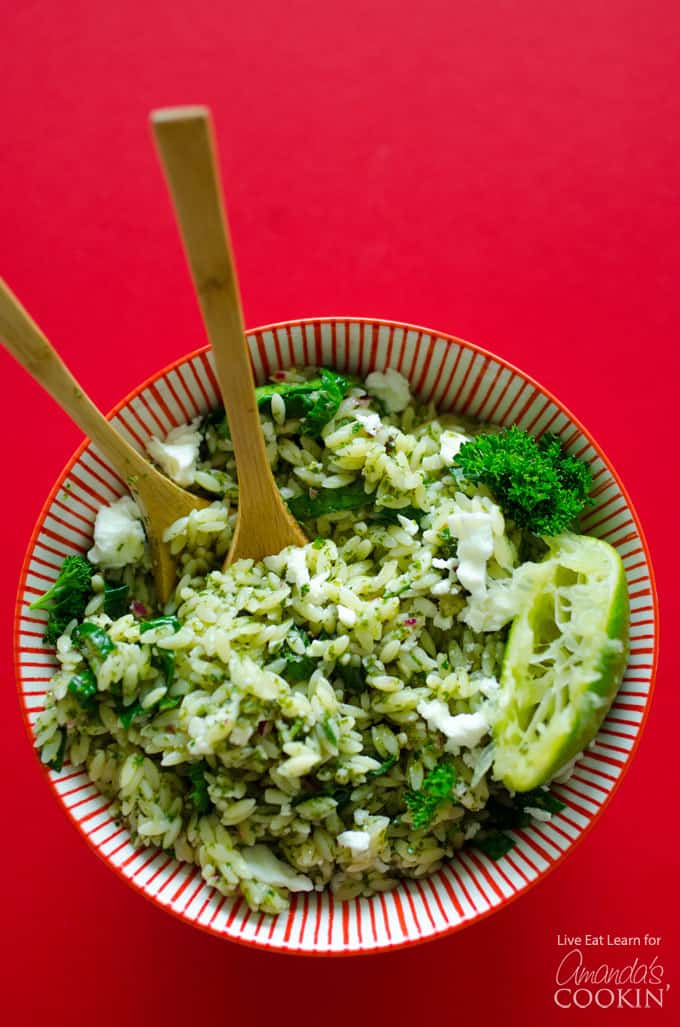 Orzo Salad with Chimichurri Sauce
You would think that because I'm a food blogger that I would have this catalog of recipes in my head ready for every occasion that I could whip up without effort. Truth is, by the time I get home from school most nights I hardly have the brain capacity to think of a main course, let alone a healthy side dish. And I figure I can't be the only one in this position. So today I'm showing you how to make this healthy side dish that's full of delicious herbs and leafy greens…Orzo Salad with Chimichurri Sauce!
To make this Orzo Salad you'll need:
1 cup parsley
1 cup cilantro
½ cup chopped red onion
3 cloves garlic
2 Tbsp lime juice
¼ cup red wine vinegar
¼ tsp salt
¼ tsp black pepper
¼ tsp crushed red pepper
½ cup extra virgin olive oil
1 cup uncooked orzo
1 cup fresh spinach
½ cup feta cheese
Kitchen tools you may find useful: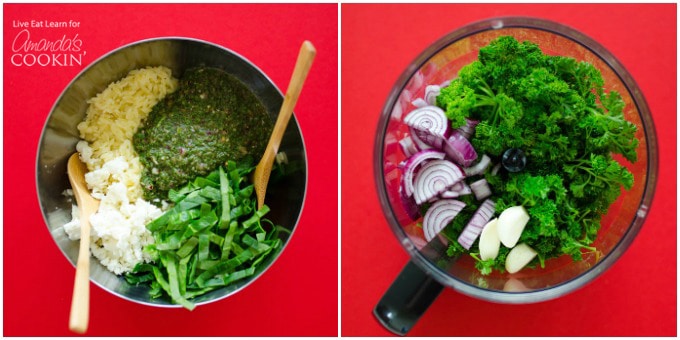 Making the orzo salad is so simple. You'll start by getting the orzo boiling. It should only take 7 to 10 minutes to cook, which is exactly the amount of time you'll need to make everything else. Throw the ingredients for the sauce in your food processor and pulse into an herby masterpiece. Once the orzo is done, toss together the orzo, sauce, crumbled feta, and thinly sliced spinach.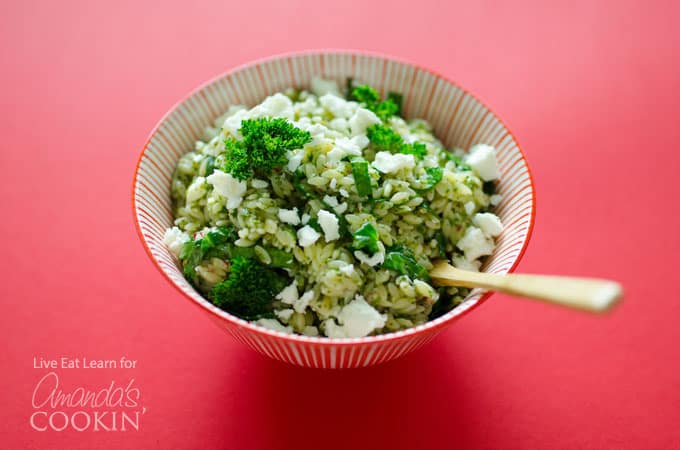 So easy, right? Fresh and flavorful, this Orzo Salad makes the perfect side dish for summer grilling! Don't forget to check out this Roasted Asparagus with Smoky Romesco Sauce for a healthy side that you can throw together in about 20 minutes! You may also love this Mashed Cauliflower recipe, and last but not least, Hasselback Potatoes!